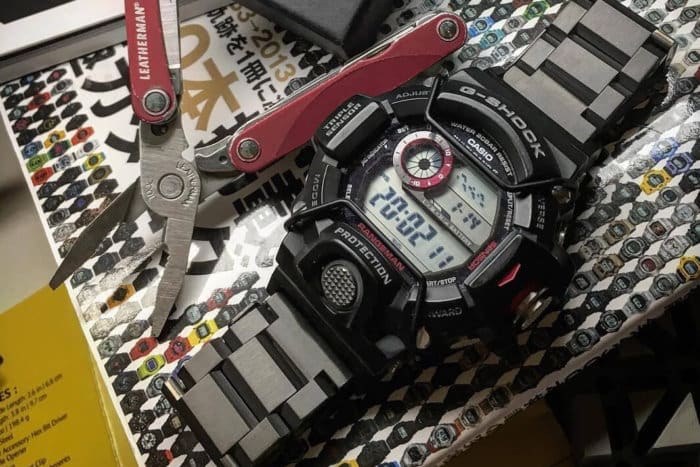 JaysAndKays on Etsy and eBay is the go-to seller for aftermarket G-Shock parts such as bullbar face protectors, strap adapters, and nylon NATO-style straps. JaysAndKays is now selling metal strap adapters and stainless steel bands to upgrade popular G-Shock watches like the GW-9400 Rangeman, GX-56 "King", GA-100 series, GG-1000 Mudmaster, and more. The stainless steel bands have a black PVD finish and the kits include all the necessary parts and tools for installation. The metal adapters can also accommodate two-piece NATO and Zulu-style bands that are also available and will work with one-piece straps too. The metal adapter and band kits are available on the JaysAndKays Etsy store.
Etsy Links:
Stainless Steel Band Kit GW-9400 Rangeman, GX-56, GA-100: The $50 stainless steel band kit includes a 22-mm metal band.
Stainless Steel Band Kit for Casio GG-1000, GWG-100, and GSG-100 Mudmaster: This kit does not fit the GWG-1000. See video.
Metal Adapter for DW-5600/GW-M5610, DW-6900/GW-6900: The stainless steel band for these models is not available, just the metal adapters and a two-piece nylon band. The stainless steel band did appear on the GW-M5610 in a video. We suggest contacting JaysAndKays on Etsy about these models or any others you might be interested in.
All metal adapters and bands including GPR-B1000 Rangeman, G-STEEL 100/200/300, G-9000 Mudman, GWF-D1000 Frogman: The metal bands for the larger models are sold out at the moment. Metals bands for certain Gravitymaster models are also available but not listed in this section.
Along with its Etsy store, JaysAndKays products can also be seen on Instagram. There is also a YouTube channel with many instructional videos including an enlightening video about the difference between NATO and Zulu straps.
(
Disclosure: G-Central is reader-supported and earns a commission on purchases made from its links to Amazon and eBay. G-Central is independently managed by fans and is not an official Casio G-Shock site.
)