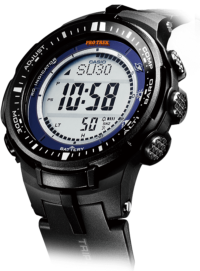 Pro Trek (formerly known as Pathfinder) is another Casio brand like G-Shock that is designed for outdoor activities and aimed at outdoor enthusiasts such as hikers, backpackers, campers, and climbers. Pro Trek has many of the same technical features as G-Shock like Tough Solar power, Multi-Band 6 automatic time-syncing, and Triple Sensor (ABC) environmental sensors.
Before sensors became more common in high-end G-Shock watches, Pro Trek was the go-to brand for such features. Functionally Pro Trek has an advantage over G-Shock with its LCD displays featuring very large digits and more information. With larger and more detailed displays featuring graphs, dial ring LCD markers, and dual layer LCD pointers on some models, a Pro Trek is capable of showing more data. If you've ever felt that the digital display on a G-Shock watch was too small then you might want to look at some Pro Trek models. Another advantage is that you can get a Pro Trek watch with a Triple Sensor for less than a G-Shock with a Triple Sensor, or an analog-style Triple Sensor Pro Trek cheaper than an analog Triple Sensor G-Shock. If you want an altimeter, barometer, compass, and thermometer but don't want to pay a premium for a G-Shock Master of G watch then it is worth looking into the Pro Trek line. Also some may prefer the more straightforward and slimmer Pro Trek designs versus the larger G-Shock exteriors. Pro Trek watches do not have Shock Resist for extreme shock resistance, but they are still very durable and designed for use in all outdoor conditions like rain and snow. They can also handle swimming and recreational diving. Pro Trek watches have at least 100-meter water resistance and low-temperature resistance (-10 C / 14 F). As with G-Shock we are starting to see more analog-digital Pro Trek models.
When choosing the best Pro Trek watches we mainly focus on features and price. All of our choices have the Tough Solar power system and the Triple Sensor for maximum outdoor functionality. The Triple Sensor is commonly known as an ABC sensor and also includes a thermometer. Newer models have the Triple Sensor Version 3, the latest version which is slimmer and more battery-efficient. Some mid-range and high-end models are equipped with Multi-Band 6 which automatically adjusts the time 6 times a day via radio wave reception from 6 transmitting stations located in the US, UK, Germany, Japan, and China.
All the Pro Trek watches listed here have these common features: Tough Solar: solar rechargeable battery, Triple Sensor (altimeter, barometer, compass, thermometer), 100M water resistance (some have 200M), full auto LED backlight with afterglow, sunrise/sunset data (except for PRG600, PRW5050, and PRW6000 analog-digital models), world time, 5 daily alarms, hourly time signal, stopwatch, countdown timer, full auto calender, 12/24 hour formats, and button tone on/off.
Here are the best Casio Pro Trek Watches for 2016 from least to most expensive.
Pro Trek PRG270B-3: Best Affordable ProTrek ABC Watch
The PRG270B-3 is an affordable watch and like most Pro Trek models has one-button access to compass, barometric pressure, altitude, and temperature readings. It also has a Codura nylon band for extra comfort and durability. The PRG270B-3 is a good alternative to the G-Shock Rangeman if shopping for an ABC sensor watch on a budget. The Rangeman costs significantly more and the Pro Trek PRG270 is priced similarly to the G-Shock Mudman which only has a compass and thermometer. We like this forest green color that will look right at home in the outdoors, but there are other colors to choose from as well as options with resin bands. Dimensions are 54.6 x 52.4 x 14.4mm and weight is 67 grams. List price is $200.
PROS: affordable price, Triple Sensor Version 3
CONS: no Multi-Band 6
RECOMMENDED FOR: Anyone looking for an affordable solar ABC watch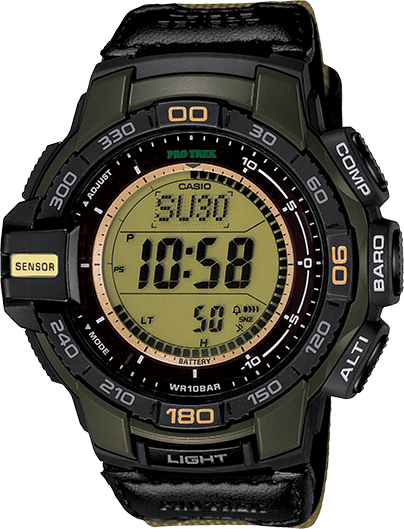 PRG270B-3 on Amazon
PRG270 on eBay
Pro Trek PRG300-1A2: Best Budget ProTrek ABC Watch
As G-Shock watches got bigger, some Pro Trek watches have gotten smaller. The PRG300-1A2 has the distinction of being the lightest Pro Trek watch at 57 grams. It is also one of the slimmest in height. It has a simple, sporty look and is available in a wide range of colors including camouflage (see link below). Dimensions are 56.0 x 47.0 x 12.6mm. List price is $250.
PROS: lightweight, slim, affordable, Triple Sensor Version 3
CONS: no Multi-Band 6
RECOMMENDED FOR: Anyone who wants a lightweight and slim solar ABC watch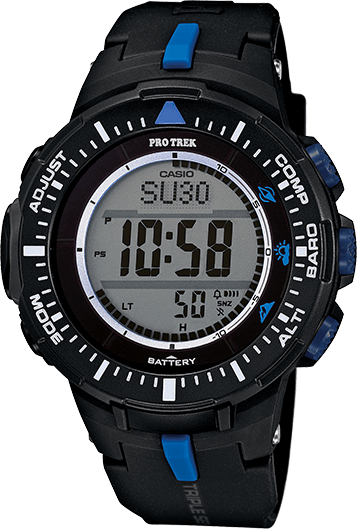 PRG300-1A2 on Amazon
PRG300 on eBay
Pro Trek PRW3000-1: Best Thin and Light ProTrek ABC Watch
The PRW3000 is slim and light like the PRG300 but also has Multi-Band 6 for hassle-free timekeeping. Like the PRG300 it is available in many colors. Dimensions are 56.0 x 47.0 x 12.3mm and weight is 62 grams. List price is $300. Another slim option is the import PRW-3100 (amazon) series which is 0.3 mm thinner than the PRW3000 and has a stainless steel bezel and an upgraded STN LCD display.
PROS: Multi-Band 6, Tripler Sensor Version 3, light and slim
CONS: Sporty look may not appeal to some
RECOMMENDED FOR: Anyone who wants a slim and lightweight solar ABC watch with Multi-Band 6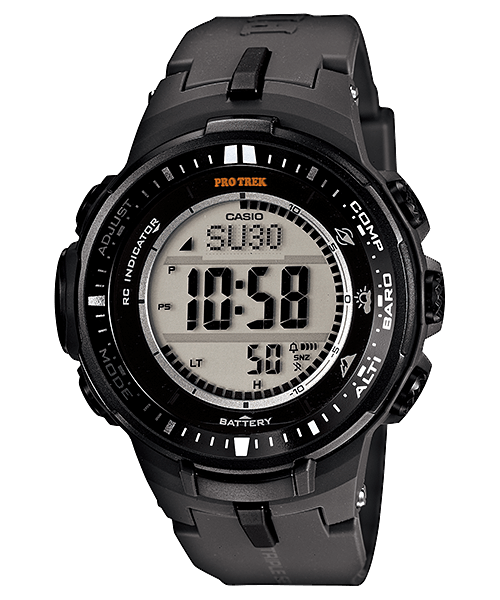 PRW3000-1 on Amazon
PRW3000 on eBay
Pro Trek PRW3500-1: Best ProTrek ABC Watch For Water Sports
The PRW3500-1 is a full-featured Pro Trek watch with Multi-Band 6. It is also water-resistant to 200 meters, making it suitable for all environments and activities like snorkeling and water sports. Dimensions are 56.9 x 53.4.0 x 14.5mm and weight is 89 grams. List price is $300. It is also available as the PRW3500T-7, a more subdued-looking 128 gram titanium model, and the orange PRW3500Y-4.
PROS: Multi-Band 6, 200M water resistance, Triple Sensor Version 3
CONS: Bezel is rather showy on black model
RECOMMENDED FOR: Those who need an ABC watch with 200M water resistance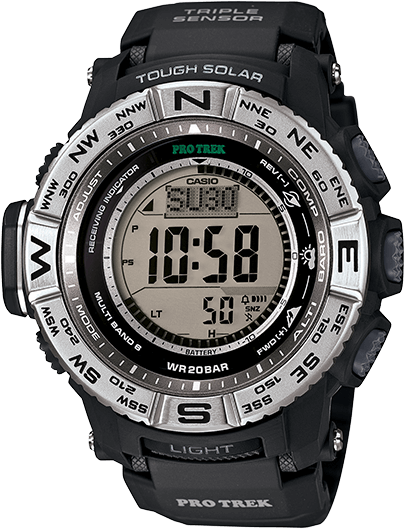 PRW3500-1 on Amazon
PRW3500 on eBay
PAG240T-7: Best ProTrek ABC Watch For Hiking, Camping, Hunting
The solar-powered PAG240T-7 has the classic look commonly associated with Pathfinder watches and this rugged and clean style may be the most appealing to G-Shock fans. It has a duplex LCD display and a titanium band. With its easy to see pointers this model is a good choice for hiking and trekking and is a great all-around watch for outdoor activities. Dimensions are 57.3 X 50.9 X 15.3mm and weight is 111.4 grams. List price is $300. The PAG240 is also available with resin and nylon bands.
PROS: duplex LCD, titanium band
CONS: no Multi-Band 6
RECOMMENDED FOR: Those who want a classic-style Pro Trek with duplex LCD display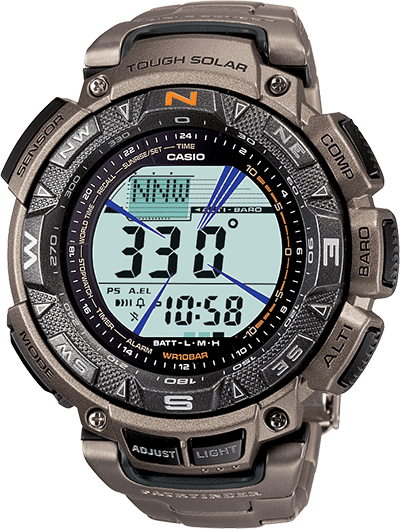 PAG240T-7 on Amazon
See Other Options on Amazon
PAG240 on eBay
PRG600Y-1: Best Affordable Analog Pro Trek Watch
The PRG600Y-1 is a surprisingly affordable analog-digital Pro Trek model featuring a safari-inspired design with a large, highly visible index and hands. It is a fully equipped Tough Solar model with the Triple Sensor Version 3 and water resistance to 100 meters. The PRG600Y-1 has some high-end components such as a stainless steel bezel, luminous hands and markers, dual LED lights, and a STN LCD display for enhanced readability. This model comes with Dura Soft silicon band for increased comfort. It measures 51.6 x 51.5 x 13.4 mm and weighs 78 grams. List price is $320.
PROS: Great price for an analog-digital model
CONS: no Multi-Band 6
RECOMMENDED FOR: Those who prefer analog watches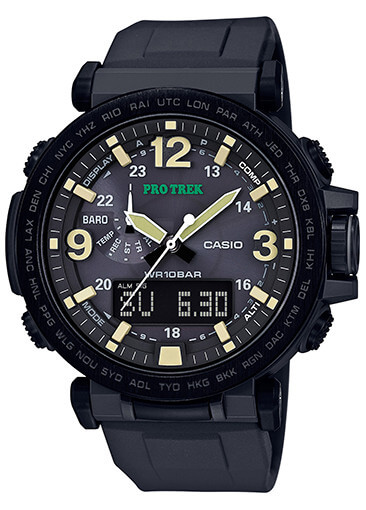 PRG600Y-1 on Amazon
PRG600Y-1 on eBay
Pro Trek PRW2500T-7: Best ProTrek ABC Watch for Ocean Use
The PRW2500T-7 has 200-meter water resistance plus a tide and moon graph, making it the ideal Pro Trek watch for outdoor activities involving the ocean. The tide graph displays more height information than G-Shock tide watches and designates a spring tide, intermediate tide, or neap tide. Other features include Multi-Band 6, a duplex LCD display, and titanium band. Dimensions are 56.9 x 53.4.0 x 14.5mm and weight is 128 grams. List price is $400. There is also a black, non-titaniun PRW2500-1A with resin band weighing 89 grams and costing less.
PROS: Multi-Band 6, 200M water resistance, tide and moon graph, duplex LCD
CONS: heavier than other models
RECOMMENDED FOR: River rafters, boaters, kayakers, fishermen, those who want a tide and moon graph in addition to ABC sensors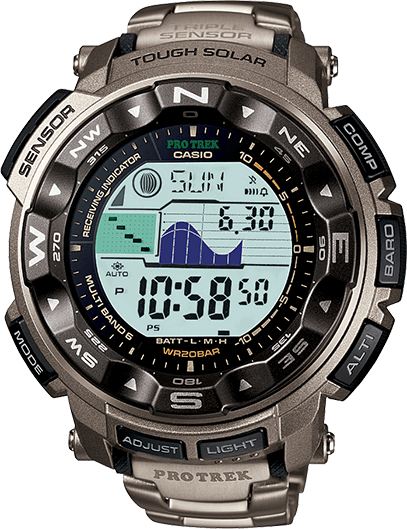 PRW2500T-7 on Amazon
PRW2500 on eBay
Pro Trek PRW5050BN-5: Best ProTrek ABC Watch for Everyday
The PRW5050BN-5 is an analog-digital model with Tough Solar and Multi-Band 6. It has a Tough Movement module like the high-end G-Shock analog models. In sensor mode the second hand is used as the compass needle and it can also display altitude or barometric differences from previous readings. The PRW5050BN-5 is also known for its Dura Soft silicone band, which feels soft but is resistant to tearing and scratches. As one of the nicest looking Pro Trek watches it could easily be used an an everyday watch. Dimensions are 56.8 x 49.3 x 14.2mm and weight is 80 grams. List price is $470.
PROS: analog display, Multi-Band 6, silicone band
CONS: Triple Sensor is not Version 3
RECOMMENDED FOR: Those who want a comfortable, full-featured analog-digital Pro Trek watch.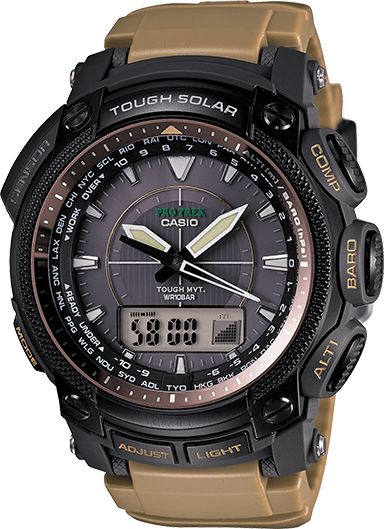 PRW5050BN-5 on Amazon
PRW5050 on eBay
Pro Trek PRW6000Y-1A: Best Analog ProTrek ABC Watch
The PRW6000Y-1A is a slim analog-digital model with Multi-Band 6, Tough Movement, and a carbon fiber insert band. It represents the higher end of the Pro Trek line and the trend towards larger analog-digital models. It has large hour and minute hands as well as a second hand, a subdial to display functions, and a reverse LCD display for data. The PRW6000 uses a Smart Access electronic crown for easy access to the watch's functions. Dimensions are 57.9 x 52.1 x 12.8mm and weight is 73 grams. List price is $600. Those interested in this model should also see the similarly shaped G-Shock GWN-1000 Gulfmaster, which is priced lower, is thicker, and adds a tide graph, shock resistance, and 200M water resistance.
PROS: large analog display, Multi-Band 6, Triple Sensor Version 3, carbon fiber band
CONS: Expensive
RECOMMENDED FOR: Those who want a full-featured ABC watch with a large analog display and slim case.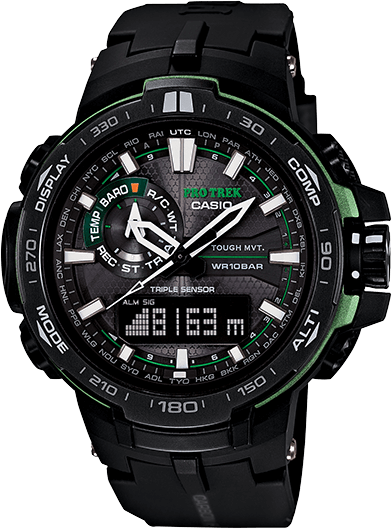 PRW6000Y-1A on Amazon
PRW6000 on eBay
(
Disclosure: G-Central is reader-supported and earns a commission on purchases made from its links to Amazon and eBay. G-Central is an independent blog managed by fans and is not an official Casio G-Shock site.
)