Casio has shown a strong commitment to regularly producing new camouflage G-Shock watches. As G-Shocks are the world's toughest outdoor and military watches it is only natural that camouflage designs are a readily available option.
G-Shock GA-700CM Camouflage Series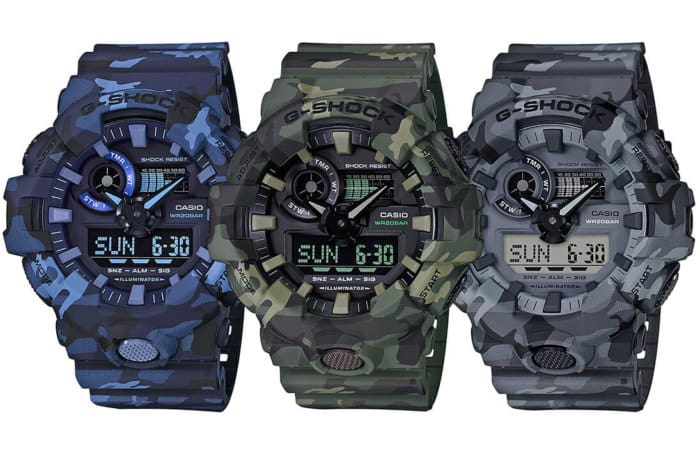 The G-Shock GA-700CM Series includes three camouflage models with a blue, green, and gray woodland camouflage pattern. The GA-700 is an extra-large model featuring an estimated 5-year battery life, the longest of any non-solar analog G-Shock model. It also has an quick-access front LED light button.
G-Shock Master In Desert Camouflage Collection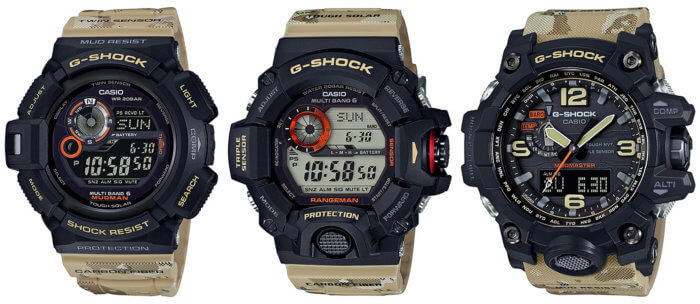 The G-Shock Master in Desert Camouflage Collection consists of three popular high-end G-Shocks from the Master of G line. This series features black bezels with traditional brown camouflage bands.
G-Shock GA-100MM Marble Camouflage Series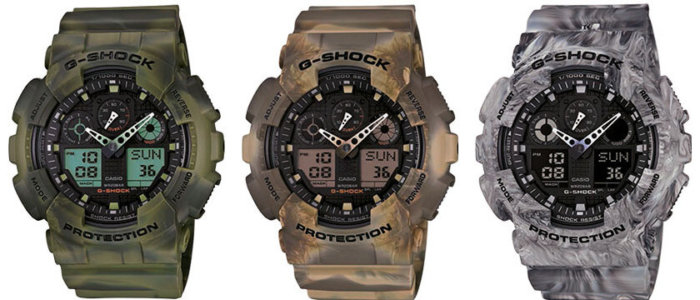 The G-Shock GA-100MM Series introduces a "marble" style of camouflage using a new mixed molding process that results in no two watches having the exact same pattern. This series includes the woodland green GA-100MM-3A, the desert brown GA-100MM-5A, and the mountain gray GA-100MM-8A.
GA-100MM on Amazon GA-100MM on eBay
G-Shock GD-120CM Camouflage Series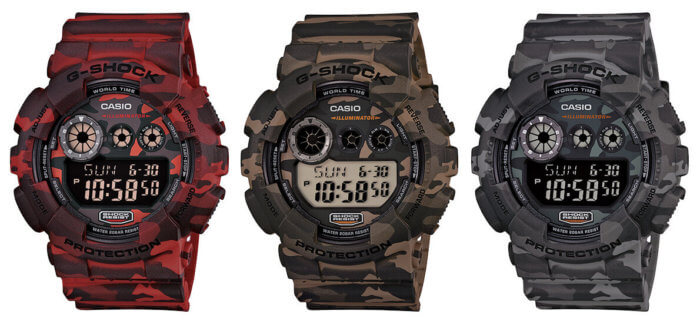 The GD-120CM Camouflage Series features a traditional woodland camouflage pattern on the case, bands, and face. It is available in red (GD-120CM-4), brown (GD-120CM-5), and gray (GD-120CM-8). The brown GD-120CM-5 model is one of the more practical camo G-Shock watches with its traditional look and easy-to-read standard LCD display. The gray GD-120CM-8 is also a practical design but the reverse LCD display will be harder to read in low light conditions. The red camouflage of the GD-120CM-4 is more of a street fashion design. The GD-120 big case all-digital models feature an estimated 7-year battery life.
GD-120CM on Amazon GD-120CM on eBay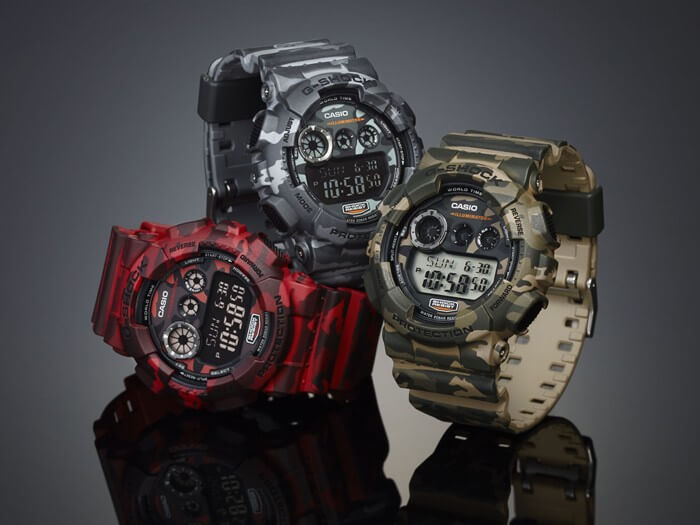 G-Shock GA-100CM Camouflage Series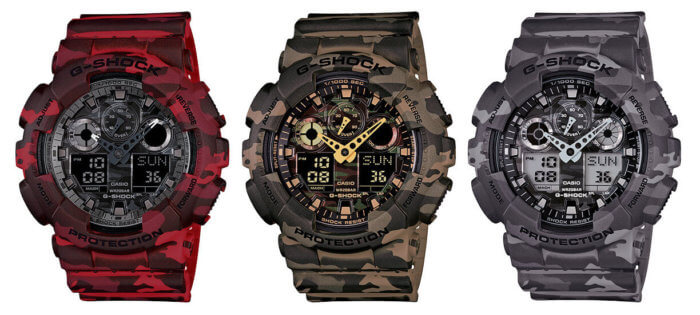 The GA-100CM Camouflage Series features the same woodland camo pattern as the GD-120CM series but with an analog-digital display. It comes in red (GA-100CM-4A), brown (GA-100CM-5A), and gray (GA-100CM-8A). The yellow/gold hands of the GA-100CM-5A make the watch easy to read and stand out a bit but if camouflage is a priority it shouldn't be an issue from a distance. In this series it's the gray GA-100CM-8A that has a standard LCD display.
GA-100CM on Amazon GA-100CM on eBay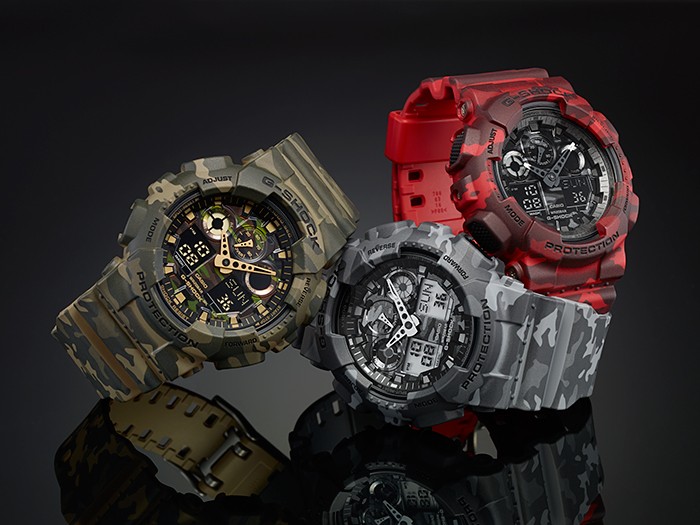 G-Shock GD-X6900MC Camouflage Series

The GD-X6900MC Camouflage Series features functional camouflage patterns for various environments including black for nighttime (GD-X6900MC-1), green for jungle (GD-X6900MC-3), brown for sand (GD-X6900MC-5), and white for snow (GD-X6900MC-7). The GD-X6900 model makes an excellent outdoor and military G-Shock with its MIL-STD-810 compliant design, Alpha Gel protection, and estimated 10-year battery.
GD-X6900MC on Amazon GD-X6900MC on eBay
G-Shock GD-X6900CM Camouflage Series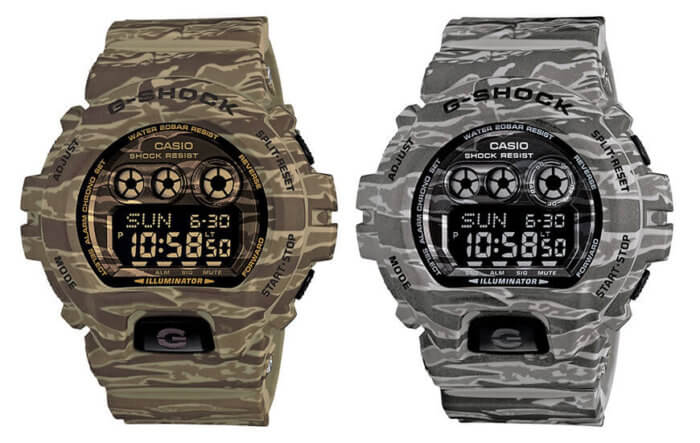 The GD-X6900CM Camouflage Series has the same tiger camo pattern as the GD-X6900TC below but features a stealthier design with reverse displays and non-reflective black EL backlight buttons. It is available in brown (GD-X6900CM-5) and gray (GD-X6900CM-8).
GD-X6900CM on Amazon GD-X6900CM on eBay
G-Shock GD-X6900TC Tiger Camouflage Series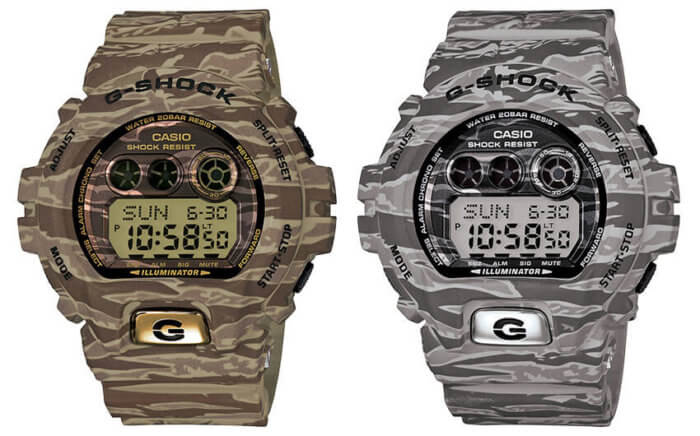 The GD-X6900TC Tiger Camouflage Series has a camouflage pattern inspired by tiger stripes. It seems to be more of a fashion camo design as the brown (GD-X6900TC-5) model has a reflective gold EL backlight button and the gray (GD-X6900TC-8) model has a reflective silver one.
GD-X6900TC on Amazon GD-X6900TC on eBay
G-Shock GA-100CF Camouflage Face Series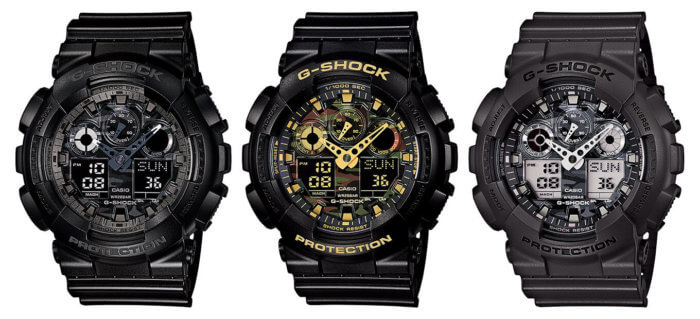 GA-100CF on Amazon GA-100CF on eBay
The GA-100CF Camouflage Face Series only has a camo pattern on the face of the watch and comes in black (GA-100CF-1A), black and yellow (GA-100CF-1A9), and gray (GA-100CF-8A). The camo pattern can be hard to see on these models except for the GA-100CF-1A9. This is more of a streetwear design with a splash of camouflage for style rather than a true camouflage watch, along with the models below.
G-Shock GA-110CM Camouflage Series

The GA-110CM Camouflage Series are 2014 models that are no longer in production and may become more difficult to find soon. These analog-digital G-Shock watches feature more artistic and non-traditional camouflage patterns in black (GA-110CM-1A), green, (GA-110CM-3A), gray (GA-110CM-8A), and yellow (GA-110CM-9A). As each pattern consists of three shades of the same color, it is a more subtle design that may not be appear to be camouflage from a distance but upon closer inspection reveals a unique pattern.
GA-110CM on Amazon GA-110CM on eBay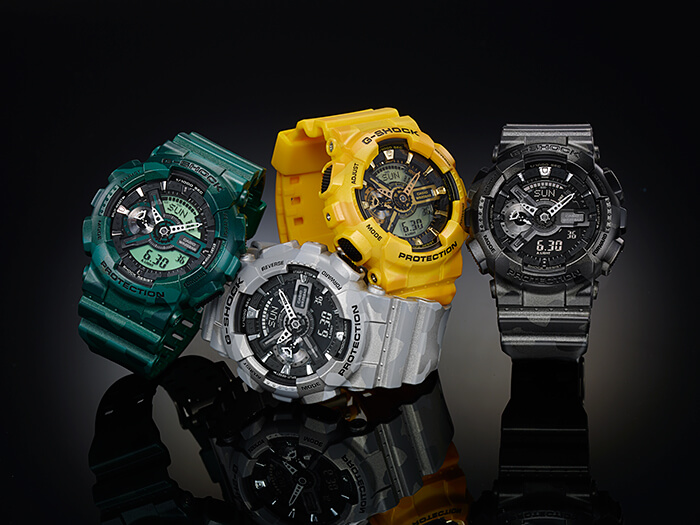 Disclosure: G-Central is independently managed by fans and is not an official G-Shock site. For official support, visit world.casio.com. Please follow your region's official site for more release information. All articles are written by G-Central. We may earn a commission on purchases from our links to Amazon, eBay, and Reeds Jewelers.
Advertisement: