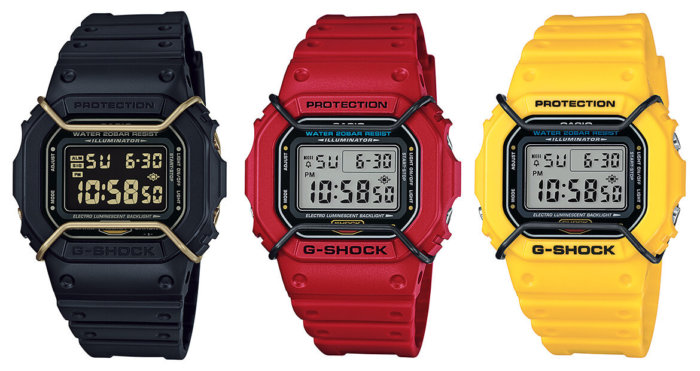 The thick wire face protector known as a "bull bar" (or bullbar) isn't as common as it used to be but is still a popular accessory with G-Shock owners. It used to be included with some early G-Shock models and became a popular accessory in the 1990s with skateboarders and military users. The bull bar offers extra protection against impacts and scratches and gives the watch an extra-rugged look. It is also one of the few ways you can trick out your G-Shock to make it more unique. These days official bull bars are only available on the extra-large GD-400 models (amazon), import DW-5600P watches (see below), the import GLS-6900 series, and some Baby-G watches.
Whether the bull bar offers a significant amount of extra protection to an already very tough watch is up for debate, but they are still popular enough for manufacturers to produce them. A bull bar protector can end up leaving marks on the watch body so be cautious about using them on rare limited edition models.
G-Shock Bull Bar Face Protectors For Sale
Ebay seller JaysAndKays makes bull bars under the Bullbars brand for a wide range of G-Shocks. The bull bars are available in black, gray, or silver, and have a PVD (Physical Vapor Deposition) finish for resistance to tarnish and corrosion. Here is a list of available models:
G-Shock 5600, 5610: eBay
G-Shock DW-6900, DW-6600: eBay
G-Shock DW-9052: eBay
G-Shock GA-100, GA-110, GA-120, GD-100, GD-120: eBay
G-Shock GA-700: eBay
G-Shock GD-350: eBay
G-Shock GW-9400 Rangeman: eBay
G-Shock GX-56: eBay
G-Shock G-2310, GW-2310: eBay
Import G-Shock Watches With Bull Bars
The G-Shock DW-5600P watches are import models that include a bull bar face protector. Models include the black DW-5600P-1JF with a bronze bull bar and a reverse LCD display, and the red DW-5600P-4JF and yellow DW-5600P-9JF with black bull bars and standard displays.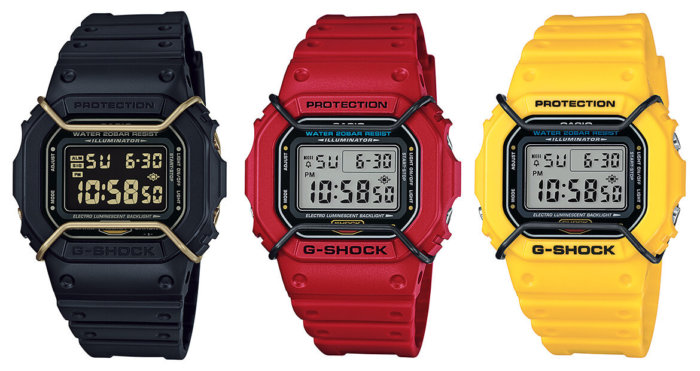 Amazon:
DW-5600P-1JF
DW-5600P-4JF
DW-5600P-9JF
DW-5600P on eBay




Share This Post