Just a few years ago, authentic G-Shock watches were nowhere to be found in Cambodia, but then Phnom Penh got its first G-Factory store in January 2015 and a Shock The World event in November 2015. Now that Casio has an official presence in the Kingdom of Wonder, G-Shock watches and other Casio brands like Baby-G and Pro Trek are commonly found in retail outlets around the city. G-Central visited the best places to buy G-Shock and Baby-G watches in Phnom Penh and here's what we found.
Unfortunately, G-Shock prices in Phnom Penh are higher than the list prices in the U.S.A. and Japan, as this is often the case with premium brands in Cambodia. However, there are often discounts available and some unique items to be discovered.
G-FACTORY: OFFICIAL G-SHOCK STORE IN PHNOM PENH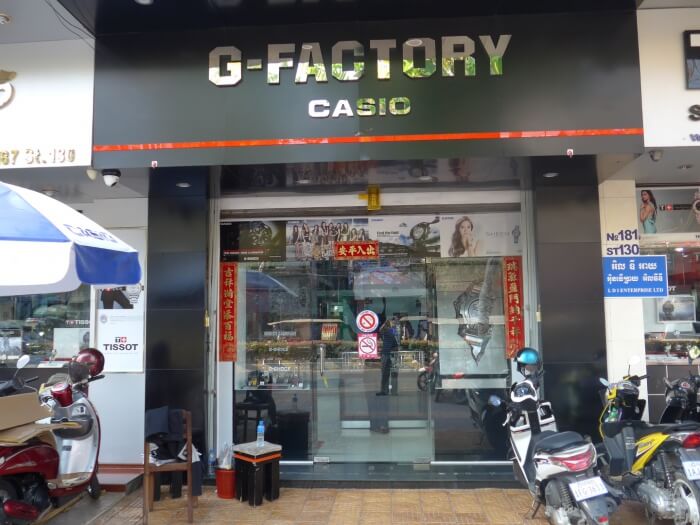 (Update 2023: The G-Factory location below is no longer open, and the G-cam Watch Station store is also permanently closed. There is a G-Shock Casio store in the Nagaworld casino underground shopping plaza, and one of the main G-Shock outlets now appears to be Time City Elysee at Diamond Island (Koh Pich). There are also official G-Shock kiosks at the largest shopping malls like Aeon and Chip Mong Mega Mall 271. For a list of official G-Shock stores and outlets in Phnom Penh and Siem Reap, visit locator.casio.com.)
G-Factory is located on Street 130 before the Central Market, near several other watch stores. As the official Casio and G-Shock store it has the best selection with the latest models including all the Master of G watches and luxury models up to the MTG-G1000. It also carries Baby-G, Pro Trek, and Edifice watches. Travelers and collectors will want to hear about the trio of Khmer special edition watches available. There are also several watches signed by Kikuo Ibe but we were told that they are for display only and not for sale.
G-Factory has all the Mudmaster GWG-1000 watches including the Rescue Red edition.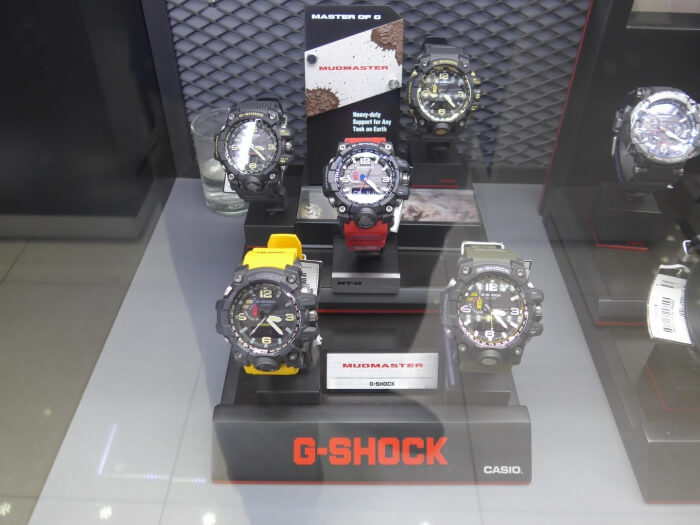 There are two special Khmer edition G-Shock watches and one Baby-G that pay tribute to Khmer tradition. The black and gold GA-110GB-1A ($225 USD) has a gold design on the bands that is based on the Banteay Srei temple carvings at Angkor Wat. The tricolor GA-110TR-7A ($200 USD) has a band design based on the Cambodian flag. The Baby-G BA-112-7A ($188 USD) pays tribute to Khmer music with a band design consisting of multi-colored Khmer writing that resemble musical notes. The prices are reasonable for these limited edition watches that are exclusive to Cambodia.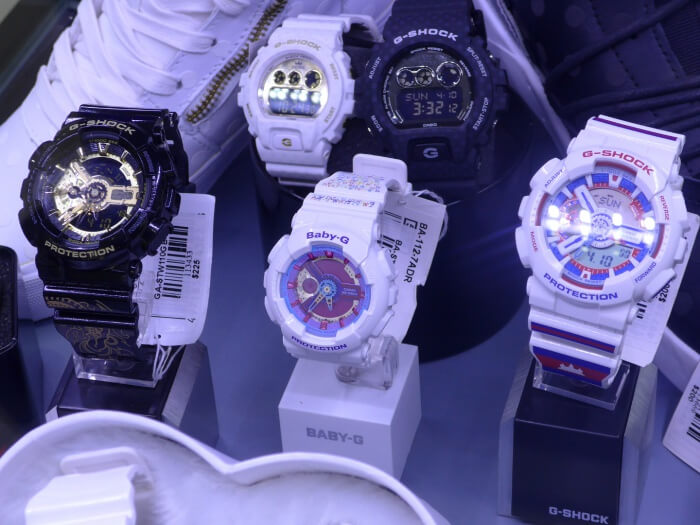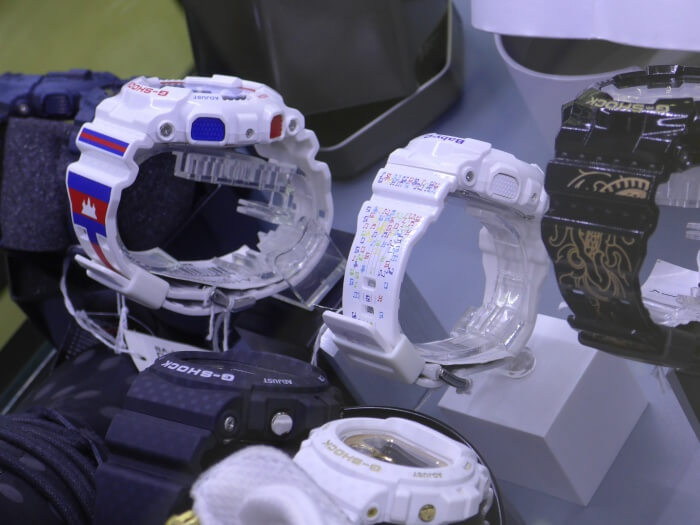 These six G-Shocks are signed by G-Shock creator Kikuo Ibe.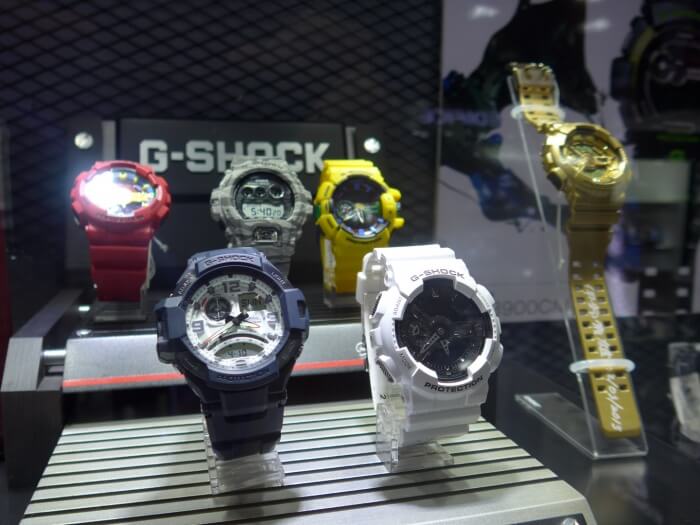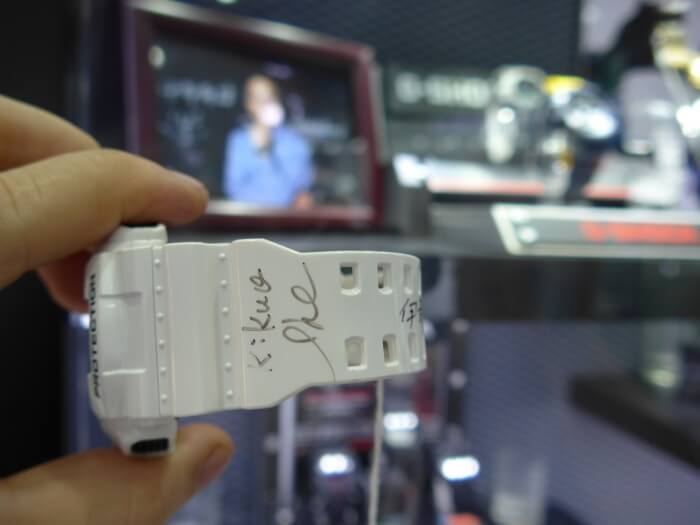 Phnom Penh had its own Shock The World event in November 2015 with a visit from Kikuo Ibe.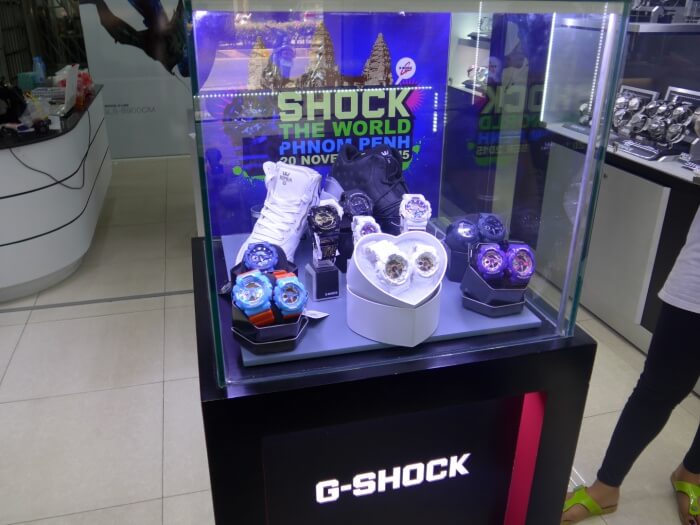 The watch stores on the left and right of G-Factory also have an excellent selection of G-Shock and Baby-G watches, and those stores had some of the better prices we've seen in Phnom Penh.
Visit Phnom Penh G-Factory Facebook
G-cam Watch-Station in BKK1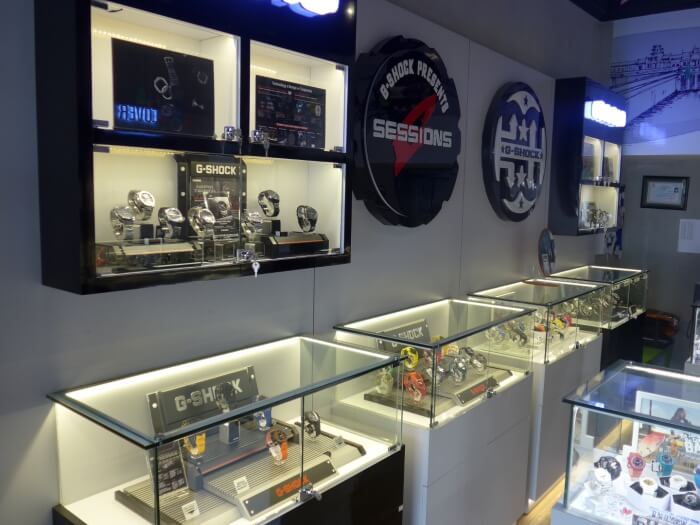 G-cam Watch-Station is a boutique watch store on Pasteur (a.k.a Street 51) in the BKK1 district, about a block south from Burger King. Half the store is dedicated to G-Shock and Baby-G and it has a good selection of watches including several Mudmaster models and some recent G-STEEL models. It was also the only place in Phnom Penh where we spotted the Alife x G-Shock "stars and stripes" watch.
Overall, the selection wasn't as impressive as the other stores (with not as many high-end models), but it seems like you are more likely to find significant discounts here on recent models. Right now, their G-STEEL watches and the blue and silver Gulfmaster are 20% off, along with some other models. The solar-powered G-STEEL GST-S100D models are $305.60 USD and the recent GA-100MM-8A Marble Camouflage model is on sale for $130.40 USD, which are close to the U.S. prices. The great-looking GST-S110BD-1A2 with black IP and blue IP bezel is $416.80, which is lower than the U.S. list price. Check the G-Cam Facebook Page for the latest sales. It's also worth mentioning that the service here was very welcoming and accomadating.
G-cam also has a Baby-G watch for sale that is signed by Kikuo Ibe and includes a signed tin for $163 USD.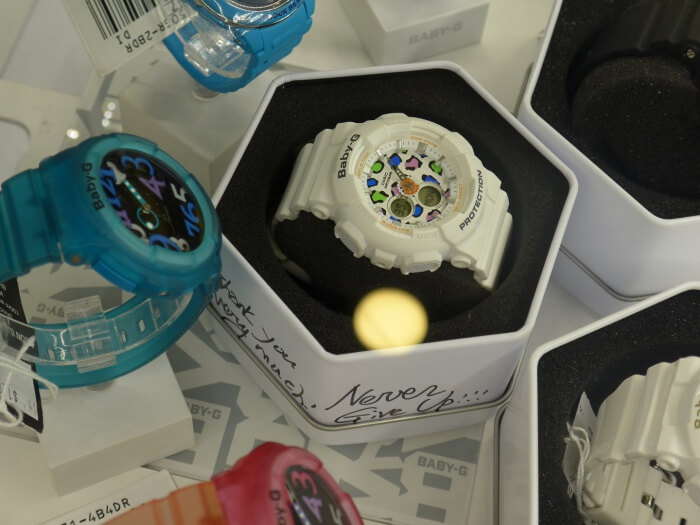 TIME STATION NEO JAPAN AT AEON MALL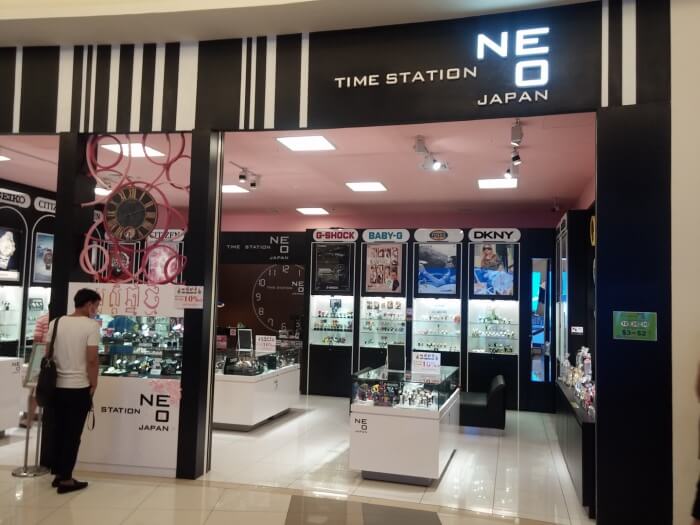 Time Station Neo Japan has a cool-sounding name and is located on the ground level of the recently built Aeon Mall. It has an excellent selection including Master of G watches like the Rangeman, Frogman, Gulfmaster, Mudmaster, and the Gravitymaster GPW-1000. It also has a large selection of aviation models as well as many big case analog models. The service here was very courteous and helpful. Prices were a little higher than G-Factory but there were some discounted watches which were mostly DW-6900 models and some big case digital models. They also carry a few Pro Trek models.
Update 2023: The store changed locations in Aeon Mall and does not carry as many high-end models now.
Display cases with G-Shock and Baby-G watches and signed photo of Kikuo Ibe.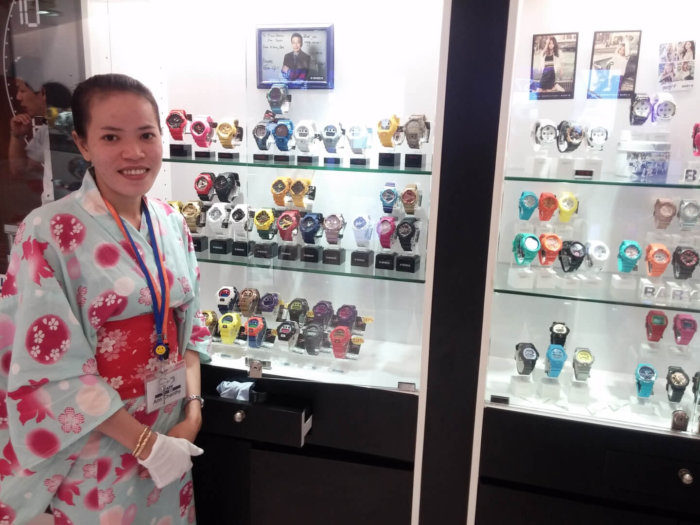 High-end analog G-Shock Master of G watches at Time Station Neo Japan.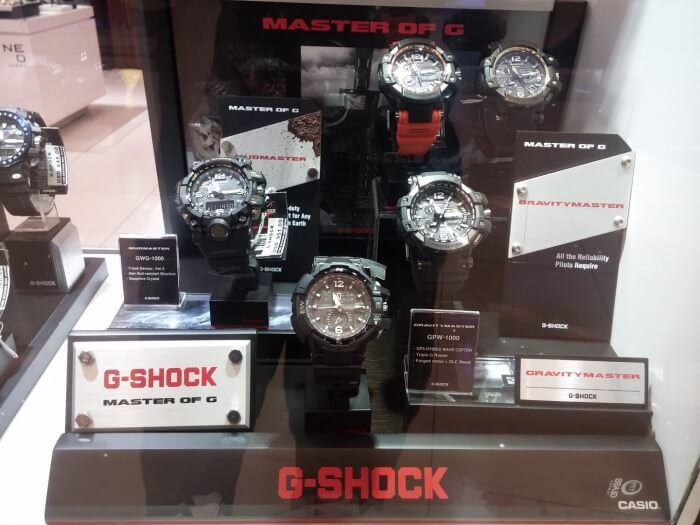 Visit Time Station Neo Japan Facebook
AEON MALL DEPARTMENT STORE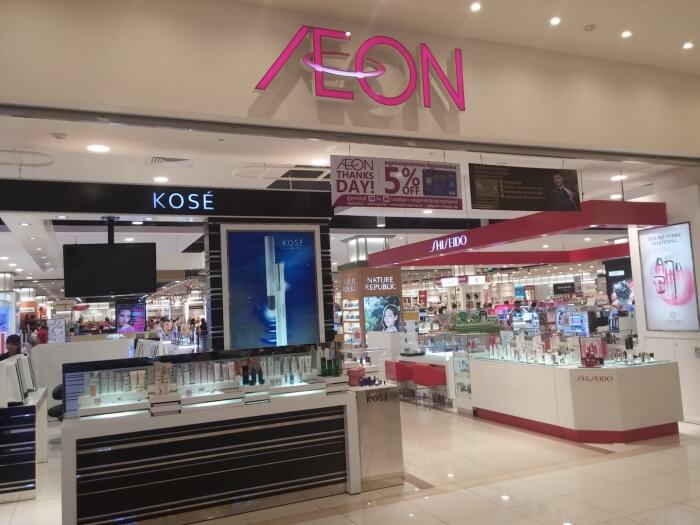 The second floor (Cambodians call it the first floor) of the Aeon Mall department store has a Casio section with an interesting G-Shock and Baby-G collection. The prices here are similar to Time Station Neo Japan. There is also a large selection of lower-priced Casio watches including Tough Solar and sensor-equipped models.
Update: Aeon had the MRG-G1000D-1A in stock on our last visit.
The G-Shock display case at the Aeon Mall department store. Sunrise Purple Rangeman and Johnny Cupcakes!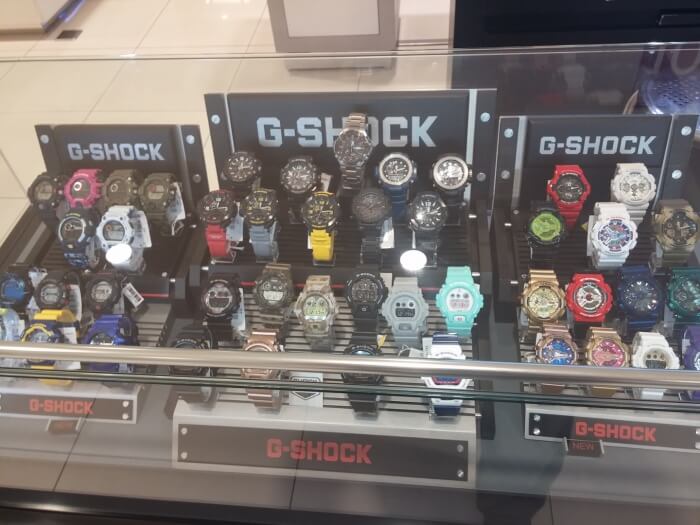 The Baby-G selection at the Aeon Mall department store.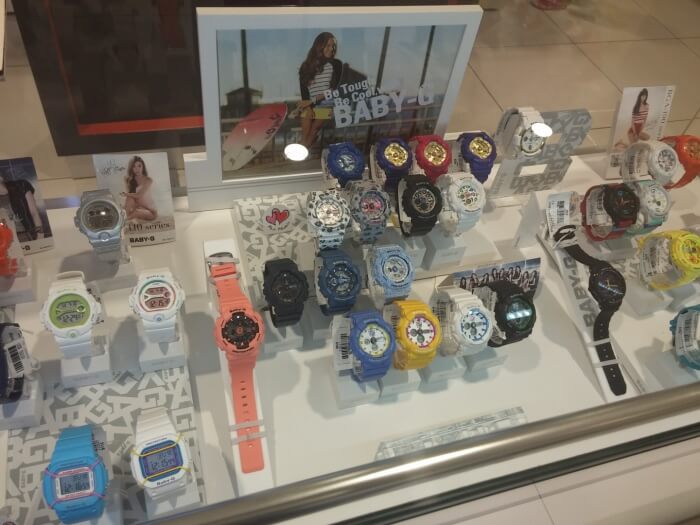 There is also a large selection of Pro Trek watches.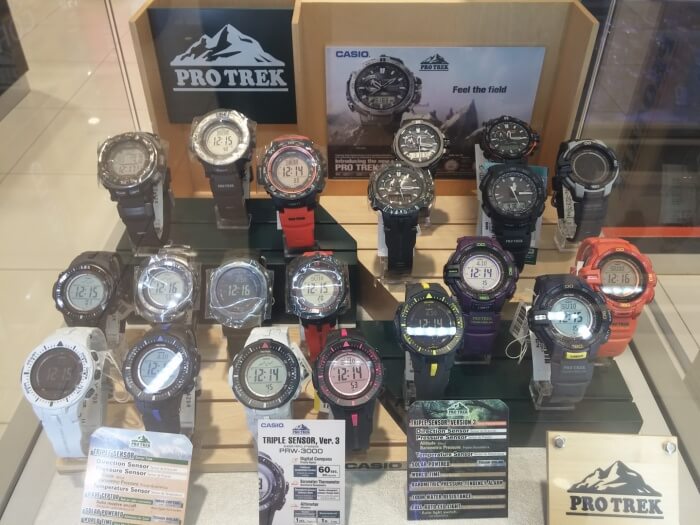 Casio is now in a great position to capitalize on Cambodia's growing middle class and the increasing purchasing power of the country's younger residents who desire high-quality and stylish products.
Phnom Penh is a great travel destination with its affordability, cultural sightseeing, dining options, and friendly residents. Now G-Shock fans have another reason to visit.