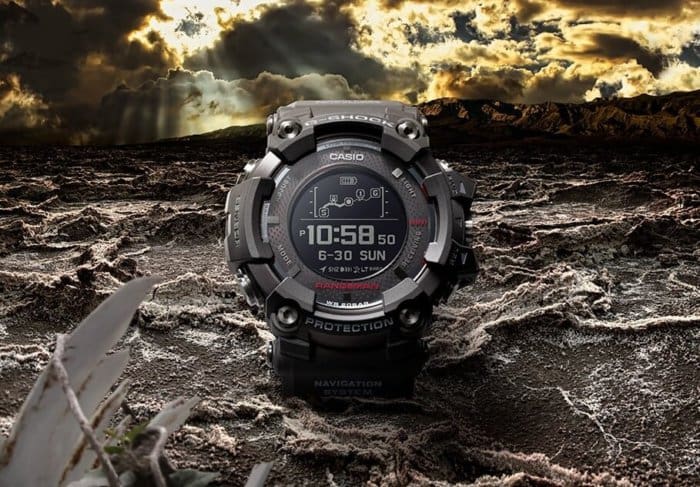 The new G-Shock Rangeman watch was first revealed at the 35th Anniversary event in New York City and will be released in April 2018. The updated edition of the iconic survival series launches with two models, the black GPR-B1000-1 and khaki green GPR-B1000-1B (with U.S. model numbers GPRB1000-1 and GPRB1000-1B). This new Rangeman has a lot to live up to as the original GW-9400 is the most popular Master of G watch and one of the most successful G-Shock models of the 2010s. With its unique GPS navigation features, the new Rangeman GPR-B1000 is equipped to meet expectations.
The new Rangeman is the world's first solar-assisted GPS navigation device and also has a Triple Sensor (alti/barometer, compass, thermometer) and Bluetooth connectivity. The watch has a low-temperature LCD display (-20°C, -4°F), sapphire crystal, and carbon fiber insert band for enhanced durability. It is water-resistant to 200 meters and like the original, it is resistant to mud and dust. The watch is capable of syncing the time through GPS signals, either manually or automatically once a day.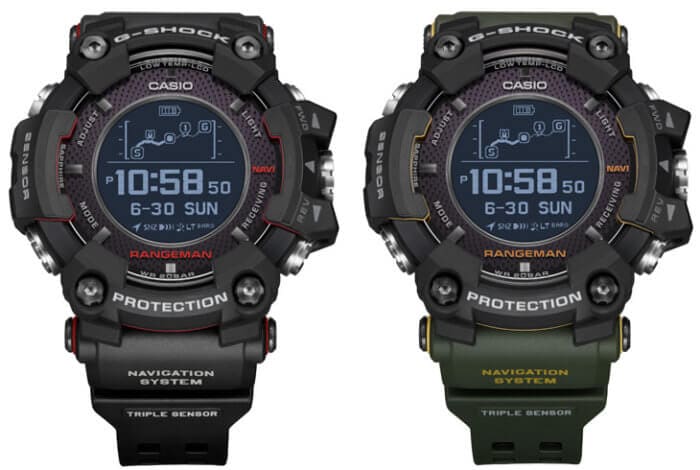 While the recent GPW-2000 Gravitymaster has a GPS tracking log (Mission Stamp) function, the GPR-B1000 is the first G-Shock with the Navigation System feature. The watch can display the current location on a route or bearing to a destination in real-time. Tracking data can be saved automatically in intervals and point data (time/date, longitude/latitude, altitude, atmospheric pressure, and temperature) can be recorded with the push of a button. Up to 20 tracks and 60 points can be saved to the memory log. The Backtrack function allows the user navigate to the starting point, using track data to display the route and current bearing. New routes can be created and log data managed on a Bluetooth-connected smartphone with the G-Shock Connected app, with a 2D and 3D map display and timeline for tracking data. Photos taken with the phone while using GPS can be displayed in the timeline view.
A connected smartphone also allows the watch to sync with internet time servers, and time-syncing can also be done with GPS signals. Like the original, the new Rangeman has sunrise and sunset data and now also has a tide graph and moon data.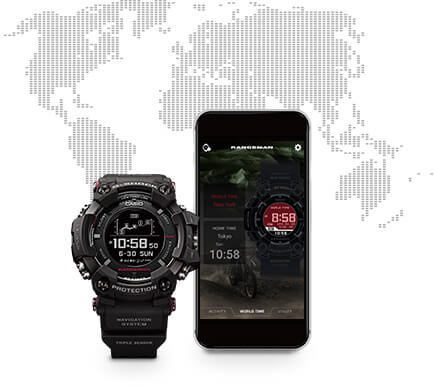 Another new feature is wireless charging with a USB-powered base station. On a full wireless charge of five hours, the watch can use GPS functions for about 33 hours. Four hours of solar charging in bright sunlight (50,000 lux) will provide about one hour of GPS use. A full charge combined with solar power can up the total usage time to 48 hours. Casio says that the solar charging keeps the time display powered at all times, regardless of the status of GPS functions. That sounds like the time display will remain working even if the GPS feature is used past its limit.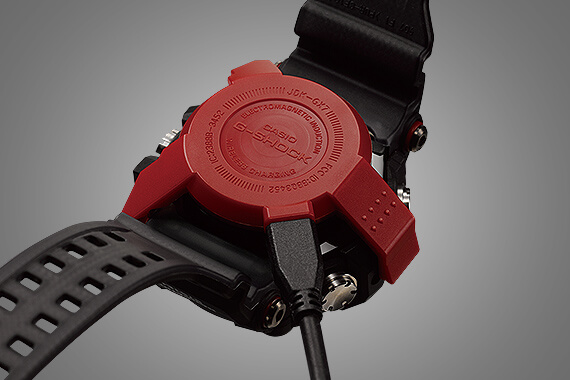 The exterior case of the new Rangeman strongly resembles the popular analog-digital GWG-1000 Mudmaster but is a little larger at 57.7 mm wide with a full digital LCD display capable of displaying pixels and graphics. This is the first time a pixel display like this comprises the entire display of a G-Shock. A ceramic case back (2 mm thick) allows for wireless charging, enhanced GPS reception, and full shock resistance.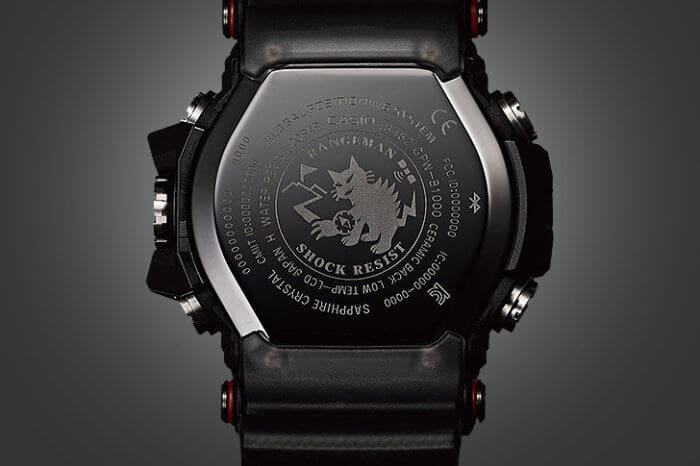 The second-generation Rangeman is an extremely rugged and technologically advanced survival watch and raises the concept of the digital G-Shock to another level. Along with the GPW-2000, the GPR-B1000 ushers in a new era of smart G-Shock watches.
The Rangeman GPRB1000-1 and GPRB1000-1B will be released in April 2018 with a list price of $800 USD. (Update: G-Shock Japan is releasing the GPR-B1000-1JR and GPR-B1000-1BJR in March 2018 with a list price of ¥100,000 JPY each.)
See videos of the 2018 Rangeman here and see the official Rangeman page at world.g-shock.com.
G-Shock GPR-B1000-1 Rangeman
Black bezel, black bands, and red accents.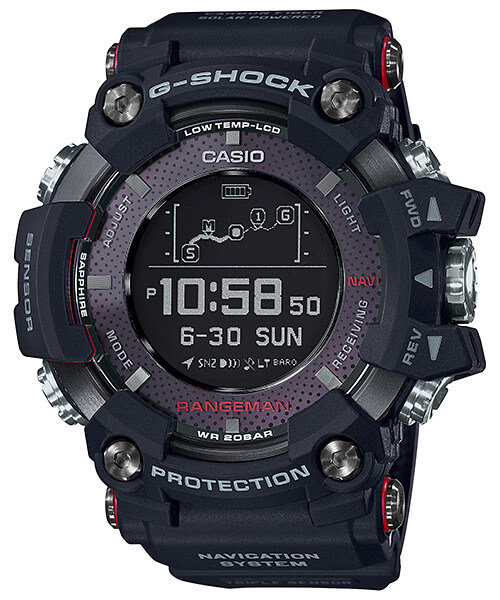 G-Shock GPR-B1000-1B Rangeman
Black bezel, green bands, and yellow accents.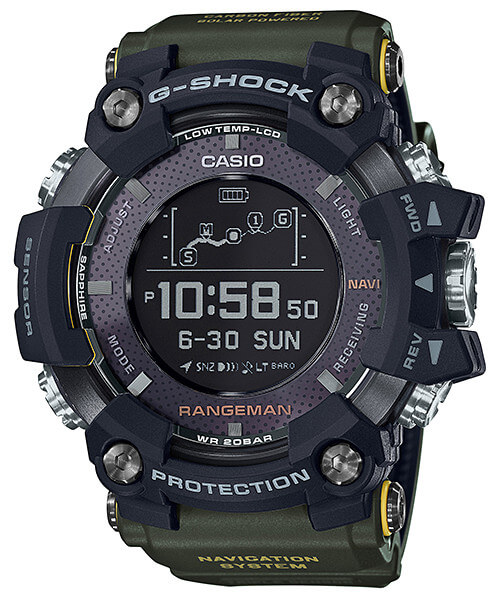 GPR-B1000 Specifications:
Shock-resistant, 200-meter water-resistant, low-temperature resistance (-20℃ / -4℉), mud-resistant
GPS Signal Frequency: 1575.42 MHz
GPS Signal Reception: Time-calibration (auto, manual); acquisition of position information (manual)
Bluetooth: Low Energy, up to 2-meter range
GPS Navigation: Activity logs (up to 20 logs), track display (wide area map/magnified map switching), start-to-destination direct distance, bearing to destination, destination setting from Point Memory recordings, backtrack, activity time measurement, log use status
Point Memory: 60 sets of point data (time/date, longitude/latitude, altitude, atmospheric pressure, and temperature), point icons
Digital Compass: 16 points; measuring range: 0° to 359°; measuring unit: 1°
Barometer: 260 hPa to 1,100 hPa (7.65 inHg to 32.45 inHg); measuring unit: 1 hPa (0.05 inHg); atmospheric pressure tendency graph (past 48 hours); atmospheric pressure tendency alarm
Altimeter: -700 m to 10,000 m (-2,300 ft. to 32,800 ft.); measuring unit: 1 m (5 ft.); relative altitude readings (-3,000 m to 3,000 m); altitude tendency graph
Thermometer: -10℃ to 60℃ (14℉ to 140℉); measuring unit: 0.1℃ (0.2℉)
World Time: 39 cities (39 time zones, daylight saving on/off) and UTC, auto DST
Stopwatch (1-second up to 999:59'59 with split)
Countdown Timer (up to 24 hours)
4 Daily Alarms with Snooze Alarm
Size: 60.3 × 57.7 × 20.2 mm
Weight: ~142 grams
G-Shock Rangeman GPR-B1000-1 Introduction Video: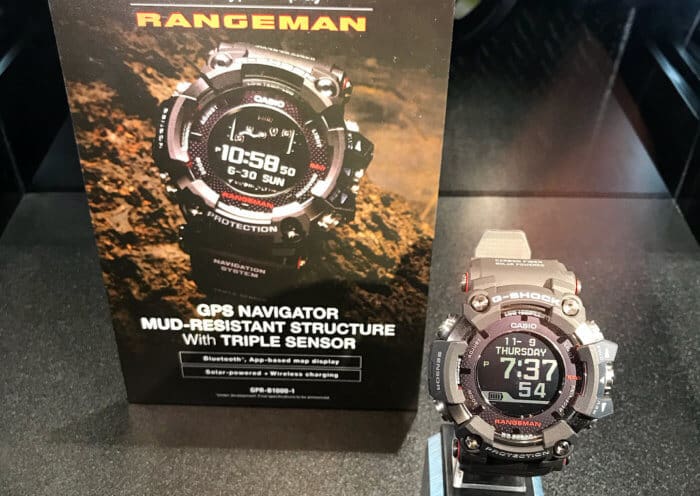 Source: prnewswire.com





Disclosure: G-Central is independently managed by fans and is not affiliated with Casio or G-Shock. We may earn a commission on purchases from our links to Amazon, eBay, and Reeds Jewelers.


Advertisement: