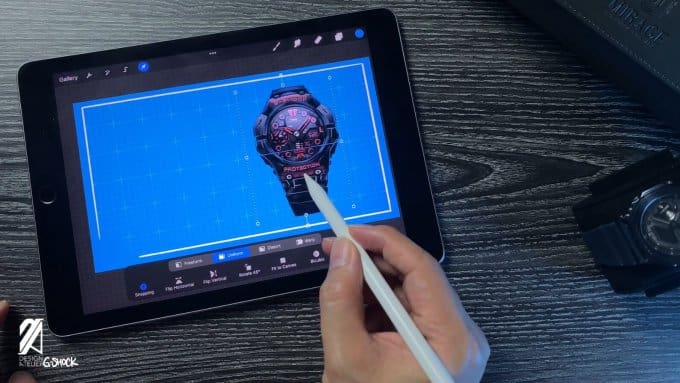 Image by Design Atelier
A promotional image for the upcoming G-Shock GA-B001 was leaked online by MORGANpl. YouTube channel Design Atelier then did some additional rendering to enhance the details of the watch.
The watch does not resemble the DW/G-001, nor does it appear to have any connection to that line other than having a unique structure relative to other G-Shock models. The GA-B001 has an octagon-like shape, but not as pronounced as the 2100 series. The bezel is more angled than the flat bezel of the 2100. The indices resemble those of a diving watch. There is also an LCD display and an analog indicator, similar to the 2100. One advantage over the 2100 is that the GA-B001 has larger buttons.
The bezel is split into two pieces, each covering one half of the case and display (in a semi-circular manner). It also appears that the upper and lower band sections and bezel halves are molded together as single pieces. It's not immediately apparent why the bezel is constructed this way or what advantages this affords from a functional standpoint. Another unique characteristic is that the bezel appears to be less encompassing than other G-Shock models when it comes to the sides of the watch. On affordable G-Shock watches, it is typically a large bezel covering and protecting the entire case, but it appears that this case has its own button guards and protected sides built in. It's not known what the case is made of or what the case back cover looks like.
Aesthetically, although it is a unique structure and all-new design, the watch is not much of a departure from the style of other G-Shock watches. It's not a particularly unusual appearance for a G-Shock, and it basically looks like a G-Shock. While the 2100 series has more of a classic retro look, the GA-B001 will likely appeal to those who prefer a more modern and rugged style seen on models like the GBD-100 and GBA-900.
According to the leaked image, there will be four debut colorways: black, red, translucent blue, and translucent gray-black with red. An official announcement for the GA-B001 is expected in August, and we look forward to learning more about this intriguing new model.





Disclosure: G-Central is independently managed by fans and is not affiliated with Casio or G-Shock. We may earn a commission on purchases from our links to Amazon, eBay, and Reeds Jewelers.


Advertisement: