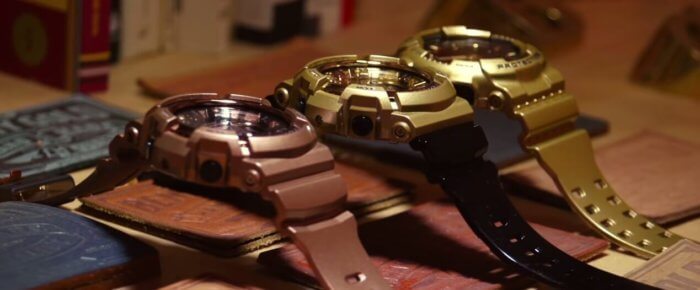 G-Shock watches with gold resin cases have become more common recently and have gained popularity in the urban streetwear fashion scene. A gold case can give a G-Shock that extra push to stand out from the crowd and makes a unique fashion statement. In this list we cover the top gold G-Shock watches, including the big case gold series, black watches with gold faces, and gold S Series watches for women.
Classic Gold G-Shock
The DW6900GD-9 is a classic G-Shock case with a simple gold color scheme including a gold backlight button and a light gold face. It makes an excellent choice for a more understated gold approach with its classic all gold look. As a standard size G-Shock it is also a good choice for women.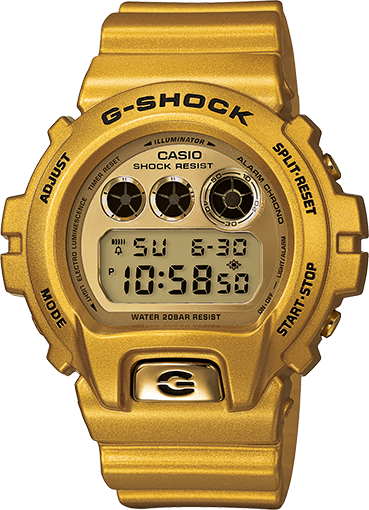 DW6900GD-9 on Amazon DW6900GD-9 on eBay
Big Case G-Shock Gold Series
The big case gold series takes the trendy analog-digital GA110 and GA200 models and gives them the gold treatment. These models feature magnetic resistance, auto LED light, world time, four daily alarms and one snooze alarm, stopwatch, and countdown timer.
The GA110GD-9A is an all-gold version of the highly popular GA110 including a gold face with gold hands. The GA110GD-9A is a good choice for a big, all-gold G-Shock.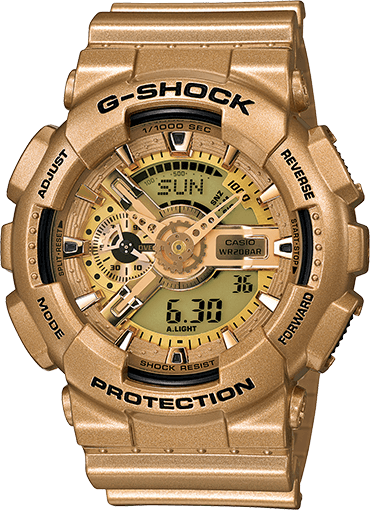 GA110GD-9A on Amazon GA110GD-9A on eBay
The GA110GD-9B has a gold case and a black face with gold accents. The gold hands on a black background provide a high-contrast view that is easy to read. The contrast of the gold case with the black display adds an extra element of style and makes it one of the nicest gold models.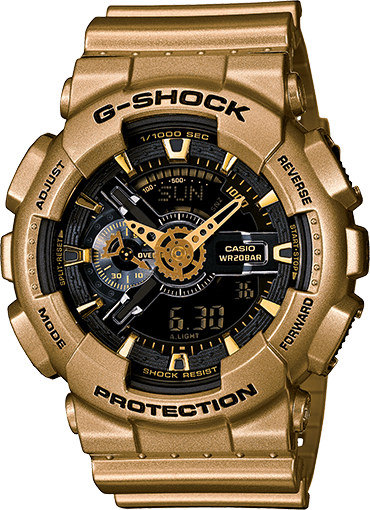 GA110GD-9B on Amazon GA110GD-9B on eBay
The GA200GD-9A is another all-gold big case model with an analog-digital display. The design is a little more like a traditional watch and less armor-like than the GA110. It features exposed gold buttons and an exposed gold metal bezel with the G-Shock logo.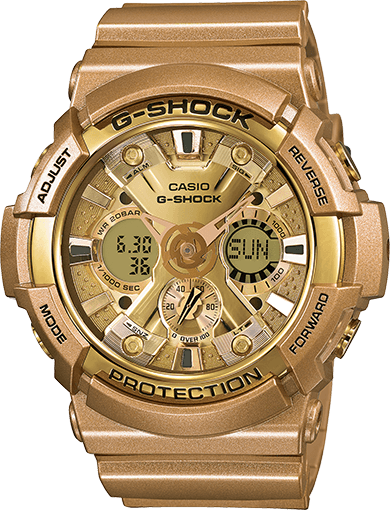 GA200GD-9A on Amazon GA200GD-9A on eBay
The GA200GD-9B2 features a gold bezel and body with black bands. The black bands make this a good choice to wear with dark outfits and the contrasting gold body brings a nice amount of attention to the watch, as seen in this video featuring Benny Gold.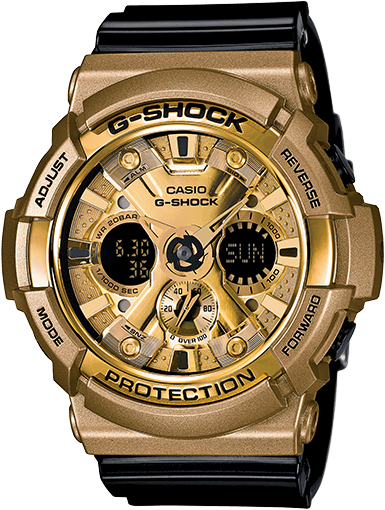 GA200GD-9B2 on Amazon GA200GD-9B2 on eBay
The GA300GD-9A is a previous year's model. It is a dark gold color with a dark gold face. It is one of the more unique looking G-Shock watches with a simple industrial-like body design combined with an intricate display design. The gold colors and accents give it a very "steampunk" look.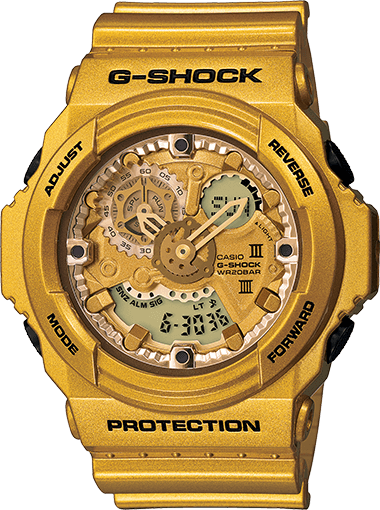 GA300GD-9A on Amazon GA300GD-9A on eBay
Black and Gold G-Shock Watches
A black G-Shock watch with a gold face is a great way to add a lot of style to your G-Shock without bringing too much attention to it.
The GDX6900FB-1 features the oversized black GDX6900 case, known for passing official military stress testing and its practical 10-year battery. The gold face, gold buttons, and reverse display with gold numbers, all combine to make this a fine looking G-Shock that is classic yet very modern and stylish.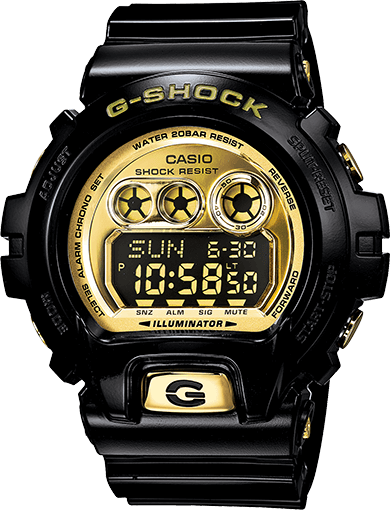 GDX6900FB-1 on Amazon GDX6900FB-1 on eBay
The GA110GB-1A has a black case and a face with gold trim and a reverse display. This makes for a more subtle look since as the gold does not dominate any area of the watch, yet provides enough contrast to be more stylish than the typical GA110.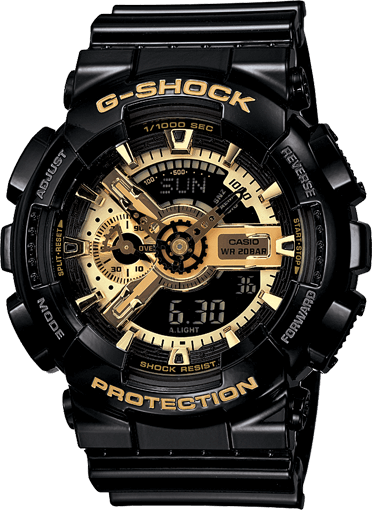 GA110GB-1A on Amazon GA110GB-1A on eBay
The GD100GB-1 is an all-digital big case model featuring a bold gold face with a reverse display. This is a good choice for those who like the big watch style but prefer digital displays and want a watch that stands out. It is the most striking-looking of the GD100 models.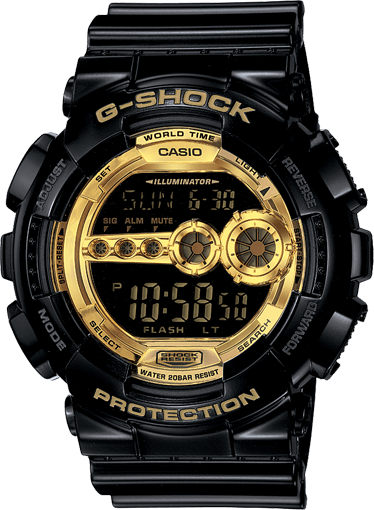 GD100GB-1 on Amazon GD100GB-1 on eBay
Gold G-Shock S Series for Women
The G-Shock S Series line is designed specifically for women. The GMAS110 models are smaller versions of the big case GA110 models for men.
The GMAS110GD-4A1 for women has a pink face to give it a bold feminine look.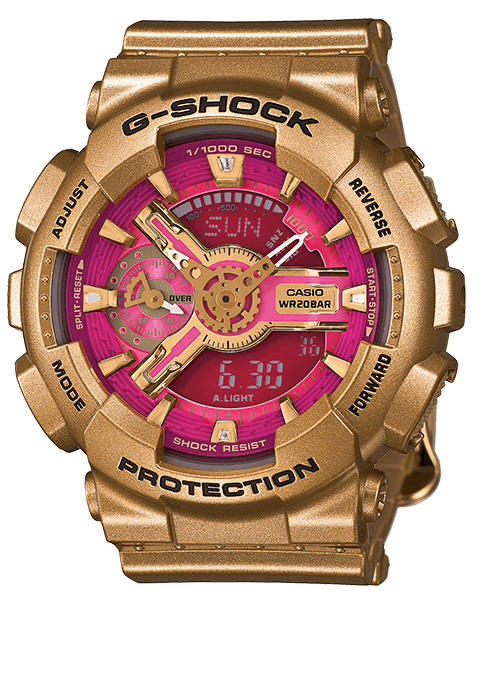 GMAS110GD-4A1 on Amazon GMAS110GD-4A1 on eBay
The GMAS110GD-4A2 has a gold face with pink accents, making it a more subtle gold G-Shock for women.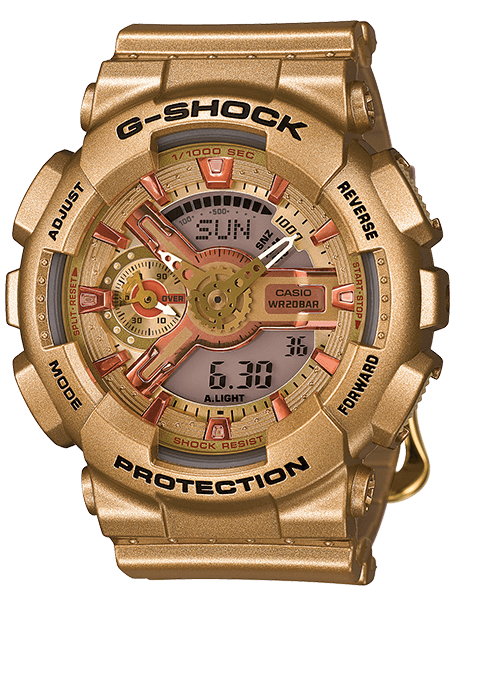 GMAS110GD-4A2 on Amazon GMAS110GD-4A2 on eBay
The GMDS6900SM-9 is a good choice for women who like the classic shape of the DW6900GD-9 but find it too large or want a more comfortable fitting watch. Compared to the DW6900GD-9 which is 53.2 x 50.0 x 16.3mm, the GMDS6900SM-9 is 48.8 x 46.0 x 12.7mm and has a slightly darker face and a reverse display.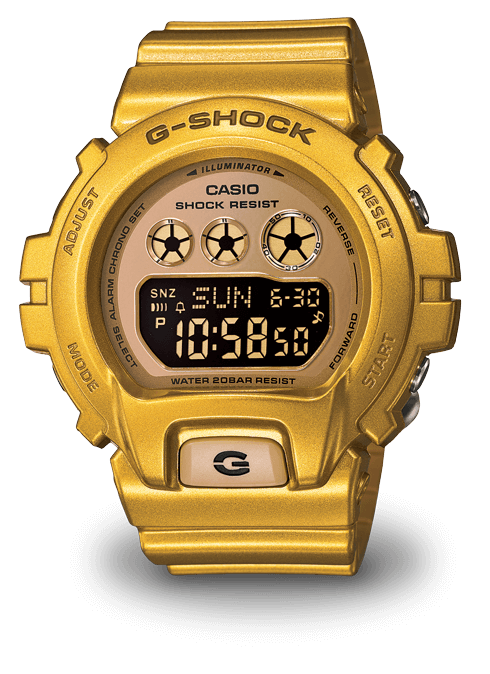 GMDS6900SM-9 on Amazon GMDS6900SM-9 on eBay





Advertisement: