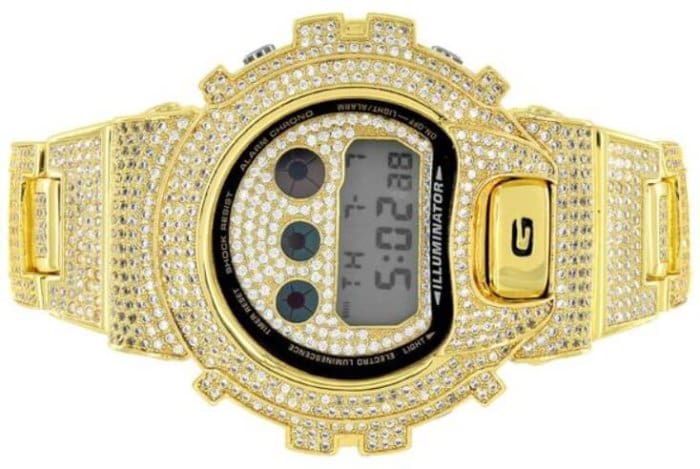 Once limited to the realm of celebrities and their personal jewelers, "iced out" diamond bling G-Shock watches are now available to the masses at affordable prices. These models use "lab diamonds" to create an extravagant blingy look without the exorbitant price of a real diamond watch.
Designer Iced Out G-Shock DW6900
This custom G-Shock DW-6900 has a white gold tone for a clean and classy iced out look. Lab diamonds adorn the bezel, face, and the custom metallic clasp-lock band. These designer G-Shocks also have matching metallic EL backlight buttons for a maximum bling effect.

Pink Gemstones 14k Rose Gold Finish G-Shock DW6900
This iced out G-Shock DW-6900 with pretty rose gold surfaces and lab diamonds is a good choice for the ladies. While the DW-6900 is a men's watch, it is one of the smaller G-Shock models and is likely to fit women with larger wrists. If your wrists are smaller you can always opt to wear the watch loose which is often the style these days.

Yellow Gold Finish Fully Iced Out G-Shock DW6900
This designer G-Shock DW-6900 has a yellow gold tone and white lab diamonds that combine for a traditional blingy look. This is a good choice if you want your iced out G-Shock to get the maximum amount of attention.

Custom Designer Iced Out Black Lab Diamond G-Shock DW6900
With its black gold tone and black lab diamonds, this custom G-Shock DW-6900 is more subdued than the other iced out models but still very blingy with its dark jeweled look.

Another option for an iced out G-Shock is to buy an iced out bezel on Amazon and install it yourself on your own G-Shock. This option isn't quite as nice as a fully iced out watch with a matching band and metallic backlight button, but it is more affordable.

There are also some options that include an iced out bezel and face.

The recommended G-Shock base model for an iced out bling customization is the G-Shock DW-6900, offering retro chic style with an iconic G-Shock case.

(
Disclosure: G-Central is reader-supported and earns a commission on purchases made from its links to Amazon and eBay. G-Central is an independently managed fan blog and is not an official Casio G-Shock site.
)