Click here for the latest red G-Shock watches
While white G-Shock watches are the most common non-black color of choice, red G-Shock watches are not far behind and are a common site on the streets. A red G-Shock makes an effortless fashion statement and works especially well when matching it with red attire and other red accessories like shoes or a cap. Red is often used for special editions with high-end digital models like the Mudman and Rangeman but there is also a good selection of affordable red G-Shocks. Here are the top red G-Shock watches currently available.
G-Shock GA-201RD-4A Solid Red Series
Part of the Solid Red Series of large-case G-Shock watches, the GA-201RD-4A is perhaps the boldest red model. This extra tough looking analog-digital G-Shock has a metallic bezel treated with a black IP and a handsome "X" style face. The glossy red finish combined with the black display and large silver buttons give this watch a look of high quality that belies its affordable price.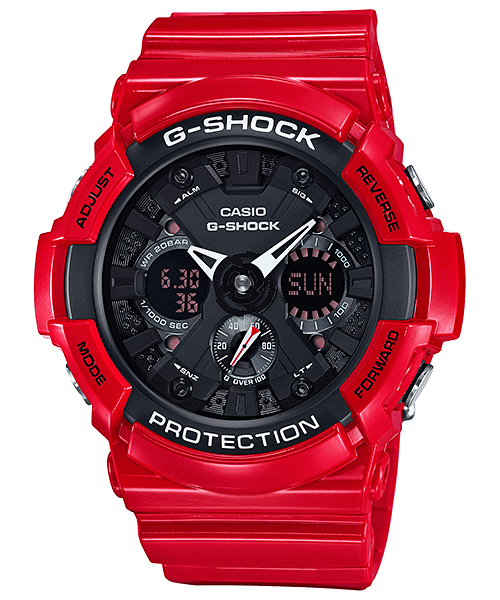 GA-201RD-4A on Amazon GA-201RD-4A on eBay
Red G-Shock G-LIDE GAX-100MB-4A
The GAX-100MB-4A from the recently released G-LIDE GAX-100 series features a marbled red pattern. The design is created with a unique mixed molding process which ensures no two watches are exactly the same. The dark red tone of this watch is mixed with black. The GAX-100 also has a tide graph and thermometer sensor, a unique feature for this case size.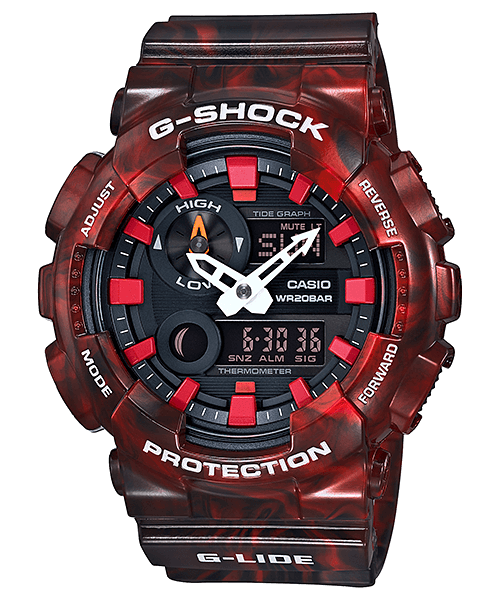 GAX-100MB-4A on Amazon GAX-100MB-4A on eBay
G-Shock Gulfmaster GWN-1000RD-4A Rescue Red
The Gulfmaster GWN-1000RD-4A from the G-Shock Rescue Red Master of G Series takes us into pricier territory with but it is definitely one of the best recent red models. The other Mudmaster and Gravitymaster models in that series just have red bands, but this Gulfmaster also has a nice matte red outer body. The bezel is black with high-contrast white and blue lettering and provides a nice contrast to the body. The Gulfmaster is solar-powered and has the Triple Sensor. For a more advanced red G-Shock, the GWN-1000RD-4A is leading the pack.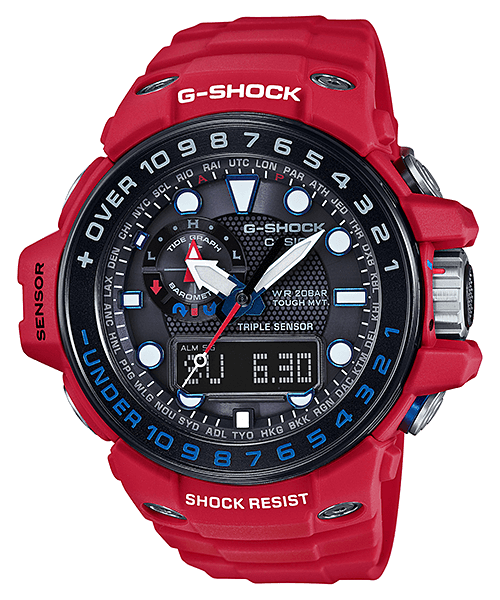 GWN-1000RD-4A on Amazon GWN-1000RD-4A on eBay
Red G-Shock G-LIDE GLX-5600F-4
The GLX-5600F-4 has a subtle red floral pattern on the bezel and bands that resembles a reverse print Hawaiian shirt. As part of the G-LIDE series for surfers, it has a tide and moon graph so you can predict when the surf will be up. This unique G-Shock is a great choice for those who live in the tropics and for those who wish they did.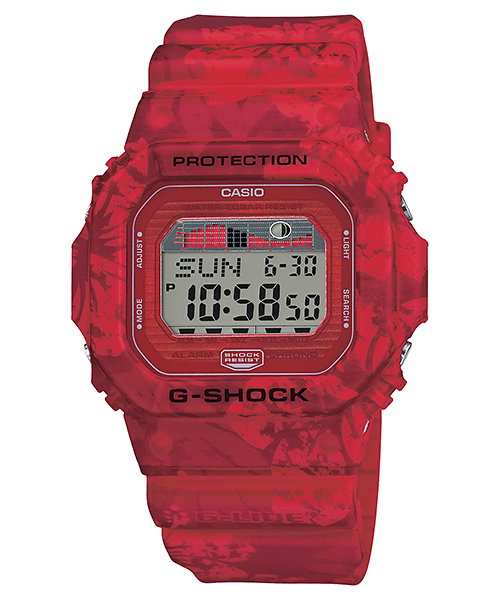 GLX-5600F-4 on Amazon GLX-5600F-4 on eBay
Red G-Shock GA100B-4A
The GA-100B-4A has a red body and a black analog-digital display. It's an excellent choice for a basic red model with a large case and an easily readable analog display. The color is a matte red and the face has white accents and a red hour hand and subdial. The matte finish makes this watch a little less showy, but it is still a big red watch.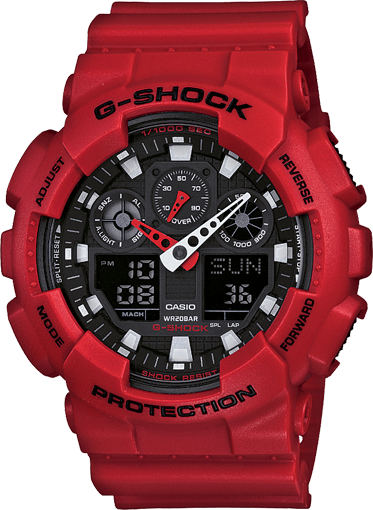 GA100B-4A on Amazon GA100B-4A on eBay
G-Shock GA100CM-4A Red Camouflage
The GA-100CM-4A is part of the Big Case Camo Series and has a dark red camouflage design. It doesn't really have a practical camouflage use but it offers a unique streetwear style with its non-traditional design. It also has a gray camouflage pattern on the face and white tips on the hour and minute hands for visibility.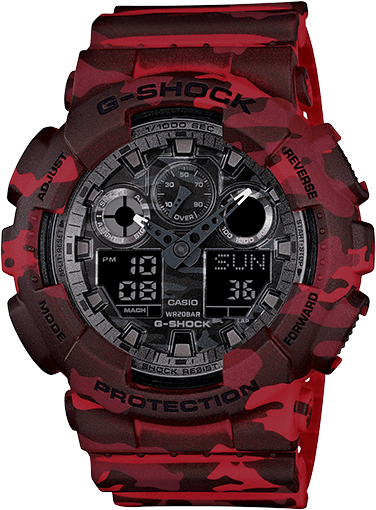 GA100CM-4A on Amazon GA100CM-4A on eBay
G-Shock GDX6900HT-4 Heathered Series Red
GDX6900HT-4 is the red edition of the original Heathered Series, a unique colored series featuring the look of textured fabric. The GDX6900 is a popular large-size case that is known for its convenient 10-year battery and Alpha Gel protection. The GDX6900HT-4 is more dark than bright, giving it a more subtle yet still very fashionable red look. It also features a reverse display with red tinted digits.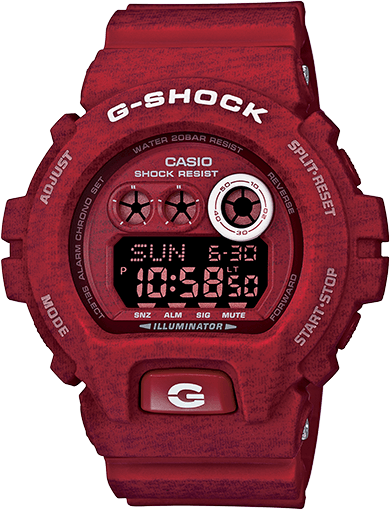 GDX6900HT-4 on Amazon GDX6900HT-4 on eBay
G-Shock GBA400-4A G'MIX Red
The GBA400-4A is like two watches in one, a fashionable red G-Shock and also a bluetooth-enabled smartphone-connected watch and music playback controller. The bright red color on this big G-Shock has a glossy sheen to it which makes it a bolder choice than the average red watch. The G'MIX G-Shock is officially compatible with the iPhone 4s and above, GALAXY S4, Note3, and S5. See this page for more information. This analog-digital model has silver accents for a modern look and reverse LCD displays with red tinted digits.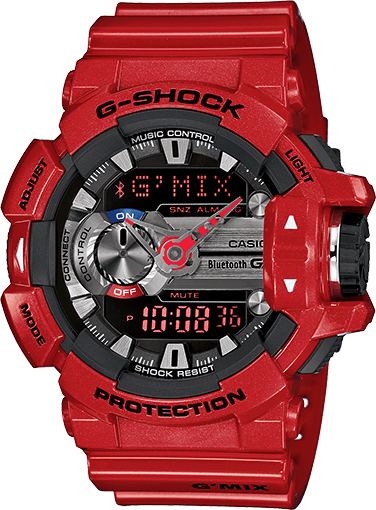 GBA400-4A on Amazon GBA400-4A on eBay
G-Shock GA1000-4B Red Aviation
The GA1000-4B is an aviation model with a look inspired by the instrument panels of an airplane. It is not completely red as it has a black body but it has red resin straps, red lettering, and red accents on the display. This is a professional-grade G-Shock with the Twin Sensor which includes a digital compass and thermometer.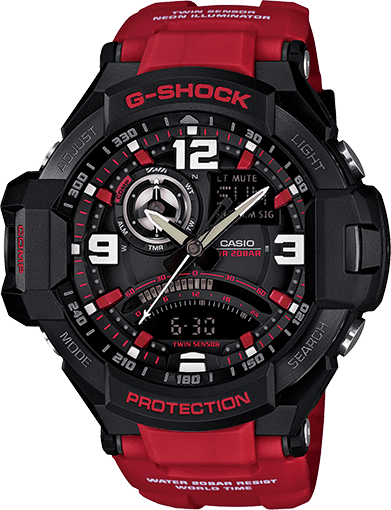 GA1000-4B on Amazon GA1000-4B on eBay
G-Shock G7900A-4 G-RESCUE Red
The G7900A-4 is more of a working man's watch (intended for maritime rescue workers) than a fashion watch but with its bright red color and tough looks it makes its own unique fashion statement. This watch has a tide and moon graph and 4 black front facing screws which gives it a heavy duty look. The front EL backlight button has a white G on it which is sure to please hardcore G-Shock fans. This watch has an old-school charm to it that brings to mind the digital G-Shock watches of the past.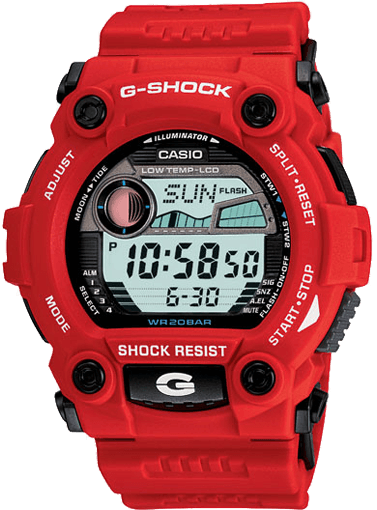 G7900A-4 on Amazon G7900A-4 on eBay
Red G-Shock DW-5600P-4
Speaking of old-school, the DW-5600P-4 is as retro as it gets. A great choice for the '90s revivalist or anyone who prefers a smaller red G-Shock watch over the big case models. The smaller size can be beneficial if you are using it during sporting activities where you don't want a big watch getting in the way. This model also includes a black face protector.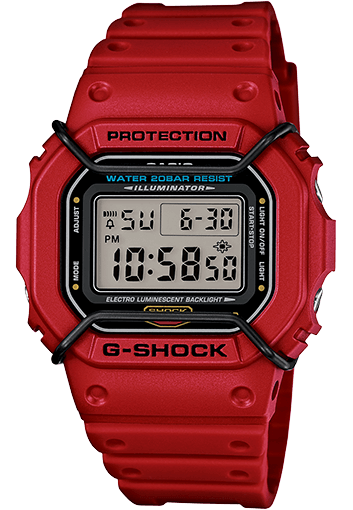 DW-5600P-4 on Amazon DW-5600P-4 on eBay
G-Shock GA110NM-4A Neo Metallic Series Red
The GA110NM-4A is one of the latest red G-Shock releases and certainly one of the best. Its rich candy apple red color has gotten rave reviews. The red color is dark yet glossy and striking. It looks more like a painted metallic surface such as the body of a car rather than a colored resin. The GA110 has perhaps the best looking display of the large analog-digital models. If you could only have one red G-Shock watch this might be the best choice. We suggest watching Mike835's video review as pictures don't do it justice.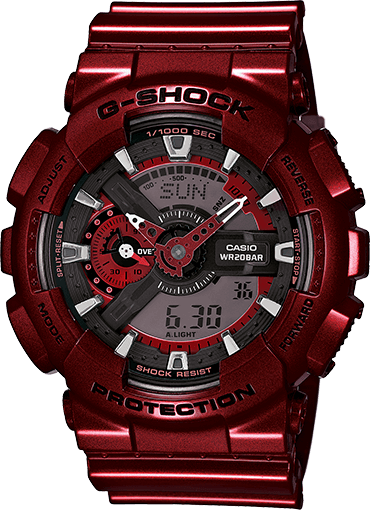 GA110NM-4A on Amazon GA110NM-4A on eBay
Red G-Shock GD-400-4
The GD-400-4 has bright red bands, red accents on the face, and a red-tinted display. The "bull bar" face protector gives this watch an extra-tough look and is designed to give the watch extra protection from hard impacts. It's a good choice for those involved in action sports.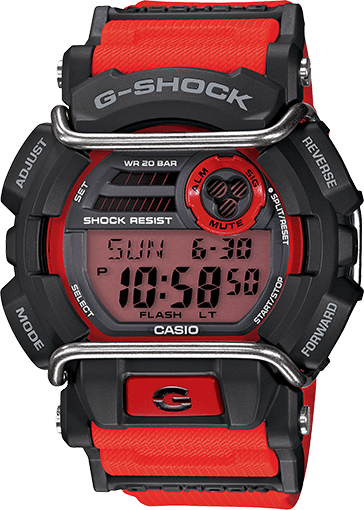 GD-400-4 on Amazon GD-400-4 on eBay





Disclosure: G-Central is independently managed by fans and is not an official G-Shock site. For official support, visit world.casio.com. Please follow your country's official sites for more release information. G-Central may earn a commission on purchases from our links to Amazon, eBay, and Reeds Jewelers.