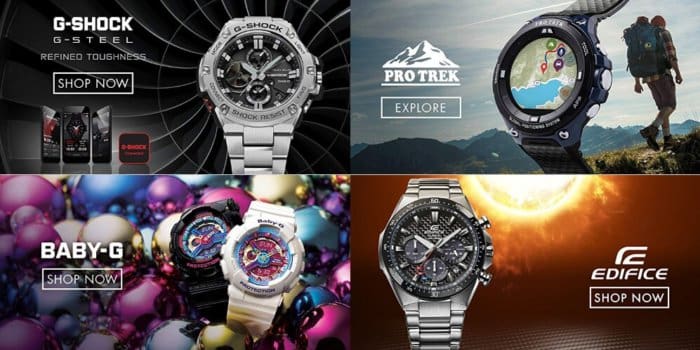 The Casio Store on Amazon.com was recently updated with a new layout and some new items sold by Amazon.com. Though it's not much of an expansion from what existed previously, there are some items worth noting. (Please disable ad blockers to see images and links.)
(UK visitors can visit the Casio Store at Amazon.co.uk.)
Amazon recently added the glossy black and gold GA-400GBX, GA-710GBX, GA-810GBX models which were previously only available in China.

Some affordable and popular 100-series G-Shock models from the past have made a reappearance in the G-Shock section. These include various GA-100, GA-110, GD-100, and GD-120 models.
The Pro Trek Smart WSD-F30 outdoor smartwatch featuring a smaller redesign and improved power-management is now available for pre-order and will be released on January 18, 2019.

Amazon is now selling the Pro Trek PRW-3100YB-1. This slimline model features a stainless steel bezel and STN LCD display along with Tough Solar, Multi-Band 6, and the Triple Sensor.

A new WSD-F20A-BUPT package is available featuring the WSD-F20A-BU smartwatch and a solar charger with carrying case and carabiner.

Amazon is now selling Casio Baby-G watches but the selection is currently limited to two BA-112 analog digital models and three BG-169 digital models. (More models are available from third-party sellers.)

Other Casio watches including the Edifice line are also available.
Visit the Casio Store on Amazon.com




Share This Post
More Articles by G-Central