Click here for the latest white G-Shock watches
Casio has long been known for offering fashionable and sporty options with their white G-Shock watches. A white G-Shock adds a unique sense of style to any casual outfit and can always be worn no matter what kind of activities you have lined up for the day Wearing a white model is also a great way to to make your G-Shock watch stand out even more. It makes a great conversation starter as people will often want to tell you how much they like it. It's not surprising that white G-Shocks are often spotted on the wrists of celebrities. Here are the top white G-Shock watches currently available.
GDX6900HT-7
This large white Heathered Series G-Shock is more of an off-white color with a textured pattern designed to resemble the look of fabric.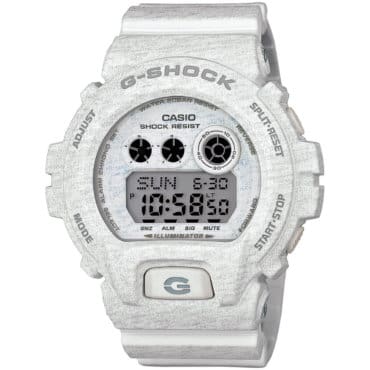 GDX6900HT-7 on Amazon GDX6900HT-7 on eBay
GD100WW-7
This all-digital big case model is like a reverse stealth G-Shock. It has a white case without any lettering paint and an almost all-white face, giving it a very clean and minimalist look. This is a discontinued model that is getting increasingly hard to find.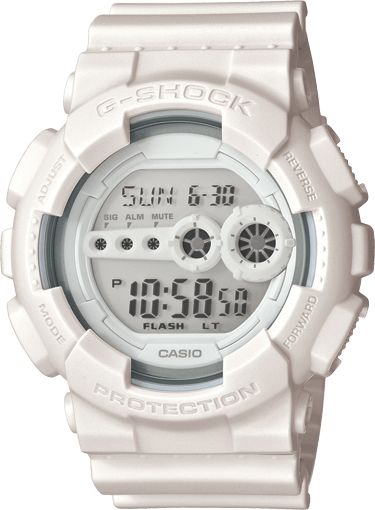 GD100WW-7 on Amazon GD100WW-7 on eBay
GLX5600-7
This white 5600 series G-Shock is a surf model that has a tide and moon graph. It is one of the thinnest G-Shock watches if you prefer a smaller, low-profile watch. Note that it has a subtle design on the straps.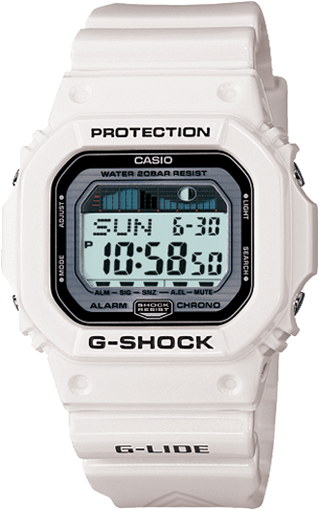 GLX5600-7 on Amazon GLX5600-7 on eBay
GA110C-7A
The GA110 is one of the best-looking big case analog-digital G-Shocks. This white one has a light gray face, giving it a more subtle look that is still very stylish.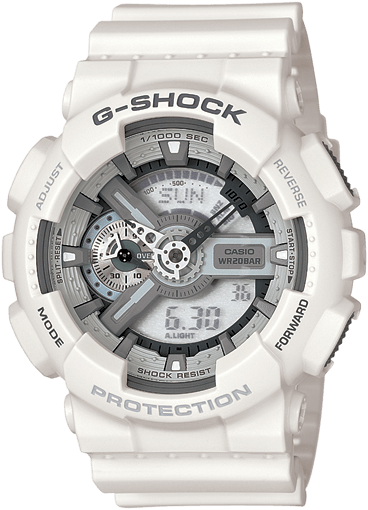 GA110C-7A on Amazon GA110C-7A on eBay
DW5600SL-7
This white Slash Pattern 5600 series G-Shock has a subtle slash pattern on the case and straps that resembles an abstract painting (or perhaps urban decay) and gives it an artistic edge. It also has a minimalist black face with a reverse display, adding to this watch's bold styling.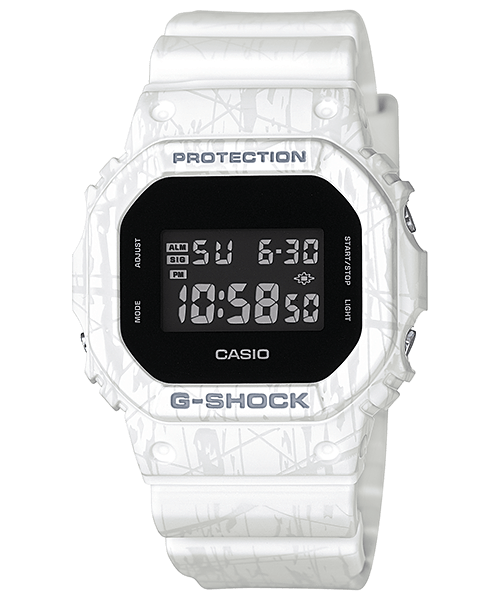 DW5600SL-7 on Amazon DW5600SL-7 on eBay
DW6900NB-7
This is a glossy white standard-size 6900 series G-Shock. As most white G-Shocks are the large-size GDX6900 and Big Case GA/GD models, this is a good choice if you want a white watch but not a big one. It has a reverse display that gives the design a nice contrast. This model is known for being a favorite of Eminem.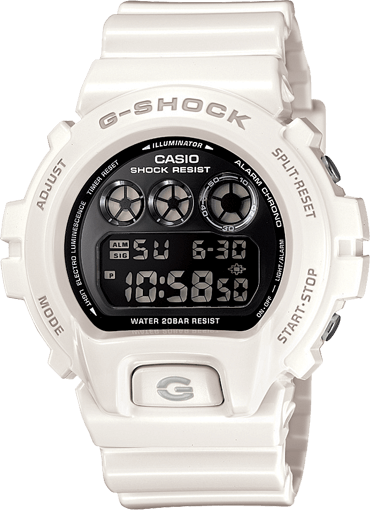 DW6900NB-7 on Amazon DW6900NB-7 on eBay
GDX6900FB-7
This large 6900 series G-Shock has a glossy white finish, a reverse display, and a silver EL backlight button. It is a fine classic-looking G-Shock that will never go out of style.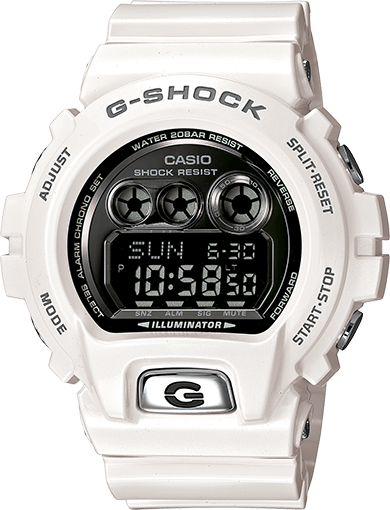 GDX6900FB-7 on Amazon GDX6900FB-7 on eBay
GD110-7
This glossy white all-digital G-Shock is part of the big case GD110 series aimed at runners and features a 60-record memory for storing lap times. It also makes for a great fashionable white watch for everyone else.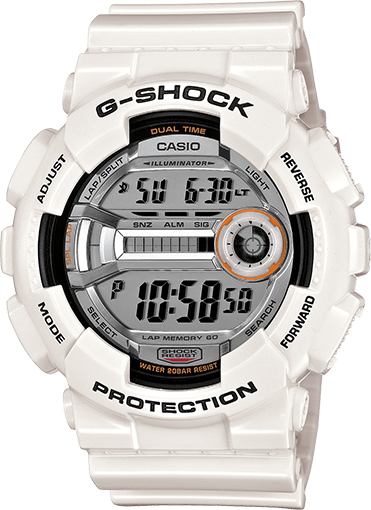 GD110-7 on Amazon GD110-7 on eBay
GA110RG-7A
This analog-digital big case model has fashionable rose gold accents on the face, upping the style quotient immensely. This is a discontinued model that can still be found in decent quantities but for how long that will be is uncertain.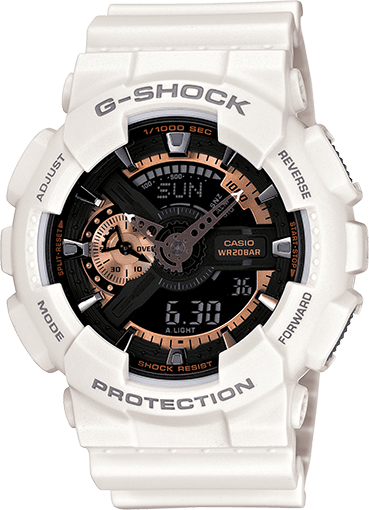 GA110RG-7A on Amazon GA110RG-7A on eBay
GA110GW-7A
This white G-Shock has the same case as the previous one but with a dark black and gray face. This contrast along with its gunmetal-like accents allow it to maintain a tough, masculine look.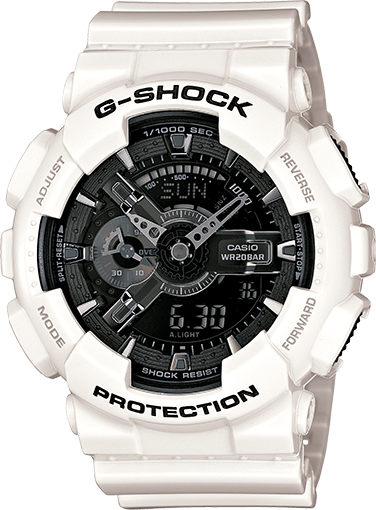 GA110GW-7A on Amazon GA110GW-7A on eBay
Considerations before buying a white G-Shock
All of these are extra-large big case models except for the DW5600SL-7, DW6900NB-7, and GLX5600-7. A non-solar G-Shock with analog hands is typically going to get less battery life than an all-digital G-Shock. The GA analog-digital models have 2-year battery. The GD100WW-7 and GD110-7 have a 7-year battery and the GDX6900HT-7 and GDX6900FB-7 have a 10-year battery. Battery life ratings on G-Shock watches are estimates and the battery can often last much longer if you don't use the backlight and functions as much. A disadvantage to white G-Shocks is that they tend to get dirtier and may need to be cleaned more often depending on the environment and how you use it.





Disclosure: G-Central is independently managed by fans and is not an official G-Shock site. For official support, visit world.casio.com. Please follow your region's official site for more release information. All articles are written by G-Central. We may earn a commission on purchases from our links to Amazon, eBay, and Reeds Jewelers.
Advertisement: