As many G-Shock fans are also avid outdoor enthusiasts, the Casio Exilim EX-FR100 may be of interest as it is a rugged camera designed for self portraits and action videos. The FR100 features a mountable camera with a detachable Bluetooth-connected module that functions as a viewfinder, touchscreen controller, and playback device. The camera has a hinged stand so it can be placed on surfaces and mounted on objects or oneself with the controller acting as a remote. The camera and controller can also be operated while attached together for one-handed selfies or with the hinge folded and camera facing outward like a traditional digital camera. The FR100 comes in three colors: EX-FR100YW (yellow), EX-FR100WE (white), and EX-FR100BK (black). Like the previous generation EX-FR10, the EX-FR100 was released in Japan and Singapore, and unfortunately an official North American release is unlikely.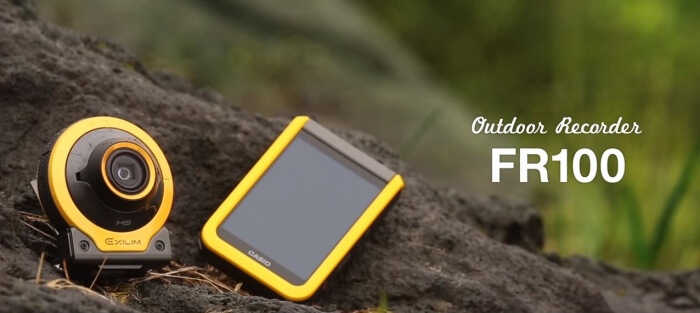 The FR100 camera is shock resistance (withstanding drops of 1.7 meters or 1.3 meters when connected to controller) and also dust and water resistant. Water resistance for the camera body is rated to IPX8 standard and can withstand continuous immersion up to 1.5 meters for 60 minutes (FR10 camera was IPX7). The controller is rated IPX6 and the touch panel is water resistant. The camera can also operate in cold weather up to -5 C or 23 F.
Compared to the previous FR10 model, the FR100 has a larger 3-inch controller screen versus the FR10's 2-inch screen, 16mm (35mm equivalent) lens versus the FR10's 21mm, improved image stabilization, and improved software features.
The new 16mm ultra wide-angle lens makes the FR100 ideal for taking selfies and large group photos as well as for landscape photography and outdoor action scenes. Another new addition is the Intelligent Interval feature for hands free shooting. Using the Exilim high speed HS3 engine, this feature automatically selects and saves the best photos when using high speed continuous shooting. The user also has the option of going through the other photos that were not selected. The Highlight Movie function allows the user to automatically create a highlight video from selected photos and videos from a specific date. This video can then be sent to a smartphone via Bluetooth and shared on social media, allowing for easy editing and immediate sharing without the need for a computer.
Other features include a Quick Response shooting interval of 0.4 second, High-Speed Continuous Shutter that can shoot 12MP photos at 30fps, High-Speed Movie for 240fps videos, 3-axis Anti-Shake Video for less blur, and Time Lapse automatic shooting.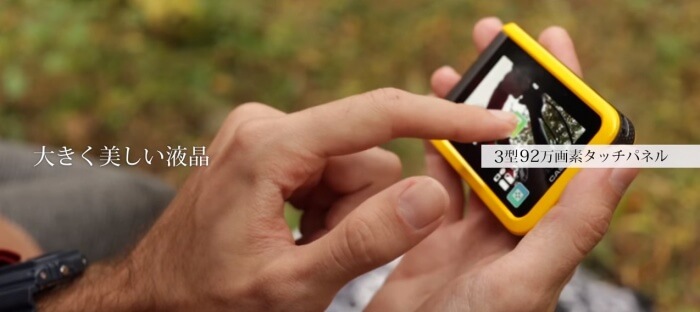 The Casio EX-FR100 looks like a specialty-use product but it is designed for easy operation and meant to be more accessible to casual users than other action cameras. Casio is targeting outdoor hobbyists with its "Go Adventure" campaign. For those not into action sports, the FR100 can still be a useful selfie camera with its wide lens, durability, and unique remote control. For more demanding users, some limitations to be aware of is that movie recording is limited to 29 minutes (4GB) per video and the microphone is monaural. The batteries are not removable, but the camera can be powered with the microUSB port.
For more info, visit www.casio-intl.com/asia-mea/en/dc/ex_fr100/.

Optional accessories include a Marine Case [EAM-5] for underwater ocean use up to 20 meters (also compatible with FR10), Selfie Stick [EAM-4], Antenna Cable Set [EAM-6] allowing underwater viewing, LED Ring Flash Attachment [EAM-7] for low-light conditions, Tripod Mount [EAM-1], Multi-angle Clip [EAM-2], and Multi-angle Belt Set [EAM-3].
Casio Exilim EX-FR100 Main Specs:
Effective Pixels: ~10.2 megapixels
Sensor: 1/2.3-inch CMOS (back-illuminated type), Total Pixels: 12.76 megapixels
Lens: F-number: F2.8, Focal Length: f=2.87mm, Approx. 16mm equivalent to 35mm film
Zoom: 4x digital zoom
Recorded Pixels:
Still images: 12M (4000 x 3000) / 5M (2560 x 1920)
Movies: Full HD (1920 x 1080 30fps) / STD (640 x 480 30fps) / HS 240 (512 x 384 240fps)
Recording media: microSD, microSDHC, microSDXC compatible
Battery Life:
Number of Shots: ~235 Shots, ~285 Shots (Camera Standalone operation)
Actual Movie Recording Time (Full HD): ~55 minutes (in accordance with CIPA standards)
Continuous Movie Recording Time (Full HD): ~1 hour 20 minutes (based on CASIO standards)
Connectivity: Bluetooth, Wi-Fi (802.11b/g/n), microUSB
Power: Rechargeable lithium ion battery (1 internal battery each in camera and controller)
Size: Camera: 60.9 mm x 33.3mm (excluding hinge), Controller: 59.2 x 86.7 x 19.4mm
Total Weight: 214g
Included Accessories: Controller (EX-FR100CT), Hinge Unit, Tripod nut, Carabiner Strap, USB-AC Adaptor (AD-C53U), Micro USB Cable, AC Power Cord, Basic Reference
English instruction manual can be found here
Source: casio-intl.com