A favorite of outdoor enthusiasts, military and law enforcement personnel, extreme athletes, gadget lovers, and fashion trendsetters, the G-Shock watch has a long and storied history that spans over thirty years. When Casio lead designer Kikuo Ibe dropped a watch given to him by his father and saw it shatter to pieces, he vowed to create an unbreakable watch that could withstand major drops and impacts.
In 1981, the three-member Project Team Tough set out to make Ibe's vision a reality. The team sought to develop a watch based on the "Triple 10" concept, including shock resistance to withstand a 10 meter drop, 10-bar (100-meter) water resistance, and a 10-year battery life. Ibe devised the "floating module" concept based on an idea he had when he saw a girl bouncing a ball in the park. This innovative structure suspended the module with a few points of contact and provided efficient shock protection without the need for excessive shock absorbing material. After going through over 200 prototypes and rigorous testing, the final result was the G-Shock DW-5000C, launched in April 1983 with two models: the black and red DW-5000C-1A and the black and gold DW-5000C-1B.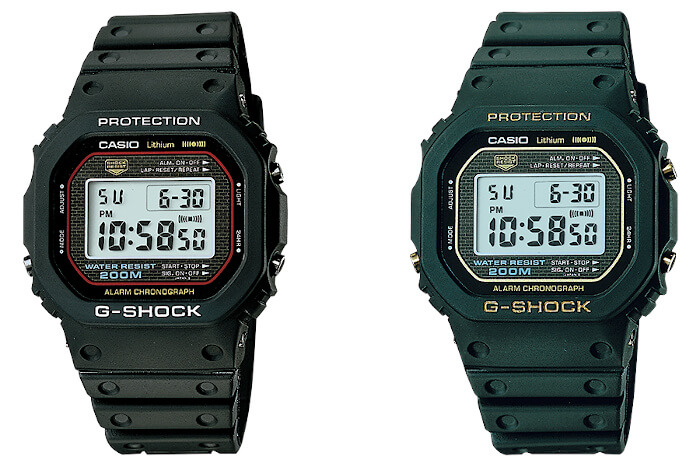 The G-Shock would gain a reputation as the world's toughest watch, featuring a protective case and an extreme level of shock resistance that had never been seen before. It also featured 200-meter water resistance, a 10-year battery, and had the digital functions that remain an integral part of G-Shock watches today: stopwatch, countdown timer, 12/24 hour mode, alarm, and light. Though the G-Shock watch served an untapped niche, initial sales in Japan were sluggish and there was concern about it being discontinued. In 1984, Casio released the G-Shock DW-5200 which was featured in a widely-seen American commercial, with the watch serving as a replacement for a hockey puck and being hit with hockey stick. The DW-5200 sold well in America, especially with athletes like skateboarders and surfers, and the "Hero" model was credited with popularizing and saving the brand. The DW-5000 would eventually evolve into the DW-5600C in 1987 and live on as the various "square" 5000-5600 models that are still popular today.
The First G-Shock Commercial:

With the success of the 5000 line, Casio did not rest on its laurels and continued to innovate, consistently introducing new G-Shock models and features at a rapid pace over the years.
In 1989, the first analog G-Shock AW-500 was launched. 1992 saw the first sensor-equipped watch: the DW-6100 with a thermometer. 1993 saw the introduction of the Frogman DW-6300, an oversized, asymmetrical diving watch. The Frogman was the first G-Shock to be an ISO-certified 200-meter dive watch and would become one of the most prominent lines in G-Shock history, as well as a collector's favorite.
G-Shock experienced a golden age in the 1990s and found the brand gaining mainstream acceptance and a reputation as an innovator of streetwear fashion. G-Shock's many limited edition collaboration releases with popular streetwear and lifestyle brands would prove to be extremely popular, and this collaborative approach has become a tradition.
With the success of their resin watches, Kikuo Ibe and a team of eight young Casio engineers set out on a new mission to create a metal G-Shock that could be worn for both casual and formal occasions. The result was the launch of the MR-G series in 1996. Analog models joined the MR-G series in 1997 and laid the foundation for the high-end, luxury-style G-Shock watches of today.
Casio launched the Baby-G line for women in 1994 with the DW-520, a smaller, fashionable watch for women with the same level of shock resistance as a G-Shock. In 1995, the first DW-6900 was launched. The 6900 would become one of the most popular and iconic cases like the 5600. The first solar-powered Raysman DW-9300 was released in 1998 and this was the beginning of the now popular Tough Solar feature. 2000 saw the introduction of radio-synced time calibration with the GW-100, later to evolve and be known as Multi-Band 6.
After seeing sales peak in the 1990s, G-Shock began to focus more on analog models in the 2010s, and would see a resurgence after the introduction of the GA-100 and GA-110 series. G-Shock also continued to develop digital models like the best-selling GW-9400 Rangeman with the Triple Sensor. In the late 2010s, Casio started focusing heavily on the Bluetooth smartphone link feature, as well as expanding its signature lines like the Frogman and Rangeman. During the 35th Anniversary, in 2018, the phenomenal success of the full metal GMW-B5000 gave G-Shock another big boost.
G-Shock has shipped over 100 million units worldwide and has remained popular with the release of innovative new models and Casio's ongoing promotional efforts, including events and collaborations with athletes, artists, musicians, and fashion designers. Through technological innovation, functional and fashionable design, a strong commitment to its original mission, G-Shock has become one of the world's most recognizable and trusted brands.
Kikuo Ibe on Inventing G-Shock
Kikuo Ibe made an appearance on an American home shopping network in September 2015 to tell the story of G-Shock in English. The following is his story transcribed from that appearance.
"For me the story of G-Shock is one of dreams and challenges. My first dream was the challenge of building a very tough watch … years ago on my way to work I dropped a rather precious watch that had been a gift from my father. It broke into many pieces. Of course, this watch was not Casio. At the time, it was felt that a watch should be treated with care, so I decided to develop a tough watch that would not break, even if it was dropped. This was the beginning of G-Shock. At that time, there was a kind of slim case competition in the watch industry, so I decided to test my dream in a secret place. The secret place was a restroom in our R&D building. I took a standard metal case, found some rubber protection, and threw it from the second floor window. Using rubber to make the size of a ball, it worked. The size, oh shock! So next, I started to develop a shock-resistance structure consisting of five steps to protect the engine. By having five steps to absorb the shock and protect the engine, the total size of the watch could be reduced dramatically. But in the engine itself some of the electronic parts would break, and even after reinforcing some parts, other parts would start to break. I tested everything I could think of! No stone was left unturned. Never give up! Even when faced by the biggest problem. This is my principle. And then one day in the park, I watched a little girl playing with a ball. I watched the ball bounce and imagined the ball containing a floating watch engine. Suddenly the solution was obvious. I came up with the idea to float the watch engine. Finally we could develop G-Shock, a shock-absorbing structure with five steps and an engine floating structure with point contacts. My dream became a reality in 1983."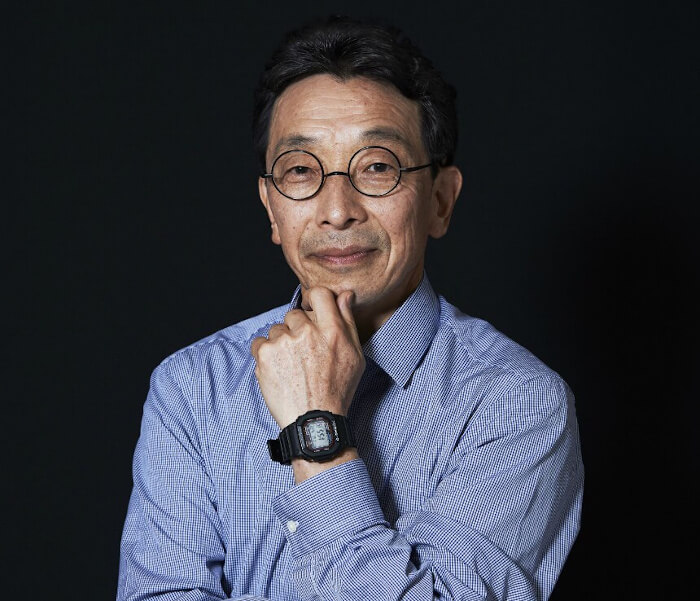 Sources: G-Shock.com, G-Shock Europe, G-Peopleland, G-Shock 2015 Catalog, Watch Geek – G-Shock History – 1984 – 1995 – Squares
Disclosure: G-Central is independently managed by fans and is not an official G-Shock site. For official support, visit world.casio.com. Please follow your region's official site for more release information. All articles are written by G-Central. We may earn a commission on purchases from our links to Amazon, eBay, and Reeds Jewelers.
Advertisement: