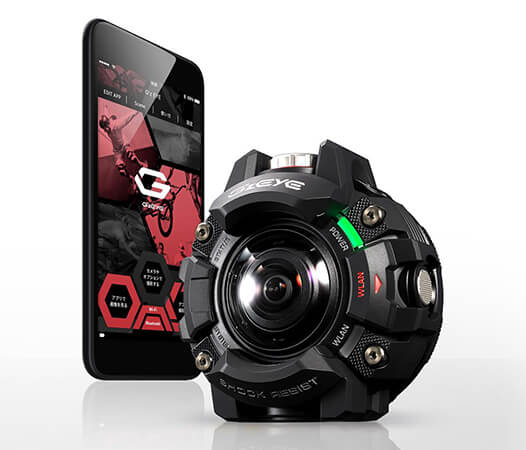 Introducing an all-new line of "Cool Street Gear," Casio is releasing the G'z EYE GZE-1 Tough Camera on October 27 in Japan. The GZE-1 is a portable full HD action camera with a G-Shock-like "Shock Resist" exterior designed for shooting extreme sports like skateboarding, snowboarding, and surfing. The GZE-1 is shock-resistant (drop tested to 4 meters), water-resistant to 50 meters, and IP6X dust and sand-resistant. It is also resistant to low temperatures up to -10° C. The special wave-breaking structure is designed to disperse wave impacts for ocean use. The ultra wide-angle lens is capable of shooting 170.4° for videos and 190.8° for still images. A special slow-motion feature allows selected parts of videos to be slowed down for a dramatic effect. Other features include 30 fps continuous shooting, time lapse shooting, and a three-axis movie image stabilizer.
The GZE-1 can be operated with its exterior buttons or remotely with the Pro Trek WSD-F20 Smart Outdoor Watch, a Bluetooth-connected smartphone, or optional remote controls. The GZE-1 shoots up to 6 MP (3008 x 2256) for still images and up to full HD (1920×1080 at 30 fps) for movies. The stereo microphone features wind-noise reduction. The sensor is a 1/2.3 CMOS and the lens aperture is f/2.8. Battery life is estimated at 1 hour 35 minutes when shooting FHD video. Other support includes microSD, micro USB, and 802.11b/g/n Wi-Fi. For full technical specifications visit casio.jp.
So far the G'z EYE GZE-1 has only been announced for a Japan release. A wrist-mountable remote control, LCD control, tripod screw mount with carabiner, stabilizing mount, multi-angle stick, and a chest harness will also be available.
Update: Casio also announced the G'z EYE GZE-1 for an Asia release.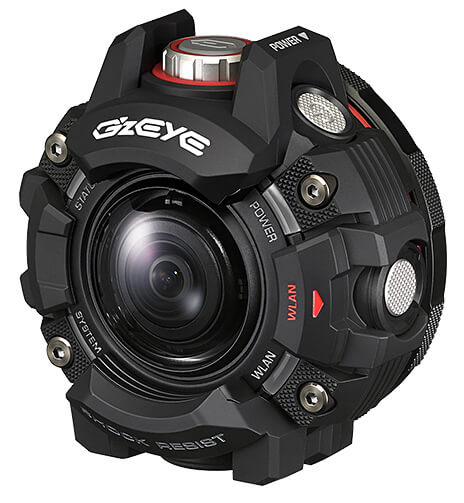 Casio G'z EYE GZE-1 Promotional Video (Japanese):