Quick Jump: 15 Best G-Shock Watches | Beginner's Guide To G-Shock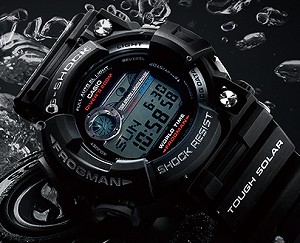 The G-Central Top 15 is a list of the overall best G-Shock watches for 2018. The criteria for evaluation include features, style, value, and popularity. This list is ever-evolving and regularly updated to include the most current G-Shock releases. We've included a wide range of G-Shock models with a variety of features and styles to help you find the best G-Shock watch that fits your needs.
About G-Shock Features: All Casio G-Shock watches feature shock resistance against impacts and 200-meter water resistance. Also most G-Shock watches have a daily alarm or multiple alarms with snooze alarm, world time (except for the most basic models), EL or LED backlight, stopwatch, countdown timer, adjustable hourly time signal, auto calendar, and 12/24 hour time format. Some G-Shock watches have other useful features like Tough Solar (with a solar-powered rechargeable battery) and Multi-Band 6 (automatic time adjustment via radio wave reception, a.k.a. "Wave Ceptor" or "Radio Controlled"). Some high-end G-Shock watches such as those in the professional Master of G line have the Triple Sensor including an altimeter-barometer, compass, and thermometer.
For more information about the entire range of G-Shock watches available, we've also included the Beginner's Guide to G-Shock Watches. For more G-Shock selections see all of our G-Shock Buying Guides.
G-Central's 15 Best G-Shock Watches: Quicklinks
Click a link for that watch's review or scroll down to start the countdown with number 15.
G-Central's #2 G-Shock: GW9400-1 Rangeman with Tough Solar and Triple Sensor:

G-Central Top 15 Best G-Shock Watches: Reviews
15. G-STEEL GSTB100-1A Large Tough Solar Analog Watch with Bluetooth
The G-STEEL GSTB100-1A continues G-Shock's push into more mainstream-style analog watches while maintaining toughness and adding innovative new features. The fully analog GSTB100-1A features Tough Solar power and uses a Bluetooth connection to a smartphone to automatically synchronize the time though internet time servers and adjust the watch settings. There is also a phone finder function to locate a misplaced phone. As part of the G-STEEL line, the GSTB100-1A has a tough stainless steel body. The GSTB100-1A is a good choice for travelers and those who want their watch to always be as accurate as possible but live outside of Multi-Band 6 range and don't have the budget for a G-Shock with GPS timekeeping. It is currently the most affordable model with the Bluetooth time-syncing capability. The GST-B100 line is also available in more upscale versions with a stainless steel band or carbon fiber bezel, but we suggest the GSTB100-1A with a black resin band for its more affordable price and easy adjustability.
PROS: Mainstream look, solar-powered, Bluetooth mobile link
CONS: Requires a smartphone to adjust settings
BEST FOR: Office, travel, those living out of range of Multi-Band 6 signals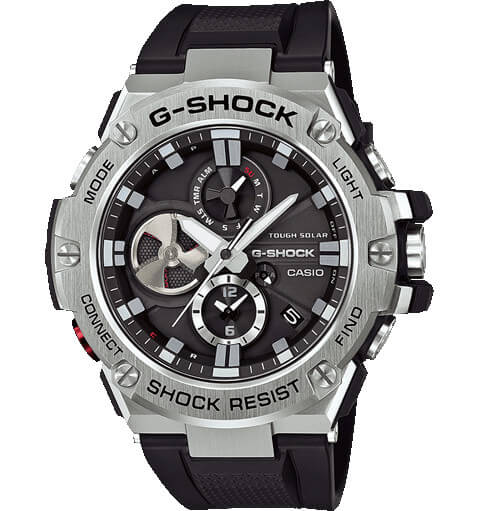 GSTB100-1A on Amazon
GSTB100-1A on eBay
14. G-Shock DW9052-1V Affordable Digital Military Watch
The DW9052-1V is referred to as the "standard issue" G-Shock and it is often seen worn by military personnel around the world. It is one of the cheapest G-Shock watches available but is just as tough as any other. The DW9052-1V has an extra-rugged case design with button guards and an easily-accessible front EL backlight button. For those who need maximum visibility in the dark, the EL backlight on this model illuminates the entire LCD display from behind for easy viewing. This basic model also has a stopwatch, countdown timer, and daily alarm.
PROS: Inexpensive, front EL backlight button
CONS: Maybe not at stylish as other G-Shock models
BEST FOR: Military, extreme sports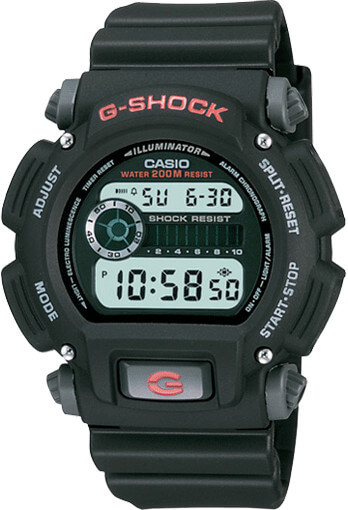 DW9052V-1 on Amazon
DW9052V-1 on eBay
13. G-Shock G-SQUAD GBA800-8A Mid-Size Step Tracker Watch
The GBA800-8 is part of the new G-SQUAD line of fitness-oriented G-Shock watches that is equipped with the Step Tracker (pedometer) feature along with Bluetooth mobile link. A connected smartphone can view step tracking data (including step goal progress and hourly step count graph), automatically sync the watch with internet time servers four times a day, and adjust the watch settings like the dual time display (with 300-city world time) and alarms. Up to five individual timers can be created and set to repeat up to twenty times for interval training. The watch also has a 200-set lap time memory (including month, date, lap/split times). The GBA800-8 is a mid-size G-Shock that is suitable for both men and women and is available in other colors.
PROS: Unique step tracking and interval timer features
CONS: Not solar-powered, approximate 2-year battery life
BEST FOR: Fitness, interval training, running, walking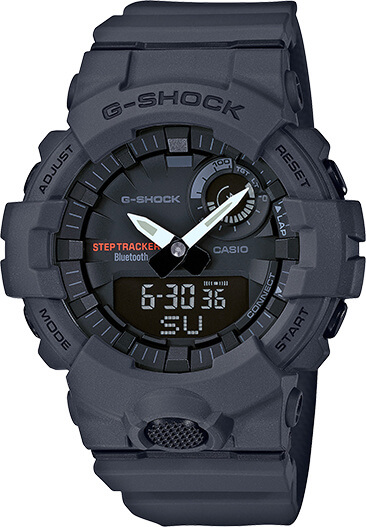 GBA800-8A on Amazon
GBA800-8A on eBay
12. G-Shock GA700-1B Extra-Large Analog Watch with Front Light Button
The GA-700 Series was introduced in late 2016 and is likely to become another classic. It is the first affordable analog-digital G-Shock watch with a convenient front-facing LED light button. Another standout feature is the estimated 5-year battery life which is much longer compared to other non-solar analog models. The GA-700 continues the recent G-Shock trend of an extra-large rugged case (53.4 mm-wide, larger than a GA100) combined with a 3D index and large analog hands. The face also includes an LCD subdisplay for features like world time, stopwatch, countdown timer, 4 daily alarms and 1 snooze alarm, and 12/24 hour format.
PROS: Longest battery life for a non-solar analog G-Shock, front LED light button, large buttons
CONS: Reverse LCD display may be hard to see
BEST FOR: All-purpose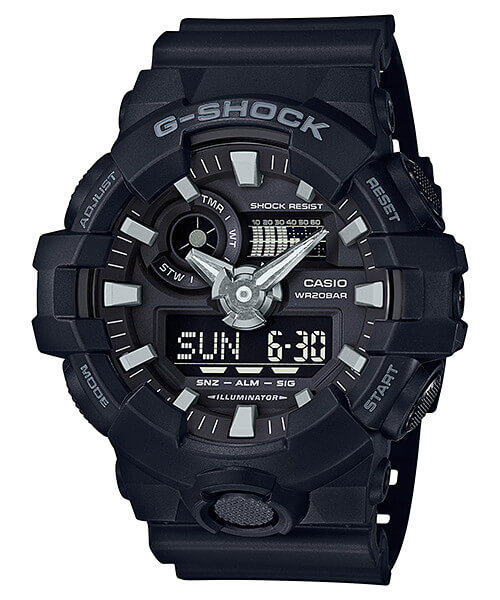 11. G-Shock GAS100B-1A Extra-Large Analog Watch with Tough Solar
Before the GAS-100 series, analog-style G-Shock watches with Tough Solar power were either smaller models or larger, more expensive high-end models. The GAS100B-1A is the first large analog and solar-powered G-Shock in the more affordable price range. Sharing the same module and display style as the G-STEEL GST-S100, the GAS100B-1A forgoes the stainless steel body in favor of a resin case, though it does have an integrated stainless steel bezel coated with a black ion plating. The GAS100B-1A continues the G-Shock tradition of rugged good looks combined with useful technology. As analog G-Shock watches consume battery power at a faster rate than digital models, the Tough Solar feature is particularly helpful with this model and keeps the rechargeable battery powered up.
PROS: Solar-powered, large buttons
CONS: May be too large for small wrists
BEST FOR: All-purpose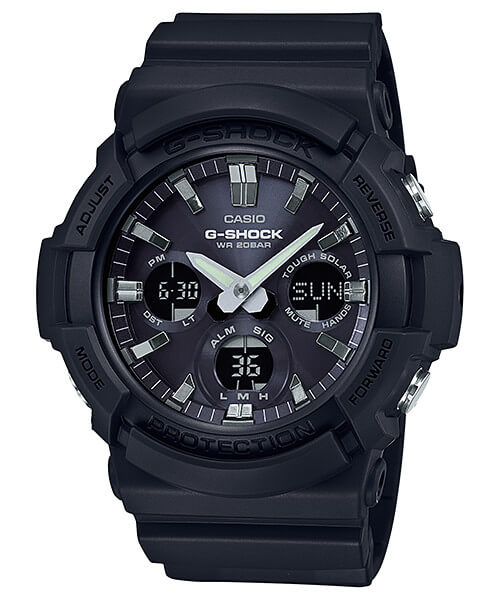 GAS100B-1A on Amazon
GAS100B-1A on eBay
10. G-Shock G9300-1 Mudman Solar Watch with Compass & Thermometer
Though flashier models have taken the spotlight recently, the G9300-1 Mudman remains a solid performer that offers excellent value. Equipped with Tough Solar power and a Twin Sensor (with compass and thermometer), the Mudman is a maintenance-free digital watch with features everyone can use. The G9300-1 is a large-case model but is the smallest G-Shock watch with a compass sensor. The Mudman line goes way back to the 1980s and was responsible for laying the foundation for the Master of G series of professional-grade G-Shock watches. The current Mudman retains the extra-rugged mud-and-dust-resistant structure while maintaining a classic G-Shock look which is understated yet tough.
PROS: Smallest and most affordable compass sensor G-Shock
CONS: Buttons are harder to press due to mud-resistance design
BEST FOR: Hiking, trekking, travel, military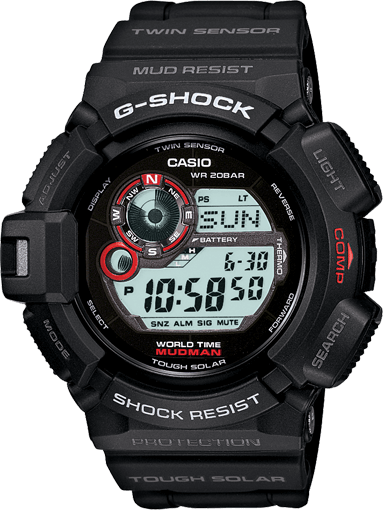 G9300-1 on Amazon
G9300-1 on eBay
9. G-Shock AWGM100B-1A Mid-Size Solar Analog-Digital Watch
With its conservative styling and relatively smaller size, the AWGM100B-1A is a good entry point for a first G-Shock. The AWGM100B-1A has Tough Solar power and Multi-Band 6, so the battery won't need to be replaced regularly and the time will be automatically synced to atomic clocks if within range of the six radio transmitters around the world. The black IP stainless steel bezel combined with the resin case give this watch a classy look that wouldn't be out of place in an office. Other features include world time, 5 daily alarms, stopwatch, countdown timer, and LED light with afterglow. This is a great all-around G-Shock for someone who just wants a simple watch to tell the time with and not have to worry about maintenance at all. Since the LCD subdisplays are small, if you plan to use the digital functions a lot it might be better to go with an all-digital model.
PROS: Solar power, Multi-Band 6, standard size
CONS: Small reverse LCD displays are hard to read
BEST FOR: Those who prefer a solar analog-digital G-Shock that is not extra large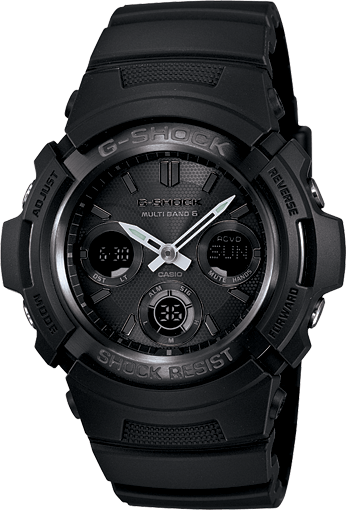 8. G-STEEL GSTS130L-1A Solar Stainless Steel Watch with Leather Band
The GSTS130L-1A is part of the G-Shock G-Steel line that offers more upscale yet affordable solar-powered watches with bodies constructed of stainless steel and resin. This model features a dual-layer guard structure that consists of an inner urethane bezel and an outer stainless steel bezel for superior shock protection. The GSTS130L-1A is part of the Tough Leather series which is the first line of G-Shock watches to include a synthetic leather-style band that is resistant to scratches and water. We prefer this model for its classic color scheme and standard LCD displays with black digits for easy viewing. In addition to its analog hour and minute hands the watch has three digital subdisplays to show the day, date, and second data and for functions like the stopwatch and countdown timer. It also has a hand concealment function that will move the hands out of the way in order to view the LCD displays. Other features include Tough Solar power, dual LED light, world time, 5 daily alarms, hourly time signal, auto calendar, and 12/24 hour formats.
PROS: Solar-powered, leather-style band, upscale look, standard LCD display
CONS: No Multi-Band 6
BEST FOR: Office and social settings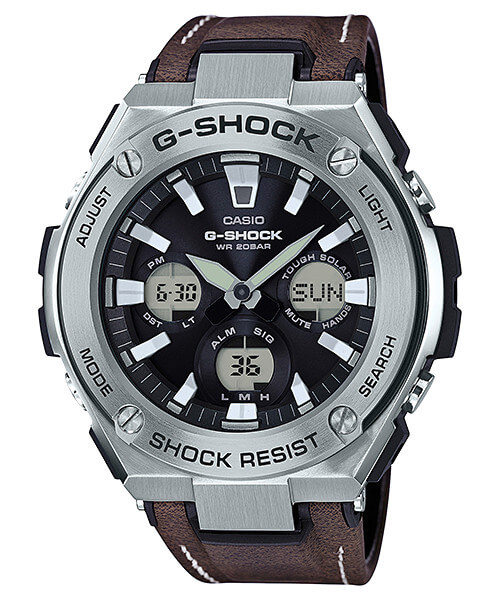 GSTS130L-1A on Amazon
GSTS130L-1A on eBay
7. G-Shock GW6900-1 Solar Mid-Size Digital with EL Backlight
The GW6900-1 is the most advanced version of the popular 6900 line and features Tough Solar power and Multi-Band 6 automatic radio time syncing. This model has one of the most iconic and long-running G-Shock cases along with the 5600 series. It started off as the DW-6600 in 1994 which was the first G-Shock to use the "EL backlight" that illuminates the entire background of the display, and it was known as the Navy SEAL G-Shock. The GW6900-1 retains the same user-friendliness as the DW-6600 and its successor the DW-6900 but with more advanced features like world time, multiple (5) daily alarms, and a full auto EL backlight (that can be set to automatically activate in the dark with a turn of the wrist), as well as the usual features like stopwatch and countdown timer. With its straightforward design and easy-access front backlight button, the GW6900-1 is recommended for military use or any job that demands reliable timekeeping. The GW6900-1 is a mid-size watch that is also suitable for smaller wrists but it wears a little larger than the 5600 line.
PROS: Solar power and auto time adjustment, front EL backlight button
CONS: No sensors
BEST FOR: Military, work, all-purpose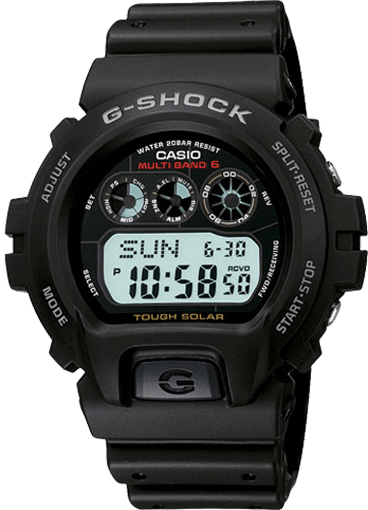 GW6900-1 on Amazon
GW6900-1 on eBay
6. GWN1000B-1B Gulfmaster Solar Analog-Digital Maritime Watch
The GWN1000 Gulfmaster is one of the most feature-rich G-Shock models available with Tough Solar, Multi-Band 6, Triple Sensor (alti/barometer-compass-thermometer), and tide/moon data. It is also one of the most visually appealing with its large round face and easy-to-read analog hands. At 55.8 millimeters wide it is a large watch but it looks smaller in person and it is comfortable to wear. The Gulfmaster line also comes in a variety of color schemes, making it one of the more stylish of the large specialty G-Shock watches. As its name suggests, the Gulfmaster was designed for boaters and maritime use. It is a good choice for a high-end analog-style G-Shock that won't break the bank and it is one of the best values for a Triple Sensor G-Shock. For all color options see our listing of all Gulfmaster GWN-1000 models.
PROS: Most affordable Triple Sensor analog G-Shock, tide graph, metal strap keeper
CONS: Reverse LCD display may be difficult to read in some conditions
BEST FOR: Boating and maritime use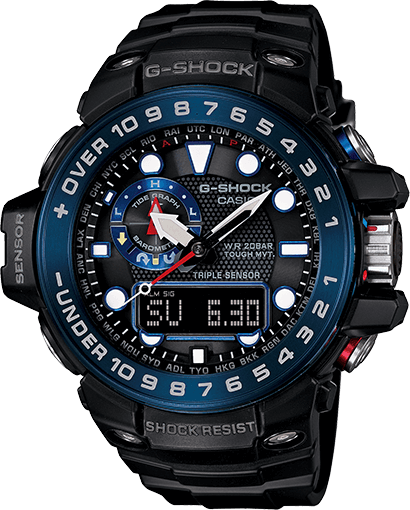 GWN1000B-1B on Amazon
GWN1000 on eBay
5. G-Shock GA100-1A1 Large Analog-Digital Watch
Part of the new breed of large analog-digital G-Shock watches that revitalized the brand in the 2010s, the GA-100 is one of the best-selling models and has become a modern classic. The GA-100 series reaffirmed G-Shock's status as an innovator of practical and attractive timepieces. The GA100-1A1 features a design inspired by an airplane's instrument panel with high-contrast analog hands and an anti-magnetic structure. It also has an LCD display for functions like the stopwatch and countdown timer. Other features include an auto LED light, world time, and 5 daily alarms. The GA100-1A1 is a popular choice for police and other uniformed workers. Millennials view the GA-100 series as an iconic G-Shock case and tend to favor the large analog style over the digital models. For gifts or first time G-Shock buyers, it is one of the safest choices.
PROS: Classic large case, straightforward design, high-visibility analog hands
CONS: Estimated 2-year battery life
BEST FOR: Police, outdoor jobs, all-purpose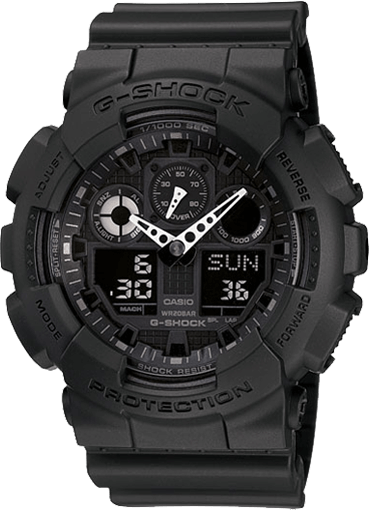 GA100-1A1 on Amazon
GA100-1A1 on eBay
4. GWF1000-1 Frogman ISO Diver's 200M Watch
The Casio G-Shock Frogman is one of the most beloved and storied lines of G-Shock watches dating back to 1993. It remains a favorite of hardcore fans and those who want a premium G-Shock. In addition to Tough Solar it now has Multi-Band 6 plus tide and moon phase graphs. Unlike the average G-Shock, the Frogman module is housed in a full stainless steel inner case and the watch is manufactured in Japan which accounts for the higher price. From a technical standpoint the GWF1000 is the best Frogman ever produced (see update below) and also the toughest-looking one yet. When it comes to all-digital G-Shocks the Frogman is the big daddy and the limited edition models are highly coveted. As the only G-Shock with ISO 6425 water resistance to 200 meters and a dive time and surface interval measurement function, the Frogman is the best G-Shock for serious diving use.
PROS: ISO Diver's 200M compliant, Tough Solar, Multi-Band 6, screw-lock case back, stainless steel inner case, made in Japan
CONS: Pricey
BEST FOR: Scuba diving
Update: Casio released the new GWFD1000B-1 Frogman in 2016, but the GWF1000-1 remains in the top ten due its more affordable price.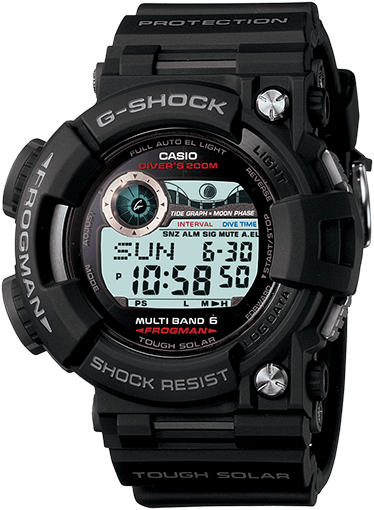 GWF1000-1 on Amazon
GWF1000-1 on eBay
3. GWG1000-1A3 Mudmaster Solar Analog-Digital Sensor Watch
The GWG1000-1A3 Mudmaster made its debut in the fall of 2015 and was the most highly anticipated new model since the Rangeman. The Mudmaster is a serious analog-digital upgrade of the popular Mudman model and is part of Casio's push into higher-end analog G-Shock watches. The Mudmaster looks like the beefy Rangeman combined with an analog watch, making it the best-looking tactical-style analog G-Shock. It inherits the Rangeman's guarded button structure and is resistant to mud and dust, and also adds resistance to extreme vibration for its analog movement. It is an "ABC watch" with a Triple Sensor that includes an altimeter, barometer, compass, and thermometer. It also has Tough Solar power, Multi-Band 6 radio wave timekeeping, and a sapphire crystal for extra scratch-resistance. At 59.5 × 56.1 × 18.0 mm it's one of the largest G-Shock watches. The Rangeman and Gulfmaster offer similar features and better value, but the Mudmaster offers an extremely confident look as it embodies the best elements of G-Shock design and takes the analog style to a new level of toughness. It's billed as the ideal watch for rescue workers and it will certainly appeal to those in other physically demanding professions as well.
PROS: Tough Solar, Multi-Band 6, Triple Sensor, sapphire crystal, very rugged design
CONS: Reverse LCD display
BEST FOR: Large wrists, extreme environments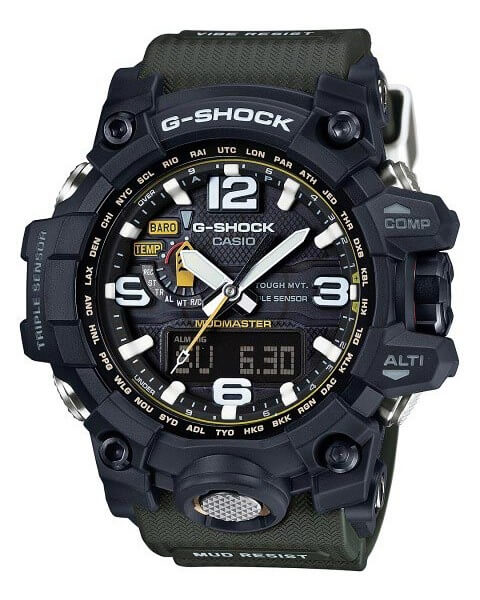 GWG1000 on Amazon
GWG1000 on eBay
2. G-Shock GW9400-1 Rangeman Solar Digital Survival Watch
The GW9400 Rangeman is the most popular watch in Casio's Master of G signature G-Shock line of professional-use watches. Its success can be attributed to the Triple Sensor (compass/thermometer/altimeter-barometer) feature, its aggressively bulky appearance that gives it extreme shock protection, and its reasonable price. The Rangeman is resistant to mud and dust with its protected button structure and the sensors are easily accessed with a single button. It is a good choice for those who like the old-school tough-style of G-Shock watch but also want the latest features at an affordable price. It is one of the most functional tactical watches available with features like sunrise/sunset data, low temperature resistance, 1000-hour stopwatch, 24-hour countdown timer, and 40 record memory for date/time, bearing, and atmospheric pressure/temperature readings. Of course it also has Tough Solar and Multi-Band 6. It is the best pick for a serious all-around outdoor or survival watch as its digital structure will theoretically handle more abuse than a watch with mechanical moving parts. If you could only have one G-Shock, the Rangeman would likely be the best choice. For more Rangeman options like different colors and carbon fiber insert bands, see all Rangeman models.
PROS: Tough Solar, Multi-Band 6, Triple Sensor, sunrise/sunset data
CONS: Large for a digital model
BEST FOR: Hiking, hunting, outdoor recreation, survival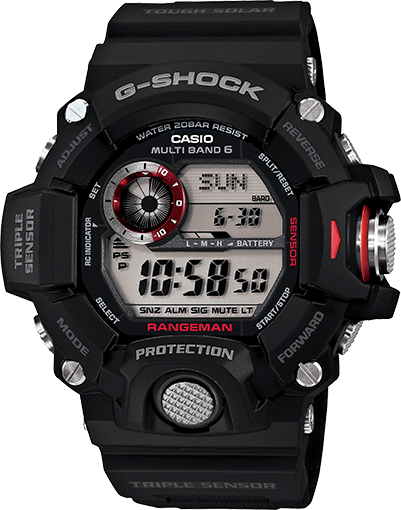 GW9400-1 on Amazon
GW9400-1 on eBay
1. G-Shock GWM5610-1 Solar Digital Watch with Radio Time Sync
The GWM5610-1 is a direct descendant of the first ever G-Shock, the DW-5000C that started it all in 1983. The GWM5610-1 has the same classic square shape as the original and adds modern features like Tough Solar power and Multi-Band 6 time syncing through radio wave reception. The 5600 series is a good choice for those who prefer a standard size G-Shock rather than the extra-large models. With a thickness of 12.7 mm, the GWM5610-1 is one of the thinnest G-Shock watches and is an unobtrusive timepiece for work or play. The GWM5610-1 is a good choice for the first time G-Shock buyer who wants a no-nonsense watch for all purposes. The classic, timeless styling of the original G-Shock combined with modern features at an affordable price are the reasons the GWM5610-1 is our overall top pick. (For the ultimate tribute to the original G-Shock, consider the GW-5000-1JF, a Japan-only model with superior build quality.)
PROS: Tough Solar, Multi-Band 6, iconic original design, slim profile, lightweight
CONS: Might be too small for very large wrists
BEST FOR: All-purpose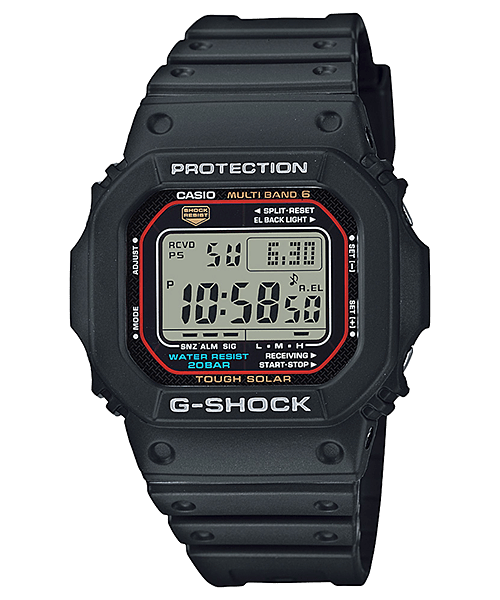 GWM5610-1 on Amazon
GWM5610-1 on eBay
That concludes our list of the 15 best G-Shock watches. For a brief overview of the entire G-Shock lineup, please continue reading The Beginner's Guide to G-Shock Watches below or see all of our G-Shock Buying Guides.
The Beginner's Guide To G-Shock Watches
G-Shock has such a large variety of models in different price ranges that it can be difficult to know where to start. We've compiled this beginner's guide to tell you everything you need to be an informed G-Shock customer and hopefully find the range and model that will suit your needs.
All G-Shock watches have: Shock Resistance, 200M Water Resistance, Stopwatch or Chronograph, Alarm, 12/24 Hour Formats for Digital Display Models, Full Auto Calendar
Most G-Shock watches have: Countdown Timer, Backlight (electro-luminescent or LED), World Time, Multiple Daily Alarms with Snooze Alarm (digital and analog-digital models)
Basic G-Shock Watches

Price Range: $
The most basic (and cheapest) G-Shock watches include the DW-5600, DW-6900, DW-9052, and the analog-digital G-100 (pictured in order). All these models are very durable G-Shocks with the same level of shock protection and water resistance as more expensive models. At this price the features you are sacrificing are multi-city world time and the auto backlight. They do have a backlight but the lacking "auto" feature refers to an optional setting that can activate the light whenever you turn your wrist to look at the watch (and "full auto" means it will only activate in darkness). These watches also have just one alarm rather than multiple daily alarms like the more advanced digital G-Shocks. Also, the G-100 does not have a countdown timer. The basic models are a medium size compared to the large and extra-large models that have become more popular recently. They are a good choice for those who are new to G-Shock or those who need an affordable watch for work or military use. See more of the cheapest G-Shock watches.
Solar G-Shock Watches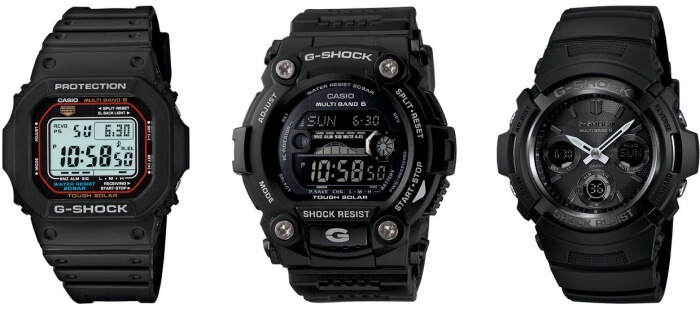 Prices: $$
The Tough Solar feature is one the most practical G-Shock features available, and if there is a choice we will usually opt for a solar watch. Tough Solar power uses solar charging panels on the face of the watch to keep a rechargeable battery charged up. This means you don't have to change the battery every few years and can likely go beyond 10 years before having to do so. One of the worst things about owning a watch is having to regularly change the battery and not knowing when it might die and Tough Solar provides freedom from that. Also, you generally don't have to go out of your way to keep it charged (especially with digital display models), as just wearing it normally outdoors and in well-lit rooms is usually enough. If you use the functions a lot and see the charge level fall below "high," it is a good idea to give it some direct sunlight for a while. Tough Solar watches often include the Multi-Band 6 feature for automatic time adjustment via radio signal reception. It's a nice feature to have if you live within range of one of the six transmitters around the world, but those near the end of the range may have trouble receiving a signal. Tough Solar powers many G-Shock watches and is a standard feature on many mid-range to high-end luxury models. Tough Solar/Multi-Band 6 models are best for those who want a maintenance-free watch and are willing to pay a little more than the basic models.
Big Case G-Shock Watches

Prices: $-$$
The Big Case models are extremely popular and can be credited with giving G-Shock a big resurgence in the 2010s, especially the large analog-digital models. The fact is that most G-Shock models these days have large cases. Big case analog-digital models include the GA-100 (pictured left), GA-110 (pictured second to left), GA-120, GA-200, GA-201, and GA-400. All-digital big case models include the GD-100, GD-110, GD-120 (pictured second to right), and GD-400 (picture right). The GD-X6900 is a classic big case model that is often the base for limited edition collaborationss. Other noteworthy large all-digital series are the 8900 line, the G-RESCURE G/W-7900 lines, and the GD-350 which is one of our top military picks. The GA-100 and GA-110 have become new classics in their own right and provide the canvas for many stylish new color series. The big case models are not just about street fashion though, as they have proven to be very popular for on-the-job use in fields like law enforcement. The current Master of G line along with other mid-range and high-end G-Shock watches are also known for their large case sizes.

Japanese Domestic Market (JDM) G-Shock Watches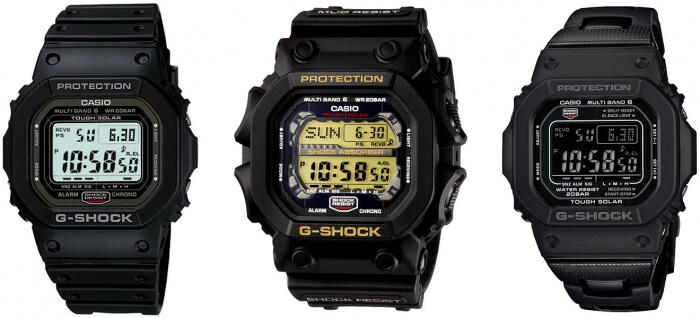 Prices: $$-$$$
There are some unique G-Shock models that are only available in Japan. It may not seem fair that the rest of the world doesn't get them, but that makes them even more coveted by dedicated G-Shock collectors and hardcore fans. These Japanese domestic market (JDM) watches include models like the very large GXW-56 a.k.a. "The King" (middle) and the GW-5000-1JF (left), a modernized tribute model based on the original G-Shock from 1983 that many consider one of the best G-Shocks to own. When it comes to new releases there are always some models that are only destined for Japan, and some Japanese models have more features than the international and American releases. Fortunately, the Japan-only models are easy to obtain these days through online sellers. See Japanese Import G-Shock 5000-Series Watches for some of our favorites.
Mid-Range to High-End G-Shock Watches:
G-STEEL and Gravitymaster Aviation Series
Prices: $$$-$$$$
Mid-range and high-end G-Shock watches consist mostly of analog models. A notable mid-range G-Shock line is the recently introduced G-STEEL Series that combines a tough dual-layer bezel with a dressier stainless steel body. The Gravitymaster Aviation Series also features many mid-range and high-end analog models inspired by the look of airplane instrument panels. The G-STEEL and mid-range Gravitymaster watches are best for those who may want a more upscale G-Shock that isn't too expensive.
The new G-STEEL GST-B100 features Tough Solar power and Bluetooth mobile link that can automatically sync the watch with internet time servers. It is a good choice for those who live outside the range of Multi-Band 6 transmitters, as it is more affordable than the luxury models with GPS timekeeping.
G-Shock Master of G Series: Digital Watches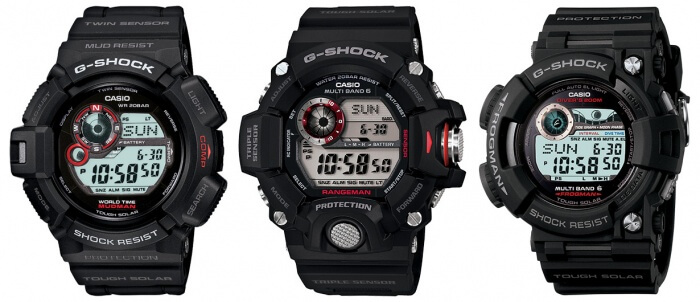 Prices: $$-$$$
The Master of G Series is the professional line of G-Shock watches equipped with the most advanced features. The feature-rich line includes the "-man" series of watches. The Master of G models are very popular and highly regarded as the best and most versatile G-Shock watches. If you're not sure where to start with G-Shock, the Master of G line is a good place. Most Master of G watches are powered by Tough Solar charging and have Multi-Band 6 radio timekeeping, with the exception of the G-9300 Mudman which has Tough Solar only.
The Mudman G-9300 is resistant to mud and dust and has the Twin Sensor which includes a digital compass and thermometer, and it also has moon phase data.
The Rangeman GW-9400 is the most popular Master of G watch. It is also mud resistant and was the first G-Shock with the Triple Sensor which includes an altimeter, barometer, and compass. The Rangeman is known for having the best memory features for recording its sensor readings and having sunrise/sunset data. It is considered to be one of the best all-digital G-Shock watches along with the Frogman.
The Frogman GWF-1000 is the only G-Shock (along with the new GWF-D1000) that has ISO-compliant Diver's 200M water resistance. It is also known for its stainless steel inner case and screw lock case back.
The Frogman GWF-D1000 is the latest generation Frogman with the same features as the previous generation plus a water depth meter, compass, and thermometer. The compass feature works both underwater and on land.
The Rangeman GPR-B1000 features GPS navigation with preloadable routes and is the first solar-assisted GPS watch.
Note: Some of the Japanese domestic market Master of G models are different than the American models with more features. For example, there is the GW-9300 Mudman that also has Multi-Band 6, a carbon fiber insert band, and a carbon fiber insert strap keeper. The Japanese GW-9400J Rangeman models have a carbon fiber insert band.
G-Shock Master of G: Analog Watches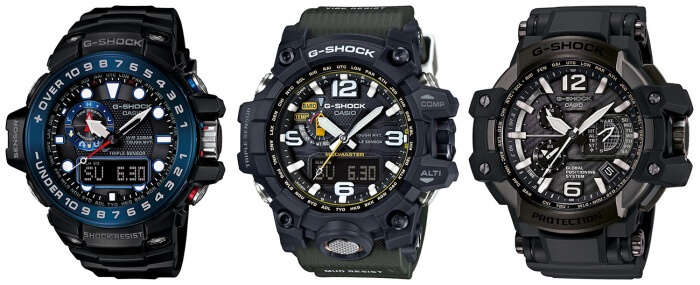 Prices: $$$-$$$$
What was once an all-digital lineup now includes higher-end analog-digital models and a fully analog model.
The Gulfmaster GWN-1000 is a maritime-themed analog-digital model with the Triple Sensor and a tide graph and moon age data.
The Mudmaster GWG-1000 is a Triple Sensor analog-digital model with a tactical design that is perhaps the toughest looking analog G-Shock watch. It has a sapphire crystal and is also resistant to mud and heavy vibration.
The Gravitymaster GPW-1000 is one of the top models in the Gravitymaster aviation line and is affectionately known as "The Beast" for its size. The fully analog watch does not have environmental sensors but it does have GPS Hybrid timekeeping which syncs with GPS signals when Multi-Band 6 is not available. It also has Triple G Resist which is resistance to shock, g-force, and vibration.
The latest Gravitymaster GPW-2000 has GPS position tracking and GPS timekeeping.
There are also "junior" (not for kids, just scaled-back) Master of G lines like the Gulfmaster GN-1000 and Mudmaster GG-1000 which are non-solar battery-powered watches with the Twin Sensor (compass and thermometer). The Mudmaster GWG-100 has Tough Solar and Multi-Band 6 but does not have any sensors.
Limited Edition G-Shock Watches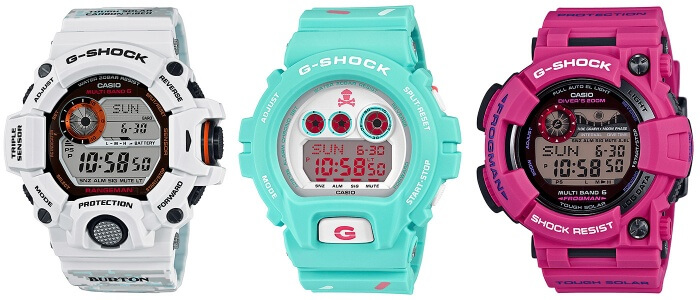 Prices: $$-$$$$
Part of the appeal of buying G-Shock watches are the many limited edition models. In a sense, most of the colored seasonal releases are limited editions, as there is usually a finite amount produced and styles change from month to month and year to year. So if there is a particular color or style you like, don't assume that it will be around forever because the production of these models often ends not long after they are released. There are also special limited editions series that may include a collection of several models. Another type of limited edition that is very popular is the collaboration watch in which Casio teams up with another entity (often streetwear brands, fashion brands, and artists) to create a co-branded watch that includes a unique design, custom engraved case back, EL backlight, and special packaging.
Luxury G-Shock Watches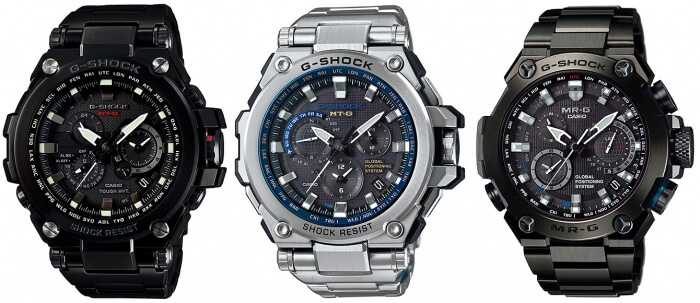 Prices: $$$$
The Frogman, Mudmaster, and GPW-1000 approach luxury prices and are very high quality timepieces but the true luxury G-Shock lines are the MT-G and MR-G series. These watches are hand-assembled and tested at Casio Yamagata's Premium Production Line in Japan.
The G-Shock MT-G line is also known as the Metal Twisted G-Shock because of its combined metal and resin construction. It wasn't known as a luxury line until the release of the MTG-S1000 model which has a retail list price of up to $1,000. The MTG-S1000 and MTG-G1000 models have a stainless steel exterior with a band that is a composite of resin and stainless steel. The outer side is stainless steel while the inner side is layered with resin pieces for comfort and to maintain a consistent temperature. The MTG-S1000 models feature Triple G Resist, Tough Solar, and Multi-Band 6. The MTG-G1000 has a redesigned exterior and display and also adds GPS timekeeping. The latest MT-G watch is the MTG-B1000 featuring a smaller case, resin band, and Bluetooth connectivity.
The G-Shock MR-G line made its debut in 1996 and featured an all-metal case and band. It was meant to be a more upscale model that could be worn anywhere. The current MR-G1000 represents the very top of the G-Shock line with a list price of $3,000. The case is made out of a lightweight titanium that is specially treated and hardened to provide a scratch-resistant surface. Like the MT-G models it has an anti-reflective sapphire crystal. In addition to Tough Solar and Multi-Band 6 it is also equipped with GPS timekeeping. The MRG-G2000 is the latest addition to the MR-G line.
(
G-Central earns a commission from qualifying purchases made through its links. G-Central is an independent news site created and maintained by fans and is not an official representative of Casio. See full disclosure.
)