The G-Shock G-STEEL GST-W310D-1A9JF is a September 2017 release that is currently exclusive to Japan. It is part of the G-STEEL 300-series which is a mid-size G-Shock watch smaller than the original G-STEEL 100 series with Tough Solar (and Multi-Band 6 for the Japanese versions). Also in this line are nine other Japanese "W" models with Tough Solar and Multi-Band 6 and nine other international "S" models with Tough Solar. Of these pairs five were were part of the initial launch and four were part of the second wave of releases. The GST-W310D-1A9JF is one of the few mid-size G-STEEL models with a stainless steel band and stainless steel outer bezel.
The GST-W310D-1A9JF offers an upscale look with its gold-accented display. Features include shock resistance, 200-meter water resistance, Tough Solar, Multi-Band 6 radio wave timekeeping, world time (48 cities +UTC), 1/100 second stopwatch (60 minutes), countdown timer (100 minutes), 5 alarms, and full auto double LED light.
Update: G-Shock Australia also has the GSTS310D-1A9 listed as an upcoming release so it could possibly be a future North American release as well. The GSTS310D-1A9 shares the same design and features as the GST-W310D-1A9JF but does not have Multi-Band 6. The GST-S310D-1A9 is also an October release in Asia.
GST-W310D-1A9JF: Tough Solar and Multi-Band 6 Japan Model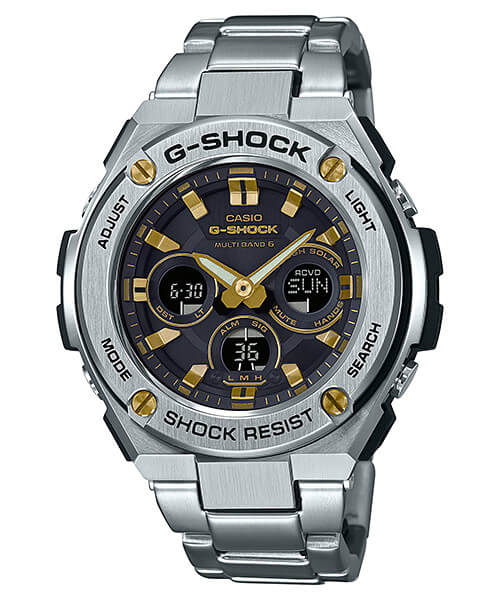 GST-S310D-1A9: Tough Solar International Model