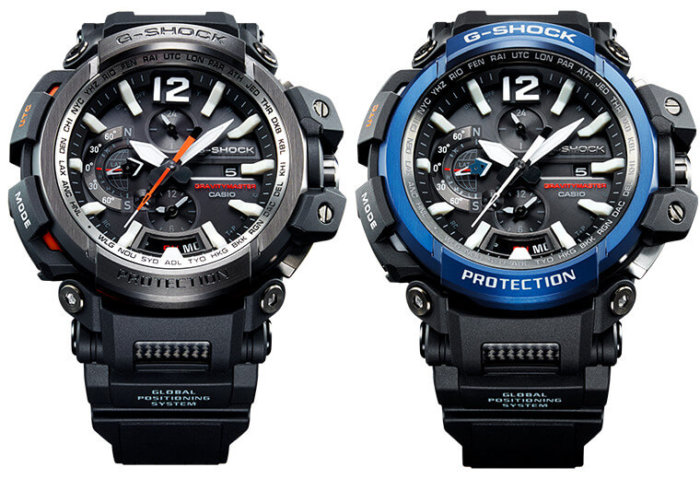 Casio has revealed the all-new G-Shock GPW-2000 Gravitymaster to be released in Japan on May 19, 2017. The GPW-2000 is the top G-Shock in the Gravitymaster aviation line. The major new features of this advanced high-end watch are Bluetooth connectivity and GPS positioning tracking. The debut models for Japan are the GPW-2000-1AJF and the GPW-2000-1A2JF with a blue IP bezel. (Update: Casio America is releasing the GPW2000-1A in May 2017 with a list price of $800 USD.)
GPS hybrid radio wave timekeeping was the major feature of the previous generation GPW-1000 Gravitymaster, and allows the watch to sync the time anywhere in the world. With 3 Way Time Sync, the GPW-2000 retains the GPS/Multi-Band 6 timekeeping feature and can now sync through time servers on the internet by automatically connecting to a smartphone at a preset time. The Bluetooth capability allows the watch to link to the G-Shock Connected smartphone app for automatic time adjustment, world time setting, and a flight log GPS mapping function. The app can also easily change the watch settings for the home time, alarm, and operation sound toggle.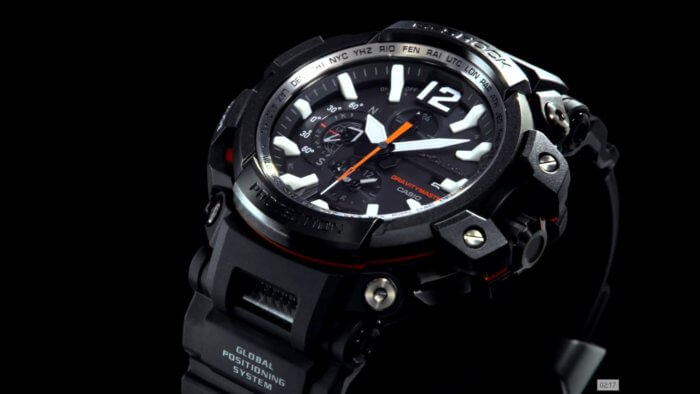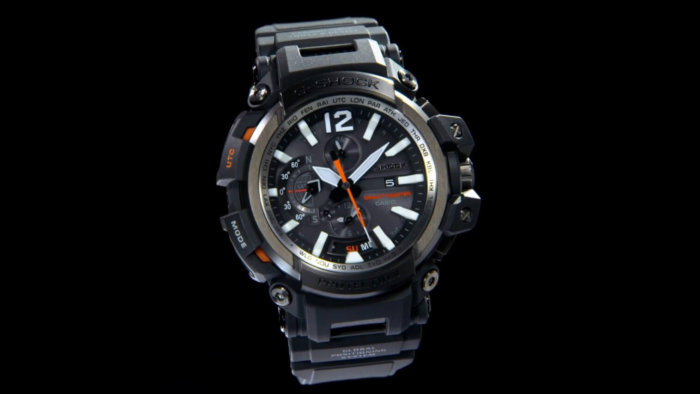 The GPW-2000 remains an all-analog Tough Solar-powered watch with an aircraft-inspired display featuring a world time subdial, a 24-hour subdial, and date/day displays. The GPW-2000 expands on the GPS hybrid timekeeping-only feature of other top G-Shock models like the MTG-G1000 and MRG-G1000 by also providing GPS positioning information. There are latitude and longitude displays at the 9 o'clock and 6 o'clock positions. There is also a flight log function activated by a watch button that records time and positioning information on the map of a connected smartphone. Casio America is calling this feature "Mission Stamp."
GPS Positioning Latitude and Longitude Display: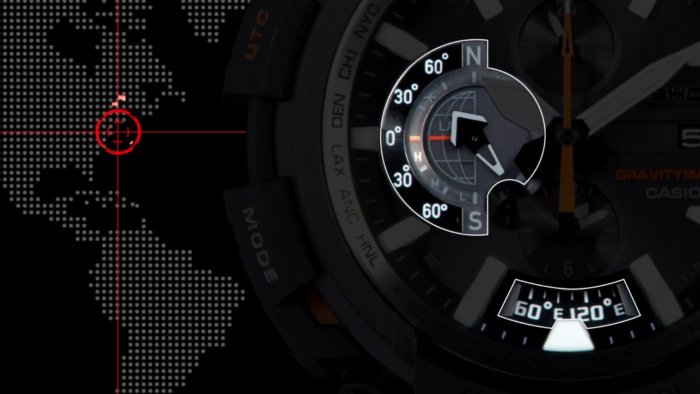 Mission Stamp Flight Log Function with G-Shock Connected App: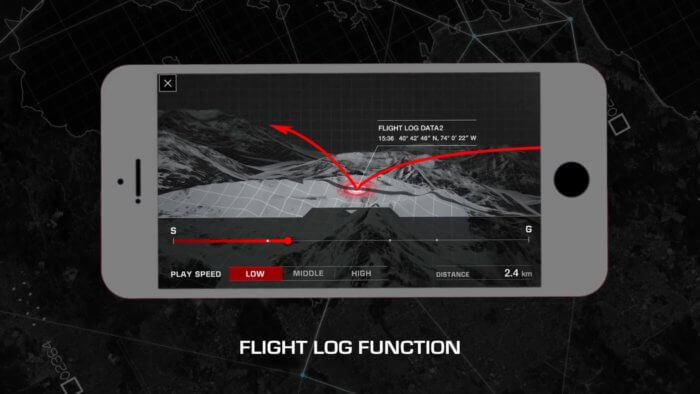 The GPW-2000 has a similar exterior structure yet somewhat sportier look than the GPW-1000 with more resin around the stainless steel bezel, and it remains almost the same size. It is slightly wider, thinner, and heavier measuring 66.0 x 57.2 x 18.2 mm and weighing 198 grams. The face has a similar look with its large 3D markers and subdials. The second hand is made of carbon fiber and the display uses sapphire glass with an anti-reflective coating. The resin bands have carbon fiber inserts and a metal strap keeper. A new feature is the screwless band attachment design to prevent the bands from coming loose due to vibration. The Triple G Resist structure provides protection against shock, vibration, and centrifugal gravity (g-force). The watch also has a JIS Class 1 anti-magnetic structure.
G-Shock GPW-2000-1A Gravitymaster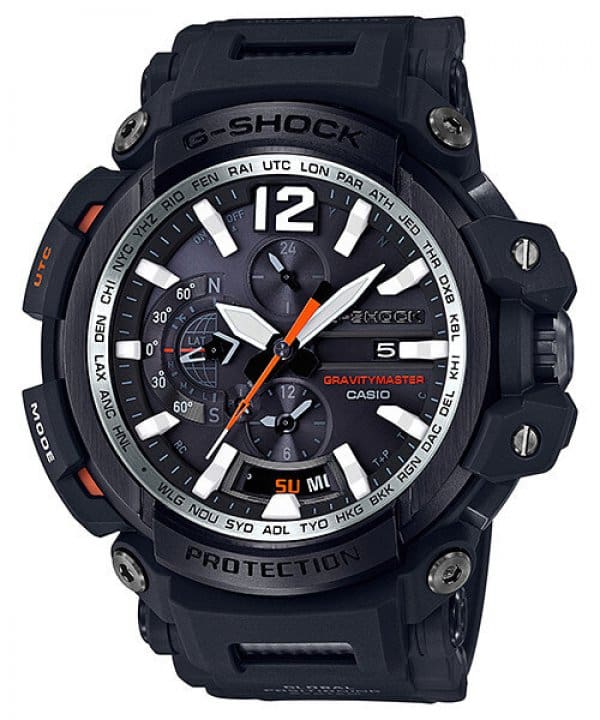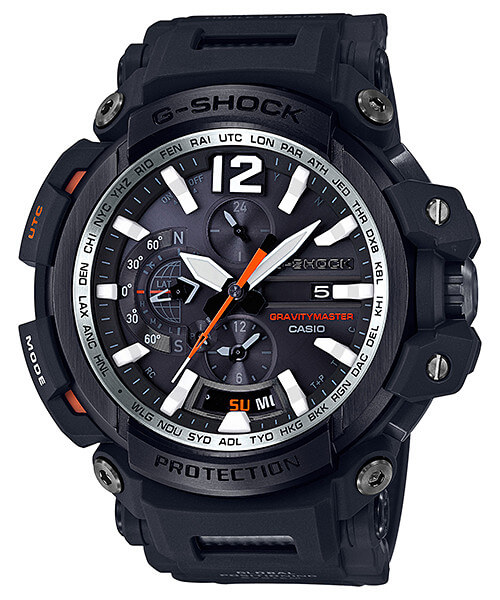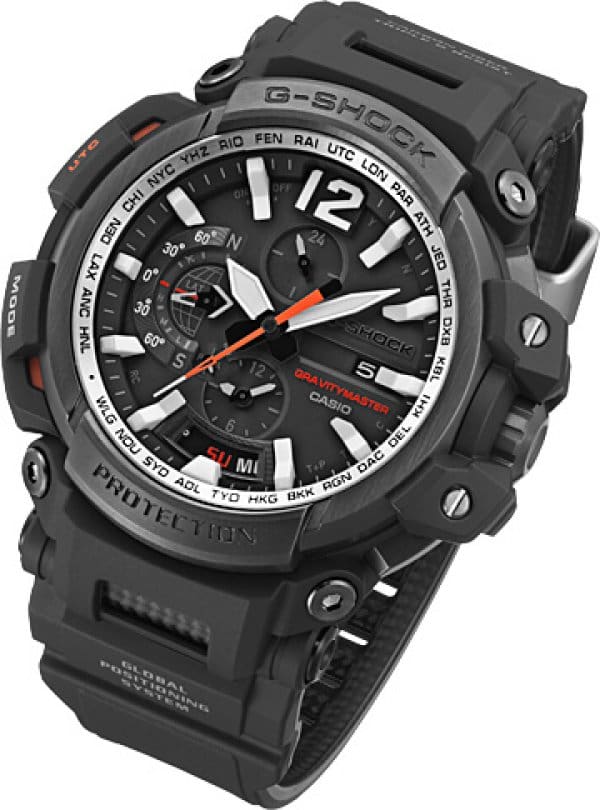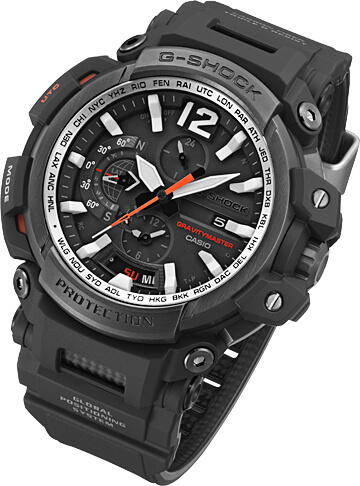 G-Shock GPW-2000-1A2 Gravitymaster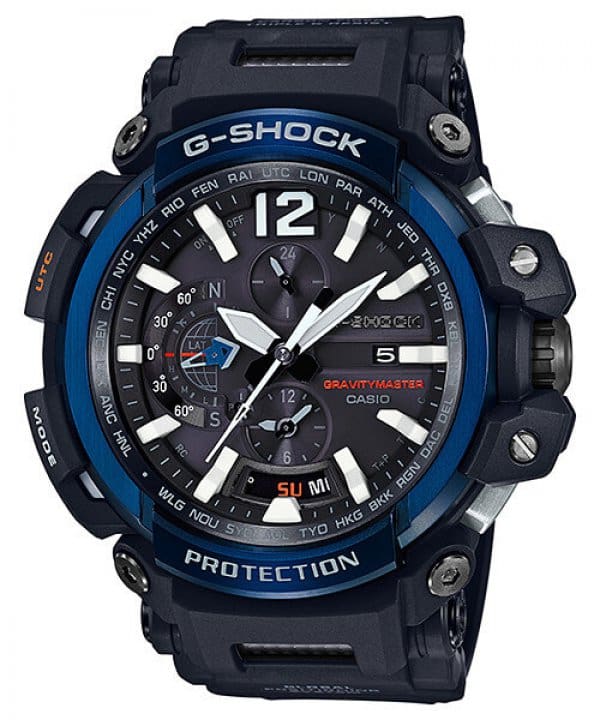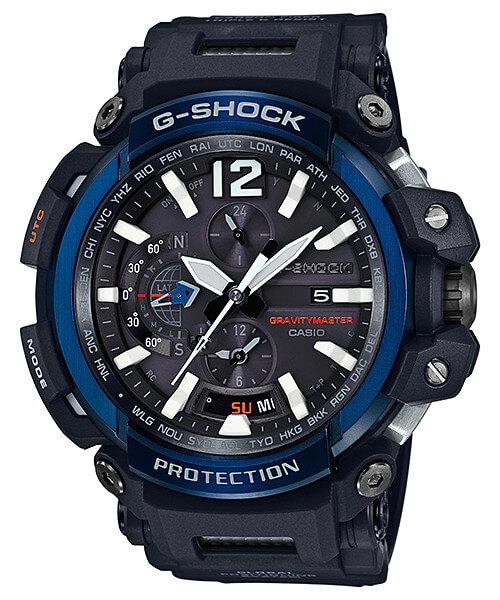 A third GPW-2000 model has also been spotted with olive green dual-layer bands with an orange inner layer. (Update: This is the GPW-2000-3A from the Master in Olive Drab Gravitymaster Collection.)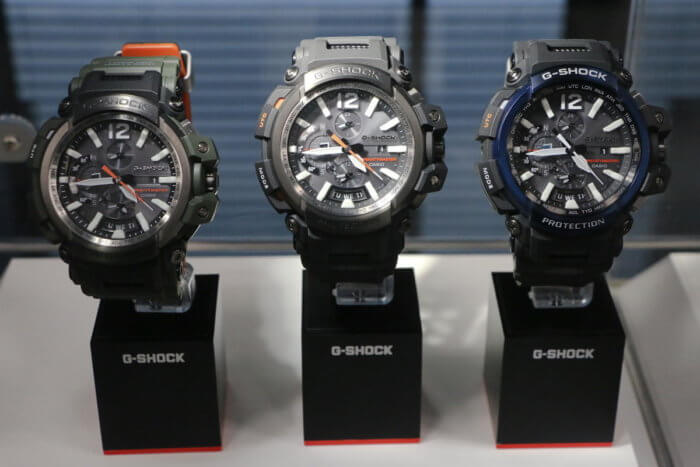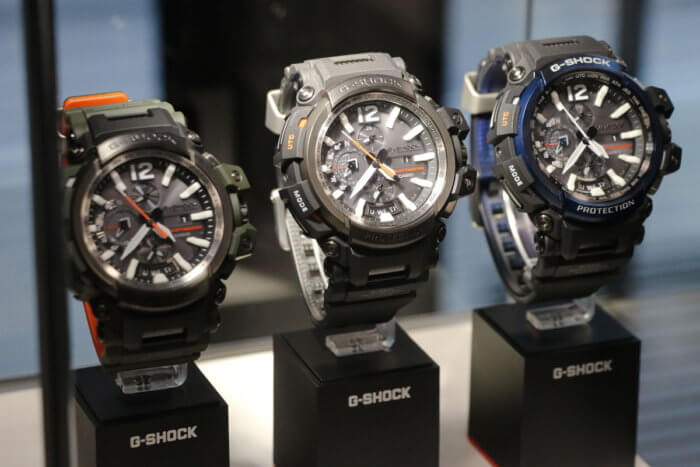 Casio G-Shock GPW-2000 Gravitymaster Specifications:
Triple G Resist (impact, g-force, vibration)
200-meter (20 ATM) Water Resistance
Tough Solar self-charging power system
3 Way Time Sync: GPS/Multi-Band 6/Internet
GPS Latitude/Longitude Display
Bluetooth Low Energy
Bluetooth Range: ~2 meters
Mobile link function: (World time setting of ~300 cities, automatic time adjustment, flight log, easy clock setting)
World Time: 28 cities (39 time zones + UTC, automatic DST)
Two city time display
Stopwatch: 1 second measurement, 24 minutes total
Countdown Timer: 1 minute units, maximum 24 hours, 1 second measurements
1 Alarm
Luminous Hands and Markers
Super Illuminator LED light with 3 second afterglow
Automatic Needle Position Correction
Full Auto Calendar with Date/Day Display
Battery Charge Warning
Running Time: ~23 months in power saving state
Size: 66.0 x 57.2 x 18.2 mm
Weight: 198 grams
Casio G-Shock GPW-2000 Gravitymaster Japanese Promo Video:
Photos casio.co.jp, news.mynavi.jp, youtube.com