A new G-Shock MTG-B3000 model is coming soon featuring a partial gold IP on the outer edge of the bezel and gold accents on the dial and external parts. To achieve this look, the whole bezel is treated with a gold ion plating and then undergoes a hairline processing treatment to expose the silver part. This colorway offers a more conventional yet unique style. The MTG-B3000D-1A9 is a good choice for those who want a more refined watch that is relatively thin (12.1 mm) but retains all the rugged characteristics of a G-Shock, such as shock resistance and 200-meter water resistance.
The MTG-B3000D-1A9 also has Triple G Resist for additional protection against centrifugal gravity (up to 15 G) and vibration. The case is reinforced by carbon fiber and surrounded by stainless steel, and the watch weighs 148 grams, which is 17 grams lighter than the full metal GM-B2100. The watch is equipped with Tough Solar power, Multi-Band 6 automatic radio time adjustment, and Bluetooth smartphone link, which offers functions such as auto time adjustment, easy watch setting, approximately 300 world time cities, time & place log, and phone finder. As a higher-end G-Shock, the watch has a sapphire crystal display with a glare-resistant coating. Other features include dual time, stopwatch, countdown timer, alarm, LED light, date display, and auto hand home position correction.
The MTG-B3000D-1A9JF will be released in July in Japan with a tax-included price of 143,000 yen. The MTG-B3000D-1A9 is also expected to be released worldwide.
Update: G-Shock U.S. released the MTGB3000D1A9 for $1,050.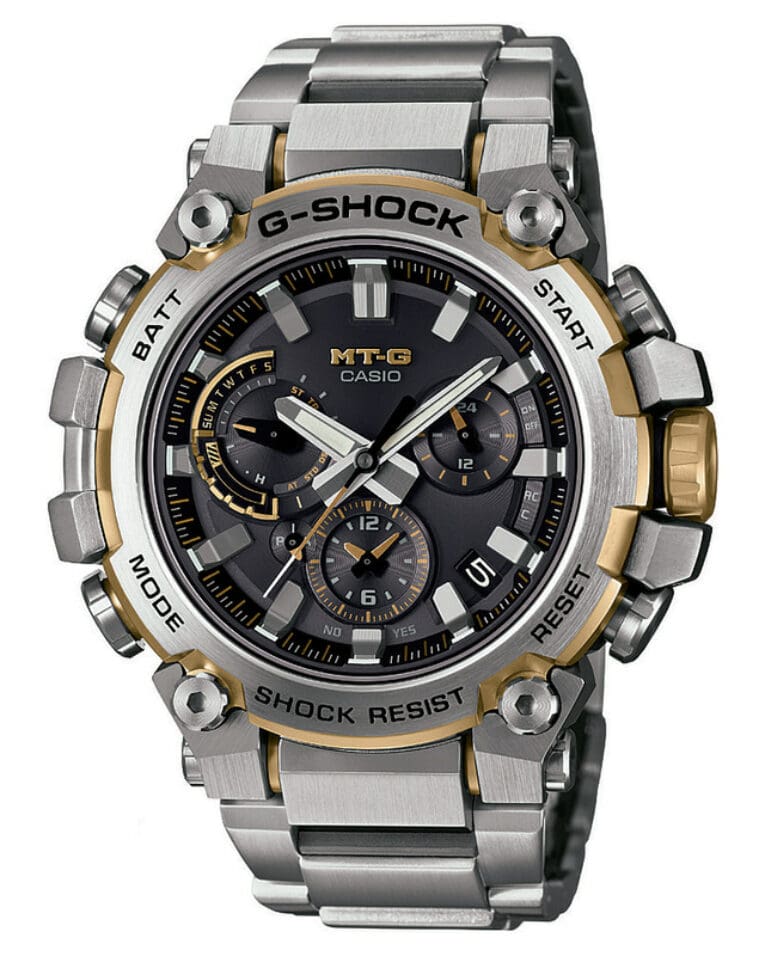 Buy MTGB3000D1A9
Casio
Dimensions: 51.9 x 50.9 x 12.1 mm
Weight: 148 grams
Specifications: MTG-B3000