See also: The G-Shock Watches That Are Made In Japan
There are a number of G-shock watches that Casio produces for sale only to the Japanese domestic market (JDM). Some of these are upgraded or specialized versions of common G-Shock models. This list of Japan-only G-Shocks focuses on the 5000-series models. Current models that are part of the 5000-series include the common DW-5600 and the GW-M5610 models. Other 5000-series models that are less well-known but recognizable to G-Shock enthusiasts include the DW-D5500, GW-5500, and the highly regarded origin model GW-5000. The 5000-series is the most historically significant G-Shock line, as it descends directly from the original G-Shock from 1983, the DW-5000C.
Back in the old days, the only way to buy the JDM models was through personal contacts in Japan, but now, thanks to the proliferation of e-commerce, they are easily obtainable. You will have to pay a premium for these imports, but their uniqueness makes up for it. They are also excellent choices for visitors to Japan who want to bring back a special memento. Here are the Japanese import G-shock 5000-series watches that we suggest looking into.
Update: The GW-5000-1JF, GW-M5610BC-1JF, and GW-S5600-1JF have been replaced by the GW-5000U-1JF, GW-M5610UBC-1JF, and GW-S5600U-1JF. The old models are pictured here, but the shopping links are for the new models. The old and new models look nearly identical, with only slight differences for the light label and light indicator on the face and display. Please visit G-Shock 5000U/5600U/5610U Updated Module "U" Series to read about all the new features and see the new images.
GW-5000U-1JF Origin Tribute G-Shock
Many people who fall in love with G-Shock and start building a collection of watches will eventually think about buying the GW-5000, sometimes to the point of obsession. Others who are new to G-Shock may want a premium watch with a classic design that is a step above the average model. The GW-5000 has a case that is based on the first G-Shock from 1983. Like the early G-Shock models, it has a screw-lock case back and is one of the only current G-Shocks, along with the digital Frogman and GMW-B5000, with this type of build. It adds modern features like Tough Solar power and Multi-Band 6 radio time-syncing. While its look is intentionally basic, it is considered a prestige G-Shock because of its higher price and made-in-Japan status. It has a full stainless steel inner case under the bezel and a diamond-like carbon (DLC) coating, while standard 5600 models have a resin case. It also has a nicer overall finish than a typical 5600 model, with a softer and more comfortable urethane band. Buying the GW-5000 is a great way to express your appreciation of G-Shock and its history, in addition to simply owning a great watch. For watch enthusiasts who must own at least one G-Shock, it is the recommended choice.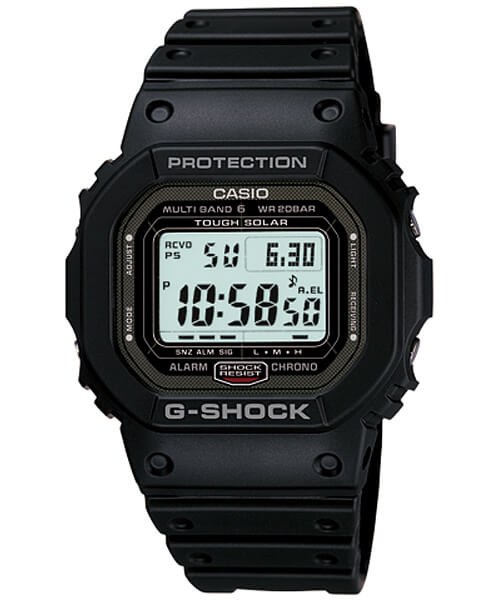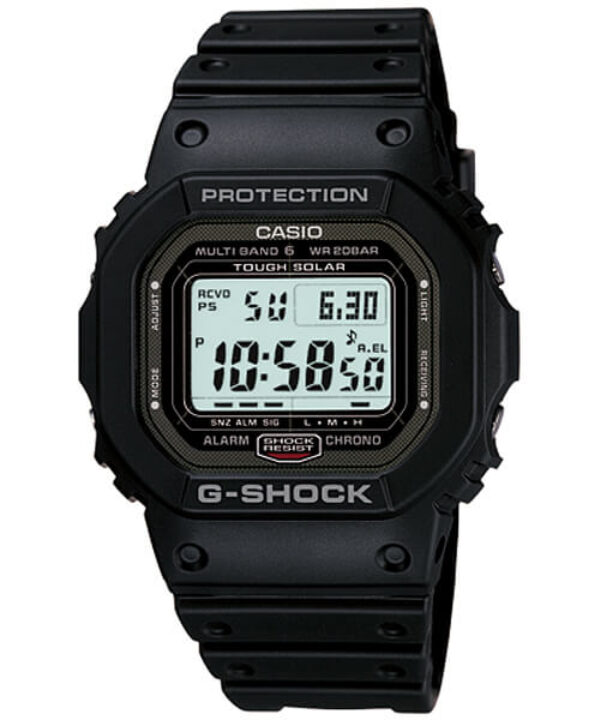 GW-5000U-1JF on Amazon GW-5000U-1JF on eBay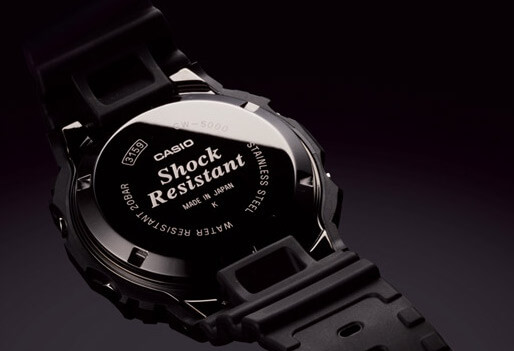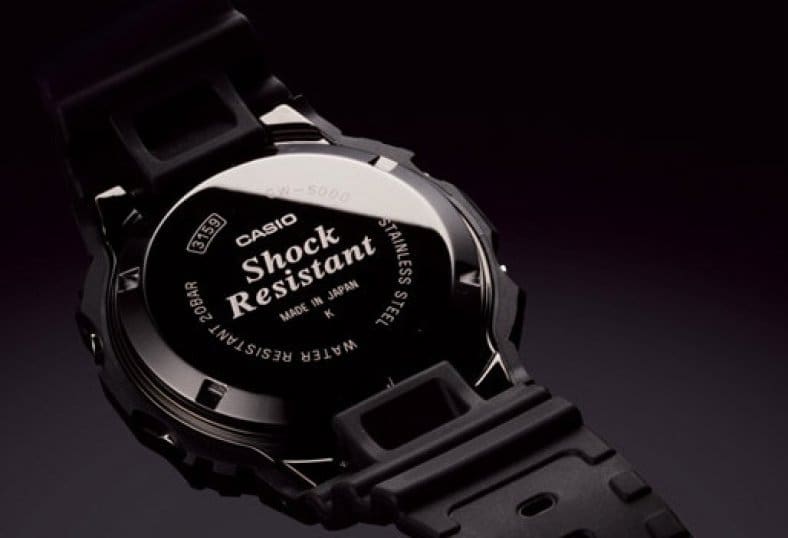 GW-M5610BC-1JF Composite Band G-Shock
The GW-M5610BC-1JF is a solar and Multi-Band-6-powered GW-M5610 with a composite metal and resin band. Its low profile goes well with uniforms, while its composite band and reverse display gives it a tough, no-nonsense look. The metal part of the band is treated with a black ion plating. This Japanese model is suggested for those who want a more formal looking style and the quickness and ease of a clasp-type band. Another good use for this watch is to swap out the composite band with the GW-5000. If you like the reverse display but would rather have a traditional resin band, there is also the GW-M5610U-1BJF (amazon.com).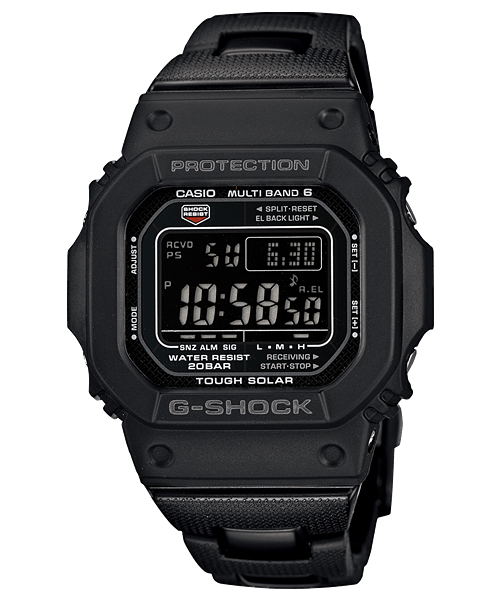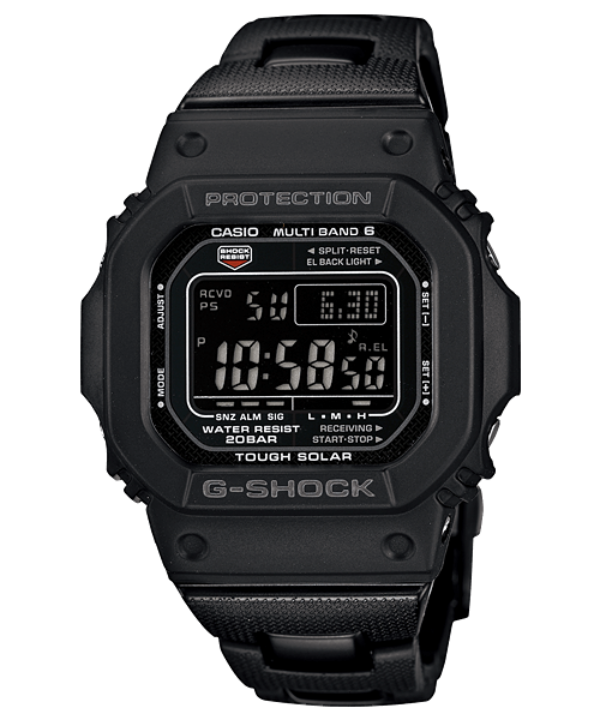 GW-M5610BC-1JF on Amazon GW-M5610BC-1JF on eBay
GW-S5600U-1JF Carbon Fiber G-Shock
The main reason to buy the GW-S5600-1JF is for its distinctive carbon fiber insert band, but it comes at a premium price. Unlike some of the aviation models and (JDM) Master of G watches featuring bands with carbon fiber inserts that can only be seen on the inner side of the band, the carbon fiber is distinctly visible from the exterior side of the band on this model. This watch also uses lightweight and rust-resistant titanium for the metal parts and is the lightest men's G-Shock model at 47 grams. Another unique feature is the dark but translucent bezel.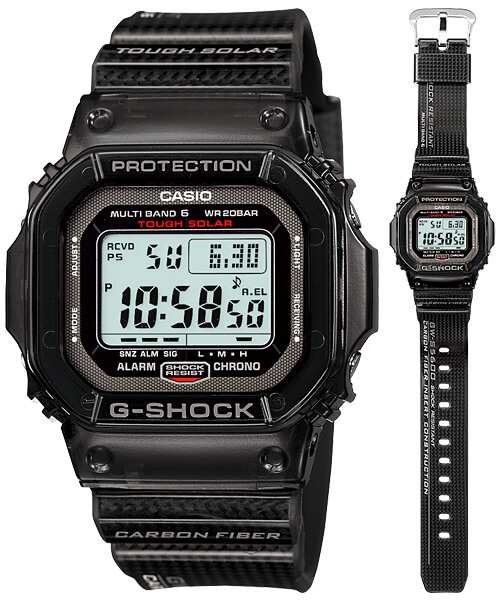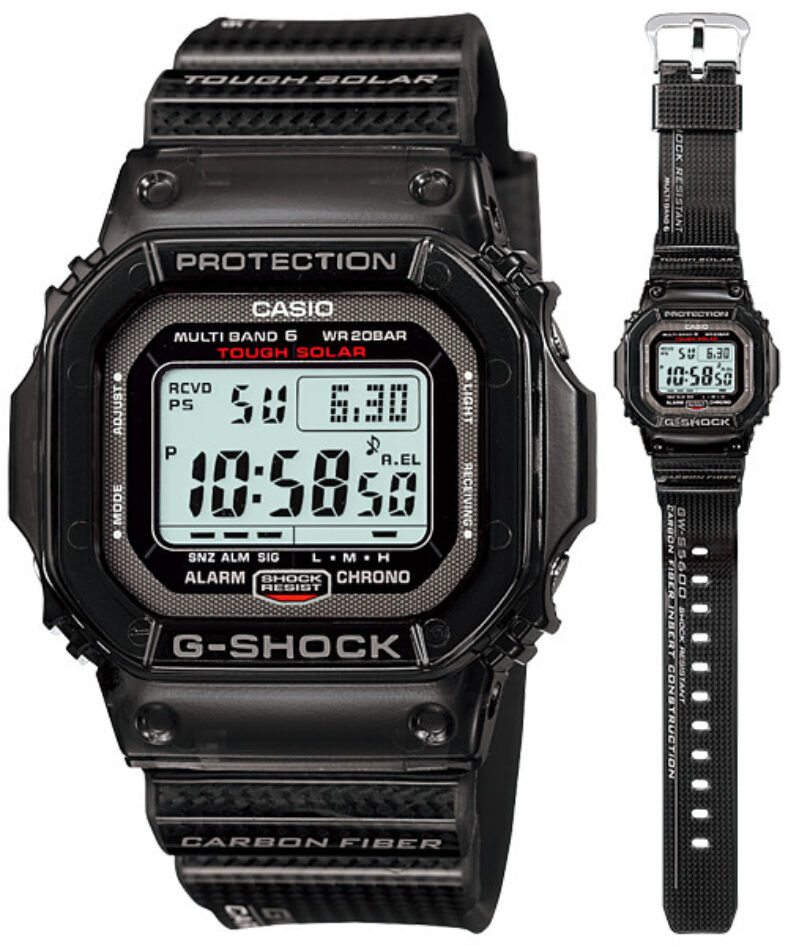 GW-S5600U-1JF on Amazon GW-S5600U-1JF on eBay
GXW-56-1AJF Extra-Large G-Shock
It's not technically a 5000 series G-Shock, but the GXW-56 series is considered to be part of the "square" family and is clearly inspired by the 5600 body. It can be described simply as an oversized and extreme version of the 5600. Available internationally as the GX-56, the Japanese version is the GXW-56, which adds Multi-Band 6 in addition to Tough Solar power. This extra large watch measures 55.5 x 53.6 x 17.5 millimeters and is nicknamed "The King" by fans. Its extra-large size gives it even more protection than a typical G-Shock, and it is one of the toughest G-Shock models ever made. Its protected button structure also offers mud and dust resistance. For those who want a very large all-digital G-Shock watch, the GXW-56 is a dream come true.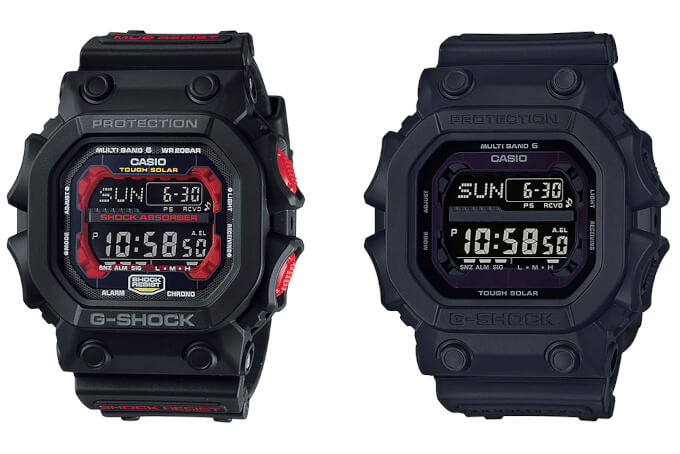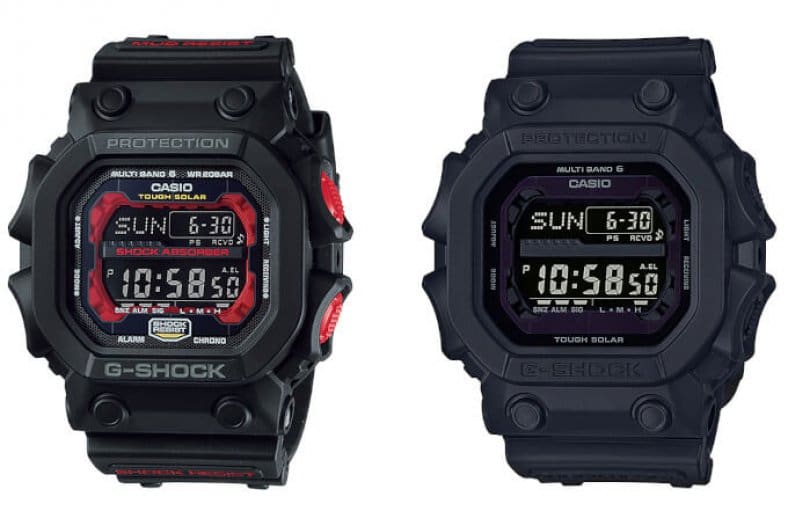 GXW-56 on Amazon GXW-56 on eBay
GWX-5600C-7JF Solar Tide G-Shock
The GWX-5600 G-Lide is like the GLX-5600 with its tide and moon graph, with the added features of Tough Solar and Multi-Band 6. This makes it a top choice for surfers who want an unobtrusive, low profile tide watch that is solar powered and has automatic time calibration. The watch comes in white (GWX-5600C-7JF), red (GWX-5600C-4JF) and black (GWX-5600-1JF). These models were previously available internationally and are still active models in Japan.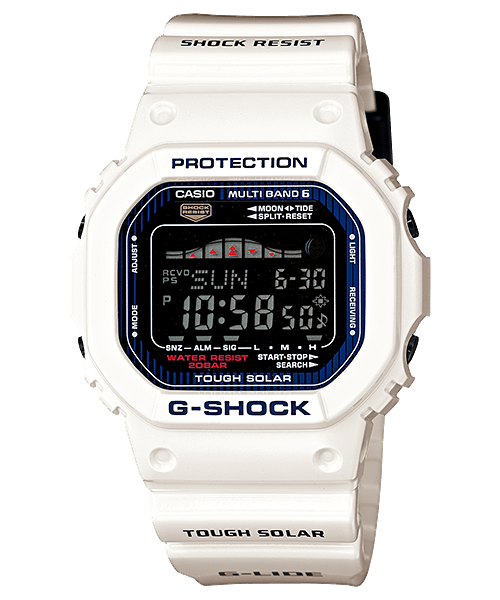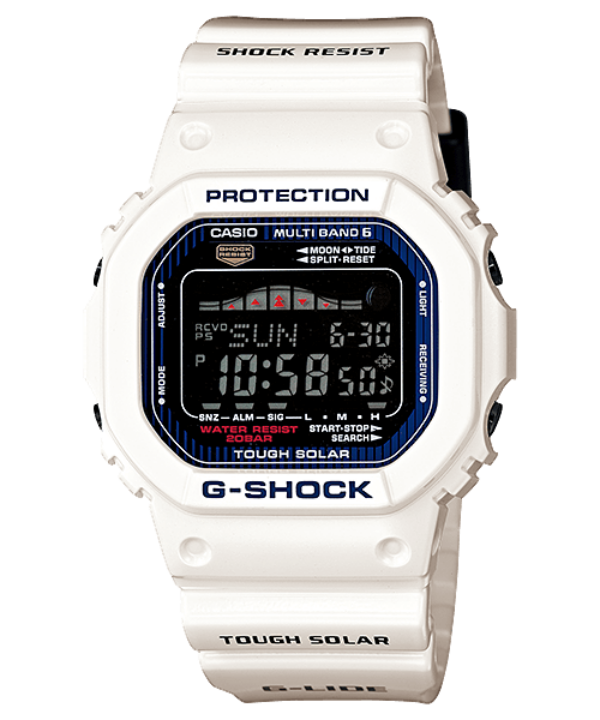 GWX-5600 on Amazon GWX-5600 on eBay
Where To Buy G-Shock Watches In Tokyo Japan
OFFICIAL G-SHOCK STORES:
G-SHOCK STORE MARUNOUCHI
Marunouchi, Chiyoda-ku, Tokyo 2-7-2 Kitte Marunouchi third floor 03-3217-2026 (Google Maps)
G-SHOCK STORE ODAIBA
Tokyo, Minato-ku Daiba 1-7-1 Aqua City Odaiba 3F 03-3599-2251 (Google Maps)
G-SHOCK CONCEPT SHOP:
ISHIDA Omotesando
Jingumae, Shibuya-ku, Tokyo 4-25-15 B1F 03-5785-3600 (Google Maps)
G-SHOCK CONCEPT BOOTH:
BEST Shinjuku head office
Shinjuku-ku, Tokyo Shinjuku 3-17-12 03-5360-6800 (Google Maps)
For more G-Shock store locations throughout Japan see G-Shock.JP/shop.
G-Shock watches are also available at many other stores including BIC CAMERA.
See Also: G-Shock 5000U/5600U/5610U Updated Module "U" Series