There are a number of G-shock watches that Casio produces only for sale to the Japanese domestic market (JDM). Some of these are upgraded or specialized versions of common G-Shock models. This list of Japan-only G-Shocks focuses on the 5000-series models. Current models that are part of the 5000-series include the common DW-5600 and the GW-M5610 models. Other 5000-series models that are less well-known but recognizable to G-Shock enthusiasts include the DW-D5500, GW-5500, and the widely exalted origin model GW-5000. The 5000-series is the most historically significant G-Shock line as it descends directly from the original G-Shock from 1983, the DW-5000C.
In the past the only way to get the JDM G-Shock models was through personal contacts in Japan, but now thanks to the efficiency of e-commerce they are easily obtainable. You will have to pay a premium for these imports but their uniqueness makes up for it. They are also excellent selections for those who want to go shopping for G-shock watches while visiting Japan to bring back a special memento. Here are the Japanese import G-shock 5000-series watches that we suggest looking into.
For the G-Shock faithful: GW-5000-1JF Origin G-Shock
Many people who fall in love with G-Shock and start building a collection will eventually start thinking about getting the GW-5000, sometimes to the point of obsession. Others who are new to G-Shock may want a premium watch with a classic design that is a step above the typical model. The GW-5000 is a simple watch with a body that is based on the first G-Shock ever, the DW-5000C. Like the first G-Shock it has a screw-lock case back and is the only current G-Shock along with the Frogman that has this feature. It adds modern features like Tough Solar power and Multi-Band 6 atomic time-syncing. While its look is intentionally basic and its features are not the most advanced available, it is considered a "prestige" G-Shock because of its high price and because in addition to its screw-back with diamond-like carbon (DLC) coating, it has a full stainless steel case under the bezel while standard 5600 models have a plastic case. It also has a nicer overall finish than a 5600 model and uses a softer and more comfortable urethane band. The GW-5000 is exclusively made in Japan which accounts for its higher price. Only the most observant and knowledgeable G-Shock enthusiasts will recognize this watch on the street. While it won't buy you instant status with the general public, owning the GW-5000 is one of the best ways to express your appreciation of G-Shock and its history.
Update: Casio has released more GW-5000 models including the GW-5000HR-1JF Heritage Red Edition and the limited edition GW-5035A-1 from the 35th Anniversary Big Bang Black Collection. At this point these models are much more difficult to obtain than the GW-5000-1JF.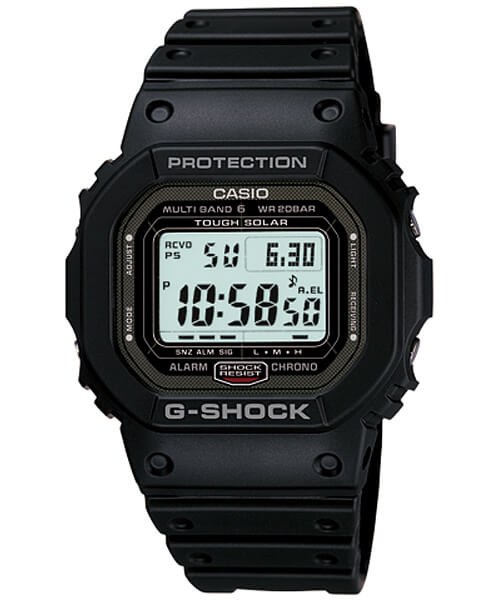 GW-5000-1JF on Amazon
GW-5000-1JF on eBay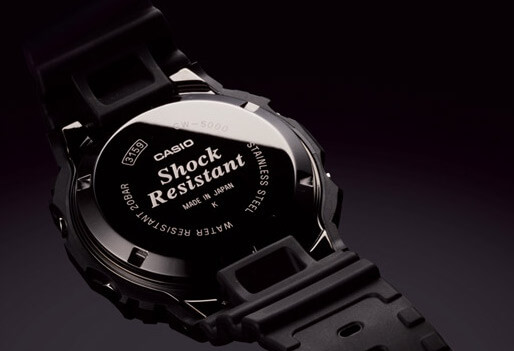 For the stylish minimalist: GW-M5610BB-1JF Basic Black
The GW-M5610BB-1JF is a basic black Tough Solar/Multi-Band 6 model with a glossy black bezel and bands and a stealthy reverse LCD display. The display borders have a clean look without the usual labels and allow the solar panels to stand out as part of the minimalist design. This combination of a glossy exterior with a minimalist display gives the GW-M5610BB-1JF a unique style and a sleeker, more sophisticated look than the usual 5600.
Update: Amazon actually sells this model directly, check to see that it says "Ships from and sold by Amazon.com."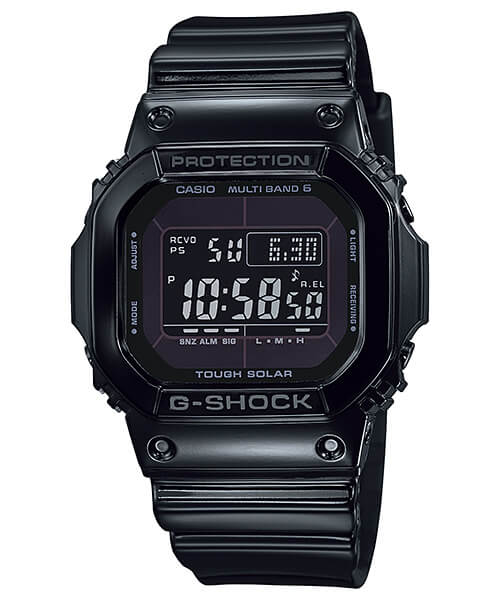 GW-M5610BB-1 on Amazon
GW-M5610BB-1JF on eBay
For the man in uniform: GW-M5610BC-1JF Composite Band G-Shock
The GW-M5610BC-1JF is a solar and atomic powered GW-M5610 with a composite metal/resin band with a traditional folding clasp. Its low profile would go well with uniforms while its composite band and reverse display gives it a tough, no-nonsense look. The metal part of the band is treated with a black ion plating. This Japanese model is suggested for those who are concerned that a traditional resin band may not be durable enough over the long haul, or for those who want to be able to put on and remove the watch very quickly and easily. Another good use for this watch is to swap out the composite band with the GW-5000. If you like the reverse display but would rather have a traditional resin band, there is also the GW-M5610-1BJF.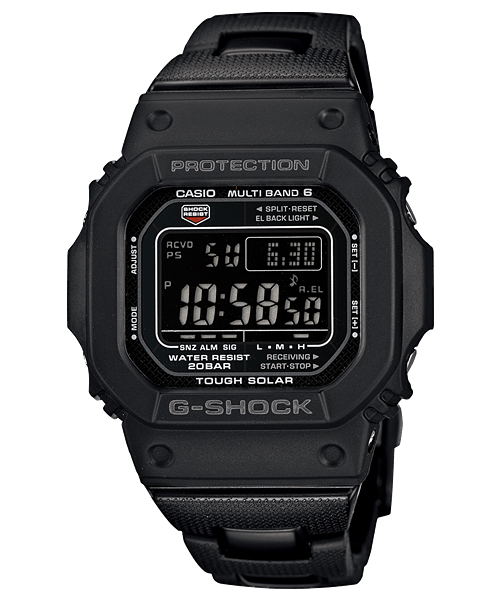 GW-9110-1JF on Amazon
GW-9110-1JF on eBay
For the racer: GW-S5600-1JF Carbon Fiber G-Shock
The reason to buy the GW-S5600-1JF is for its distinctive carbon fiber insert band, but it comes at a premium price. Unlike some of the aviation models and Japanese market Master of G watches featuring bands with carbon fiber inserts that can only be seen on the inner side of the band, the carbon fiber is distinctly visible from the exterior side of the band on this model. This watch is also known for its very light weight of 47 grams, making it the lightest G-Shock available.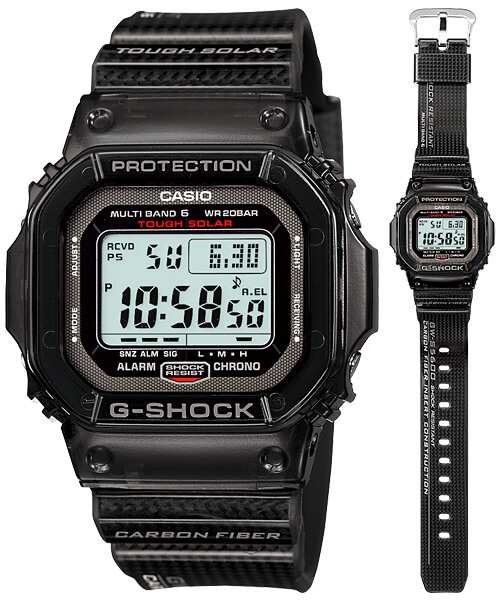 GW-S5600-1JF on Amazon
GW-S5600-1JF on eBay
For the old-school techie: GW-5510-1BJF Circa-1985 G-Shock
The GW-5510-1BJF is basically a DW-D5500 (amazon) with Tough Solar, Multi-Band 6, stealth lettering, and a reverse display. It is also available in black with a standard display (GW-5510-1JF) and a white version (see Amazon link). The 5510 case with its covered buttons is a direct descendant of the 1985 DW-5500C which was also known as "G-Shock II" and was the first model to be nicknamed the Mudman for its mud and dust resistance. The 5500 is not a commonly seen G-Shock on the street and those who like its retro look would be wise to upgrade to this maintenance-free Japanese version.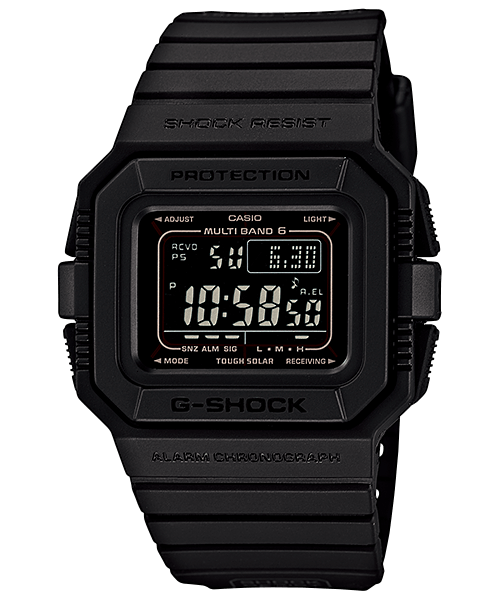 GW-5510 on Amazon
GW-5510 on eBay
For the tough guy: GXW-56-1BJF Extra-Large G-Shock
Technically it's not a 5000 series G-Shock, but the GXW-56 series is considered to be part of the "square" family and is clearly based on the 5600 body. It can be described simply as an over-sized and extreme version of the 5600. Previously available internationally as the GX-56, that model was discontinued and it is now only available as the GXW-56 from Japan with Tough Solar/Multi-Band 6. This extra large watch measures 55.5 x 53.6 x 17.5mm and is nicknamed "The King" by the hardcore G-Shock fans. It's extra large size gives it even more protection than a typical G-Shock and it is very likely one of the toughest G-Shock models ever made. Its protected button design also offers mud and dust resistance. Those who are hesitant to wear a large watch should stay far away. For those who want one of the largest all-digital G-Shock watches the GXW-56 is a dream come true. The GXW-56-1BJF pictured here has light yellow lettering and a standard LCD display. It is also available as the GXW-56-1AJF with a red-accented face, red buttons, and reverse display.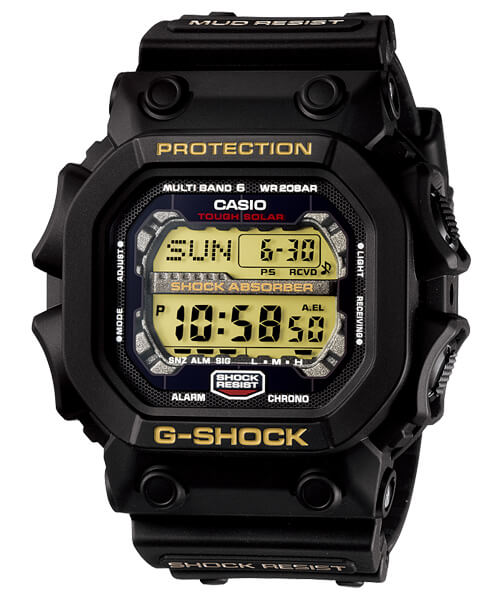 GXW-56 on Amazon
GXW-56 on eBay
For the surfer or fisherman: GWX-5600C-7JF Solar Tide G-Shock
The GWX-5600 G-Lide is like the GLX-5600 with its tide and moon graph and adds Tough Solar and Multi-Band 6. This makes it a top choice for surfers who want an unobtrusive, low profile tide watch that is solar powered and has atomic timekeeping. The watch comes in white (GWX-5600C-7JF), red (GWX-5600C-4JF) and black (GWX-5600-1JF). This model was previously available internationally but was discontinued and some of that stock can still be found at a reasonable price. The black version features an unusual color scheme with orange, yellow, and blue lettering.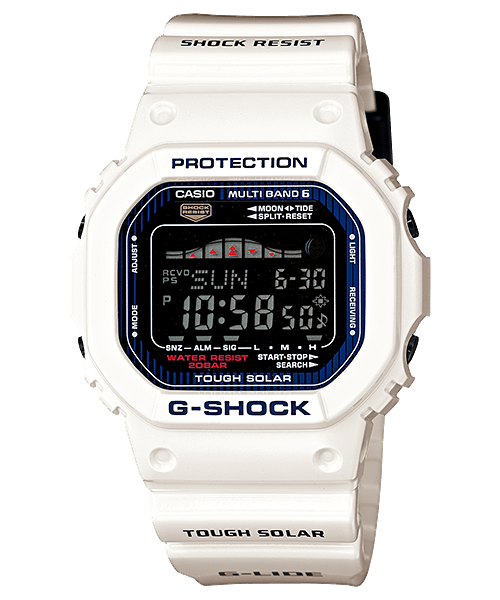 GWX-5600 on Amazon
GWX-5600 on eBay
Where To Buy G-Shock Watches In Tokyo Japan
OFFICIAL G-SHOCK STORES:
G-SHOCK STORE MARUNOUCHI
Marunouchi, Chiyoda-ku, Tokyo 2-7-2 Kitte Marunouchi third floor 03-3217-2026 (Google Maps)
G-SHOCK STORE ODAIBA
Tokyo, Minato-ku Daiba 1-7-1 Aqua City Odaiba 3F 03-3599-2251 (Google Maps)
G-SHOCK CONCEPT SHOP:
ISHIDA Omotesando
Jingumae, Shibuya-ku, Tokyo 4-25-15 B1F 03-5785-3600 (Google Maps)
G-SHOCK CONCEPT BOOTH:
BEST Shinjuku head office
Shinjuku-ku, Tokyo Shinjuku 3-17-12 03-5360-6800 (Google Maps)
For more G-Shock store locations throughout Japan see G-Shock.JP/shop.
G-Shock watches are also available at many other stores including BIC CAMERA.
(
Disclosure: G-Central is independently managed by fans and is not an official G-Shock site. As an Amazon Associate, eBay Partner, and Reeds Jewelers affiliate, G-Central earns on qualifying purchases, at no extra cost to the buyer.
)
Shop for new releases and see our top selections at: amazon.com/shop/gcentralhq
Please note that G-Central is not affiliated with G-Shock or Casio. For official support and inquiries, visit world.casio.com.