The G-Shock watches of today are manufactured in Japan, Thailand, and China. (There were factories in other countries used in the past, but these are the currently active ones.) Most of the basic and most affordable models, but also some G-STEEL models, are made in China. Many of the affordable and mid-range models are made in Thailand, and the most expensive and premium models are made in Japan. Many DW-5600 and DW-6900 collaboration models are also made in Japan.
The best way to determine where a G-Shock was made is to look at the case back of the watch, where it will list the country of origin. On some analog-digital models, it says, "Japan Movement (or Mov't) Cased in Thailand (or China)," in which the movement is presumably made in Japan and the watch is assembled in another country. A good source to see the case backs of new models is the Kawashima YouTube Channel.
Though you shouldn't let the country of origin dissuade you from buying a certain G-Shock, some people may have a preference for G-Shock watches that are made in Japan. Though many high-end electronic devices are made in Thailand and China, products that are made in Japan are often perceived to have a higher quality and status. (I've never noticed any difference in quality with my non-Japan-made G-Shocks, but I tend to cherish my Japan-made G-Shocks more, but not only for that reason.) Also, Japan is the home of Casio and the birthplace of G-Shock, and G-Shock is a brand that loves to celebrate its history and heritage, so there's that too.
This list may not include every G-Shock watch that is made in Japan, but it focuses on those that have the strongest association with being made in Japan. Sometimes a model may be initially made in one country, but then later made in another country, or possibly made in more than one country simultaneously. We are confident that most of the watches listed here will not be made outside of Japan in the future, as doing so would would change their identity and essence. (Of course, we cannot be certain that they will always be made in Japan.)
DW-6900B-9: The Japan-only DW-6900B-9 differs from the international DW-6900-1V with its orange labels, tinted LCD display, "20Bar Resist" label, and "Fox Fire" label instead of "Illuminator." Fox Fire refers to the bluish-green bioluminescence created by certain species of fungi, which is the inspiration for the EL backlight seen on many digital display models. Another unique thing about this watch is that the Japan model name does not end with "JF" like other JDM models, and we have no idea why.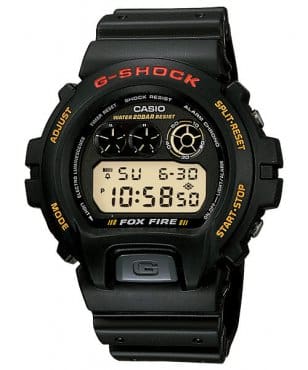 GW-5000 and Recent DW-50XX Anniversary Models: The GW-5000-1JF is one of the most popular Japan-only G-Shock watches outside of Japan. Though it is a simple G-Shock by today's standards, with Tough Solar power and Multi-Band 6 automatic time adjustment as its major features, the GW-5000-1JF captures the essence of the original G-Shock DW-5000C with a DLC-coated stainless steel inner case and screw down case back, which is inherently tougher than resin-cased 5600 models. The GW-5000-1JF is considered a must-have item by many G-Shock fans and watch enthusiasts.
Similar to the GW-5000 are the DW-50XX anniversary models with a screw-back that are released during G-Shock anniversary celebrations every five years. However, some of the DW-5000 and DW-50XX anniversary models were made outside of Japan in the past, but we believe that all of them from the 30th Anniversary and later were made in Japan. Being battery-powered, they are are perhaps closer in spirit to the original G-Shock, yet they usually don't sell out very quickly like some GW-5000 models (such as GW-5035A-1 and GW-5000HR-1JF).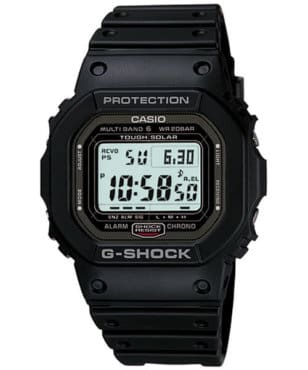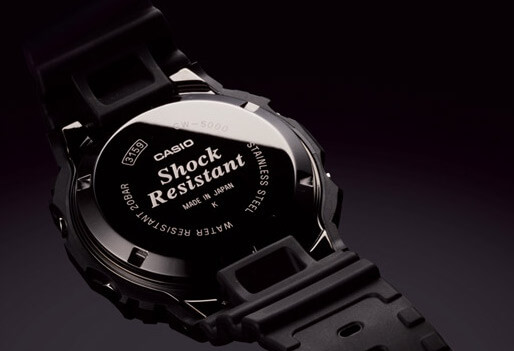 GMW-B5000: The full metal GMW-B5000 series was a huge hit for G-Shock when it launched during the 35th Anniversary, and it continues to be a bestseller. Featuring a stainless steel (or sometimes titanium) outer and inner case with screw-back, a high-contrast STN display, and an LED (versus EL) backlight, the GMW-B5000 also added more internal features, such as Bluetooth smartphone link, which brings with it a handful of unique functions.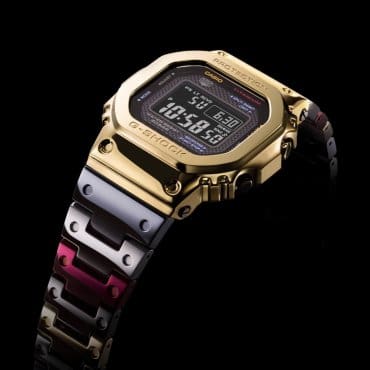 Top Gravitymaster Models: The top Gravitymaster models, like the beastly GPW-2000 and the not huge GWR-B1000, are made in Japan. The GPW-2000 is one of the few G-Shock watches with GPS timekeeping, and the GWR-B1000 was the first G-Shock with a carbon monocoque (single shell) case.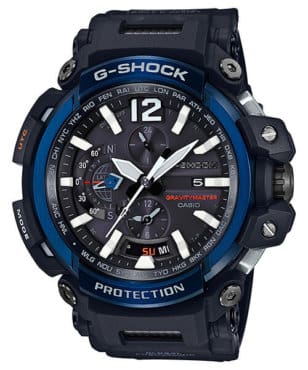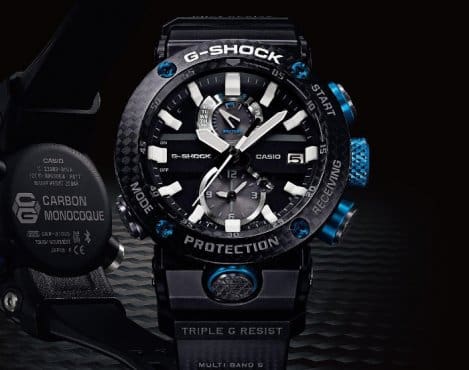 Frogman Series: The Frogman is G-Shock's flagship diving watch, and the only G-Shock with ISO Diver's 200M water resistance (as opposed to regular 200M WR). The Frogman traditionally had a stainless steel or titanium inner case and screw-back as seen in the GWF-1000 and GWF-D1000, but that changed with the introduction of the first analog Frogman GWF-A1000, which has a carbon reinforced case and a monocoque structure. Due to its superior water resistance (a GWF-1000 once went to 1,000 meters deep without issues), we consider the Frogman to be the toughest G-Shock watch, and we have no reason to believe that the GWF-A1000 is any less tough than previous versions. The Frogman, first launched in 1993, has a long history of being a made-in-Japan series, and many fans would cry foul if it was made in another country.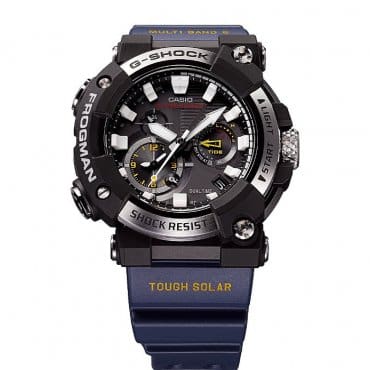 MT-G Series: This range of Japan-made watches includes the high-end MT-G (Metal Twisted G-Shock) models featuring stainless steel exterior parts, such as the MTG-B1000 and MTG-B2000 series. These watches, along with the high-end Gravitymaster watches above, are some of the few analog-digital G-Shocks with "Triple G Resist," which includes protection against shock, centrifugal gravity (g-force), and heavy vibration. Though around $1,000, they are affordable compared to the MR-G series.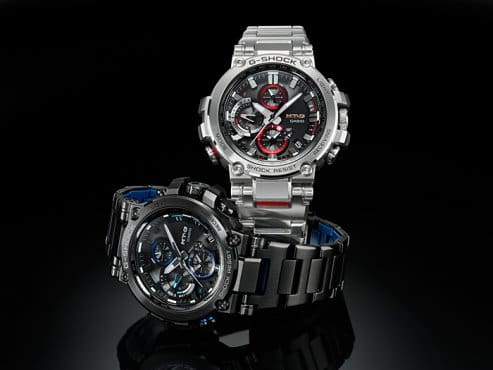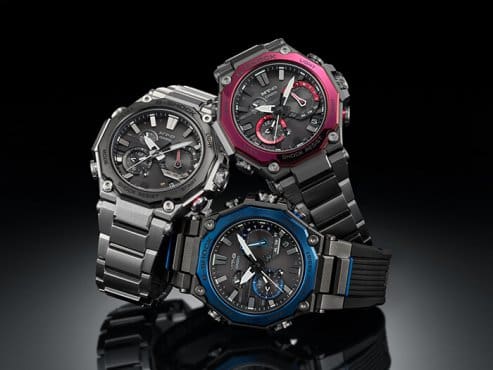 MR-G Series: The MR-G (Majestic Reality G-Shock) series is the most expensive line of G-Shock watches, and includes models like the MRG-G1000 (with GPS timekeeping and Multi-Band 6), MRG-G2000 (with GPS, MB6, and Bluetooth), MRG-B1000 (mid-size case with MB6 and Bluetooth), and MRG-B2000 (large case with MB6 and Bluetooth). MR-G watches are made on the Premium Production Line at the Yamagata Casio factory, which employs only the most highly skilled workers. Most of the limited edition MR-G watches are based on traditional Japanese culture. It's safe to say that the MR-G series will never be made outside of Japan.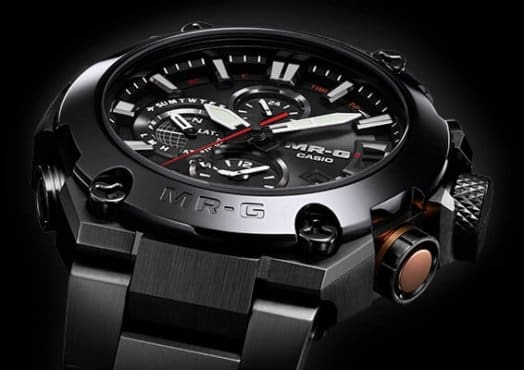 Share This Post
(Disclosure: G-Central is independently managed by fans and is not an official G-Shock site. We do not officially represent G-Shock or Casio, and we do not act or speak on their behalf. For official support, visit world.casio.com.)
More Articles from G-Central