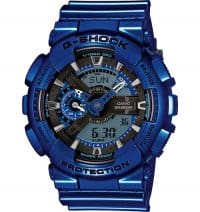 CNET Crave is giving away a G-Shock GA110NM. The winner can choose to receive a red GA110NM-4A or a blue GA110NM-2A. To enter you'll have to register as a CNET user and leave a comment on the page below. The deadline to enter is Monday, January 18, 12pm EST. The giveaway is open to adult residents of the 50 United States and DC. The GA110NM is from the Neo Metallic Series and is also available in green and yellow.
Enter the CNET Crave G-Shock Giveaway here:
http://www.cnet.com/news/crave-giveaway-casio-g-shock-tough-wristwatch/
(
G-Central earns a commission from qualifying purchases made through its links. G-Central is an independent news site created and maintained by fans and is not an official representative of Casio. See full disclosure.
)