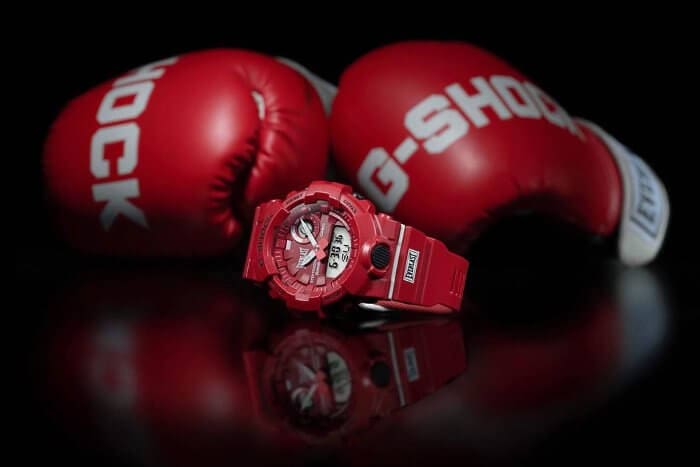 Ever since we saw the G-Shock-branded boxing gloves as part of the promotion for the Everlast x G-Shock GBA-800EL-4A collaboration watch, we've been wondering if there will be an opportunity to purchase them. That is probably unlikely, but G-Shock UK will be giving away two pairs of these special edition gloves via two raffle drawings for UK residents.
Those who purchase the GBA-800EL-4AER at G-Shock.co.uk will be entered in a raffle for a chance to win one pair of the G-Shock x Everlast gloves. Customers have until 31 July 2019 to purchase a GBA-800EL-4AER for a raffle entry at G-Shock.co.uk. The winner will be contacted by email 30 days later.
Another raffle will be held for a second pair of gloves for walk-in customers at the official G-Shock London Store at 56a Carnaby Street. Customers have until 16 June 2019 to purchase a GBA-800EL-4AER for a raffle entry at the G-Shock Store and the winner will be contacted on 1 July 2019. (The G-Shock store at 56a Carnaby Street is open from 10 a.m. to 7 p.m. Mon-Sat and 12 p.m. to 6 p.m. on Sunday.)
The GBA-800EL-4AER has a retail price of £159.00 in the UK. Customers are limited to one raffle draw entry regardless of multiple purchases and the raffle entries are limited to UK residents only.
Per the G-Shock UK mailing list:
"Prefer your chances in the ring? Avoid a shock knockout with your chance to win a pair of G-SHOCK branded EVERLAST boxing gloves. Enter our Raffle by purchasing our Step Tracker EVERLAST Collab* … *Raffle entry with purchase of 'gba-800el-4aer' model at G-SHOCK.co.uk only. Full t's and c's apply and can be found at: https://g-shock.co.uk/terms-of-use"