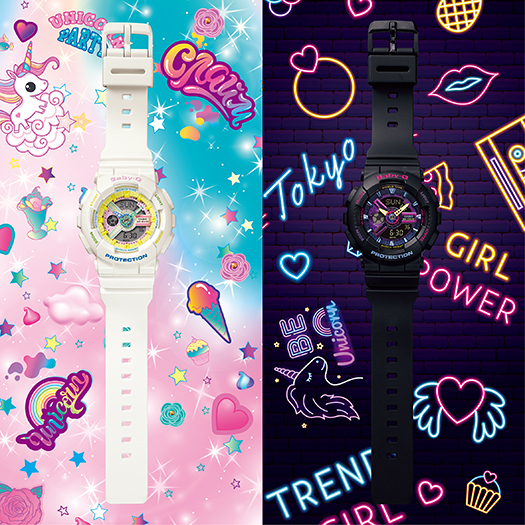 Released in June in Japan, the Baby-G BA110TM-1A and BA110TM-7A are now available in the U.S. at Baby-G.com for $120 each. (Update: The BA-110TM-1A and BA-110TM-7A are also August 2020 releases in Asia.)
These "cool black" and "pretty white" models are inspired by the "Decora" fashion style, which originated from the "kawaii" (cute) culture of Japan. The style came about in the Harajuku youth fashion district in the late 1990s and is characterized by bright colors combined with a large collection of accessories. The multi-color accents of these watches capture the essence of Japanese street styles that continue to be influential and appreciated around the world. The white and black colors represent the days and nights of the Harajuku streets.
Major features of the BA-110TM include shock resistance, 100-meter water resistance, world time, 5 daily alarms, 1/100 second stopwatch, countdown timer (24 hours max), and LED light.
Baby-G BA110TM-1A: The black BA110TM-1A has purple, red, and blue accents, metallic blue markers, and yellow hands.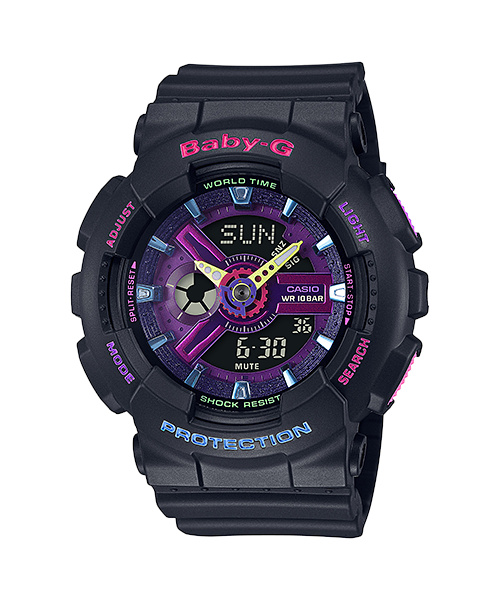 Baby-G BA110TM-7A: The white BA110TM-7A has pastel accents in pink, green, yellow, and blue, matte yellow markers, and blue and green hands.