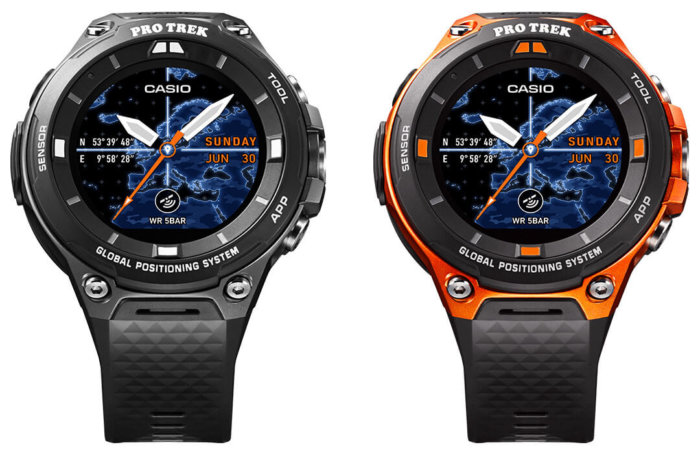 Casio announced an April 21, 2017 release date for its second Smart Outdoor Watch model, the Pro Trek WSD-F20. The Android Wear 2.0 smartwatch has built-in low-power GPS and a new offline color map functionality. Model options are the black WSD-F20-BK and the WSD-F20-RG with an orange body.
A common criticism of the original WSD-F10 was the lack of built-in GPS and this upgrade will allow greater usability without the need for a tethered smartphone. The watch is designed to be fully functional for outdoor activities without the need for a cellular connection. Worldwide color maps can be downloaded from Mapbox in advance to track the user's location while offline. The Location Memory app allows the user to add markers and text to specific spots. Map view options include dark, light, outdoors, streets-satellite, and streets.
The new Casio smartwatch is now part of the Pro Trek brand of outdoor watches under the Pro Trek Smart line and features an upgraded rugged exterior with button guards, a raised protective bezel, and Tool, Power, and App buttons. Designed for outdoor enthusiasts, the WSD-F20 includes custom apps for outdoor activities including trekking, cycling, fishing, paddling, and skiing. The WSD-F20 is also equipped with a pressure sensor (altimeter/barometer), compass, and accelerometer. The Tool app displays direction bearing, altitude measurement, atmospheric pressure measurement, and also provides sunrise/sunset data, full tide graphs, and an activity graph.
The WSD-F20 offers new Location and Traveler watch face designs. The Location face displays GPS and map functions while the Traveler face allows the user to switch the type of information on the lower face and easily launch the corresponding app. The watch also includes other Casio-designed faces and more face options can be downloaded from Google Play.
The WSD-F20 has a dual-layer display with a color touchscreen and a monochrome LCD time mode for maximum battery efficiency, a feature not found on other smartwatches other than its predecessor the WSD-F10. The WSD-F20 is water resistant to 50 meters and is tested to MIL-STD-810 military standards for environmental stress including shock and vibration.
The Casio Moment Link App displays the location of group members on a map and allows them to send text messages (though this feature requires a cellular connection and GPS-equipped smartphone). Other popular outdoor apps that can be added via Google Play are ViewRanger GPS, MyRadar weather app, and YAMAP GPS.
The WSD-F20 has a list price of $500 USD.
View the official Casio Pro Trek WSD-F20 page at https://wsd.casio.com/us/en/wsd-f20/.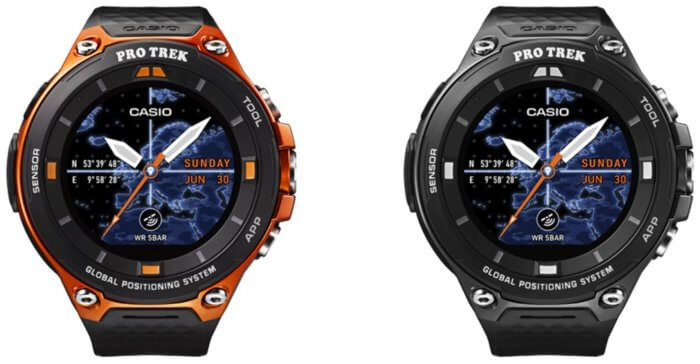 Casio Pro Trek WSD-F20 Smart Outdoor Watch Specifications:
50-meter Water Resistance
MIL-STD-810 (tested for shock, vibration, humidity, solar radiation, low pressure transport, low pressure operation, high temperature transport, low temperature transport, temperature shock, ice accretion)
1.32-inch Dual-Layer Display: color TFT 320×300 LCD and monochrome LCD
Capacitive touchscreen with anti-fouling coating
GPS including GLONASS (compatibility to be added soon) and Michibiki
Offline Color Maps
Sensors: Pressure (air pressure, altitude) sensor, accelerometer, gyrometer, compass sensor
Microphone
Vibrator
Bluetooth V4.1 (Low Energy)
Wi-Fi (IEEE 802.11 b/g/n)
TOOL button, Power button, APP button
Lithium-ion battery
Magnetic charging terminal
Recharging Time: About 2 hours at room temperature
Normal use battery life: approximately more than 1 day (will vary according to use)
Timepiece Mode (timekeeping only) battery life: approximately more than 1 month (will vary according to use)
Case Size: approximately 61.7 mm x 56.4 mm x 15.7 mm (HxWxD)
Weight: approximately 92 grams (with wrist bands)
Operating System: Android Wear 2.0
Smartphone requirements:
Android: Android 4.3 or later.
iOS: iPhone 5 or later with iOS 9 or later
Casio Pro Trek WSD-F20 Smart Outdoor Watch Promotional Video: