The Pro Trek WSD-F21HR-RD and WSD-F21HR-BK smartwatches include a heart rate monitor…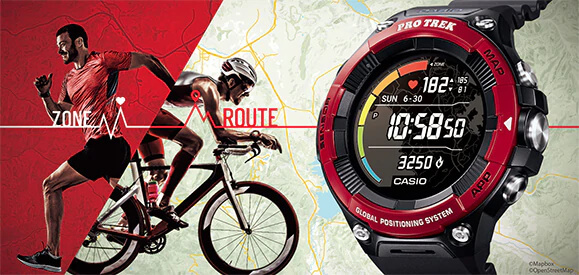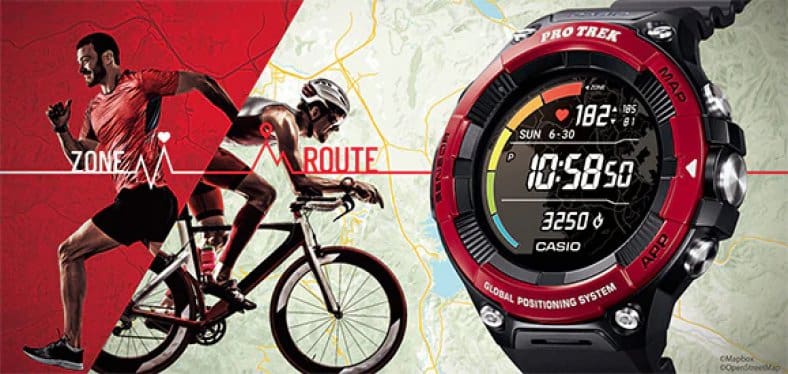 Casio announced the new Pro Trek Smart WSD-F21HR smartwatch featuring a wrist-based heart rate monitor. This all-new model is based on the previous generation WSD-F20 rather than the latest WSD-F30. The WSD-F21HR is designed for fitness training as well as mountain biking and trekking, and it is equipped with built-in GPS and offline maps like the WSD-F20. The watch runs on Wear OS by Google, allowing it to run many other fitness apps and giving it versatility beyond that of a fitness watch.
The Pro Trek Smart WSD-F21HR-BK, WSD-F21HR-RD, and the optical HR monitor: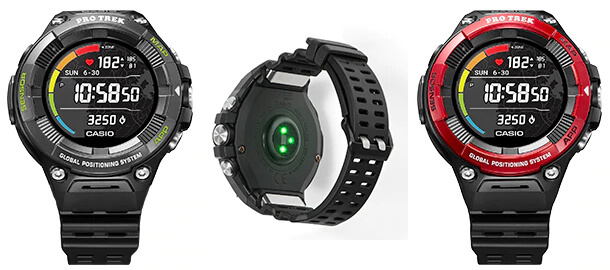 The new Heart Rate watch face automatically displays additional heart rate data when the accelerometer detects motion, including five heart rate zones (which are set up by entering resting and maximum heart rates). The watch also measures your maximum oxygen consumption (VO2 max) to use as a guide for endurance activities like running.
Heart Rate watch face in Standard and Activity modes: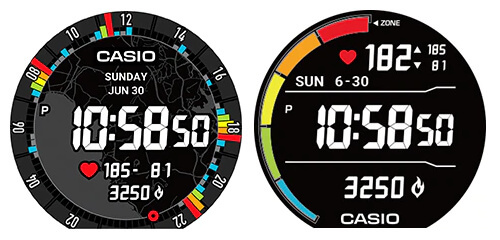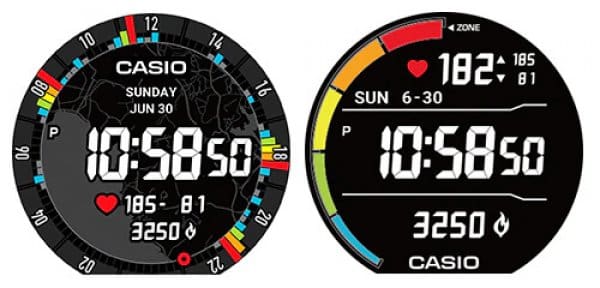 New Running and Trail Running modes have been added to the Activity app. Three types of information (such as heart rate, pace, and distance) can be displayed on the watch. Up to four of these data screens can be set and switched between while engaging in the activity. A large variety of data is available for these modes.
(According to Casio, the information that can be displayed includes: Heart rate and zone, Heart rate, Heart rate graph, Total time, Running time, Expected time, Goal ETA, Lap, Average lap, Pace, Average pace, Maximum pace, Total distance, Distance remaining to goal, Speed, Average speed, Maximum speed, Speed graph, Calories consumed, Barometer, Barometer graph, Altitude, Altitude change graph, Target altitude, Altitude remaining to goal, Elevation gain, Elevation loss, Current time, Battery level.)
The WSD-F21HR can import GPS log data so users can check routes they or others have used in the past. Data measured by the Activity app is automatically saved to Google Drive, and the activity history can be viewed on Google Calendar.
Other major features include 50-meter water resistance, MIL-STD-810 durability, 1.32-inch 320×300 dual layer TFT LCD color and monochrome display, pressure sensor (altimeter-barometer), gyrometer, compass sensor, microphone, vibration, Bluetooth, and a rechargeable lithium-ion battery. Battery life is estimated at 1.5 days with normal use and one month with Multi Timepiece Mode (using timekeeping and sensors only). Battery life will vary according to use. The watch measures about 61.7 x 57.7 x 16.8 millimeters and weighs about 81 grams.
The debut models are the black WSD-F21HR-BK and the red WSD-F21HR-RD.
The WSD-F21HR will be released on September 13, 2019, and the retail price in Japan will be 56,000 JPY plus tax. The watch has also been announced for release in other Asian countries and the United States (with model numbers WSD-F21HRBK and WSD-F21HRRD) where the list price will be $499 USD.
Sources: www.casio-intl.com, protrek.casio.com