Update: Casio USA and Casio Japan announced a March 25, 2016 release date in both the U.S. and Japan for the Casio WSD-F10 Smart Outdoor Watch.
CES 2016, Las Vegas – Casio Computer Company revealed the Smart Outdoor Watch WSD-F10, an Android Wear tough smartwatch designed for outdoor activities like trekking, cycling, and fishing. While Casio has always been on the leading edge of "smart" timepieces since the 1970s, this is the company's first foray into the modern smartwatch market. With its unique outdoor features and a rugged function-based design, Casio carries on its strong tradition of timepiece innovation. The Casio smartwatch is available in four models: WSD-F10GN (green), WSD-F10RG (orange), WSD-F10BK (black), and WSD-F10RD (red).

The WSD-F10 has the distinction of being the first smartwatch with a built-in microphone featuring 50-meter water-resistance. It is not designed for swimming but can be used in the rain and around water for activities like fishing and kayaking. With a 50M WR rating it should be able to withstand being submerged in shallow water. The watch also has a tough casing and passes military standard testing for endurance and environmental stress. (According to Casio it passes the following ten tests from MIL-STD-810G: drop, random vibration, humidity, solar-radiation, non-operating altitude, operating altitude, non-operating high temperature, non-operating low temperature, temperature shock, and icing freezing rain.)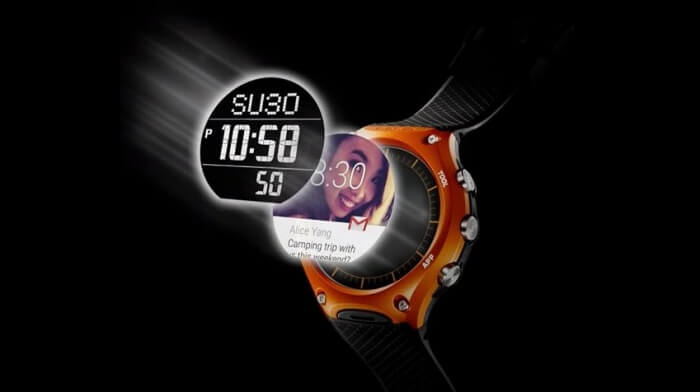 An innovative feature of the Casio smartwatch is its dual-layer display featuring stacked monochrome and color LCD displays. The monochrome LCD is a continuous time display that resembles recent Pro Trek models while the color LCD display is for smartwatch apps and touchscreen use. Using the monochrome display in Timepiece Mode will allow the watch to save battery life and allow for good visibility in bright sunlight. When left in Timepiece Mode only the battery can last over a month. The color display can be used to customize the watch face with analog or digital styles that can show sensor information along with the time. Some of the face styles resemble a G-Shock digital display.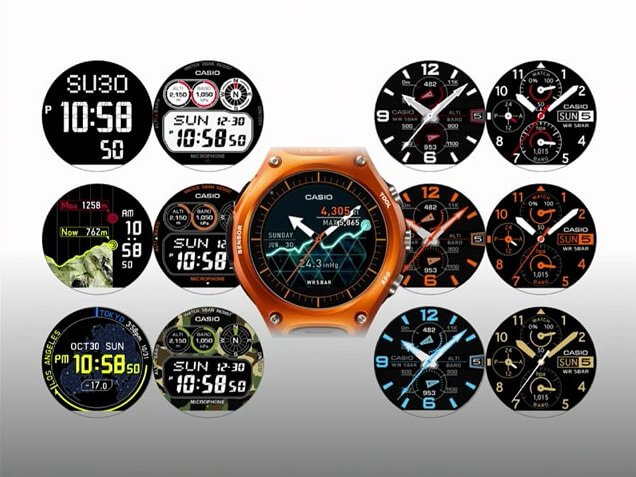 Another innovation is that the smartwatch is sensor-equipped and capable of measuring direction bearing, atmospheric pressure, and altitude. This makes it an ABC (altimeter-barometer-compass) watch but it does not have a thermometer like the traditional Casio Triple Sensor watches. It can also display sunrise/sunset times, tide graphs, and activity graphs. The watch is not equipped with GPS, but it is meant to be linked to a GPS-equipped smartphone so GPS features can be used. Large direct-access buttons allow the watch to be operated while wearing gloves.
The watch can also be used to control the recently released Exilim EX-FR100 mountable/wearable outdoor camera which is also featured in the WSD-F10 promotional video, though it was noted at CES that the EX-FR100 is not officially available in North America.
Pre-installed apps for outdoor activities include MyRadar (weather radar), Runkeeper (route tracker and recorder for running, hiking, cycling), ViewRanger (route info, navigation, altitude, location data, distance to waypoint), and Yamap (GPS trekking companion). The Casio Moment Setter + smartphone app handles various timing activities and alerts.
The watch can be used to display speed and distance for outdoor activities. In addition to showing current time and elapsed time, when trekking the watch can display traveling speed and altitude remaining to goal. When cycling it can display traveling speed and distance traveled. For fishing the watch can calculate and show the time frame when the fish will be most active, and an alert can be set as a reminder. The atmospheric pressure readings can be used to predict and alert to sudden weather changes.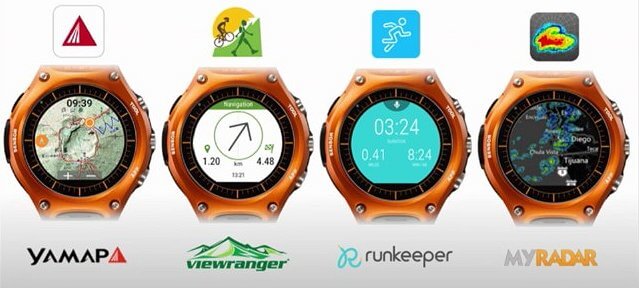 The WSD-F10 includes Bluetooth 4.1 and wi-fi connectivity. As an Android Wear watch, it is also capable of call and message alerts, will run Google Apps (like Gmail, Google Maps, Google Fit, Voice Search), and can install Android Wear apps from Google Play.
A magnetic crimped terminal is used to charge the lithium-ion battery and recharging takes about two hours. Estimated battery life is over a day with smartwatch use.
Measurements are approximately 61.7 × 56.4 × 15.7mm with a weight of about 93 grams. Retail list price is $500.
The Casio WSD-F10 Smart Outdoor Watch will be available on March 25, 2016 in both the U.S. and Japan.
Update: The WSD-F10 is now available at Amazon and the Google Store. ShopCasio has the black WSD-F10BK and orange WSD-F10RG. Amazon originally had the black WSD-F10BK and red WSD-F10RD (though the black model appears to be sold out at the moment), and Google has the orange WSD-F10RG and olive green WSD-F10GN (which is currently exclusive to Google Store).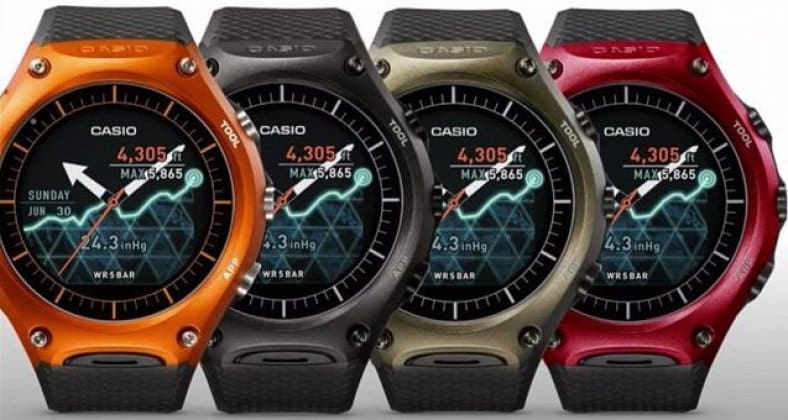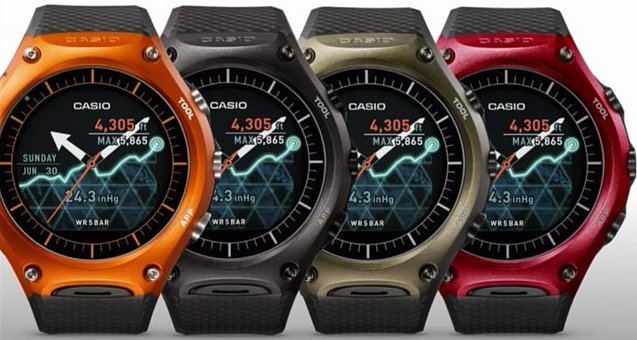 Casio Smart Outdoor Watch WSD-F10 Specifications:
Rugged Casing, Environmental Durability: MIL-STD-810
50M Water Resistance
1.32-inch Display: Dual-Layer with 320 x 300 Color TFT LCD and Monochrome LCD
Capacitive Touchscreen
OS: Android Wear
Buttons: TOOL, Power, APP
Microphone
Vibrator
Sensors: Compass, Accelerometer, Gyrometer, Air Pressure, Altitude
Connectivity: Bluetooth 4.1 (Low Energy), Wi-Fi (IEEE 802.11 b/g/n)
Urethane Band
Lithium-ion battery
Recharging Terminal: Magnetic Crimped Terminal
Recharging Time: ~2 hours at room temperature
Battery Life:
Normal use: more than 1 day, roughly (depending on use)
Timepiece Mode (timekeeping only with monochrome LCD): more than 1 month, roughly (depending on use)
Size: ~61.7 × 56.4 × 15.7mm
Weight: ~93g
MSRP: $500
Smartphone Requirement:
Smartphone with Android 4.3 or later
One of the following models with iOS 8.2 or later: iPhone 5, iPhone 5s, iPhone 5c, iPhone 6, iPhone 6Plus
(Limited functionality when connected to iOS device)
According to the case back the WSD-F10 is made in Japan.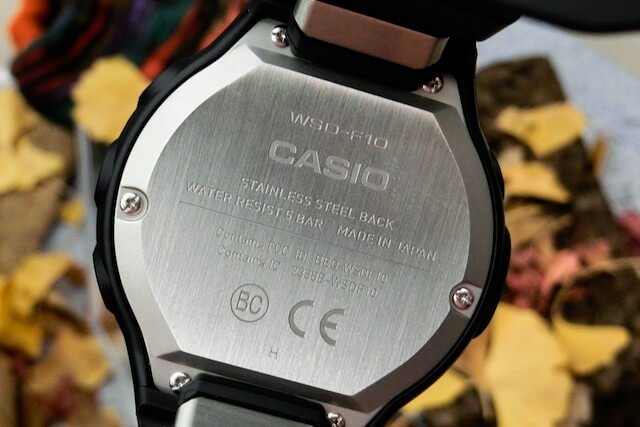 Photo via news.mynavi.jp
Casio President Kazuhiro Kashio reveals the WSD-F10 Smart Outdoor Watch at CES 2016.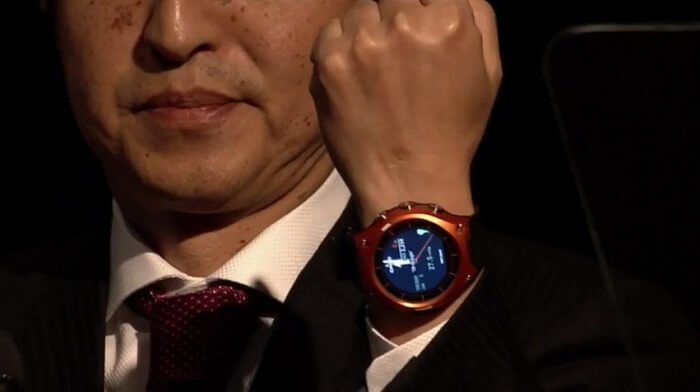 Our Take:
Casio definitely lived up to its word in introducing a "tough smartwatch" and the WSD-F10 looks to be a strong contender in the outdoor smartwatch category. The Casio smartwatch is designed with a purpose in mind and has a reason to exist unlike some of the "me too" smartwatch entries from other traditional watch brands. The watch is distinctly a Casio with the kind of innovation and features we've come to expect. It is likely the toughest smartwatch currently available and one of the few that can handle active outdoor use. Being an Android Wear watch should make it marketable to more mainstream users as well. Less reliance on a smartphone, 100M water resistance, and longer battery life would have made it much more attractive and we hope to see such features in new models at some point. Also from a marketing standpoint we would have liked to see a new brand created for this product category. The WSD-F10 Smartwatch won't make G-Shock and Pro Trek Triple Sensor watches obsolete but the WSD-F10 offers more than we expected. The list price is relatively high but hopefully it will be offered for significantly less down the road in the same way G-Shock watches are.
View the Casio CES 2016 press conference here and the official product page here.