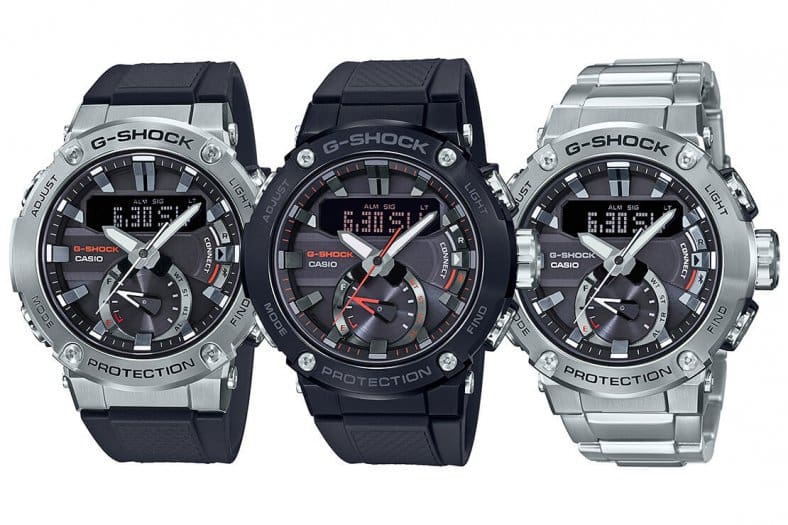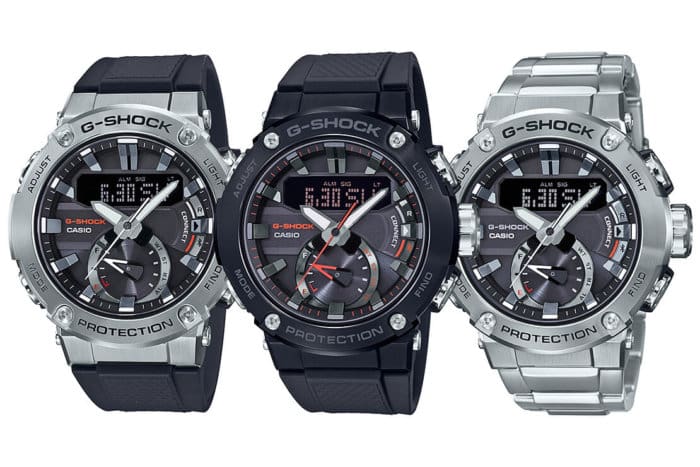 Another new Carbon Core Guard model for 2019, the GST-B200 series offers a fresh update to the G-Shock G-STEEL line.
Along with the use of the newly designed carbon fiber reinforced case that provides a more compact style, another major difference from the previous generation G-STEEL GST-B100 is that the GST-B200 has an analog-digital display instead of a fully analog one. Major features include Tough Solar power and Bluetooth mobile link. As seen with the GA-2000, the use of the Carbon Core Guard case allows the GST-B200 to have a sleeker and more streamlined look than previous G-STEEL models.
The GST-B200 line will launch with three models. The GST-B200-1A has a silver body and bezel with a black resin band. The GST-B200B-1A has a black IP body and bezel with a black resin band. The GST-B200D-1A has a silver body and bezel with a stainless steel band.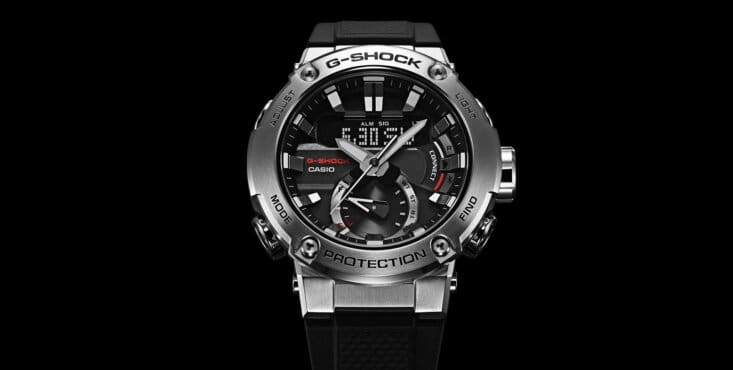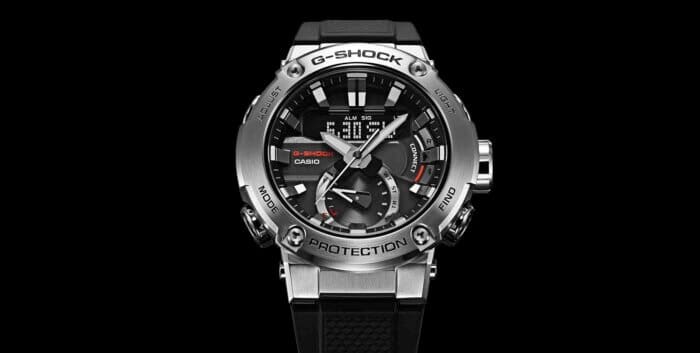 According to Gshock.com, the overall diameter has been decreased by 2.6 mm compared to previous G-STEEL models while the dial has been increased by 2.8 mm. Also, the digital sub-display is an STN LCD display.
The G-STEEL GST-B200 series will be released in May 2019 in Japan with the GST-B200-1AJF (MSRP ¥48,600 JPY), GST-B200B-1AJF (MSRP ¥54,000 JPY), and GST-B200D-1AJF (MSRP ¥54,000 JPY). The GST-B200-1A, GST-B200B-1A, and GST-B200D-1A are also being released in other Asian countries and are expected to be released worldwide.
Update: The Casio International website added the GST-B200 models and full specifications in its G-STEEL section.
Update 2: Casio America announced the GSTB200D-1A (list price $350 USD) with the stainless steel band and the silver GSTB200-1A (list price ($280 USD) with the black polyurethane band for June 2019.
The full features include shock resistance, 200-meter water resistance, Tough Solar power, Bluetooth mobile link, Neobrite luminous hands, mineral glass, world time (39 cities + UTC, DST on/off, auto DST switching), 1/1000 second stopwatch (for first 60 minutes, 1/10 second after 60 minutes, 23:59'59"9 max, with elapsed and split time), 1/10 second countdown timer (24 hours max, setting range: 1 second to 24 hours with 1-second increments, 1-minute increments, and 1-hour increments), 5 multi-function alarms (with daily, 1 time, schedule), hourly time signal, hand shift feature, battery level indicator, full auto calendar, 12/24 hour format, button tone on/off, power saving mode, and full auto double LED light (Super Illuminator with 1.5/3 second afterglow).
The Bluetooth mobile link features for the GST-B200 include approximately 300 world time cities, alarm and timer settings, hand alignment correction, home city/world time city swapping, and the phone finder function.
The GST-B200 measures 53.3 x 49.2 x 14.5 millimeters. The models with a resin band weigh 87 grams each and the model with a stainless steel band weighs 177 grams. (For comparison, the previous generation GST-B100-1A with resin band measures 58.1 x 53.8 x 14.1 mm and weighs 101 grams, and the GST-B100D-1A with stainless steel bands weighs 185 grams.)
G-Shock G-STEEL GST-B200-1A
Silver body and bezel with black resin band.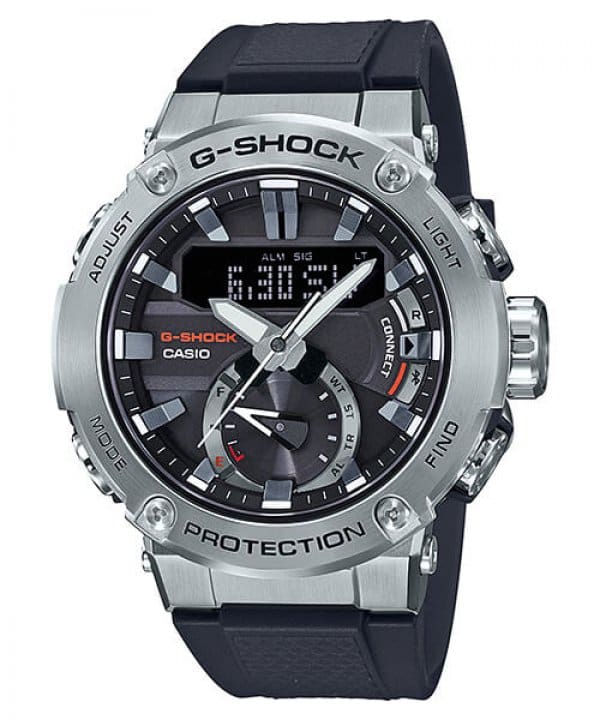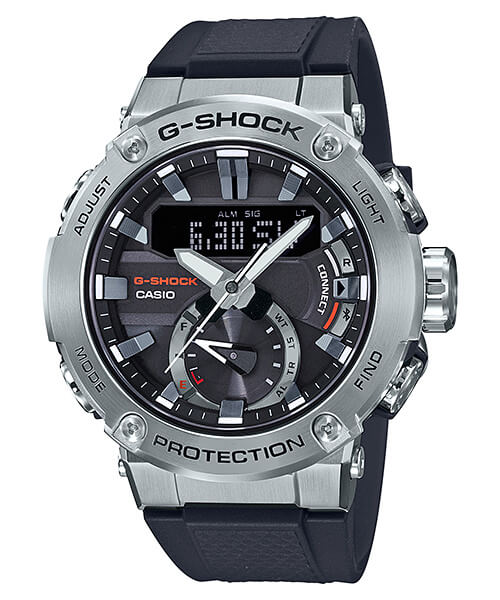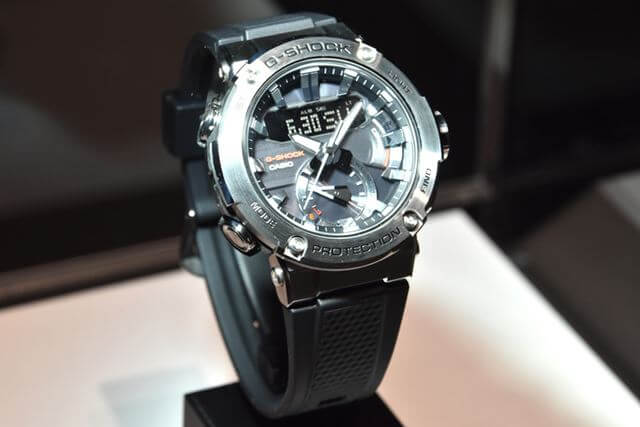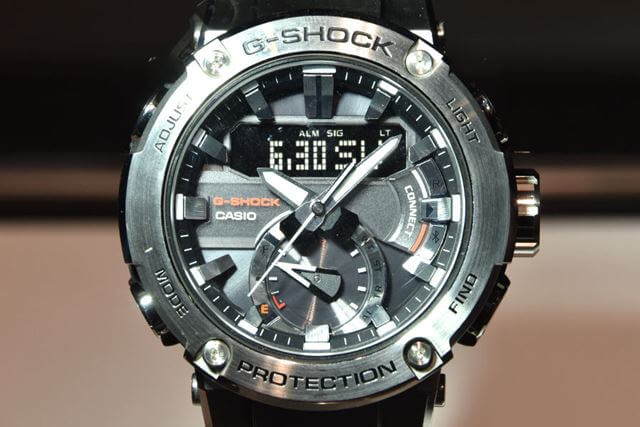 G-Shock G-STEEL GST-B200B-1A
Black IP body and bezell with black resin band.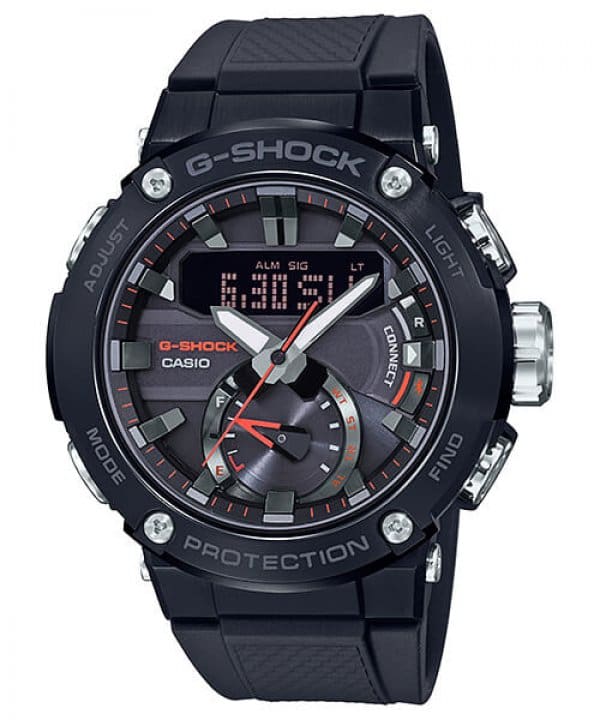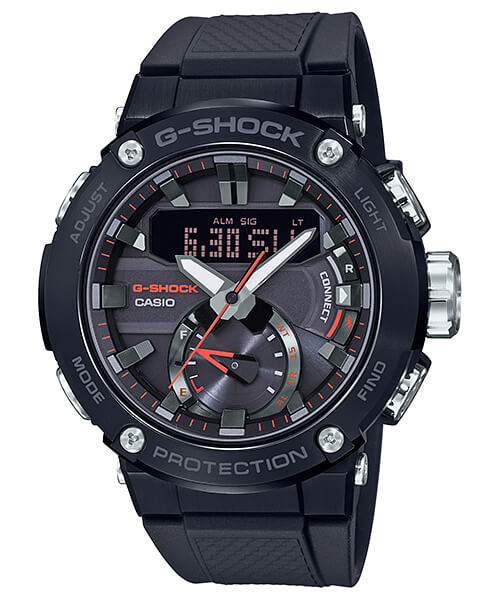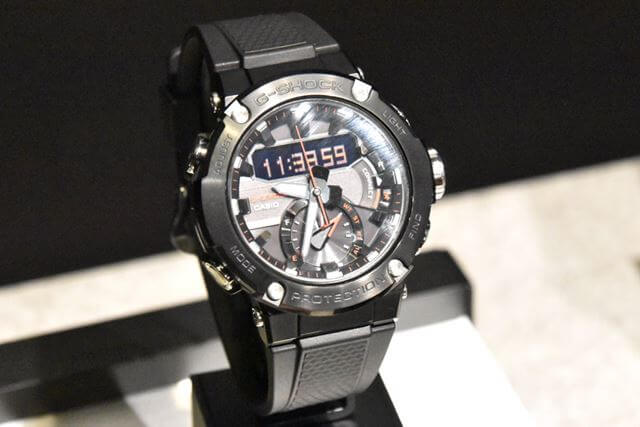 G-Shock G-STEEL GST-B200D-1A
Silver body and bezel with stainless steel band.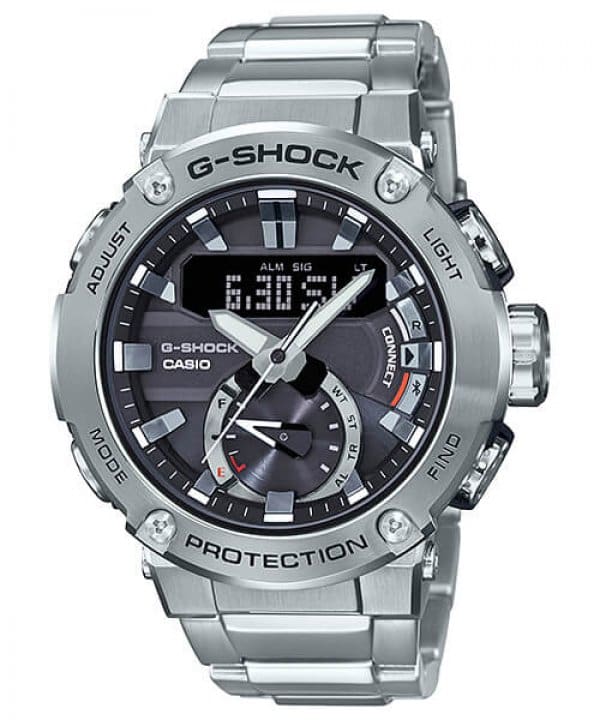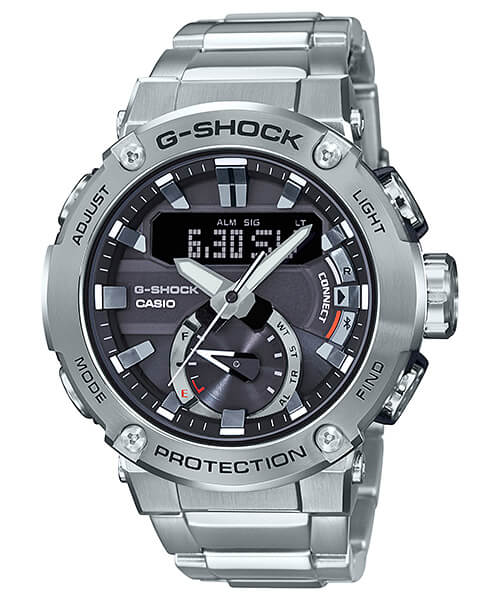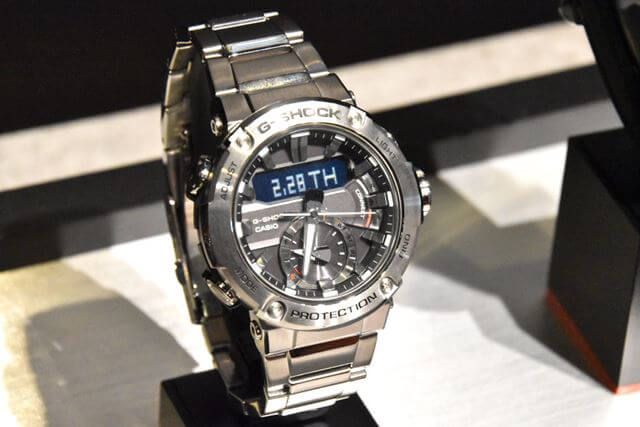 G-STEEL GST-B200 Carbon Core Guard Promo Video:
Photos via kakakumag.com