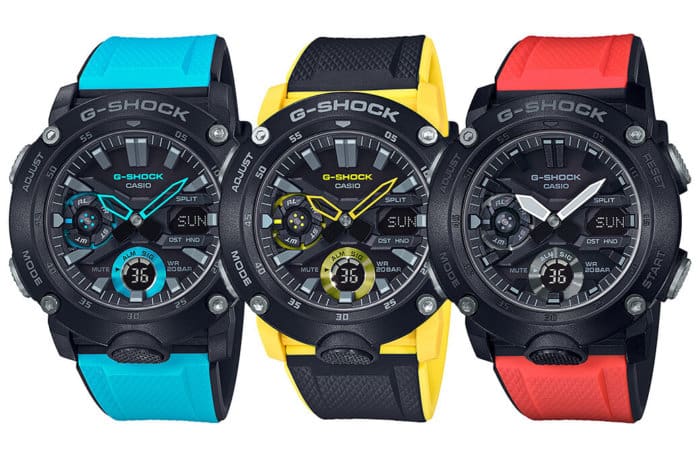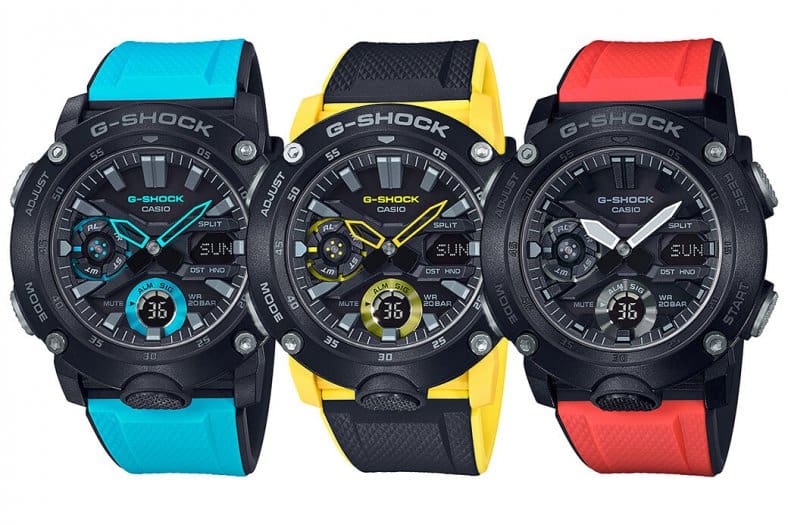 Utilizing the new Carbon Core Guard structure like the GWR-B1000 Gravitymaster, the analog-digital G-Shock GA-2000 series offers a new urban outdoor style with a sleeker look than the usual G-Shock and does it at an affordable price point.
Notable features include a carbon fiber-reinforced case, guardless buttons, front light button, a double case back structure (with a fine resin glass fiber outer case back), and multi-color resin bands. The Carbon Core Guard gives the GA-2000 a very light weight at 64 grams which is lighter than the GA-100. The display has 3D index markers with high-contrast analog hands, LCD subdisplays, and a menu subdial. The LCD subdisplays are backlit by an LED light, offering better nighttime viewing for the LCD displays compared to the GA-1XX models.
Another unique feature of the GA-2000 is that unlike other G-Shocks the bands can lay completely flat with the case and are easily removable using a slide lever without special tools. Casio is reportedly planning to sell several bands separately including a Cordura fabric band, resin band, and Velcro band.
The GA-2000 measures 51.2 x 48.7 x 14.1 millimeters which is smaller and thinner than the GA-100 (55 x 51.2 x 16.9 mm). Other features include shock resistance, 200-meter water resistance, world time, 1/100 second stopwatch (24 hour total with split), countdown timer (24 hours), 5 alarms, hourly time signal, dual Super Illuminator LED lights, and estimated 3-year battery life.
Despite the model number and the shared technology with the GWR-B1000, the GA-2000 does not appear to be a Gravitymaster model like the GA-1000.
The GA-2000 series is a March 2019 release in Japan and is priced at ¥16,000 JPY for the blue and black GA-2000-1A2JF or yellow and black GA-2000-1A9JF and ¥20,000 JPY for the red and black GA-2000E-4JR which also includes a swappable black resin band and khaki green cloth band. The GA-2000-1A2, GA-2000-1A9, and GA-2000E-4 will also be released in other Asian countries.
Update: Casio America also announced the GA2000-1A2, GA2000-1A9, and GA2000E-4. The GA2000E-4 is advertised as a limited edition and will include the black resin and green cloth bands in addition to the red resin band. The GA2000-1A2 and GA2000-1A9 are April 2019 releases with a list price of $130 USD each and the GA2000E-4 is a May 2019 release with a list price of $160 USD.
The carbon fiber-reinforced case with guardless buttons, resin bezel, and double case back: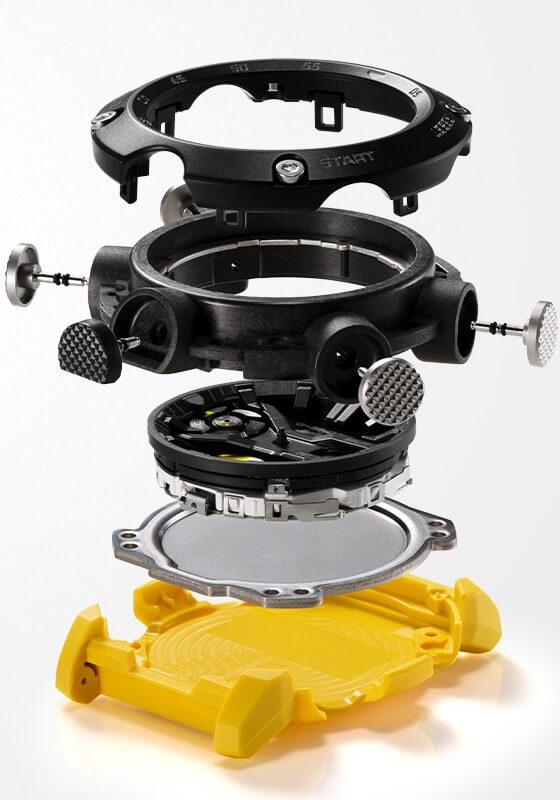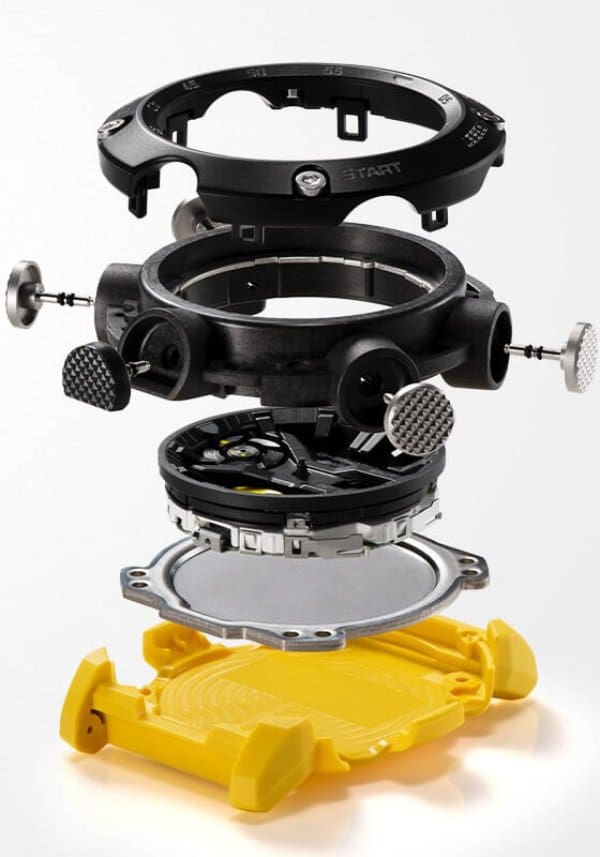 G-Shock GA-2000-1A2
Blue and black bands with blue hands and accents. GA-2000-1A2JF list price is ¥16,000 JPY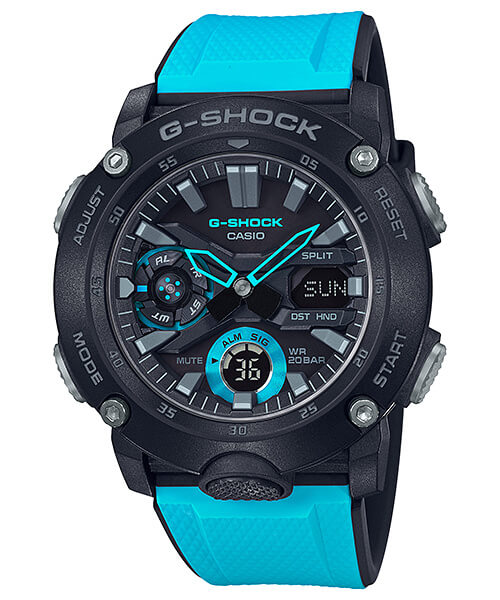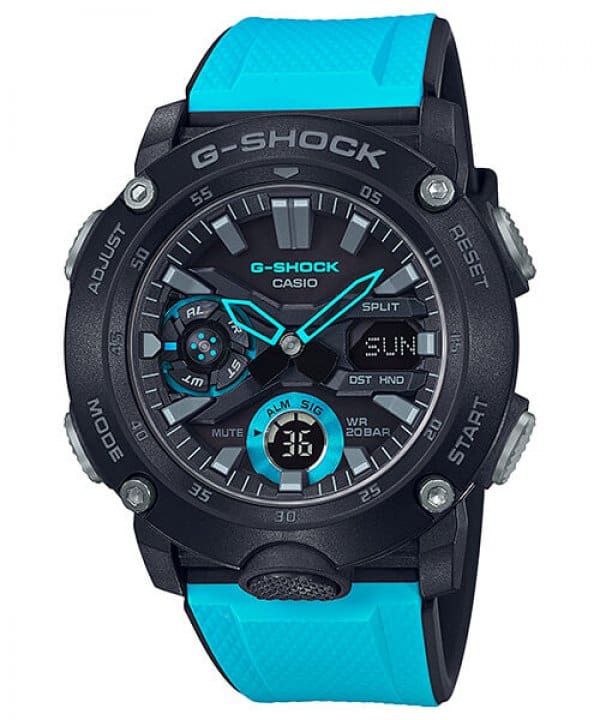 G-Shock GA-2000-1A9
Yellow and black bands with yellow hands and accents. GA-2000-1A9JF list price is ¥16,000 JPY.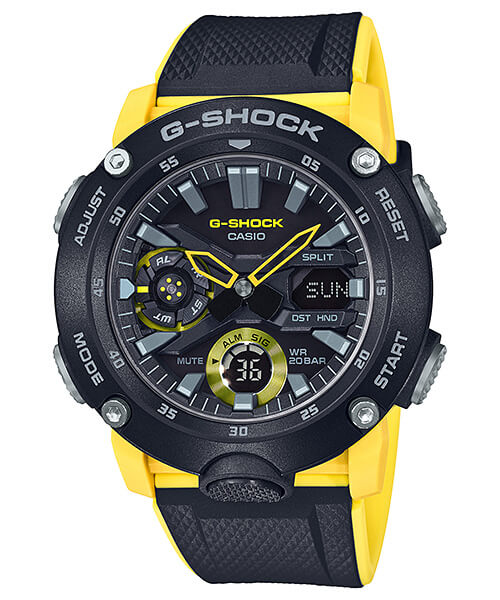 G-Shock GA-2000E-4
Red and black bands with gray hands and accents. Also includes black resin band and khaki green cloth band. GA-2000E-4JR list price is ¥20,000 JPY.