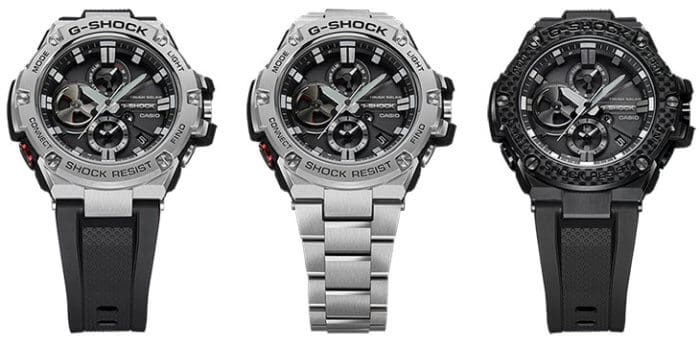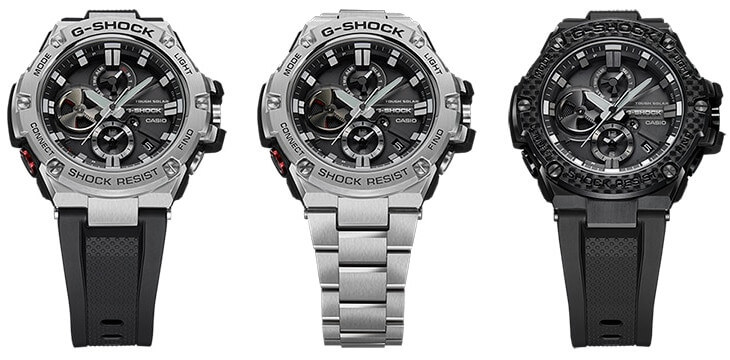 Casio just announced the all-new G-Shock G-STEEL GST-B100 featuring Tough Solar power and Bluetooth connectivity. Like the other G-STEEL models, the GST-B100 has a layered guard structure for superior shock resistance but is 2 millimeters slimmer than the original GST-S100. The launch models include the GST-B100-1A with resin band, the GST-B100D-1A with stainless steel band, and the special edition GST-B100X-1A with a carbon fiber bezel and resin band.
The GST-B100 is the first fully analog G-STEEL model and has a subdial for dual dial world time. Another distinguishing feature is the unique dial indicator at the nine o'clock position which resembles the turbine blades of a jet engine. This dial rotates to graphically indicate elapsed stopwatch time, alarm setting, or battery level. The Connected Engine Module supports a Bluetooth connection to a smartphone to automatically adjust the time with internet servers, or to use a smartphone app to adjust the alarm and world time settings. A phone finder function is also available. The GST-B100 measures 58.1 x 53.8 x 14.1 mm, which is similar to the original GST-S100 (59.1 x 52.4 x 16.1) but significantly slimmer. The slimmer size is the result of the shock-resistant resin layer being incorporated into the case.
The special edition GST-B100X-1A combines Torayca carbon fiber and Nanoalloy resin technology for a striking bezel design and also has a sapphire crystal.
This exciting new release for G-Shock is another affirmation of the brand's dedication to technological innovation. This is the third G-Shock watch featuring Tough Solar and Bluetooth connectivity (behind the GPW-2000 Gravitymaster) and MRG-G2000), and it looks like the Connected Engine Module may become a more common feature in future models.
Update: The GST-B100-1A, GST-B100D-1A, and GST-B100X-1A are September 2017 releases in Asia. G-Shock Japan also announced the GST-B100-1AJF (¥50,000 JPY), GST-B100D-1AJF (¥55,000 JPY), and GST-B100X-1AJF (¥85,000 JPY) for September 2017, as well as the silver and gold GST-B100D-1A9JF (¥55,000).
Update 2: Casio America announced the GSTB100-1A ($320), GSTB100D-1A ($400), and GSTB100X-1A ($700) for an October 2017 release.
Update 3: The silver and gold GST-B100D-1A9 is an October 2017 release in Asia. The GSTB100D-1A9 will also be released in North America in November 2017 with a list price of $400 USD.
GST-B100-1A: Stainless steel bezel with resin band.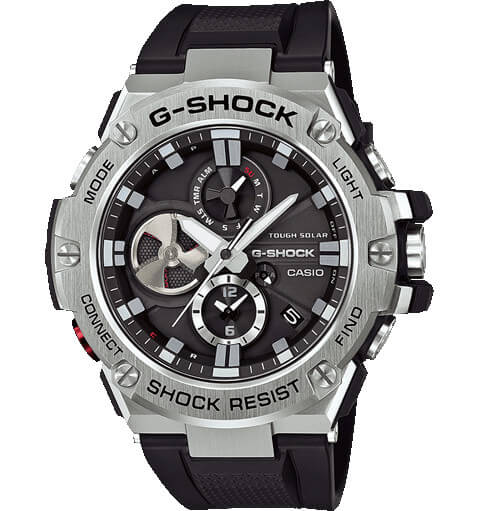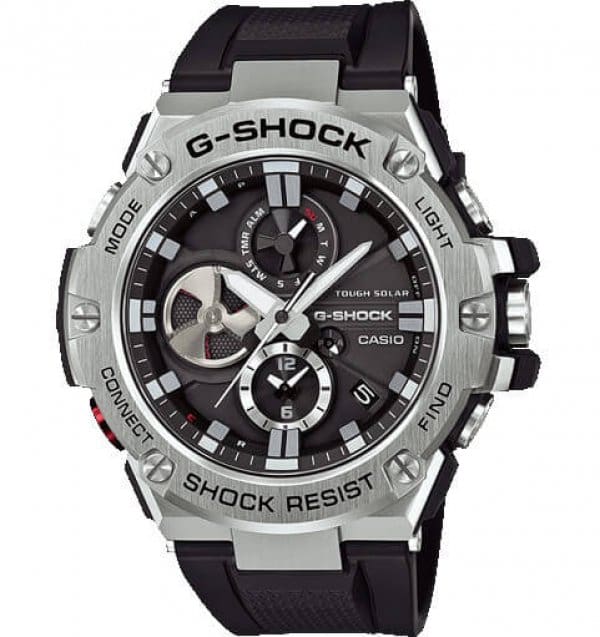 GST-B100D-1A: Stainless steel bezel with stainless steel band.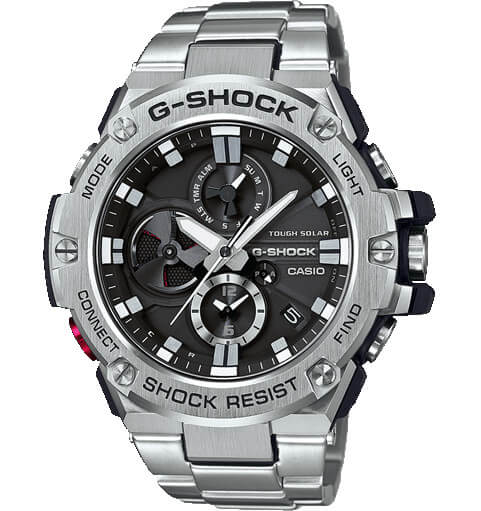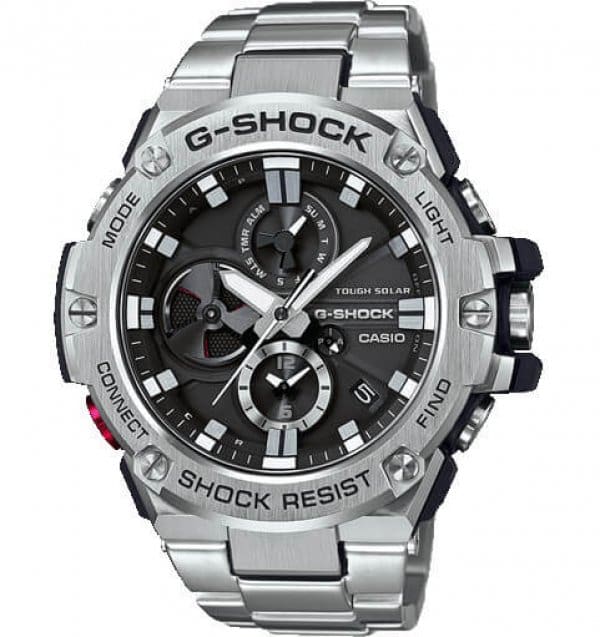 GST-B100X-1A: Carbon fiber and resin bezel with resin band. Special features include a sapphire crystal with anti-reflective coating and stainless steel band keeper.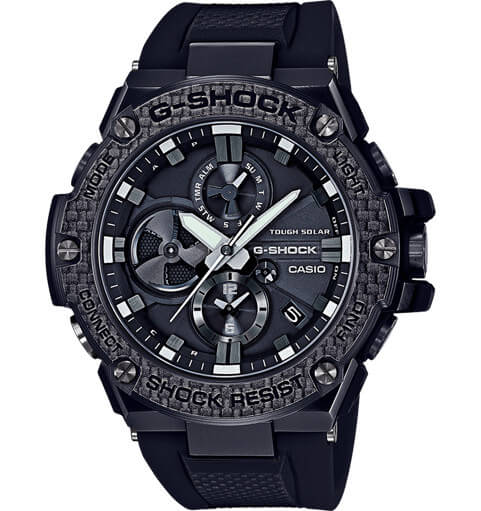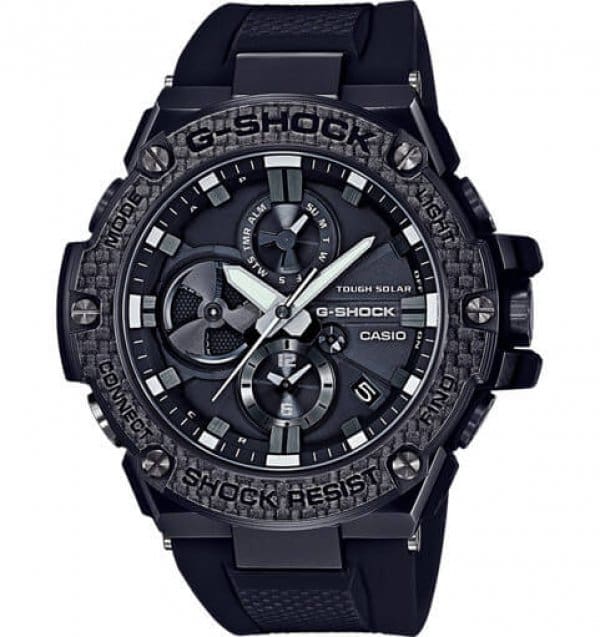 GST-B100D-1A9: Stainless steel bezel and stainless steel band.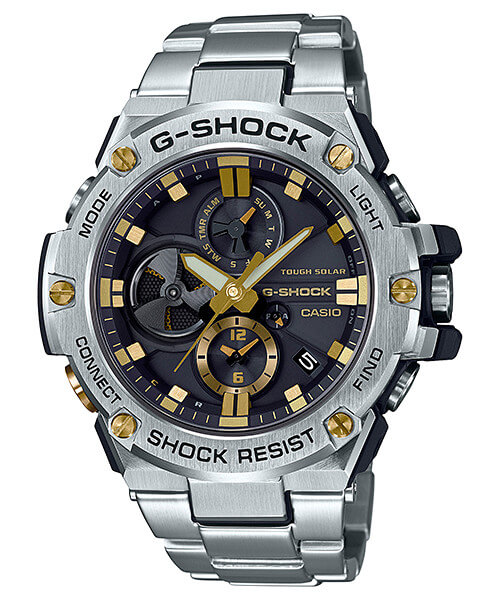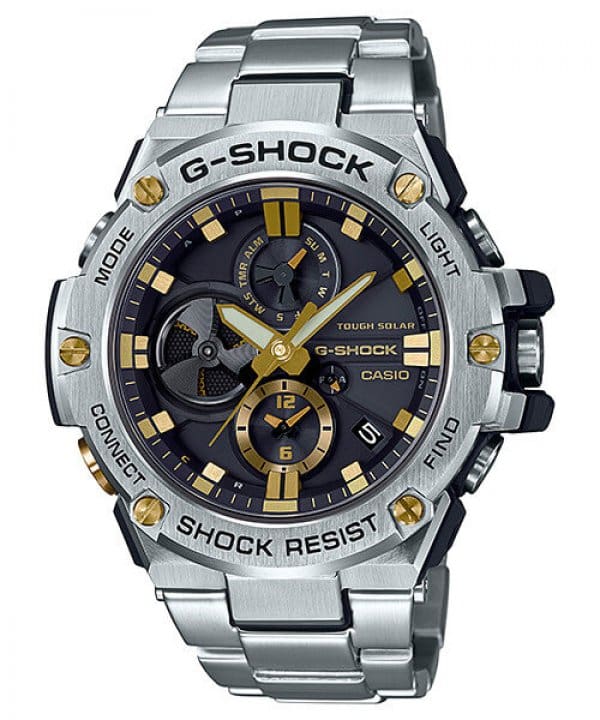 GST-B100 Specifications:
Shock-Resistant
200-Meter Water Resistance
Bluetooth Low Energy (Signal Range: 2 Meters)
Dual Time (Home City Swapping)
Stopwatch: 1 second; Measuring Capacity: 23:59'59; Modes: elapsed time, split time
1 Daily Alarm
Mobile Link Functions: world time (over 300 cities), one-touch time adjustment, auto time adjustment (4 times a day), daylight saving time auto switching, alarm setting, timer setting
Full Auto-Calendar
Battery Level Indicator
LED light (super illuminator and afterglow)
Tough Solar power system
Continuous Operation: About 24 months with the power-saving function ON after full charge
58.1 x 53.8 x 14.1 mm
Weight: GST-B100D: 185g, GST-B100/GST-B100X: 101g
G-Shock GST-B100 Promotional Video: