The G-Shock GWR-B1000 Gravitymaster features the new Carbon Core Guard and is the lightest Gravitymaster ever…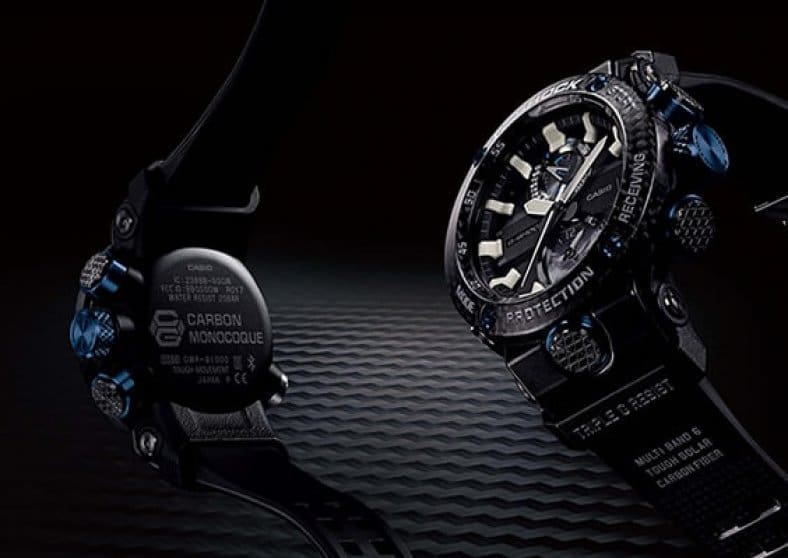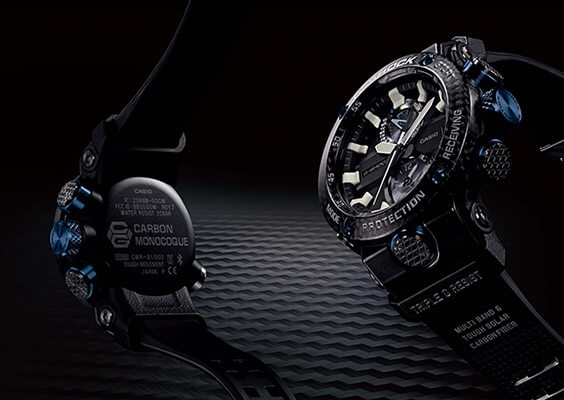 Casio officially announced the all-new G-Shock GWR-B1000 Gravitymaster for March 2019. The gray and black GWR-B1000-1AJF and blue and black GWR-B1000-1A1JF will be released in March 2019 in Japan with a list price of ¥90,000 JPY each. (The GWR-B1000-1A and GWR-B1000-1A1 is also expected be released in other Asian countries.) Casio America also announced the GWRB1000-1A1 for an April 2019 release with a list price of $800 USD.
Outfitted with the new Carbon Core Guard structure, the carbon monocoque case is made of carbon fiber-reinforced resin and seamlessly integrates the case with the case back. This results in high strength as well as a lighter weight (about 72 grams) than any previous Gravitymaster model. The new case structure also has a modified circuit board plate that inhibits direct impact to the button shaft and circuit board. This eliminates the need for button guards and allows the button to be enclosed in a pipe fitting, increasing strength and making button operation easier. This also allows for a noteworthy new style that is more minimalist in its approach.
Other confirmed features include a carbon fiber bezel, carbon fiber insert band (with the carbon fiber visible on the outer band), spherical curved glass made of sapphire crystal, a screw-lock crown, and a dedicated stopwatch start button at the 2 o'clock position. All external metal parts are made of lightweight titanium, giving this watch the Rust Resist designation like the Gulfman. The watch is powered by Tough Solar power and has Multi-Band 6 radio-sync timekeeping along with the Bluetooth mobile link function which provides world time with 300+ cities, auto time adjustment, one-touch time adjustment, easy watch setting, and the phone finder function. The watch will also have the Flight Log function which records time and position information on the G-Shock Connected app and shows a graphical display of movement history.
Other features include Triple G Resist (for protection agaisnt shock, centrifugal force, and vibration), 200-meter (20 bar) water resistance, 1-second stopwatch with flyback function (24 hours), 1-second countdown timer (24 hours), 1 independent daily alarm, battery level indicator, and Super Illuminator LED light. Largely deviating from the extra-large sizes of previous Gravitymaster models, the GWR-B1000 measures 50.1 x 46.4 x 16.9 millimeters, which is relatively compact for a G-Shock apart from the thickness. According to e-casio.co.jp, the GWR-B1000 watches are made in Japan.
The carbon fiber bezel, carbon fiber insert band, and buttons:


The GWR-B1000 is significantly smaller than the GPW-2000 Gravitymaster: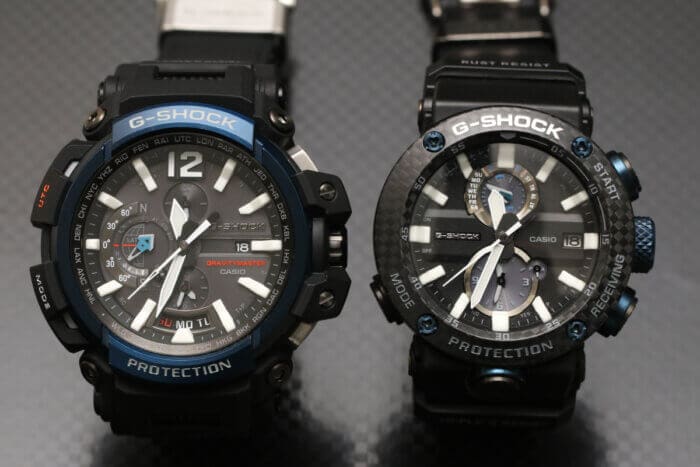 With its one-piece carbon monocoque case, the GWR-B1000 fits comfortably on the wrist: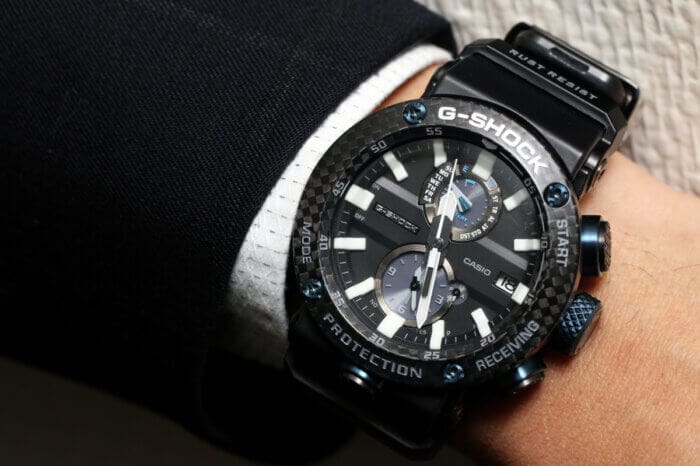 G-Shock GWR-B1000-1A Gravitymaster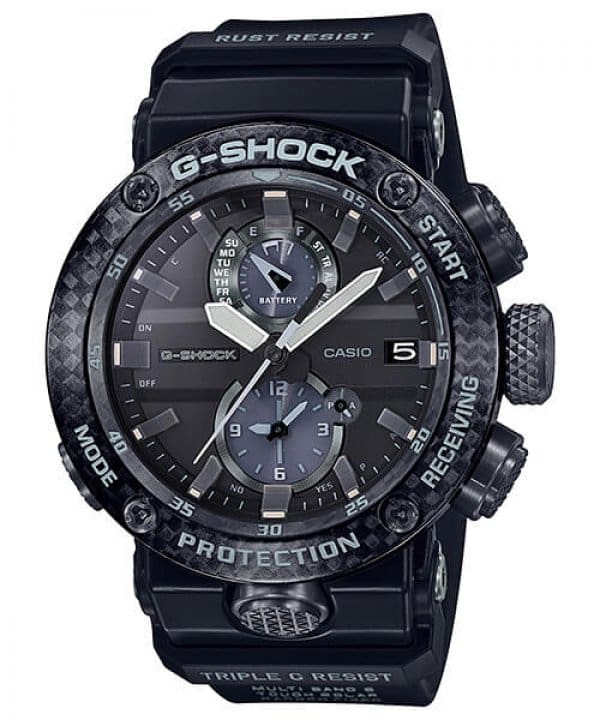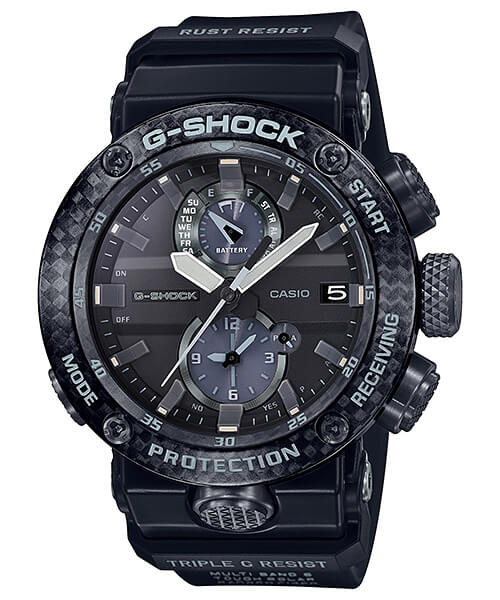 G-Shock GWR-B1000-1A1 Gravitymaster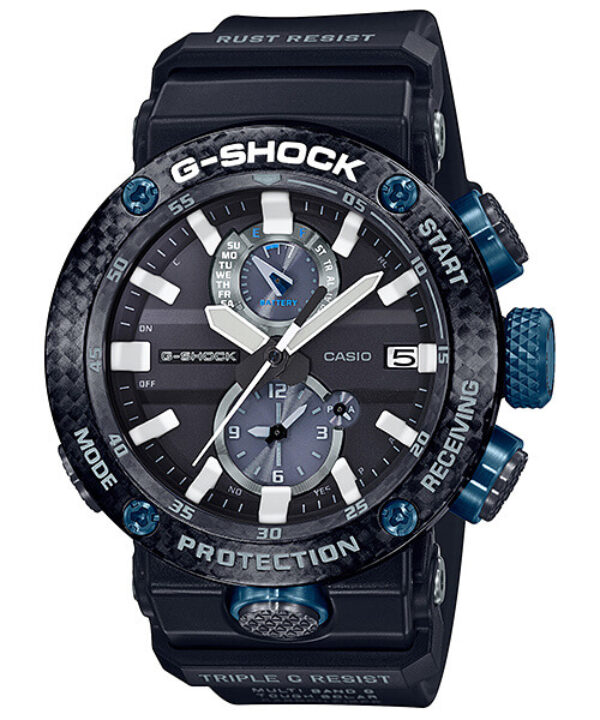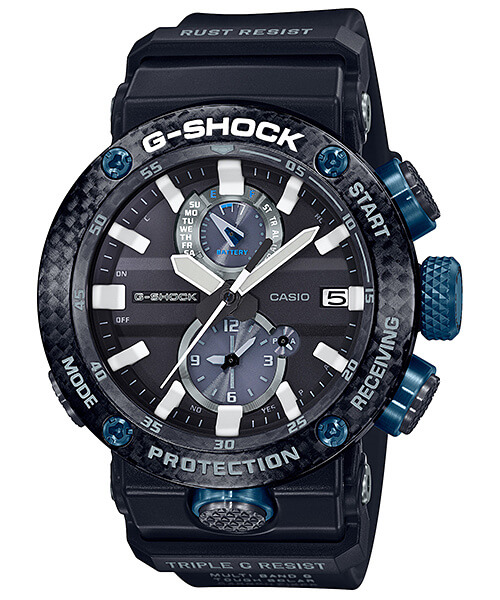 Gravitymaster GWR-B1000 Carbon Core Guard Promotional Video: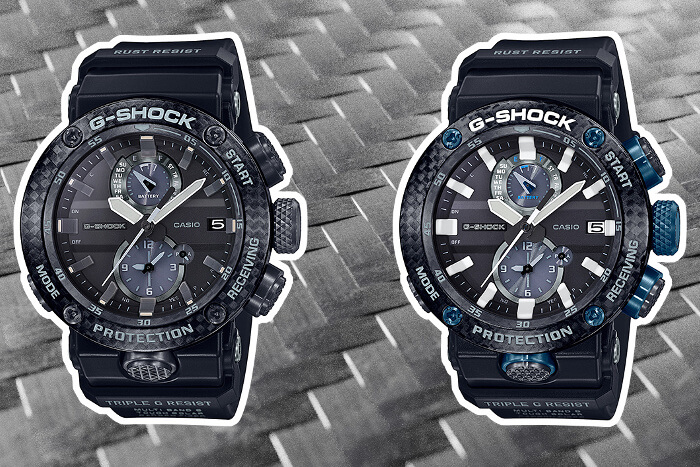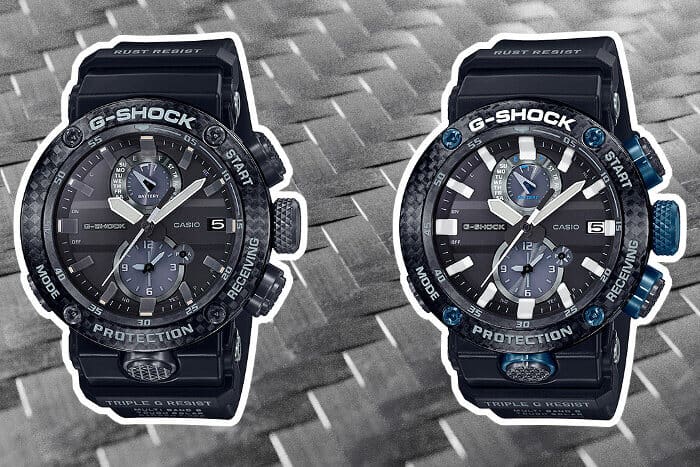 Photos via news.mynavi.jp
Original Post (January 6, 2019):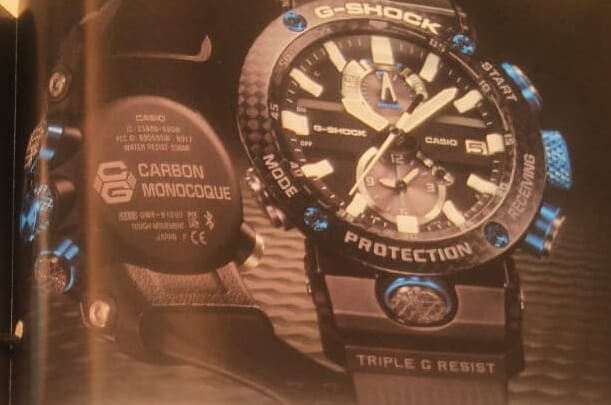 The arrival of the new year means that spring and Baselworld are approaching and we can start to anticipate some all-new G-Shock watches. The first new model to leak in 2019 is the analog G-Shock GWR-B1000 Gravitymaster with the debut models being the GWR-B1000-1A and GWR-B1000-1A1.
The design takes a cue from 2018's G-Shock MTG-B1000 luxury model and has what appears to be a smaller case compared to the very large GPW-2000 Gravitymaster from 2017. Compared to other G-Shock aviation watches, the GWR-B1000 is not immediately recognizable as a Gravitymaster due to the new case style, though it does share the large analog hands and subdials that the series is known for.
The watch is labeled as "Carbon Monocoque" which is the first for a G-Shock or Casio watch. The term "monocoque" (which translates to "single-shell" in French) refers to a structural system where loads are supported through an object's external skin (like an egg shell). Carbon monocoque usually refers to the chasis type of certain automobiles that use a single-shell structure and carbon-fiber-reinforced polymers. Carbon monocoque is a recent trend in some luxury timepieces where it is often referred to as a case material rather than a structural type. We'll examine exactly what all this means for the GRW-B1000 later but it's probably safe to assume that the end result is a smaller and lighter watch (with no case back cover) that doesn't sacrifice the G-Shock toughness.
The GRW-B1000 also appears to have a carbon fiber bezel and carbon fiber-reinforced band (with the carbon fiber being visible on the front of the bands). Other features include Triple G Resist (protection against impact, g-forces, and vibration) and Rust Resist (which suggests that the watch may have titanium metal parts or maybe it is just referring to the carbon case). The watch has Tough Solar power and both Multi-Band 6 radio time-syncing and Bluetooth mobile link. It also has a front-facing light button which follows the trend that 2018's analog-digital GR-B100 started for the Gravitymaster line.
One source states that the list price is $800 USD but that is not officially confirmed. We'll be eagerly awaiting more information on this exciting new Master of G air model and will update this page as we learn more.
G-Shock GWR-B1000-1A and GWR-B1000-1A1 Gravitymaster (Unofficial):