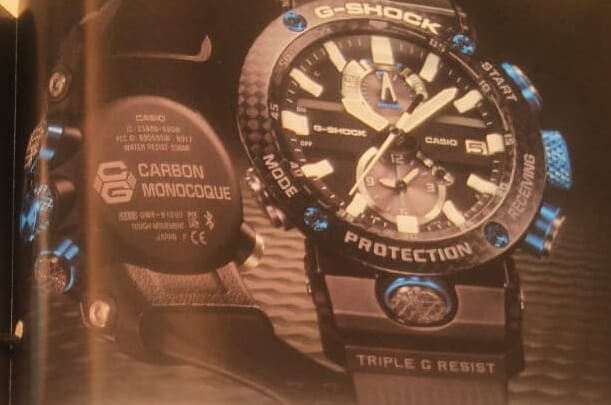 The arrival of the new year means that spring and Baselworld are approaching and we can start to anticipate some all-new G-Shock watches. The first new model to leak in 2019 is the analog G-Shock GWR-B1000 Gravitymaster with the debut models being the GWR-B1000-1A and GWR-B1000-1A1.
The design takes a cue from 2018's G-Shock MTG-B1000 luxury model and has what appears to be a smaller case compared to the very large GPW-2000 Gravitymaster from 2017. Compared to other G-Shock aviation watches, the GWR-B1000 is not immediately recognizable as a Gravitymaster due to the new case style, though it does share the large analog hands and subdials that the series is known for.
The watch is labeled as "Carbon Monocoque" which is the first for a G-Shock or Casio watch. The term "monocoque" (which translates to "single-shell" in French) refers to a structural system where loads are supported through an object's external skin (like an egg shell). Carbon monocoque usually refers to the chasis type of certain automobiles that use a single-shell structure and carbon-fiber-reinforced polymers. Carbon monocoque is a recent trend in some luxury timepieces where it is often referred to as a case material rather than a structural type. We'll examine exactly what all this means for the GRW-B1000 later but it's probably safe to assume that the end result is a smaller and lighter watch (with no case back cover) that doesn't sacrifice the G-Shock toughness.
The GRW-B1000 also appears to have a carbon fiber bezel and carbon fiber-reinforced band (with the carbon fiber being visible on the front of the bands). Other features include Triple G Resist (protection against impact, g-forces, and vibration) and Rust Resist (which suggests that the watch may have titanium metal parts or maybe it is just referring to the carbon case). The watch has Tough Solar power and both Multi-Band 6 radio time-syncing and Bluetooth mobile link. It also has a front-facing light button which follows the trend that 2018's analog-digital GR-B100 started for the Gravitymaster line.
One source states that the list price is $800 USD but that is not officially confirmed. We'll be eagerly awaiting more information on this exciting new Master of G air model and will update this page as we learn more.
G-Shock GWR-B1000-1A and GWR-B1000-1A1 Gravitymaster (Unofficial):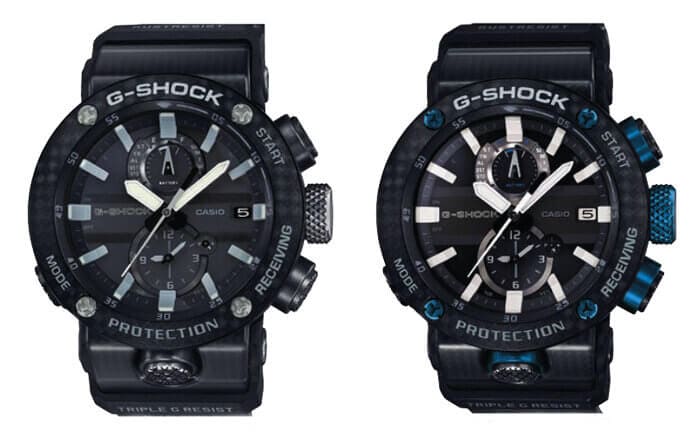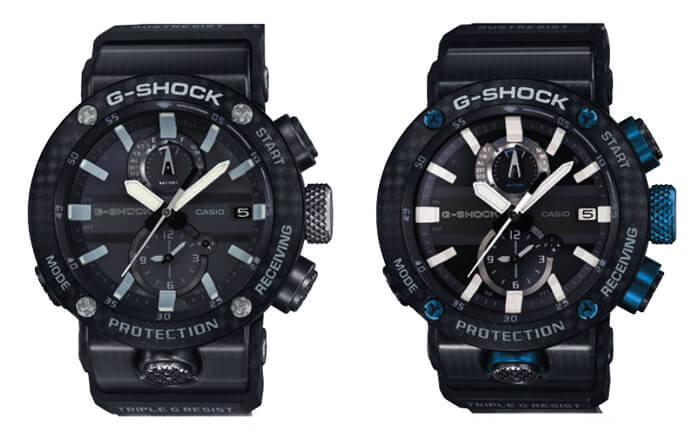 (
Disclosure: G-Central is reader-supported and earns a commission on purchases made from its links to Amazon and eBay. G-Central is an independently managed fan blog and is not an official Casio G-Shock site.
)