Update (March 20, 2020):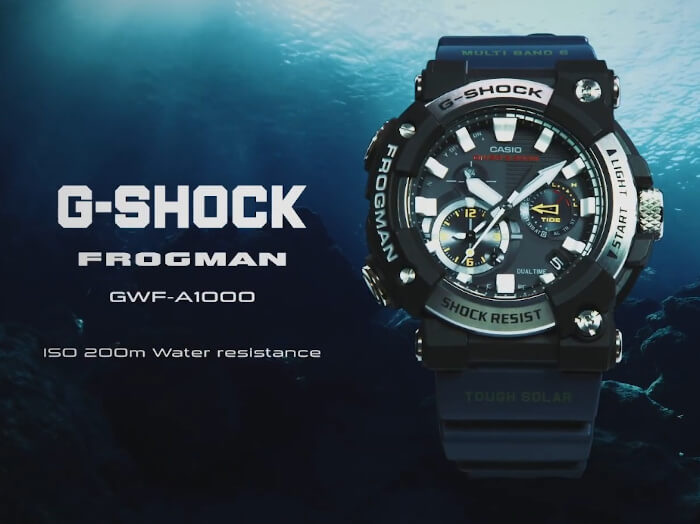 G-Shock France released an official video for the analog Frogman GWF-A1000. (The title on YouTube is mislabeled as the GWF-1000.) The features listed include ISO 200M water resistance (Diver's 200M), Tough Solar power, Carbon Core Guard with carbon monocoque case, triple gasket structure (for the buttons/pushers), fluoro-elastomer band, magnetic-resistant (ISO 764 standard-compliant), Super Illuminator (high-brightness LED), Bluetooth smartphone link, radio-controlled automatic time adjustment (Multi-Band 6), diving mode (with dive time, surface interval time, diving log), tide mode (with tide point setting), and sapphire crystal with non-reflective coating. According to the case back, the watch is made in Japan, like previous Frogman models.
The watch in the video has a blue band and is probably the GWF-A1000-1A2.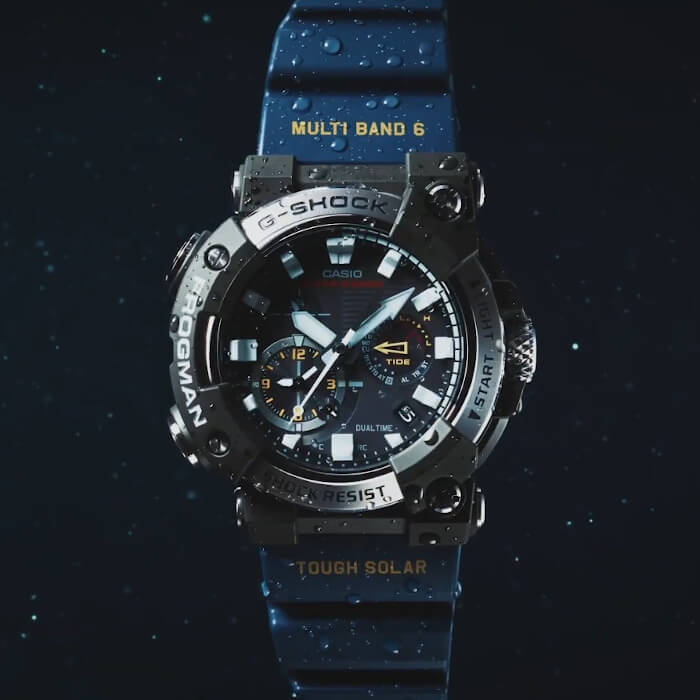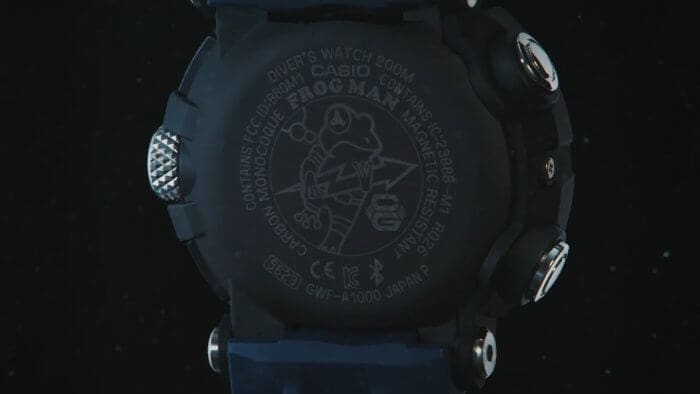 G-Shock Frogman GWF-A1000 Promo Video:
Update (March 8, 2020): Hong Kong shop WatchOutz revealed an official catalog photo of the GWF-A1000BRT-1AJR. The watch measures 56.7 x 53.3 x 19.7 millimeters and weighs 119 grams, with list price of 126,500 JPY. (As this model is a limited edition, the other models may have a lower price.) It appears to have a a similar size as the Frogman GWF-D1000 (59.2 x 53.3 x 18.0 mm) but is 22 grams lighter. The photo confirms that the watch has Bluetooth, ISO 200M water resistance, Tough Solar, Multi-Band 6 radio timekeeping, magnetic resistance, sapphire crystal, resin band, and module 5623.
Update (March 7, 2020): Thanks to Japanese fan blog Great G-Shock World for finding this video from India TV that reveals more of the GWF-A1000 promotional material from the Casio exhibition. Near the end of the video, the watch is seen on a display monitor, along with the Bluetooth smartphone link feature. This watch could be the GWF-A1000-1A, and in the video it appears to have a silver bezel with black resin bumpers. There are also reports of a GWF-A1000-1A2 with a blue band and a GWF-A1000-1A4 with a red band.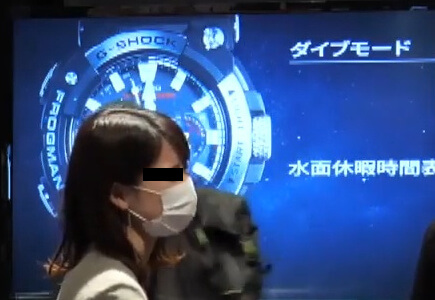 GWF-A1000 Bluetooth feature shown in video: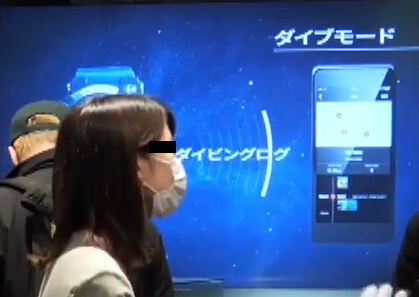 Update (March 5, 2020): The G-Shock Frogman GWF-A1000 is indeed real and coming soon. A video from Casio's latest product exhibition in Tokyo reveals promotional signs featuring the GWF-A1000, including an image of what is likely the black GWF-A1000-1A and an image of the case back design. It appears that the previously leaked photos are accurate, and the watch has a full analog display and a Carbon Core Guard monocoque (single shell) case.
G-Central's Take: Changing to an analog display is surprising, because the Frogman was traditionally G-Shock's top-tier digital model. The change is not altogether unexpected, as many people consider analog watches to be more fashionable these days. G-Shock has had much success with other recent high-end analog models, and an analog design is likely to attract more upscale buyers in a way that an expensive digital model won't. Despite being rich with features, it did not seem like the previous generation Frogman GWF-D1000 was a big seller. While some old schoolers may not be happy with the change to analog, it is always possible that some of the previous digital Frogman models (GWF-D1000, GWF-1000, and GF-8250) will remain in production alongside the GWF-A1000.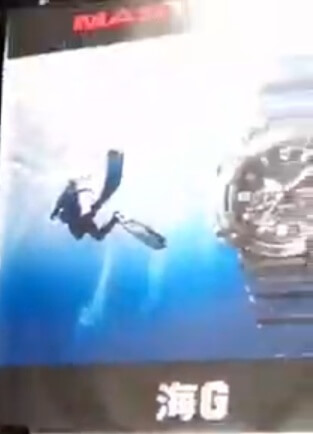 Original Post (March 3, 2020):
Recently there's been talk about the possibility of a new G-Shock Frogman, and now some "leaked" photos have been revealed that suggest a new Frogman will be launching soon.
If the photos are accurate and a true indication of what is to come, then this will be a major departure from the usual digital display and stainless steel (or titanium) inner case with a screw-lock case back, as this new model has a full analog display and a Carbon Core Guard case. However, there is some doubt as to the product's authenticity, as one of the products in the photos looks questionable, with parts of the label paint smeared and missing.
According to the photos, the watch's model code is GWF-A1000, and it is equipped with Bluetooth and a carbon monocoque (single shell) case like the Gravitymaster GWR-B1000. A few distinguishing features of the Frogman line appear to be intact: the ISO-compliant 200M water resistance ("Diver's 200M") and an asymmetrical case style. The resin band also appears to have a similar shape as previous models. Other apparent features include Tough Solar, Multi-Band 6, dual time display, date display, and a tide graph. According to photos of the case back design, the watch has a new module (5623) and a new logo with a frog holding a lightning bolt.
The questionable photo involves a GWF-A1000BRT "Rainbow Toad" model seen on Instagram, presumably a limited edition (and probably a Love The Sea And The Earth and Earthwatch limited edition if real). It has clear resin parts around the bezel, rose gold markers and crown, and pink accents. Other photos suggest that a black GWF-A1000-1A and a black and red GWF-A1000-1A4 are coming.
None of this information is officially confirmed. The alleged new Frogman did not appear at Casio's Spring and Summer New Product Exhibition in Tokyo. (Update: The GWF-A1000 actually was revealed at the exhibition on promotional signage and with a video.) We did find this FCC ID information for a GWF-A1000 from Casio, so perhaps the GWF-A1000 is coming this year but may not exactly resemble the leaked photos.
(
Disclosure: G-Central is independently managed by fans and is not an official G-Shock site. As an Amazon Associate and eBay Partner, G-Central earns on qualifying purchases, at no extra cost to the customer.
)
Shop for new releases and see our top selections at: amazon.com/shop/gcentralhq
ABOUT THE COMMENTS SECTION:
Comments by G-Central are those of its editor and do not represent G-Shock or Casio. For official support, visit
world.casio.com
.