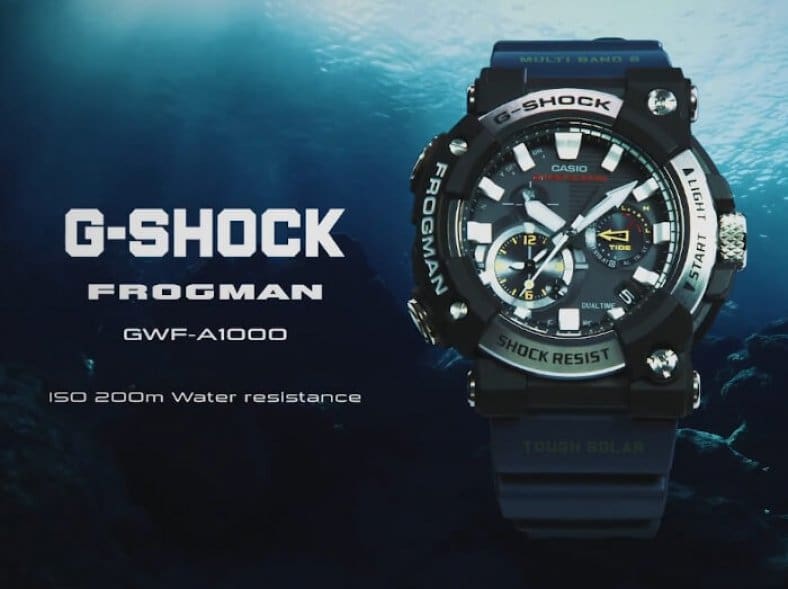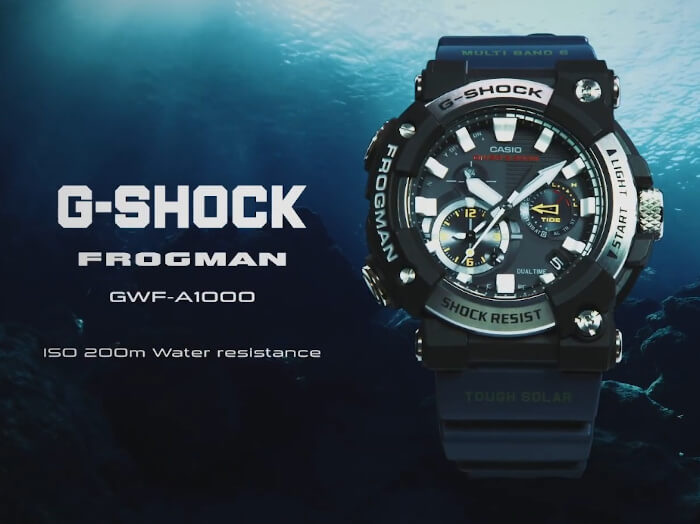 Update (May 28, 2020): G-Shock U.S. announced the GWFA1000-1A, GWFA1000-1A2, and GWFA1000-1A4 for a mid-June 2020 release, with a list price of $800 each. A dedicated GWFA1000 page is now live at www.gshock.com. In Asia, the GWF-A1000-1A, GWF-A1000-1A2, and GWF-A1000-1A4 will also be released in June.
Update (May 12, 2020): G-Shock Japan officially announced the GWF-A1000 series. The GWF-A1000-1AJF, GWF-A1000-1A2JF, and GWF-A1000-1A4JF have a list price of 90,000 JPY each and a release date of June 2020.
Update (April 22, 2020): Casio officially announced the all-new G-Shock Frogman GWF-A1000 series in Asia. The GWF-A1000 is the first Frogman watch with an analog display. The official page is now at world.g-shock.com.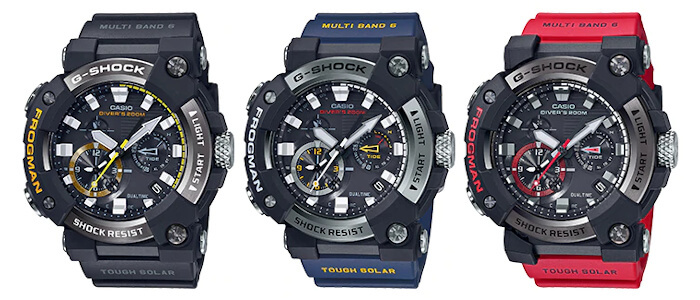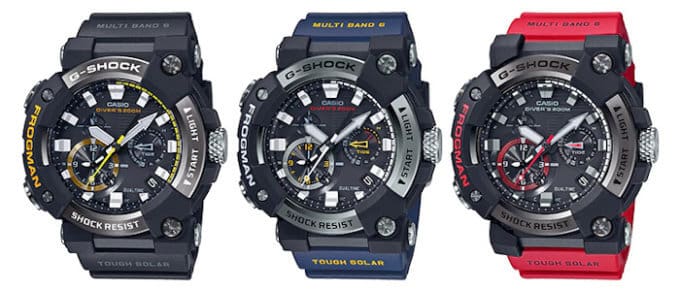 The debut models are the The GWF-A1000-1A with black band, GWF-A1000-1A2 with navy blue band, and GWF-A1000-1A4 with red band. Compared to the previously seen GWF-A1000-1A2, the GWF-A1000-1A and GWF-A1000-1A4 have different color accents on the bezel and dial.
For the dive time function, the hour and minute hands overlap each other and move in unison as a single hand, making the dive time measurement easily readable. Three dual coil motors allow the hands to quickly switch from the current time to the elapsed dive time. The watch can also automatically log diving spots and times, with diving records viewable on the smartphone app. Casio also states that the GWF-A1000 has a fluoroelastomer band that resists staining and hydrolysis.
The official specifications confirm that the new analog Frogman has a countdown timer and daily alarm, unlike the Oceanus Cachalot OCW-P2000 diving watch which is similar in appearance.
The Carbon Monocoque (single shell) case is made of carbon fiber reinforced resin.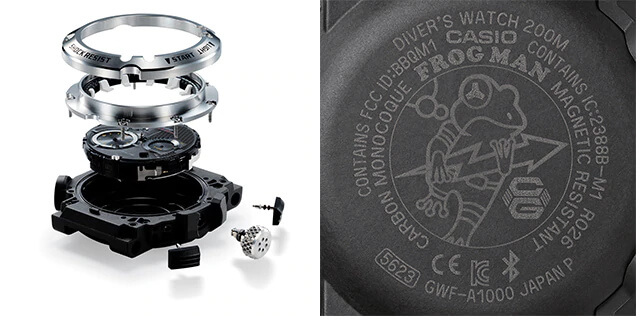 G-Shock Frogman GWF-A1000-1A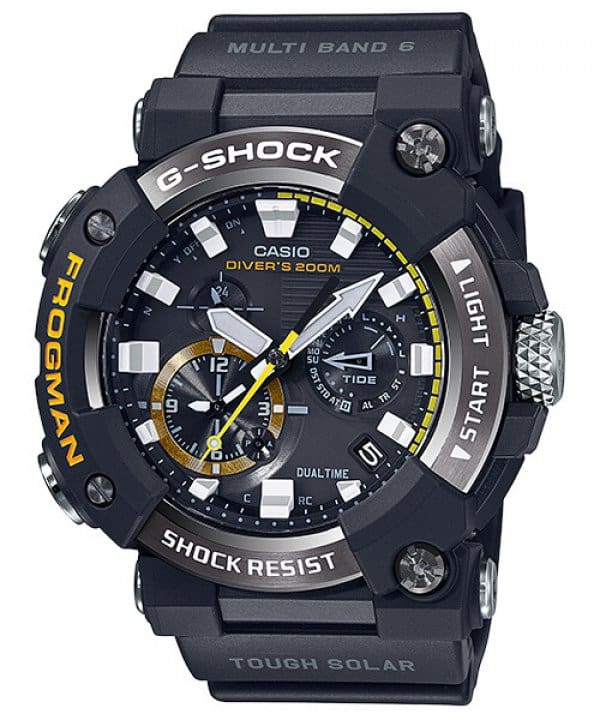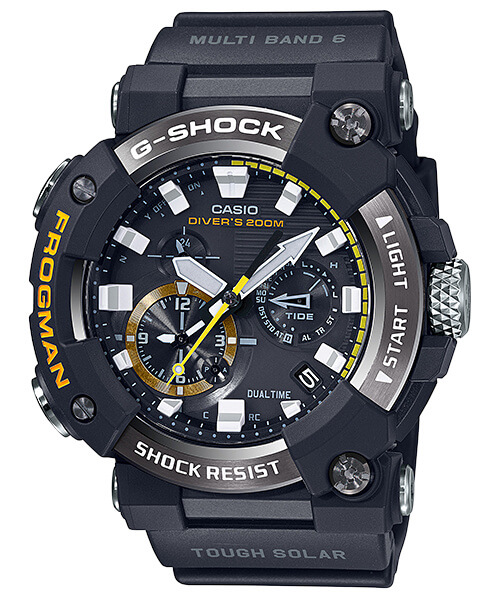 G-Shock Frogman GWF-A1000-1A2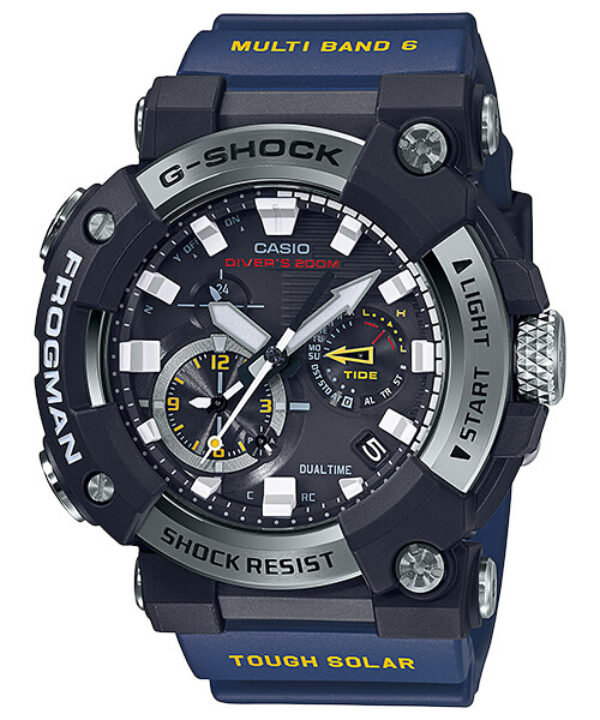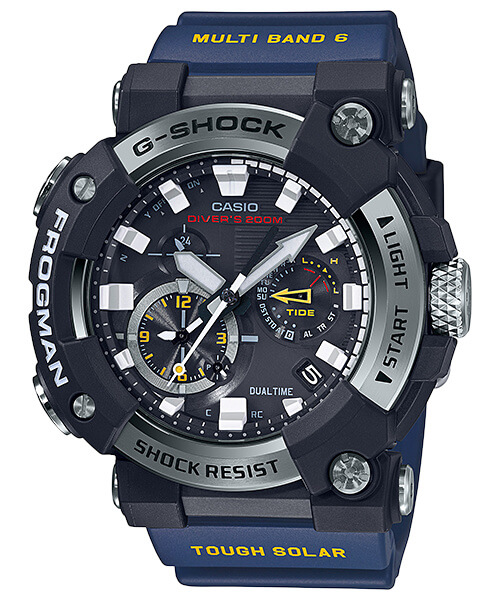 G-Shock Frogman GWF-A1000-1A4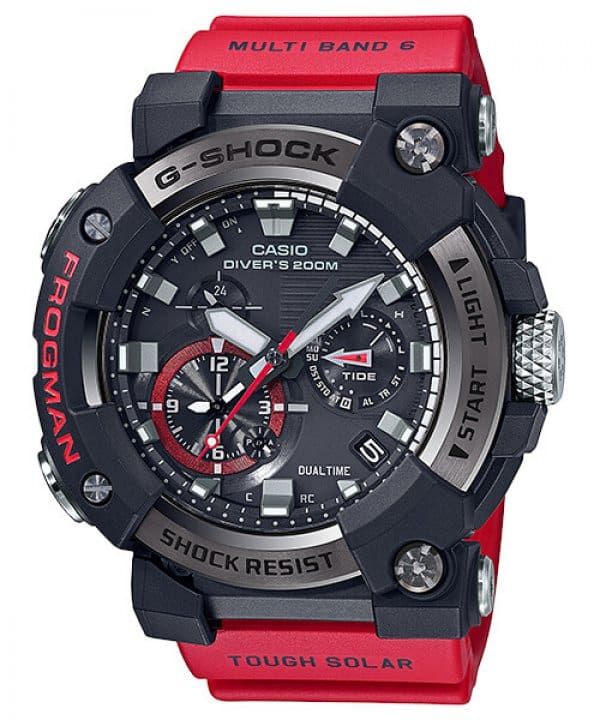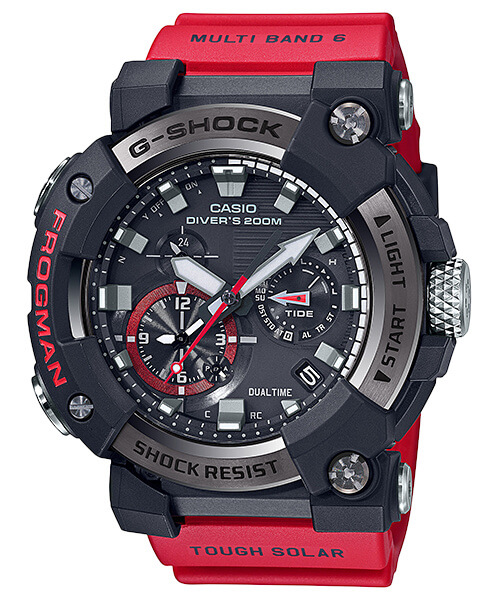 Buy Frogman GWF-A1000 Watches on Amazon
Features and Specifications:
• Shock-resistant, magnetic-resistant (ISO 764 standard-compliant)
• ISO 200-Meter Diving Water Resistance
• Tough Solar power system
• Multi-Band 6 automatic time adjustment via radio wave; transmitters located in Germany, UK, USA, Japan (2), and China
• Bluetooth (Bluetooth low energy, up to 2-meter signal range)
• Carbon Core Guard structure with Carbon Monocoque case
• Neobrite luminescent hands
• Sapphire crystal with non-reflective coating
• 1 second stopwatch (23:59'59″99 max)
• 1 second countdown timer (24 hours max)
• Daily alarm
• Dual time (27 time zones, home time swapping)
• Date display and day indicator with full auto-calendar
• LED light (Super Illuminator with afterglow)
• Mobile Link features: automatic time adjustment; easy watch setting; world time: over 300 cities; diving log; tide graph: approx. 3,300 places; phone finder)
• Diving Mode: 1 second increments, up to 1:59'59; surface time measurement: up to 24 hours; up to 30 log data records
• Other: auto hand home position correction, hand shift feature, battery level indicator, power saving
• Operation time without exposure to light after charge; Normal use: Approx. 5 months; Power saving mode: Approx. 30 months
• Case Size: 56.7 x 53.3 x 19.7 millimeters
• Module 5623
• Weight: 119 grams (approx.)
• Made in Japan
Source: www.casio-intl.com
The GWF-A1000 promotional video was also re-released.
Update (March 30, 2020): G-Shock France released new photos on Instagram.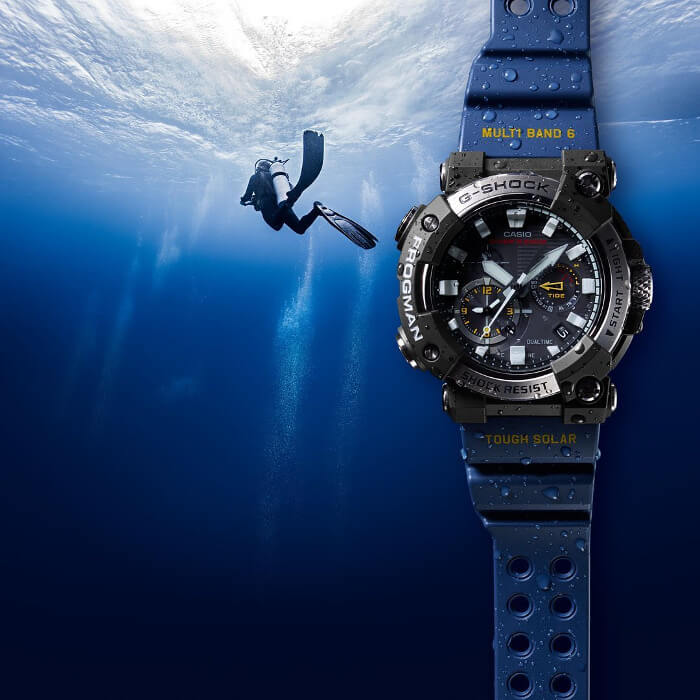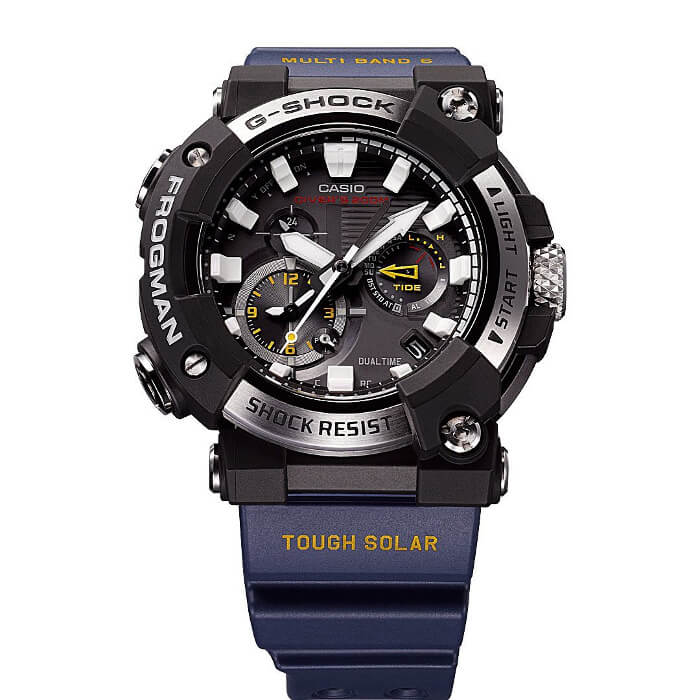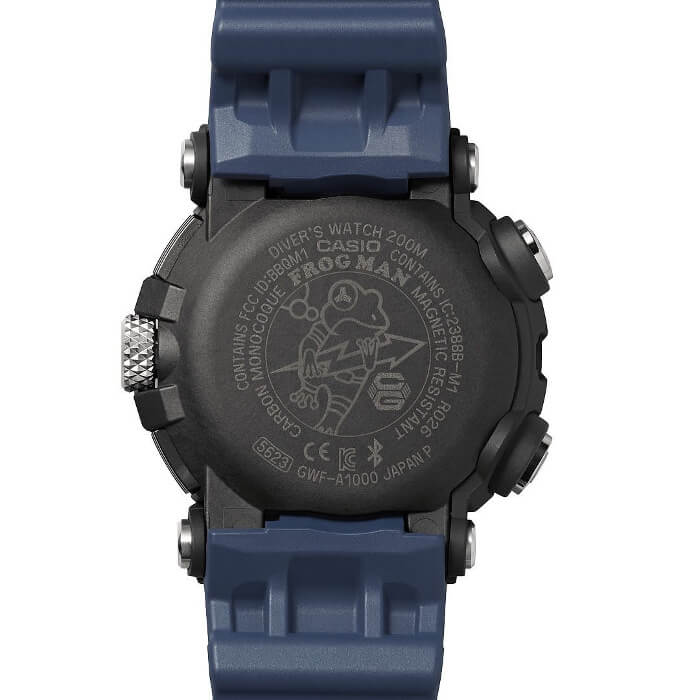 Update (March 20, 2020):
G-Shock France released an official video for the analog Frogman GWF-A1000. (The title on YouTube is mislabeled as the GWF-1000.) The features listed include ISO 200M water resistance (Diver's 200M), Tough Solar power, Carbon Core Guard with carbon monocoque case, triple gasket structure (for the buttons/pushers), fluoro-elastomer band, magnetic-resistant (ISO 764 standard-compliant), Super Illuminator (high-brightness LED), Bluetooth smartphone link, radio-controlled automatic time adjustment (Multi-Band 6), diving mode (with dive time, surface interval time, diving log), tide mode (with tide point setting), and sapphire crystal with non-reflective coating. According to the case back, the watch is made in Japan, like previous Frogman models.
The watch in the video has a blue band and is probably the GWF-A1000-1A2.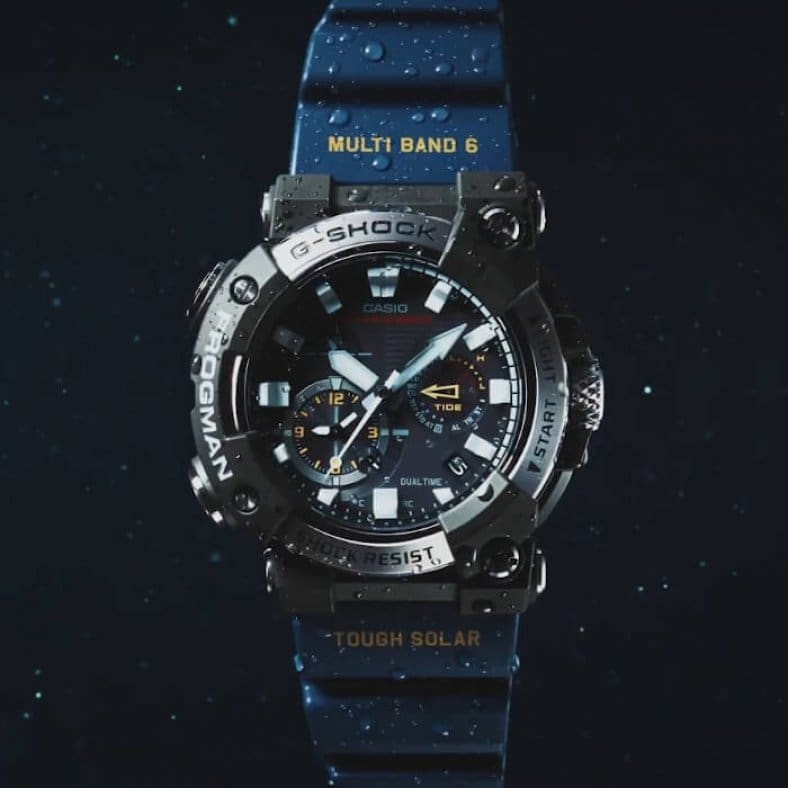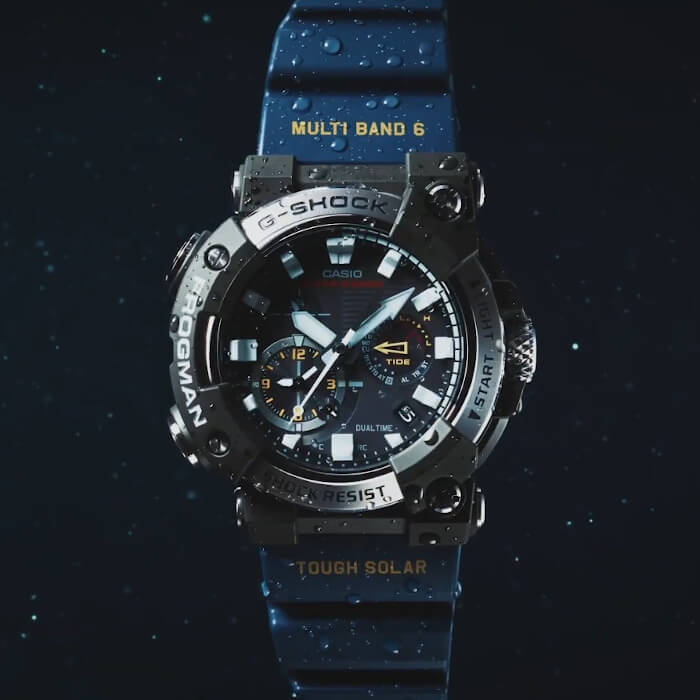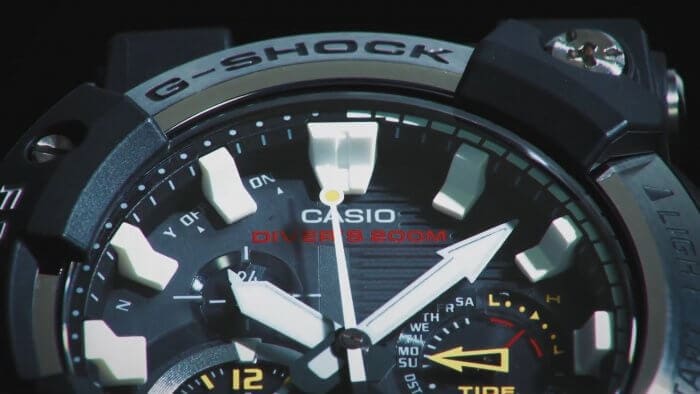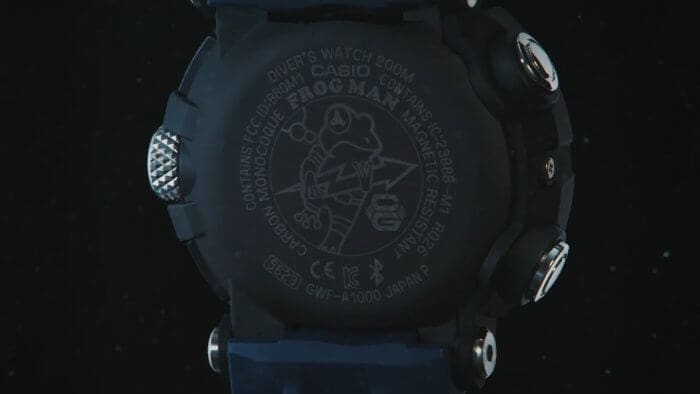 Pre-Official Updates:
Update (March 8, 2020): Hong Kong shop WatchOutz revealed an official catalog photo of the GWF-A1000BRT-1AJR. The watch measures 56.7 x 53.3 x 19.7 millimeters and weighs 119 grams, with list price of 126,500 JPY tax included. (As this model is a limited edition, the other models will probably have a lower price.) It appears to have a similar size as the Frogman GWF-D1000 (59.2 x 53.3 x 18.0 mm) but is 22 grams lighter. The photo confirms that the watch has Bluetooth, ISO 200M water resistance, Tough Solar, Multi-Band 6 radio timekeeping, magnetic resistance, sapphire crystal, resin band, and module 5623. According to the catalog, the GWF-A1000BRT-1AJR is coming in July 2020.
Update (March 7, 2020): Thanks to Japanese fan blog Great G-Shock World for finding this video from India TV that reveals more of the GWF-A1000 promotional material from the Casio exhibition. Near the end of the video, the watch is seen on a display monitor, along with the Bluetooth smartphone link feature. This watch could be the GWF-A1000-1A2 with a blue resin band. There are also reports of a GWF-A1000-1A with a black band band and a GWF-A1000-1A4 with a red band.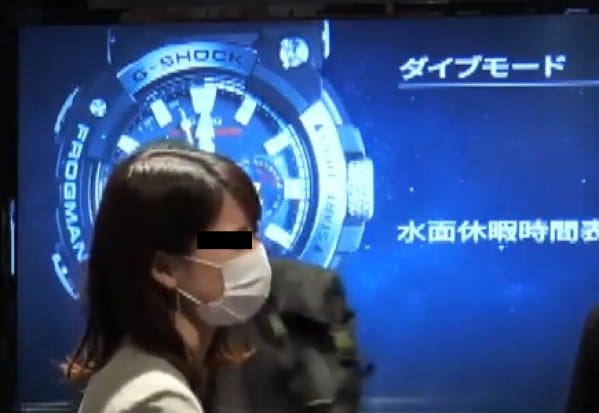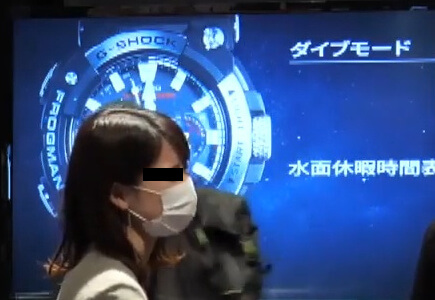 GWF-A1000 Bluetooth feature shown in video: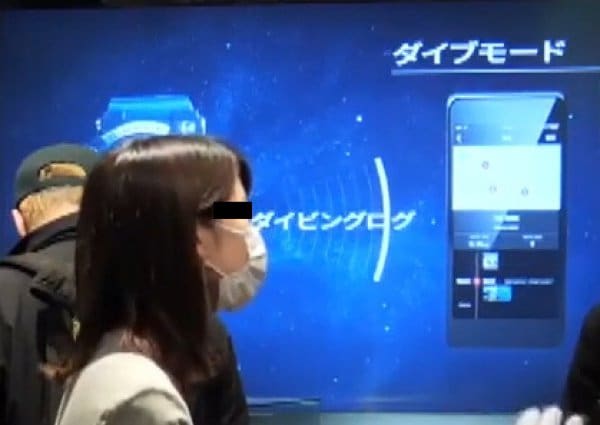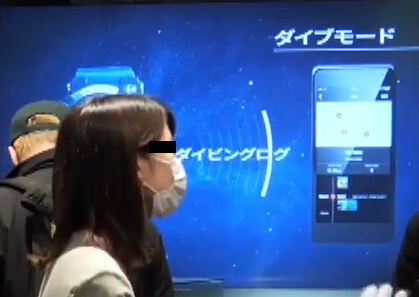 Update (March 5, 2020): The G-Shock Frogman GWF-A1000 is indeed real and coming soon. A video from Casio's latest product exhibition in Tokyo reveals promotional signs featuring the GWF-A1000, including an image of what is likely the black GWF-A1000-1A and an image of the case back design. It appears that the previously leaked photos are accurate, and the watch has a full analog display and a Carbon Core Guard monocoque (single shell) case.
G-Central's Take: Changing to an analog display is surprising, because the Frogman was traditionally G-Shock's top-tier digital model. The change is not altogether unexpected, as many people consider analog watches to be more fashionable these days. G-Shock has had much success with other recent high-end analog models, and an analog design is likely to attract more upscale buyers in a way that an expensive digital model won't. Despite being rich with features, it did not seem like the previous generation Frogman GWF-D1000 was a big seller. While some old schoolers may not be happy with the change to analog, it is always possible that some of the previous digital Frogman models (GWF-D1000, GWF-1000, and GF-8250) will remain in production alongside the GWF-A1000.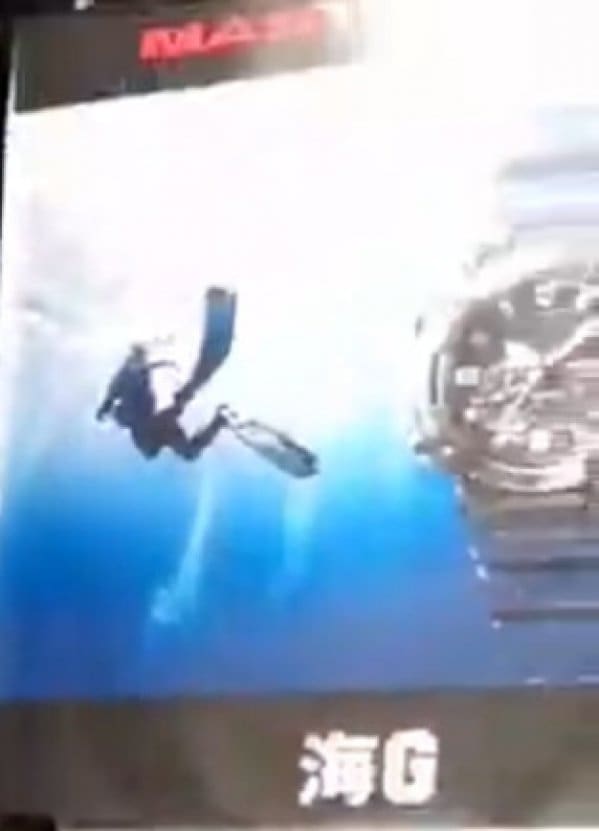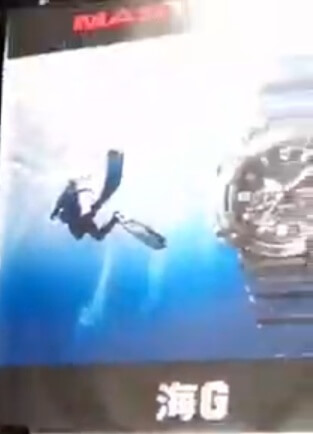 Original Post (March 3, 2020):
Recently, there was talk about the possibility of a new G-Shock Frogman, and now some "leaked" photos have been revealed, suggesting that an all-new Frogman model will be launching soon.
If the photos are accurate and a true indication of what is to come, then this will be a major departure from the usual digital display and stainless steel (or titanium) inner case with a screw-lock case back, as this new model has a full analog display and a Carbon Core Guard case. However, there is some doubt as to the product's authenticity, as one of the products in the photos looks questionable, with parts of the label paint smeared and missing.
According to the photos, the watch's model code is GWF-A1000, and it is equipped with Bluetooth and a carbon monocoque (single shell) case like the Gravitymaster GWR-B1000. A few distinguishing features of the Frogman line appear to be intact: the ISO-compliant 200M water resistance ("Diver's 200M") and an asymmetrical case style. The resin band also appears to have a similar shape as previous models. Other apparent features include Tough Solar, Multi-Band 6, dual time display, date display, and a tide graph. According to photos of the case back design, the watch has a new module (5623) and a new logo with a frog holding an analog needle that resembles a lightning bolt.
The questionable photo involves a GWF-A1000BRT "Rainbow Toad" model seen on Instagram. It has clear resin parts around the bezel, orange markers and crown, and pink accents. Other photos suggest that a black GWF-A1000-1A and a black and red GWF-A1000-1A4 are coming.
None of this information is officially confirmed. The alleged new Frogman did not appear at Casio's Spring and Summer New Product Exhibition in Tokyo. (Update: The GWF-A1000 actually was revealed at the exhibition on promotional signage and with a video.) We did find this FCC ID information for a GWF-A1000 from Casio, so perhaps the GWF-A1000 is coming this year but may not exactly resemble the leaked photos.