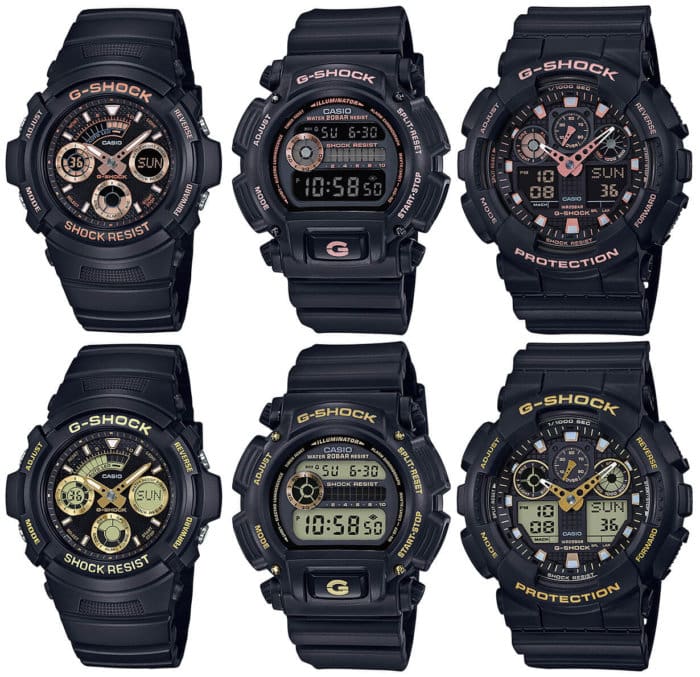 G-Shock Japan is releasing the GBX series in September, a six-piece collection featuring three pairs of classic models with complementary black/gold and black/rose gold color schemes. The pairs (in columns starting from the left) include the AW-591GBX-1A4JF (rose gold) with AW-591GBX-1A9JF (gold), DW-9052GBX-1A4JF with DW-9052GBX-1A9JF, and GA-100GBX-1A4JF with GA-100GBX-1A9JF. The watches feature classic matte black bezels and bands with gold and rose gold display accents. The rose gold models have reverse LCD displays and the gold models have standard LCD displays. This series pays homage to the classic G-Shock watches of the past while adding a stylish modern touch. The gold and rose gold accents on these models are not overwhelming and make them suitable for professional use on the job.
G-Shock AW-591GBX-1A4JF and AW-591GBX-1A9JF: Based on the AW-591, a mid-size analog-digital model.
G-Shock DW-9052GBX-1A4JF and DW-9052GBX-1A9JF: Based on the DW-9052, a classic mid-size digital model favored for military use.
G-Shock GA-100GBX-1A4JF and GA-100GBX-1A9JF: Based on the GA-100, a large-case analog-digital model popular with law enforcement.