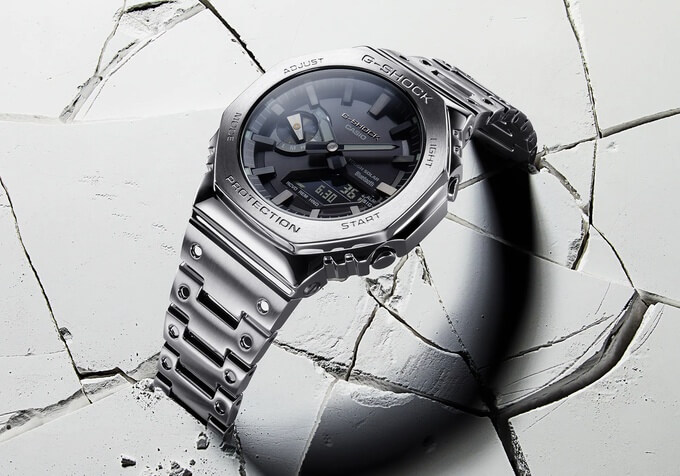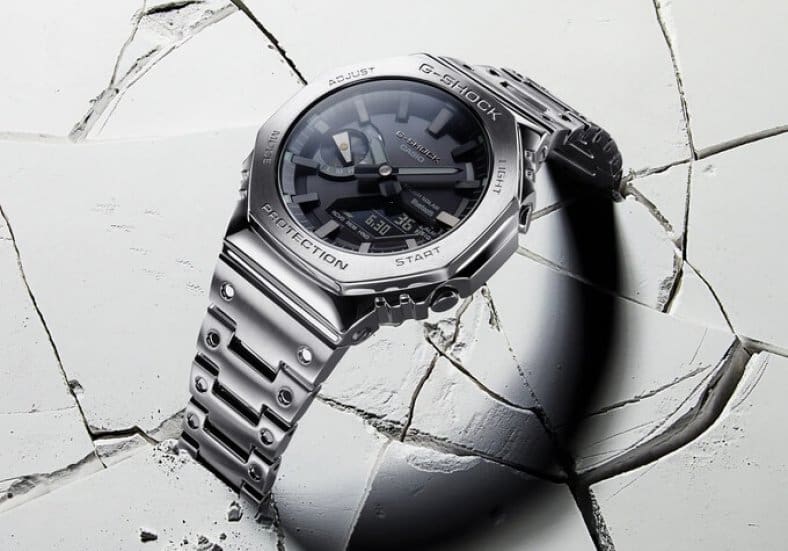 Casio officially announced the G-Shock GM-B2100 series for an August release, and it is indeed a full metal model with a screw-back case (also known as a screw lock back or screw down back). The three debut models are made of a stainless steel case, bezel, and band, and are equipped with Tough Solar and Bluetooth smartphone link like the resin GA-B2100. The structure is similar to the full metal GMW-B5000, with larger buttons than the resin version and a fine resin cushion between the case and bezel. The front of the bezel has a circular hairline finish, while the band has a vertical hairline. Other areas of the bezel, the case back, and the buttons have a polished surface.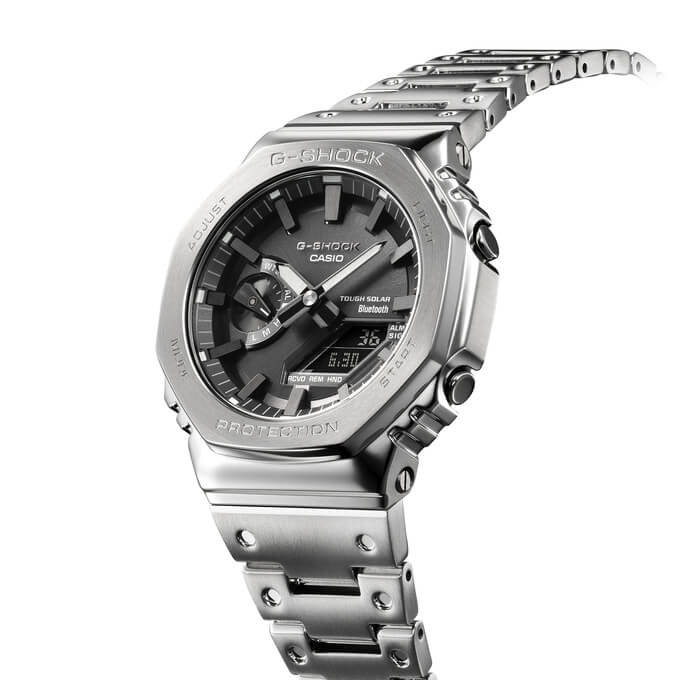 The GM-B2100 measures 49.8 x 44.4 x 12.8 millimeters and weighs 165 grams. This is slightly thinner and lighter than the stainless steel GMW-B5000, but thicker and heavier than the recent MTG-B3000. The tax-included price in Japan is 71,500 yen (~$525) for the silver model (GM-B2100D-1A) and 80,300 yen (~$590) for the black (GM-B2100BD-1A) and rose gold (GM-B2100GD-5A) ion plated models. (Update: The prices in the U.S. are $550 for the GMB2100D-1A and $600 each for the GMB2100BD-1A and GMB2100GD-5A. See additional release and price information for other countries here.)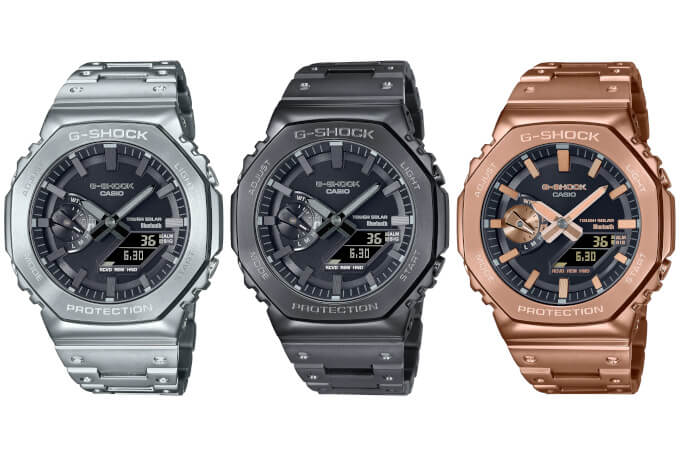 According to the case back, the GM-B2100 models are made in Japan and are powered by Module 5691 (instructions at casio.com). Features include shock resistance, 200-meter water resistance, Tough Solar power, Bluetooth smartphone link, mineral glass, Neobrite luminous hands, world time (38 time zones with 38 cities and UTC), stopwatch (1/100-second up to 60 minutes, 1-second after 60 minutes to 23:59'59, with elapsed, lap/split time), countdown timer (60 minutes), 5 daily alarms, hourly time signal, double LED Super Illuminator light with adjustable afterglow, full auto-calendar, button tone on/off, battery level indicator, hand shift, 12/24 hour format, and power save. The date display is adjustable (with date/month swapping), and the day display is available in six languages. Using Bluetooth allows additional functions (with the Casio Watches smartphone app), but the watch can also be set up and operated without using Bluetooth. The Bluetooth functions include auto time correction, one-touch time correction, phone finder, world time with approximately 300 cities and home time/world time swapping, auto summer time switching, timer settings, alarm settings, reminder function, and hand alignment correction.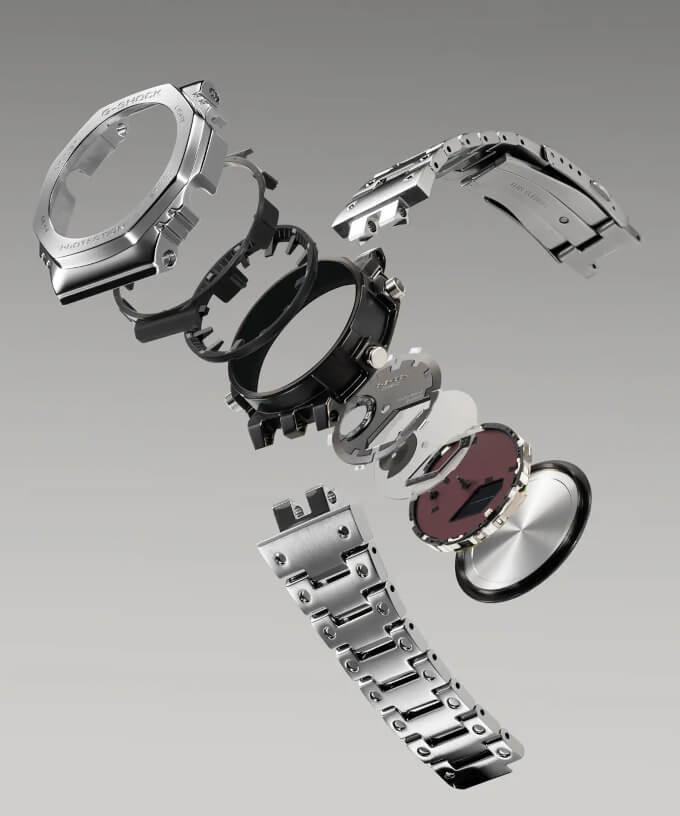 The GM-B2100 is unprecedented. Although other classic models have received the full metal treatment, this is the first time that a screw-back case was created for a G-Shock line (2100) that did not begin with a screw-back model, and it is a very young line to be getting such an upgrade. Other series with a full metal upgrade like the DW-5000 (first G-Shock) and AW-500 (first analog G-Shock) began as screw-back models in the 1980s. The screw-back structure is often viewed as superior to the case back cover secured at four points by small screws, as it has a stronger connection to traditional watchmaking and is a more secure structure with a metal case. (The four-point case back, often seen on resin models, offers the advantages of slimmer sizes and lighter weights.) G-Shock watches with screw-back cases have a special cachet among collectors, as there are only a handful of such models in the current lineup, and along with the historical significance, they traditionally play a large role in the limited edition anniversary releases (with models like the DW-5000 and GW-5000).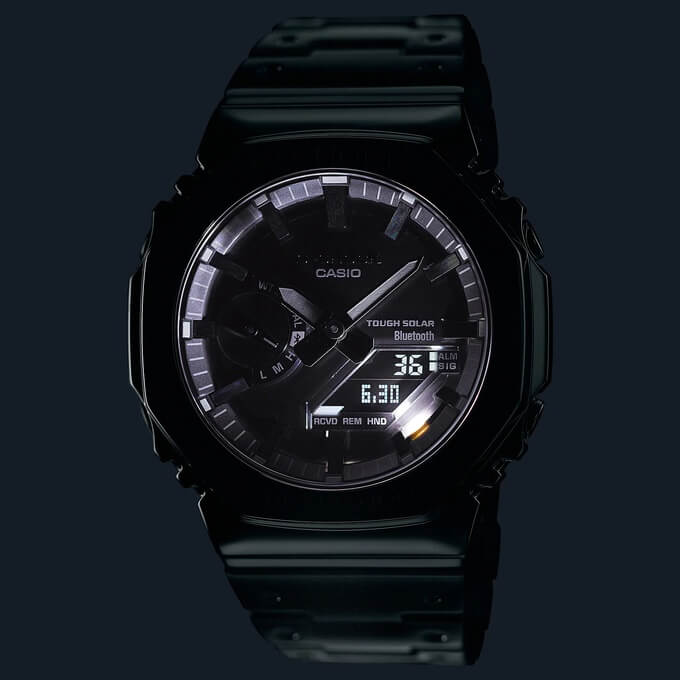 The full metal "CasiOak" (as dubbed by fans) is sure to be a big hit, as it offers a more upscale and dressier version of the ultra-popular GA-2100. The GA-2100, inspired by the octagonal bezel and style of the original G-Shock DW-5000C, was launched in 2019 and immediately became a worldwide sensation, reaching classic status within only a few years. The recent GA-B2100 offers the same solar and connected functionality as the GM-B2100 but in a resin version. There is also the more affordable metal-covered GM-2100 line with stainless a steel bezel and resin band, as well as smaller women's models like the GMA-S2100 and GM-S2100. Like the debut GMW-B5000 models, it's very likely that the GM-B2100 watches will sell out at many retailers and be difficult to obtain during the initial launch. We suggest pre-ordering at Casio.com or other retailers if possible, especially for the GM-B2100D-1A and GM-B2100BD-1A.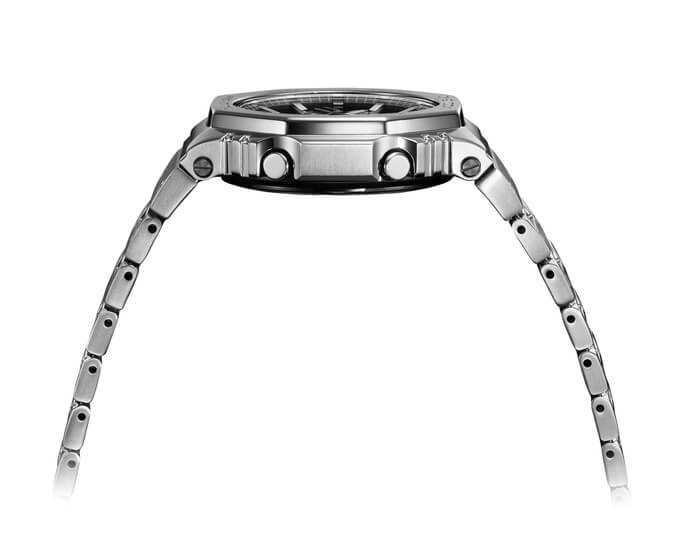 In Japan, the GM-B2100D-1AJF, GM-B2100BD-1AJF, and GM-B2100GD-5AJF will be available for reservations on July 29 at gshock.casio.com/jp, with an official release date of August 12, 2022. The series will also be released worldwide, and we highly recommend following your country's official Casio site and registering for email updates for future updates.
G-Shock GM-B2100 Promotional Video:
G-Shock GM-B2100BD-1A
Full stainless steel with black ion plating. (USA: GMB2100BD-1A, $600. Japan: GM-B2100BD-1AJF, 80,300 yen.)
Buy GMB2100BD-1A:
Casio Amazon Reeds eBay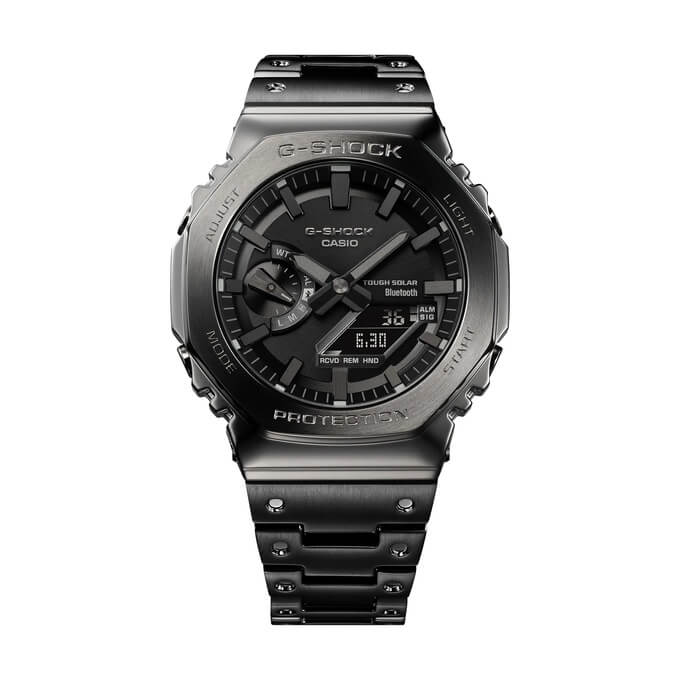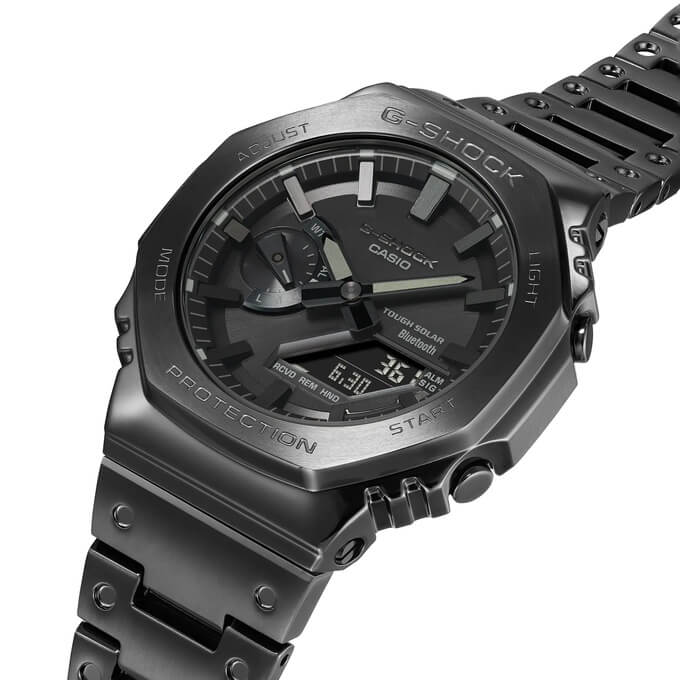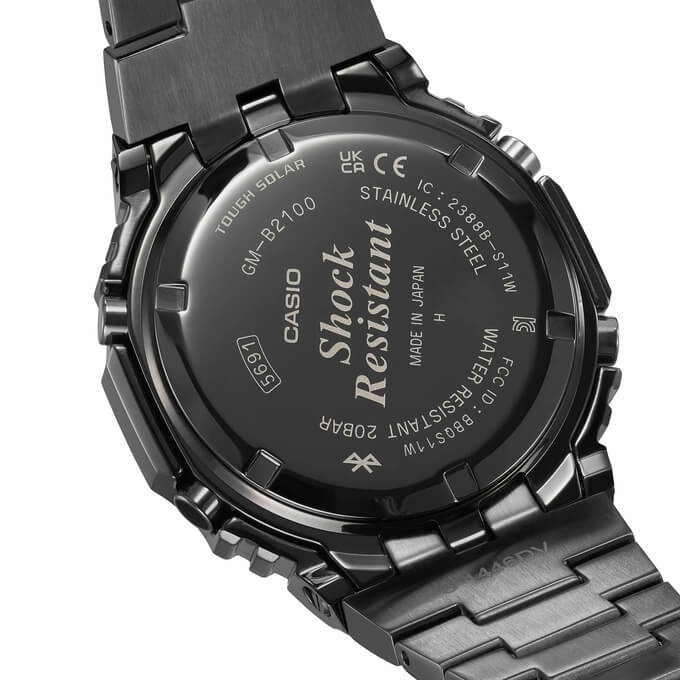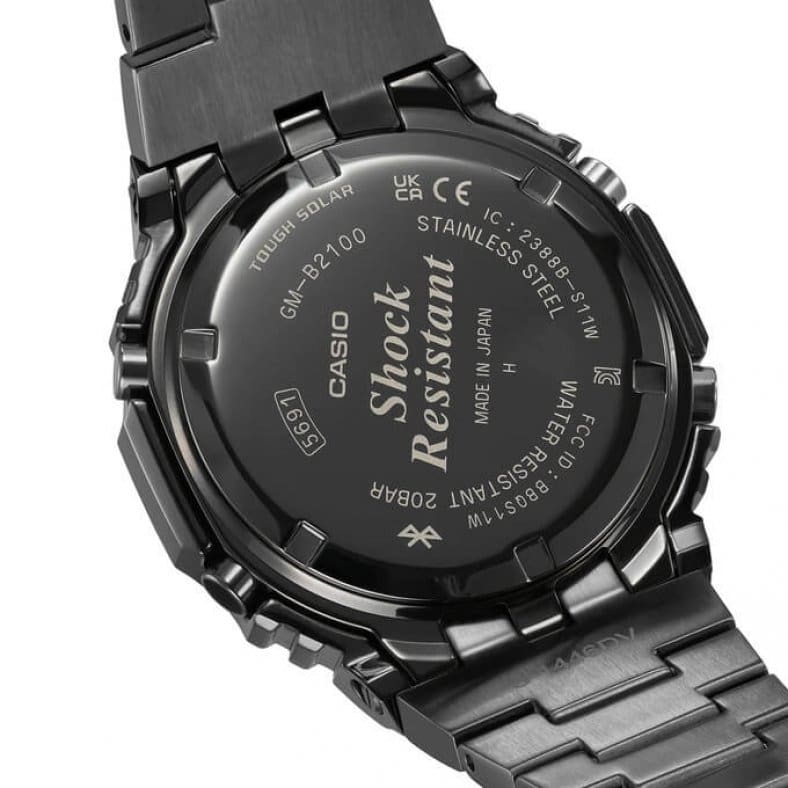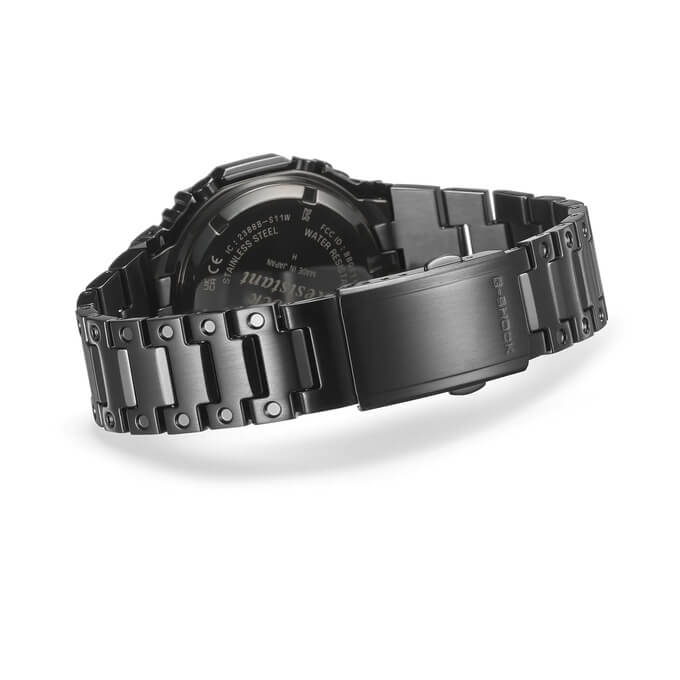 G-Shock GM-B2100D-1A
Full stainless steel in silver. (USA: GMB2100D-1A, $550. Japan: GM-B2100D-1AJF, 71,500 yen.)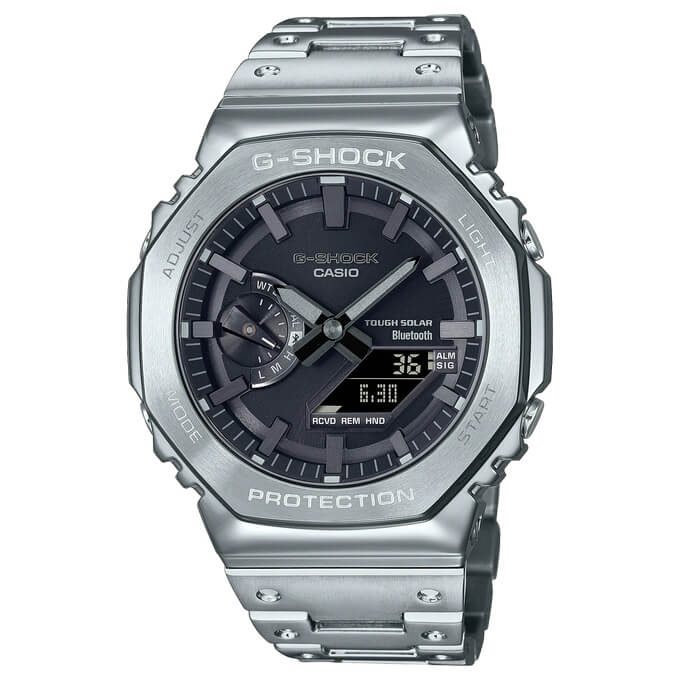 Buy GMB2100D-1A:
Casio Amazon Reeds eBay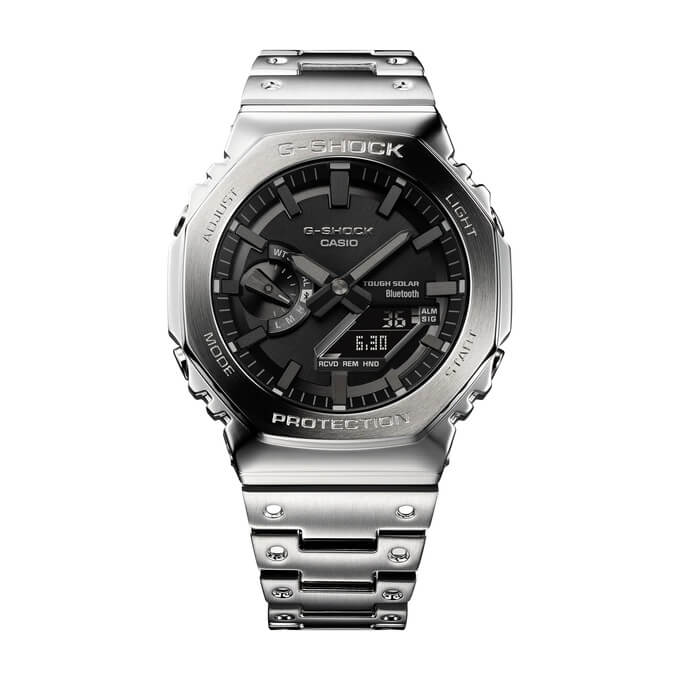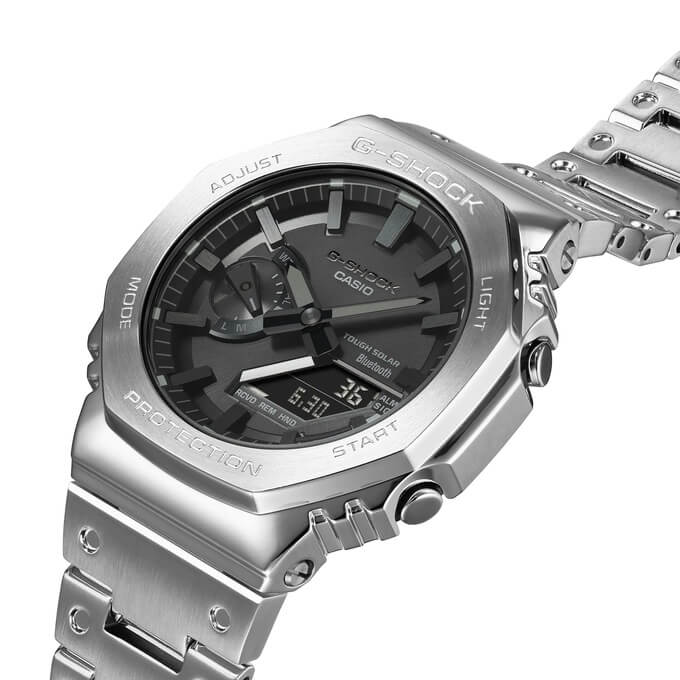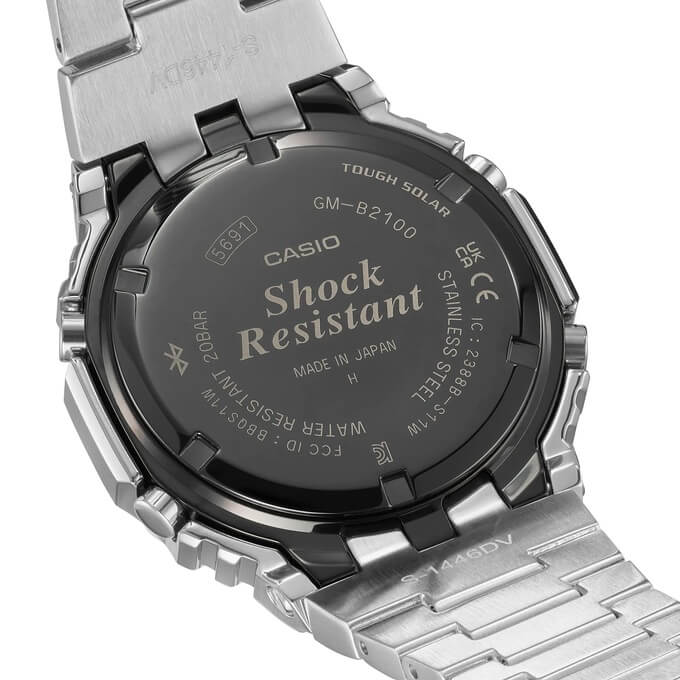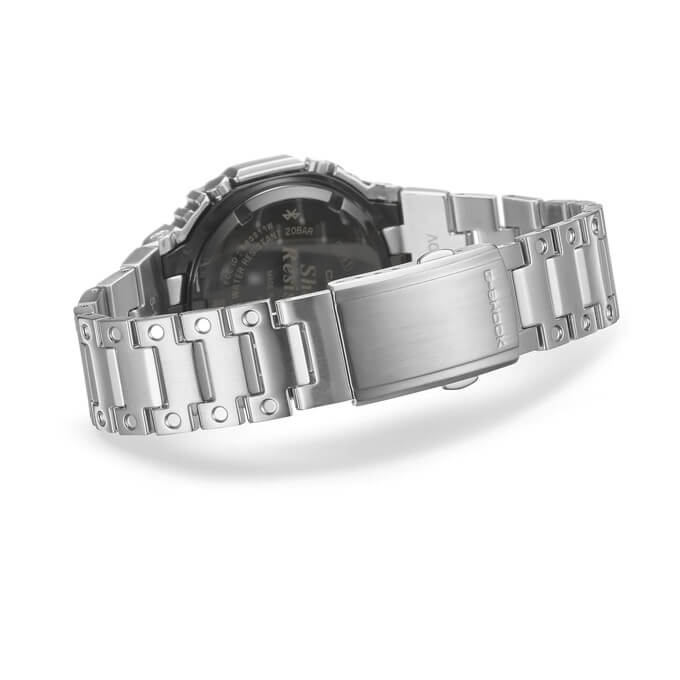 G-Shock GM-B2100GD-5A
Full stainless steel with rose gold ion plating. (USA: GMB2100GD-5A, $600. Japan: GM-B2100GD-5AJF, 80,300 yen.)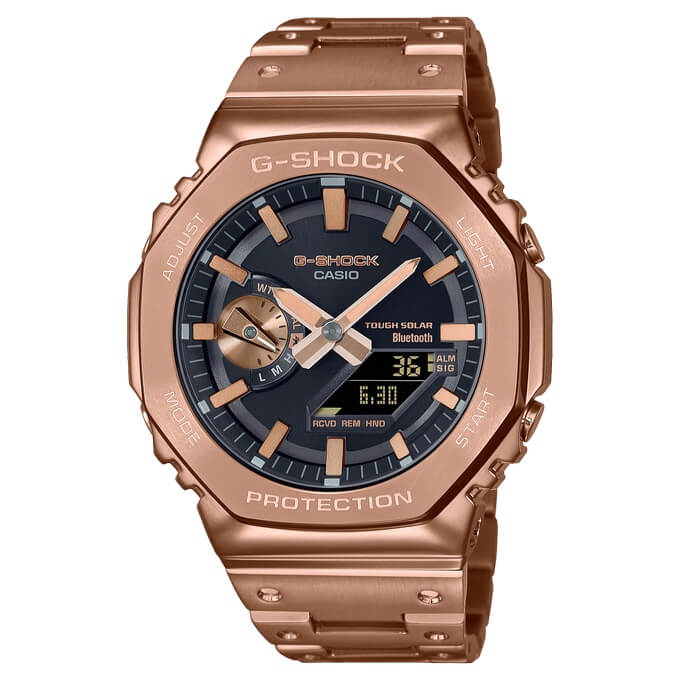 Buy GMB2100GD-5A:
Casio Amazon Reeds eBay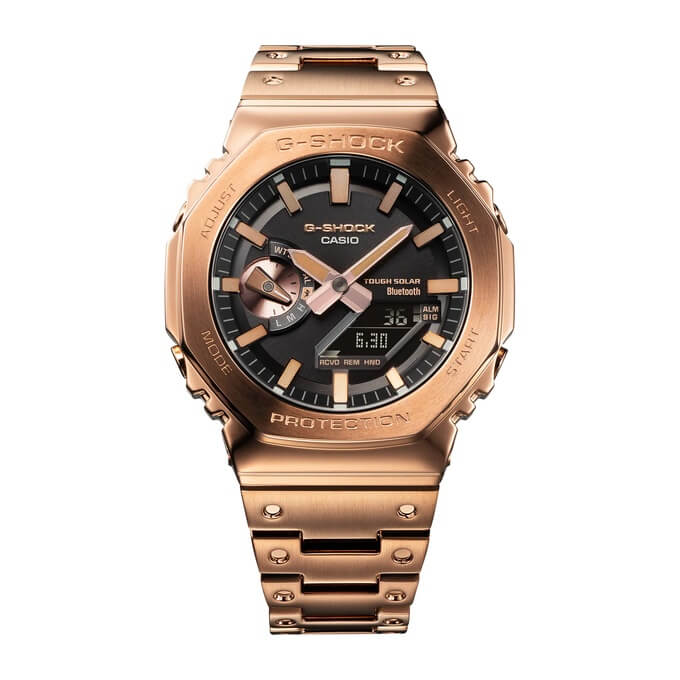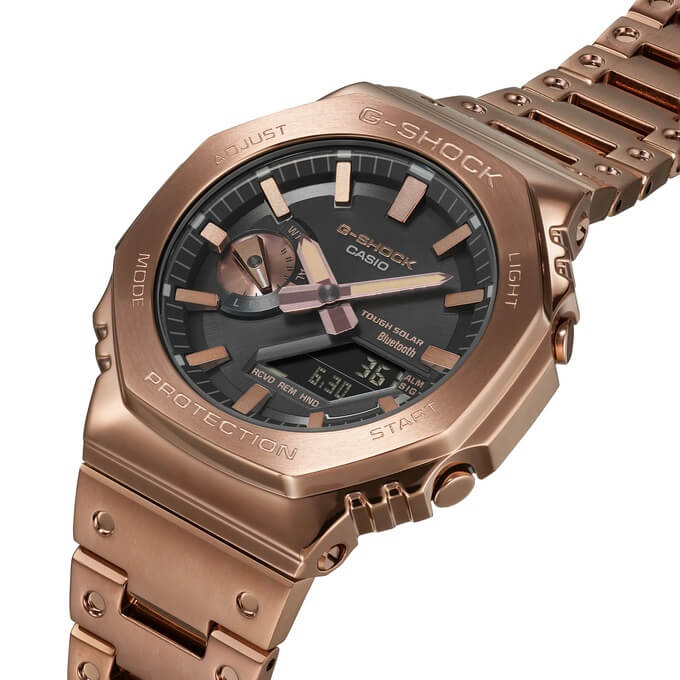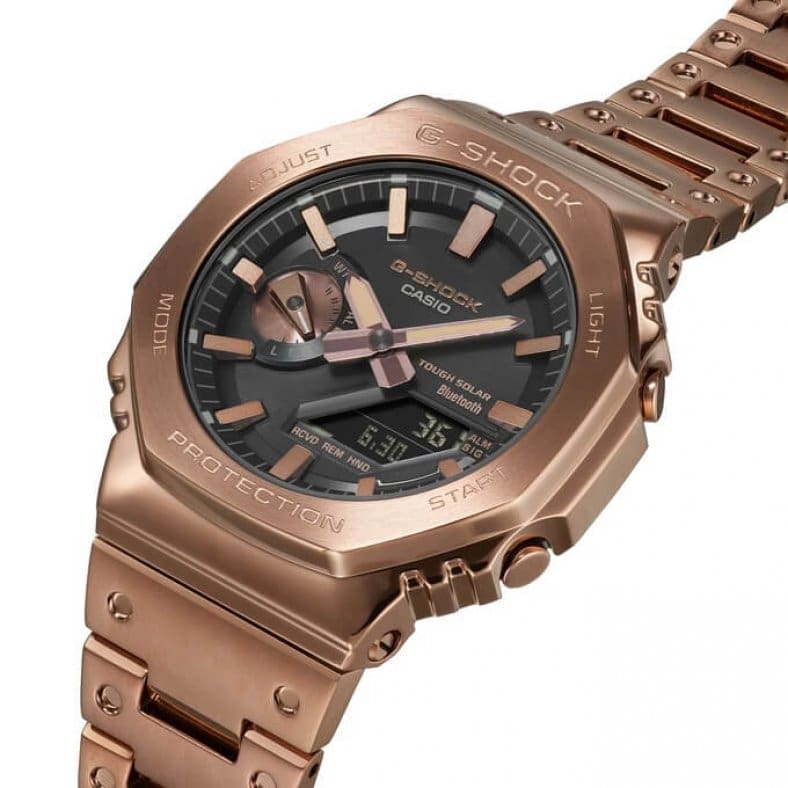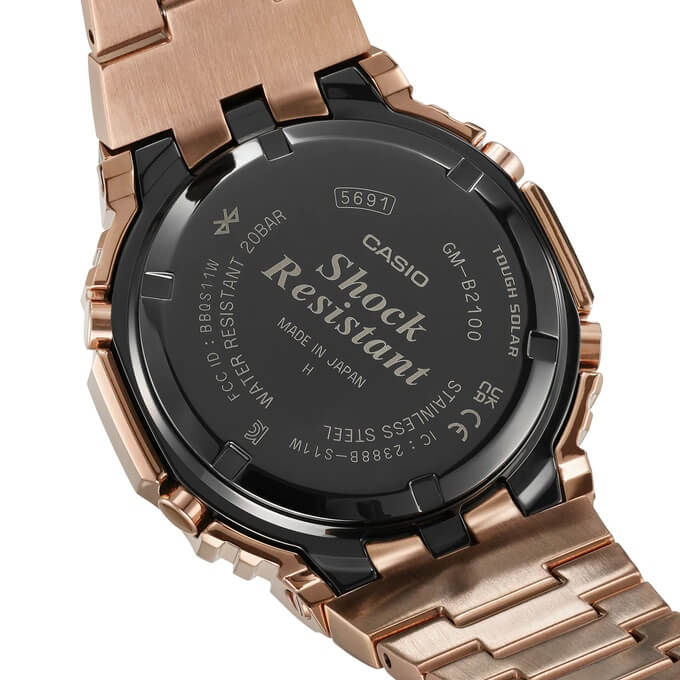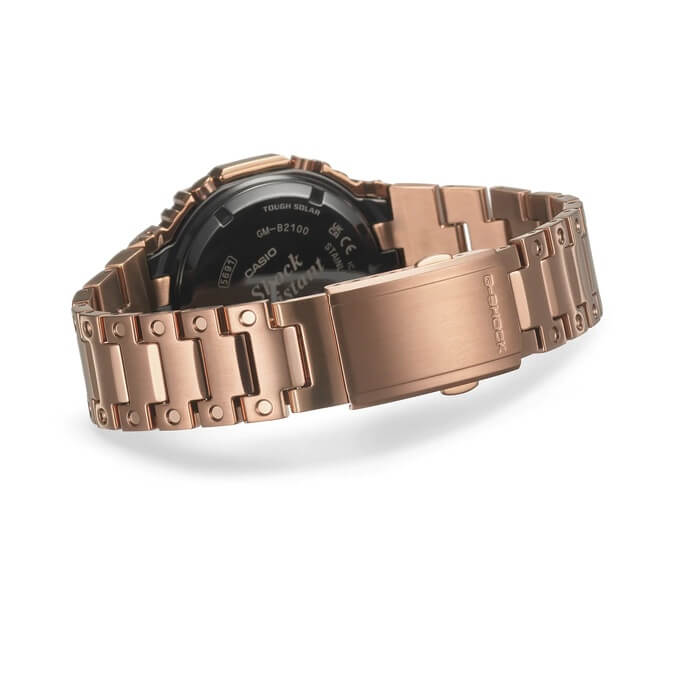 G-Shock GM-B2100 Rating by G-Central
Build

Functions

Size & Weight

Style

Price
Summary
The GM-B2100 delivers exactly what one would expect from a full-metal version of the GA-B2100. Although some may complain about the small inverted LCD display and lack of Multi-Band 6, the GM-B2100 is the type of G-Shock watch that people buy for style and not necessarily function.
Best For: The well-dressed
Pros
• A deluxe stainless steel version of the fashionable GA-2100
• Solar power and additional functions with Bluetooth smartphone link
• First 2100 model with a screw-back case
• Dial finish and quality enhancements over the resin GA-B2100
• Lume on hands and index markers
Cons
• No Multi-Band 6
• Full stainless steel models like the GM-B2100 are relatively heavy
• The launch models are only available with inverted LCD displays, which can be harder to read than non-inverted displays
• No auto LED light activation like some other G-Shock models
Alternatives: Due to its unique style and full metal build, the GM-B2100 stands alone, although the bezel and band design share strong similarities with the full digital GMW-B5000. There is also the full metal analog-digital AWM-500, with a more rounded bezel. The resin GA-B2100 has the same functions for a much lower price. The GST-B500 is closest in price and features, with the same functions and a similar dial design with a rounded bezel. (Unfortunately, only one GST-B500 model was released in the U.S. so far.) The MTG-B3000 is another high-end metallic model that is thinner than the GM-B2100 with a Carbon Core Guard case and full analog display. The MTG-B3000 does not include the time and place log and reminder function, which are found on the GM-B2100 and GST-B500.
G-Shock GM-B2100 versus GST-B500 and MTG-B3000:
| | | | |
| --- | --- | --- | --- |
| | | | |
| | | | |
| | | | $1,050 (with stainless steel band) |
| | Full metal, stainless steel case, bezel, and bad, mineral glass | Carbon Core Guard, carbon fiber reinforced resin case, stainless steel bezel, stainless steel band, mineral glass | Carbon Core Guard, carbon fiber reinforced resin case, stainless steel bezel, stainless steel band, sapphire crystal |
| | | | Shock Resistant, Triple G Resist |
| | | | |
| | | | |
| | | | 148 (with stainless steel band) |
| | | | |
| | | | |
| | | | |
| | 38 time zones (38 cities), DST on/off, auto DST, city code and name display, home time swapping | 38 time zones (38 cities), DST on/off, auto DST, city code and name display, home time swapping | Dual time, 27 time zones, auto DST, home time swapping |
| | 1/100-second for first 60 minutes. 1-second after 60 minutes up to 23:59'59, elapsed time, lap/split time | 1/100-second for first 60 minutes. 1-second after 60 minutes up to 23:59'59, elapsed time, lap/split time | 1-second, 23:59'59 max, elapsed time, split time |
| | 60 minutes, settable in minutes | 60 minutes, settable in minutes | 24 hours, settable in minutes |
| | | | |
| | | | |
| | Dual LED with 1.5 or 3-second afterglow | Dual LED with 1.5 or 3-second afterglow | LED with 1.5 or 3-second afterglow |
| | | | |
| | | | |