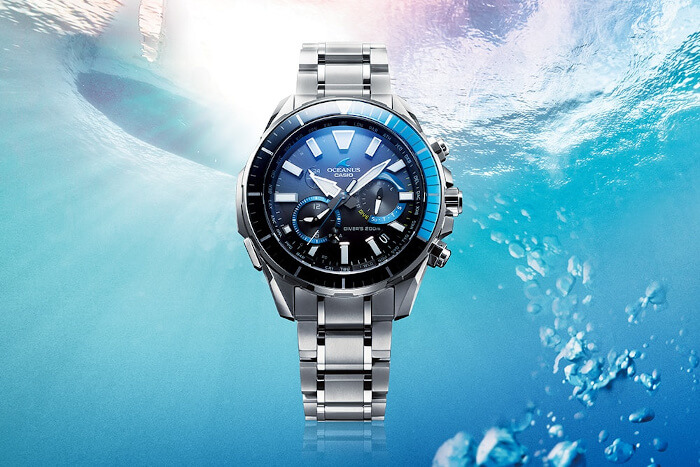 Until now, G-Central hasn't covered Casio's upscale Oceanus brand, but the upcoming OCW-P2000 series may be of special interest to G-Shock and Casio fans. It is the first Oceanus full-scale diving watch (i.e. ISO Diver's 200M, like the G-Shock Frogman line), and it bears strong similarities to the upcoming G-Shock Frogman GWF-A1000. G-Shock creator Kikuo Ibe was involved in developing the Oceanus line, which is known for its high-tech analog models and refined sea-inspired style. Oceanus offers watches for men and women, but its distribution is limited to Japan and select countries in Asia.
The name of the new OCW-P2000 series is "Cachalot," as the P2000 represents the strength of the sperm whale. Despite the similarities to the GWF-A1000, there are some key differences. Instead of a carbon monocoque case, the P2000 has a titanium case and bezel (with a scratch-resistant titanium carbide processing) and the case back is secured by eight screws. The bezel rotates counterclockwise, unlike the stationary bezel of the Frogman. The P2000 is a Premium Production Line model manufactured at the Casio Yamagata factory in Japan. (The Frogman line is also made in Japan but is not assembled at the PPL.) Both have an electronic Smart Access crown on the right side, but the P2000 has its side buttons on the right side, versus the Frogman's buttons on the left.
Other notable features include a sapphire crystal with non-reflective coating, Tough Solar power, Multi-Band 6 radio timekeeping, and Bluetooth smartphone link. It also has a tide indicator and diving features such as a diving log, dive time, and dive spot history. When measuring dive time, the hour, minute, and second hands point to the 12 o'clock position to start the measurement. As the P2000's module is similar to the Frogman GWF-A1000, we can expect the GWF-A1000's dive time to function in the same way. (The OCW-P2000 has module 5624, and the GWF-A1000 has module 5623, with the difference reported to be that the OCW-P2000 lacks the alarms and countdown timer that the GWF-A1000 has. Thanks to Gary for this notification.)
Two models will be available: the blue-accented OCW-P2000-1AJF (list price 230,000 JPY plus tax) with a titanium band (featuring an extension mechanism for wetsuits) and the blue and red OCW-P2000C-2AJF (list price 220,000 JPY plus tax) with a Durosoft fluorine rubber band and titanium clasp. OCW-P2000C-2AJF is listed as having a (diamond-like carbon) DLC processing, which appears to be on the bezel. Each watch measures 51.8 x 48.5 x 15.9 millimeters, with the titanium band model weighing 127 grams and the Durosoft band model weighing 115 grams.
The OCW-P2000 series is scheduled for a June 2020 release in Japan.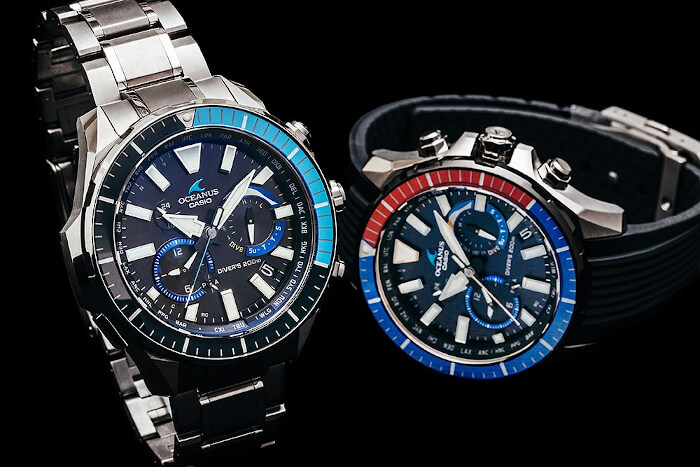 Oceanus OCW-P2000-1AJF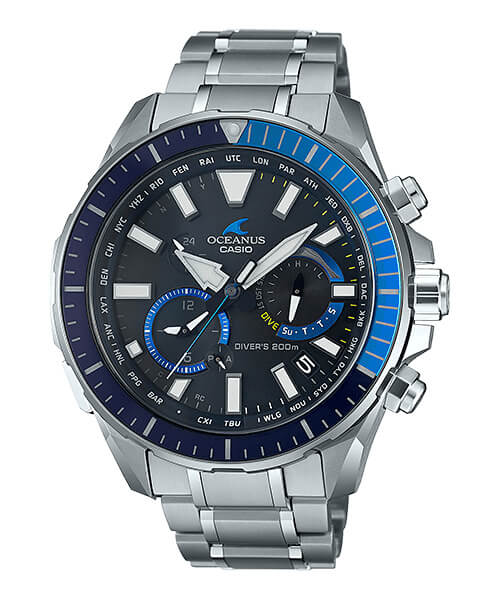 Oceanus OCW-P2000C-2AJF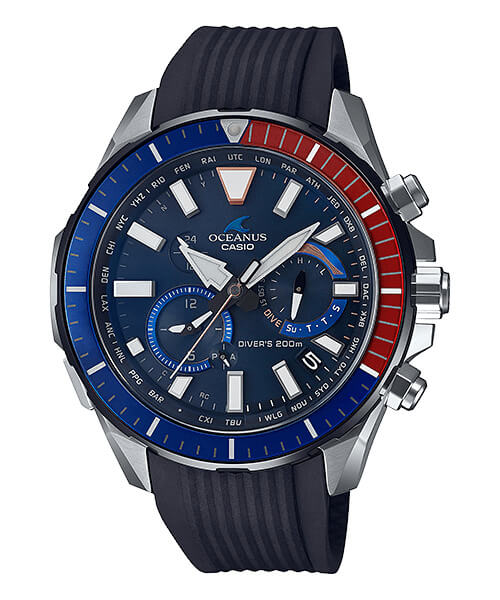 Source: oceanus.casio.jp