Update: The Oceanus Manta OCWS6000-1A was also released in the U.S. at Casio.com for $2,400.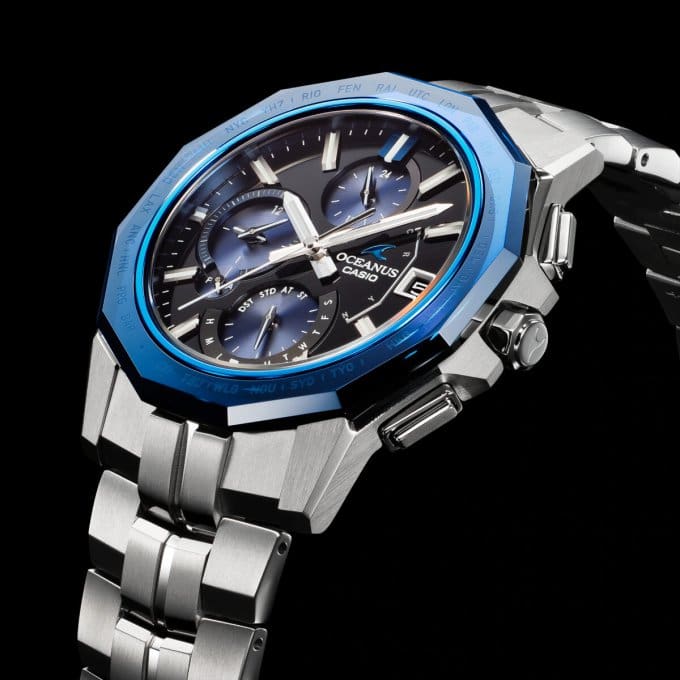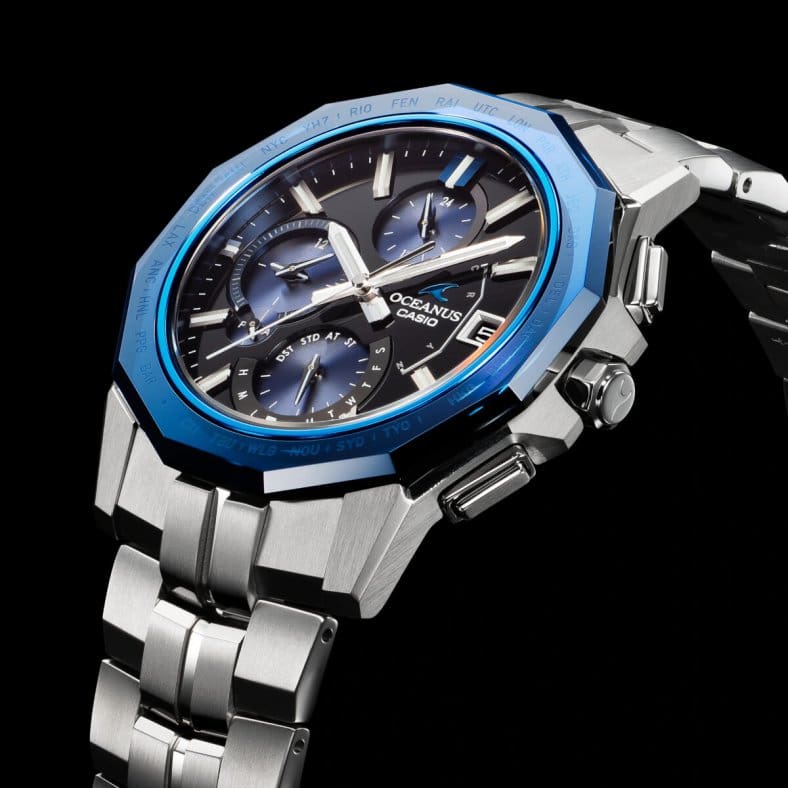 With the release of the all-new Oceanus Manta OCW-S6000, Casio has introduced a new type of sapphire bezel. Whereas "sapphire insert" bezels were used in past Oceanus models, with a sapphire ring fitted in a metal frame, this new bezel is made from a completely machined sapphire mass. Sapphire is very hard and scratch resistance, but it is not shatterproof. The 12-sided bezel has 24 faceted cuts to prevent cracking and chipping, which also emphasizes the translucent appearance from all angles. The bezel is also thicker than usual to increase the impact resistance. Casio executives say that the durability of the sapphire bezel is not as good as a G-Shock, but that it has the same level of resistance as other Oceanus Manta models and has been tested to withstand the stresses of daily life. The bezel is also treated with a patent-pending vapor deposition to achieve a deep color gradation.
Oceanus is Casio's marine-themed luxury line in Japan, and the Japan-made OCW-S6000 is the current peak model. It is the thinnest Oceanus men's model, measuring 47.1 x 42.5 x 8.7 millimeters. It is made of lightweight titanium with a carbide surface treatment and weighs just 86 grams. Major features include Tough Solar power, Multi-Band 6 radio wave timekeeping, 100-meter water resistance, and Bluetooth smartphone link. The silver and blue OCW-S6000-1AJF has a tax-included price of 275,000 yen, and the black and blue OCW-S6000B-1AJF has a price of 308,000 yen.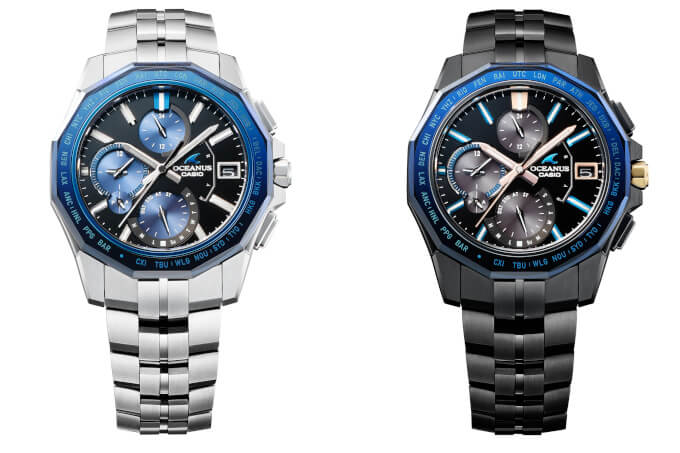 Ever since Casio unveiled the sapphire G-Shock concept and prototype in 2017, there is speculation that they may actually release such a G-Shock someday, in the same way they unveiled the solid gold Dream Project G-Shock concept watch in 2015 and ended up releasing the G-D5000-9JR for $69,500 in 2019. However, due to the fact that the non-shatterproof nature of sapphire would make it difficult to live up to G-Shock standards, it was surprising to see the sapphire G-Shock concept, and perhaps it would be even more surprising to see it released for sale. The displays of certain high-end G-Shock models are actually made with sapphire glass, but it is always protected by a raised bezel. There is currently no other evidence that Casio is planning to release a sapphire G-Shock, and if they ever do, it is bound to be extremely limited and expensive.
Oceanus OCW-S6000-1AJF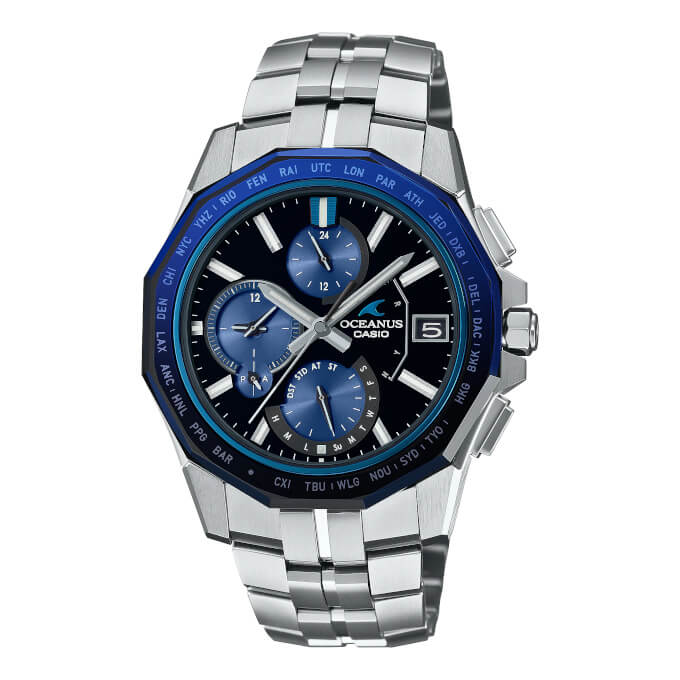 Oceanus OCW-S6000B-1AJF