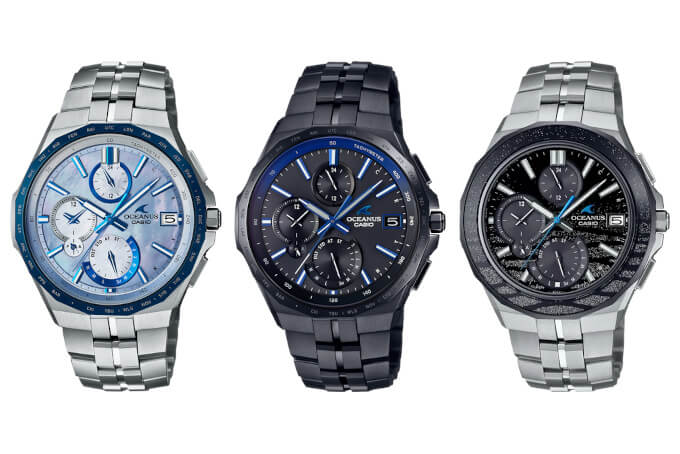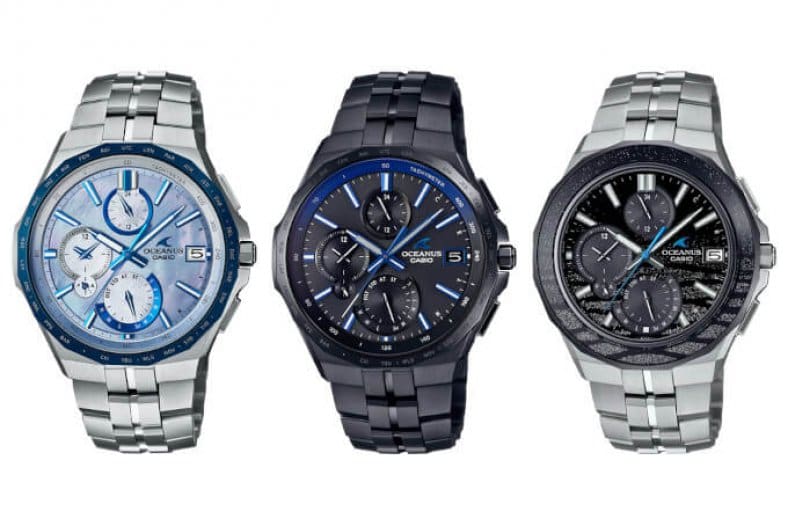 G-Shock creator Kikuo Ibe was also involved in the development of the high-end Oceanus line, which made its debut in 2004. Like the peak G-Shock MR-G and Pro Trek Manaslu series, Oceanus watches are manufactured on the Premium Production Line at the Yamagata Casio factory in Japan. Oceanus watches are known for their refined styling with titanium construction and advanced features like Tough Solar power and Multi-Band 6 auto time adjustment. Early models were available in America, but the line was limited to Japan and Asia in the recent past.
Three Oceanus Manta OCW-S5000 models are now available in the U.S.: OCWS5000APA2, OCWS5000B-1A, and OCWS5000ME1A. They were released a few months ago at at Casio.com and other retailers, but we neglected to mention it until now. (The OCWS5000APA2, pictured above left, is sold out at Casio.com but still available at at Feldmar Watch Company and Topper Jewelers.) These releases were unexpected in the U.S., as the limited OCW-S5000APA-2AJF and OCW-S5000ME-1AJF were previously released in Japan in June 2021. There was no press release, although ABlogtoWatch posted a review, and they were not released in Europe. It remains to be seen if Casio America plans to bring more Oceanus watches stateside in the future.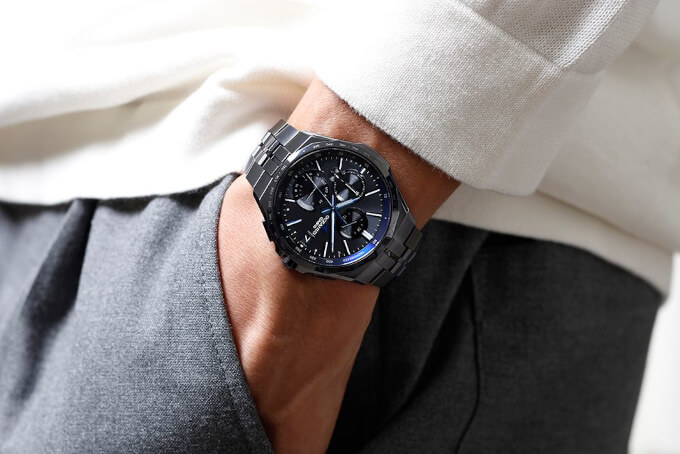 The Oceanus Manta OCW-S5000 series made its debut in 2019 and was the thinnest Oceanus watch at the time, measuring 48.8 x 42.3 x 9.5 millimeters. (The OCW-S6000, released in Japan in October 2021, is 8.7 mm thin.) Though it looks fairly large in the close-up images, it is not a very large watch and weighs just 82 grams. Features include a titanium build (case, bezel, band) with a carbide treatment, Tough Solar power, 100M water resistance, Multi-Band 6 auto radio time adjustment, Bluetooth smartphone link, dual curve sapphire crystal with anti-reflective coating on both sides, dual time with 27 time zones, date display and day indicator with automatic calendar, 1-second stopwatch (23:59'59), tachymeter, battery level indicator, and Neobrite lume.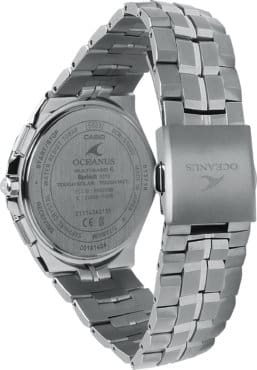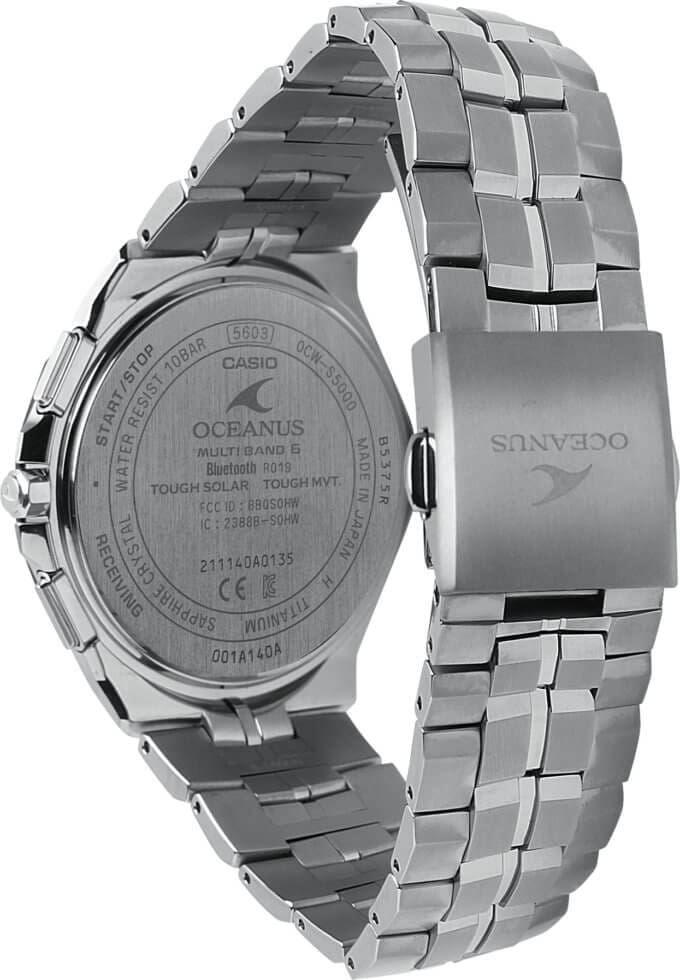 The OCWS5000APA2 ($2,000) uses "Awa Indigo" in its design, a natural indigo dye made in the Tokushima Prefecture. The dial is made of mother of pearl colored with this blue dye, and the bezel has a blue ion plating. Limited to 1,000 units worldwide.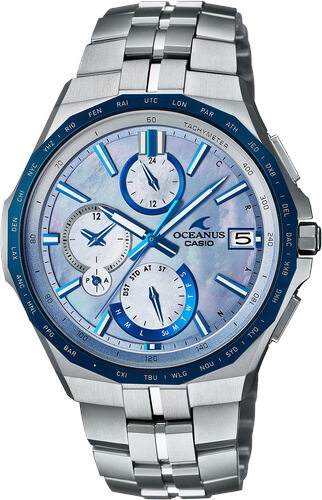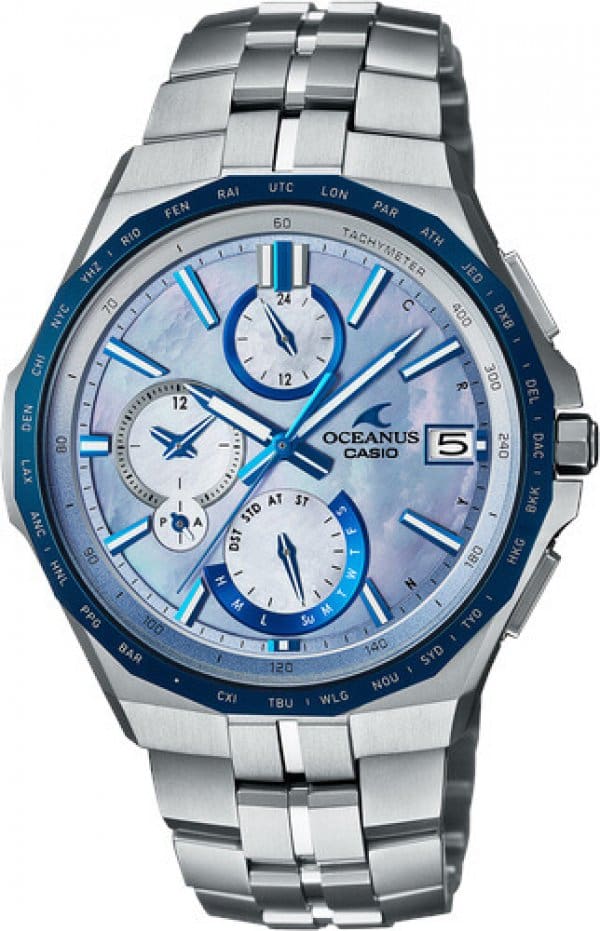 The OCWS5000B-1A ($1,900) has a diamond-like carbon (DLC) coating that is more resistant to wear than the typical ion plating.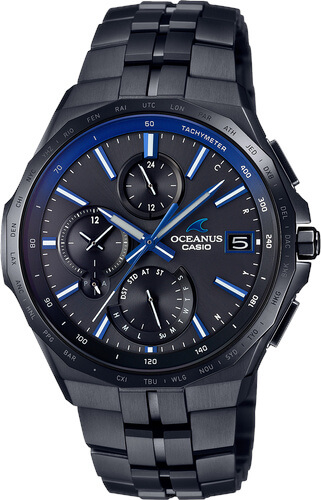 The OCWS5000ME1A ($2,400) is made with the traditional Japanese craft of "maki-e," which involves painting with lacquer and then sprinkling silver or gold powder on it before it dries. The dials and bezels of this model are handmade by Kyoto crafstman Yutaro Shimode with a platinum maki-e that expresses the sparkling of water, and no two watches are exactly alike. This model has a sapphire glass bezel insert and DLC-coated bezel parts. Limited to 1,500 units worldwide.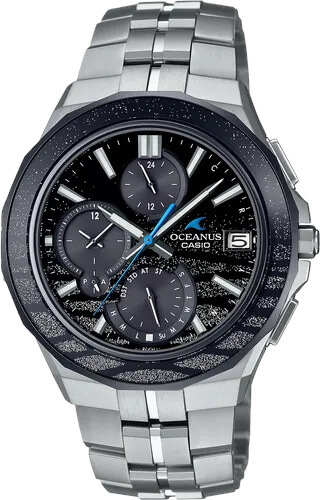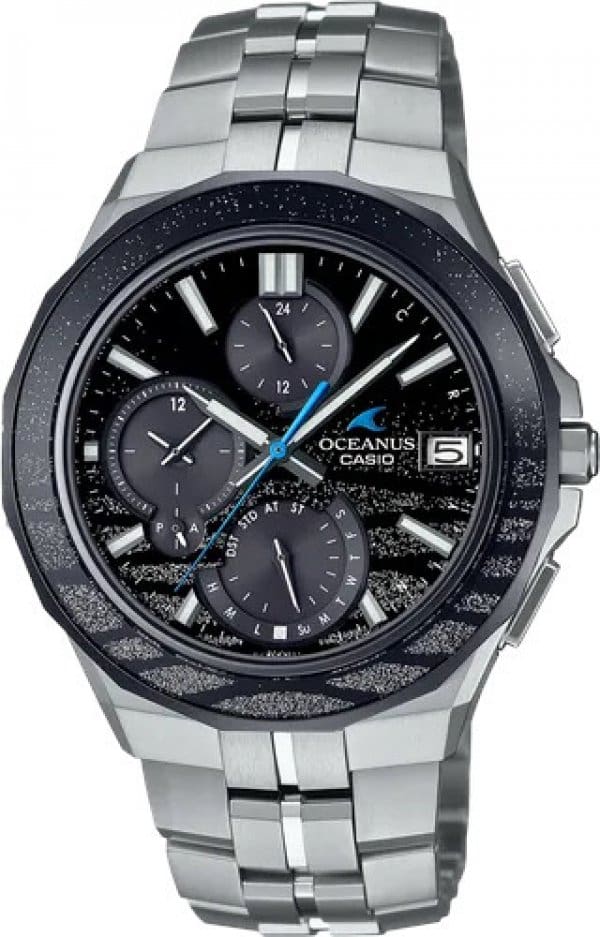 Oceanus Watches at Casio America