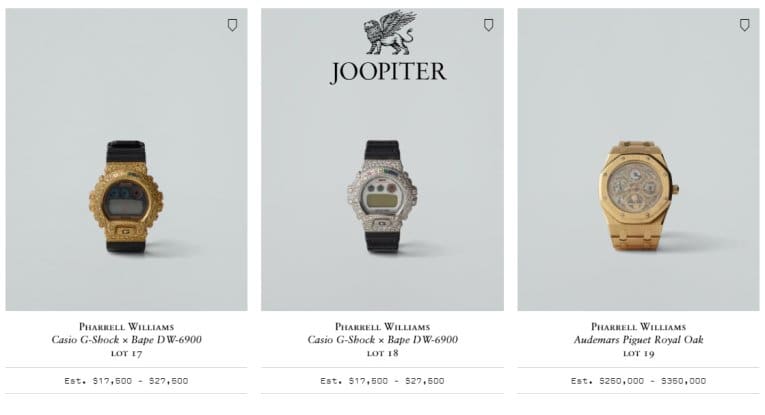 Musician and producer Pharrell Williams launched his inaugural "Son of a Pharaoh" auction at joopiter.com, a new site created by Pharrell that serves as a digital auction house. The 52-lot auction includes iconic pieces of Pharrell's clothing, accessories, and custom jewelry.
The jewelry pieces include two G-Shock watches (Lot 17 and 18). Both are BAPE x DW-6900 collaborations customized with a gold bezel and diamonds by Jacob & Co. (of "Jacob The Jeweler" fame). One has a bezel made of 14K yellow gold, and the other is made of 14K white gold. The yellow gold model was previously featured at Hypebeast in 2009.
The rear case back areas of both watches feature a diamond-studded caricature of Pharrell in the style of his "In My Mind" album cover. "Unauthorized" is included at the end of the product descriptions, as the bezels were custom-made and not sanctioned by Casio. The watches are also described as "used, but in fair condition," but they look like they need a battery replacement. Each watch has an estimated auction price of $17,500 to $27,500, with bidding to begin on October 20.
Pharrell Williams "Son of Pharaoh" Auction at Joopiter