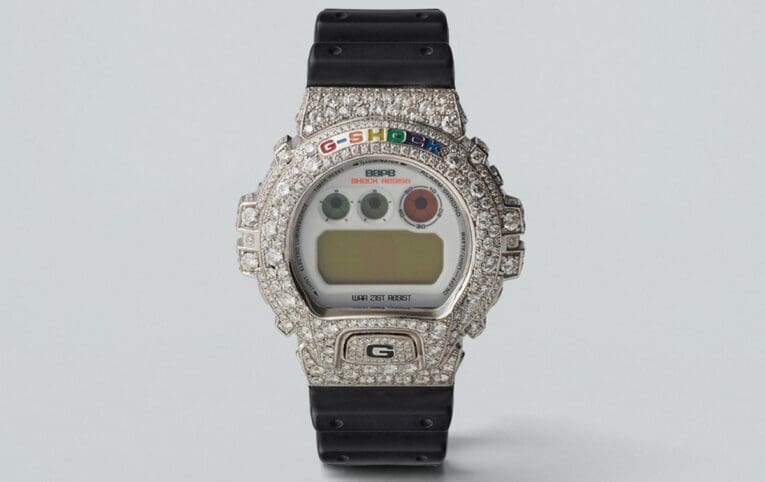 Famous person Kim Kardashian was spotted in California wearing what appears to be a BAPE x G-Shock DW-6900 watch customized by Jacob & Co. that was previously owned by Pharrell Williams and sold by auction in late 2022. The diamond-encrusted watch with a bezel made of white gold had a final auction price of $73,750, which was much higher than the estimated price of $17,500 to $27,500.
Kardashian was spotted wearing the watch while filming a "Carpool Karaoke" segment for The Late Late Show with James Corden, so it's likely that she will appear on television wearing the watch. Corden is planning to retire from The Late Late Show with his last episode airing on April 27 (12:37 a.m. PT).
It's not confirmed to be the same watch (although the colors definitely match) and it's also unconfirmed if Kardashian bought the watch herself or if it was gifted to her by someone, but it is very likely to be the same watch that was auctioned on Williams' Joopiter site. A custom gold BAPE x G-Shock DW-6900 was also auctioned for $57,500, but the whereabouts of that watch are unknown.
The iconic DW-6900, first launched in 1995, became popular among hip hop artists and streetwear scenes in the 2000s and is still a popular base model for limited edition collaborations like the John Mayer trio.
See more images of Kim Kardashian wearing her new G-Shock at TMZ.com.
Pharrell Williams is auctioning his jeweled BAPE x G-Shock DW-6900 watches by Jacob & Co.