(Notice: This page may contain affiliate links that earn us a commission on purchases. See our full affiliate disclosure.)
List Price: $110
Size: Medium
Dimensions (L x W x H): 52.4 x 50 x 17.7 mm
Weight: 68.2 grams
Module: 3194 (instruction manual at casio.com)
Battery (Lifespan): CR2025 (approx. 2 years)
Line: G-RESCUE
Series Launch Year: 2009
Notable Features: Tide and Moon Graph, World Time, 2 Stopwatches, Timer, 5 Multi-Function Alarms
See full specifications for G7900-1 under "Additional information" tab above.
Suggested Uses: Ocean Sports, Outdoors, Winter Sports
G7900-1 at Casio G7900 on Amazon G7900 on eBay
Latest G-9700 News
Recent G-9700 Releases:
(Mobile: Press and hold for article link.)
View all G-7900 articles on G-Central
John Krasinski wears a G-Shock G7900-1 in "13 Hours: The Secret Soldiers of Benghazi."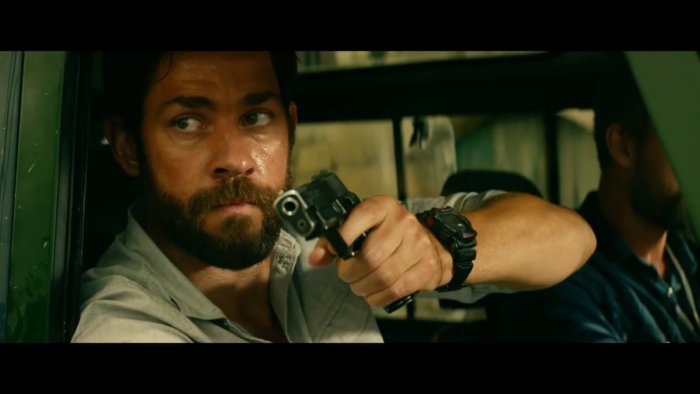 G-Shock G-7900 Rating by G-Central
The G-7900 offers has useful and unusual features but it is a bit hampered by its short battery life. The GW-7900 offers similar functions along with Tough Solar and Multi-Band 6, but it doesn't have the multiple stopwatches, multi-function alarms, and flash alerts of the G-7900.
PROS
Large buttons can be used with gloves.
Two stopwatches.
5 multi-function alarms.
Longer EL light afterglow setting (3 or 5 seconds).
CONS
Thick size may not fit well under sleeves.
Countdown timer not settable in seconds.
Short battery life (approx. 2 years).
Specification:
G-SHOCK G-7900