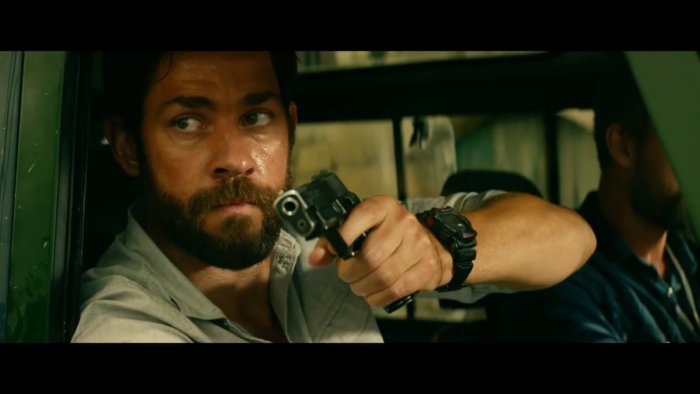 John Krasinski can be seen wearing a Casio G-Shock G7900-1 watch in the upcoming film "13 Hours: The Secret Soldiers of Benghazi." The movie is based on the book "13 Hours" by Mitchell Zuckoff which documents the true story of the 2012 terrorist attacks on U.S. diplomatic compounds in Libya and the six-man group of security contractors who defended against the attacks. The Annex Security Team consisted of former members of the Navy SEALs, Army Special Forces, and Marine Corps, some of whom also co-wrote the book and consulted on the movie. The movie was directed by Michael Bay and opens January 15. For those who are concerned about Michael Bay's involvement, this video might offer some reassurance.
The G7900-1 is part of the G-Shock G-RESCUE series featuring a tide graph, moon data, front-facing EL backlight button, and extra-large buttons for easier operation with gloves.
Several other characters also wear G-Shock watches in the movie, including the sand beige GA100SD-8A.
Official Trailer:
Official Trailer #2: