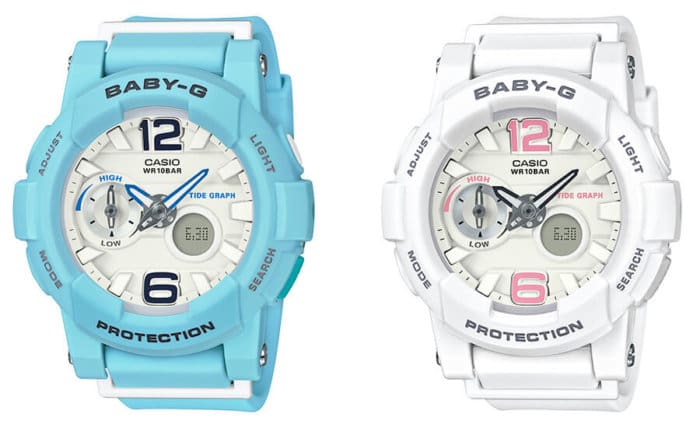 Two new Baby-G BGA-180 watches have entered the American market with the release of the BGA180BE-2B and BGA180BE-7B Beach Traveler editions. The BGA-180 is a G-LIDE surfing model with a tide graph dial, moon age data, thermometer sensor, and wave counter. It offers a rugged and sporty look with large numerical hour indicators at the 12 and 6 o'clock positions. The BGA180BE-2B has a pastel blue body and bands and a white face with blue-outlined hands. The BGA180BE-7B is all white with pastel pink accents on the display and black-outlined hands.
Features of the BGA-180 include shock resistance, 100-meter water resistance, tide graph (tide level for specific date and time), tidal trend indicator (shows changes over the next 12 hours), moon age data, thermometer, world time (48 cities), 2 alarms and 1 snooze alarm, 1/1 second stopwatch (up to 00:59'59"), countdown timer (60 minutes), wave counter (up to 999), and LED light with afterglow.
BGA180BE Series on Amazon
BGA180BE Series on eBay
(
G-Central is an independent news site created and maintained by fans and is not an official representative of Casio or G-Shock. G-Central earns a commission on qualifying purchases made from its links. See full disclosure.
)