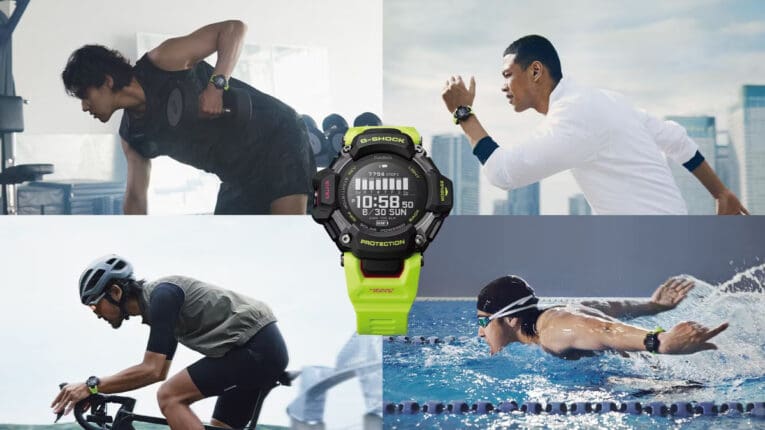 Casio officially announced the G-Shock GBD-H2000 for a March 2023 release worldwide. The previous GBD-H1000 was one of our favorite G-Shock series due to its advanced fitness functions, high-contrast MIP LCD display, and rich feature set, and the new GBD-H2000 improves on it in many ways. The GBD-H2000 is a G-SQUAD fitness watch that adds support for more activities other than running and walking.


Exterior Versus GBD-H1000: The GBD-H2000 has a smaller profile at 59.6 (H) x 52.6 (W) x 19.4 (D) millimeters versus 54.6 × 55 × 20.4 for the GBD-H1000. It is also 38% lighter at 63 grams versus 101 grams. The reduced size and weight are the result of using a built-in GPS antenna (instead of an external one placed in the bezel), smaller circuit board, smaller solar cell around the display, and a carbon-reinforced case back. Instead of a fixed band attachment, the attachment angle is now flexible, providing better support for arm motion and wrists of different sizes, as well as improving heart rate tracking. Following the lead of recent Pro Trek series, the GBD-H2000 is made of renewable corn-based biomass plastics. As a G-Shock, it is fully shock-resistant and water-resistant to 200 meters.
The compact and light GBD-H2000 is designed to be more comfortable on the wrist.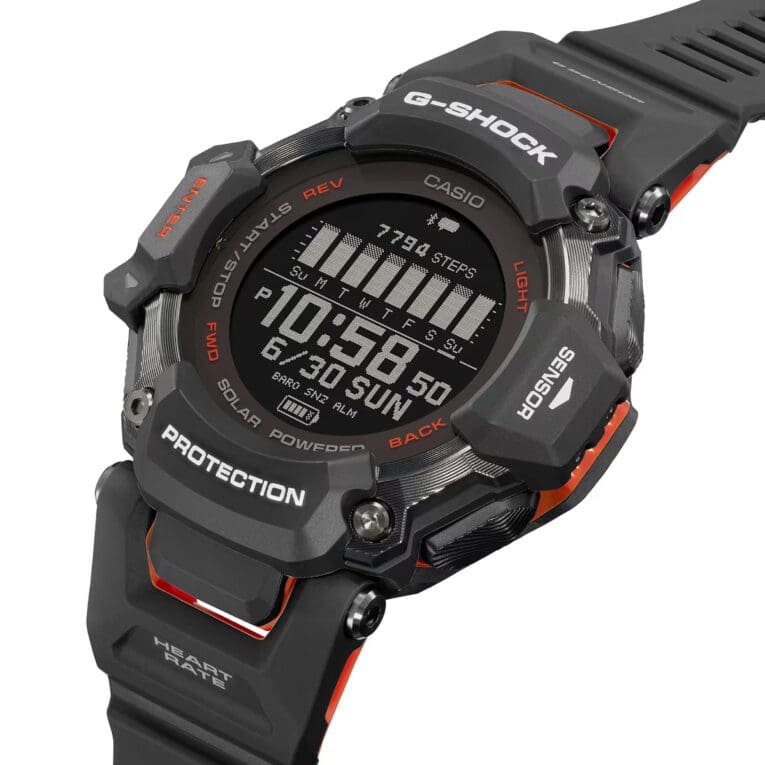 Carryover Features from GBD-H1000: The GBD-H2000 retains the signature features of the GBD-H1000, including the MIP LCD display, optical heart rate monitor, step counter (accelerometer), GPS, Bluetooth smartphone link, and the Triple Sensor (pressure: altimeter and barometer, compass, thermometer). Like the H1000, it is one of the few G-Shock watches with a vibration alert option and automatic horizontal compensation (a.k.a. "auto level correction") for the compass. If a connected smartphone is not available, the watch can automatically adjust the time through GPS once per day, and position information can also be received. Smartphone notifications are available for calls, e-mails, social media posts, calendar notifications, and reminders.
On the fitness front, the GBD-H2000 has advanced running features such as training analysis and training data with an activity log (now with up to 100 runs with up to 200 laps each). The Life Log records step count with a settable daily target step count, step graphs, calories burned measurement, and active time measurement. The Life Log can distinguish between walking, running, biking, and other activity. The stopwatch and timer remain unchanged. The 1-second stopwatch has a maximum measuring capacity of 99:59'59' with elapsed and split times. With the interval timer function, five interval timers that can be set for up to 60 minutes each in 1-second increments and can auto repeat up to 10 times. Like the H1000, the GBD-H2000 calculates VO2 max (maximum consumable oxygen uptake), which is referred to as the "Running Index" on the watch and in the instructions.
The GBD-H2000 has an optical heart rate monitor for advanced training measurements and analysis.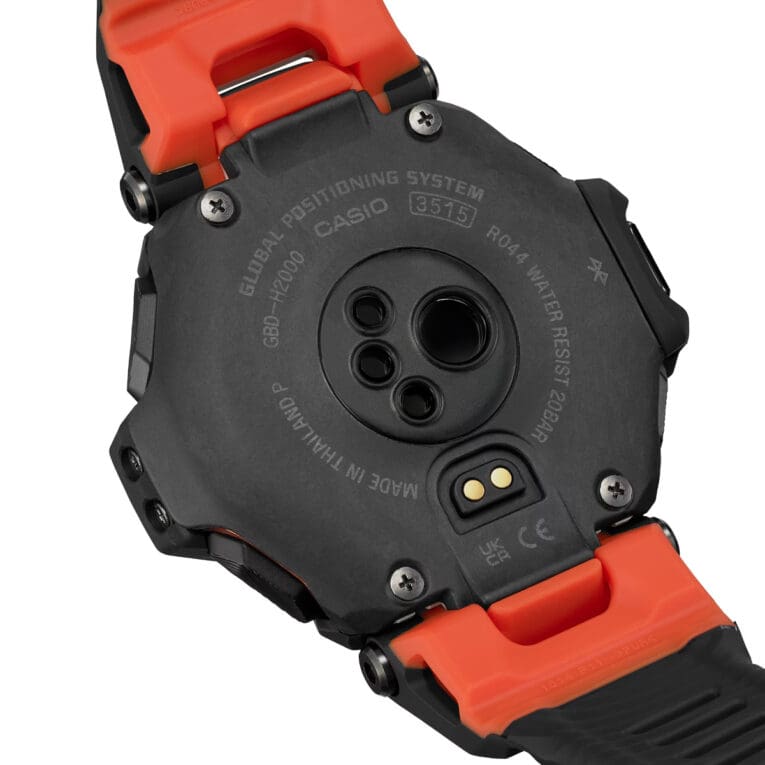 New Hardware: The GBD-H2000 has a gyroscope to measure orientation and angular velocity, which adds support for more sports and activities (see below). GPS now works with more systems (GPS, QZSS, Galileo, Beidou, GLONASS) than the GBD-H1000 (GPS, GLONASS, QZSS), and it also supports L1/L5 bandwidth.
The GBD-H2000 is equipped with six sensors (heart rate monitor, step counter, gyroscope, pressure with altimeter and barometer, compass, thermometer) along with GPS.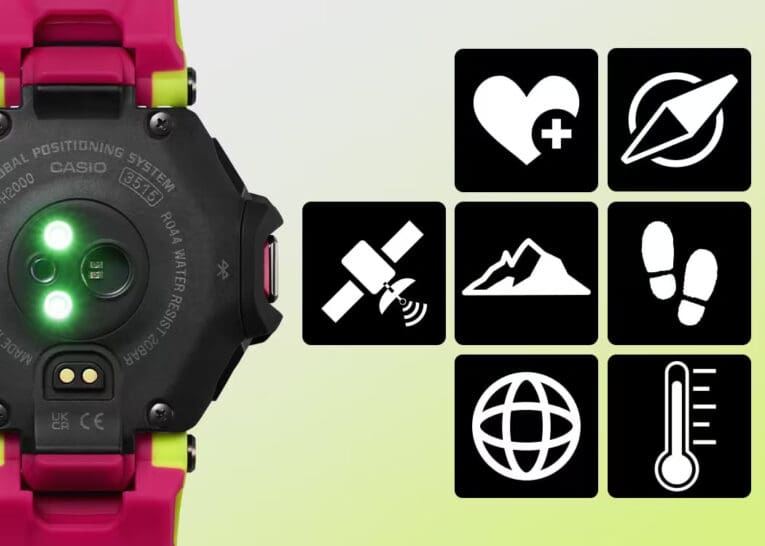 New Fitness Functions: The GBD-H2000 now uses the Casio Watches smartphone app instead of the G-Shock Move app. With the addition of a gyroscope, the GBD-H2000 supports multiple sports, and the Activity Log has 8 selectable activity types: Running, Trail Running, Walking, Biking, Open Water Swimming, Pool Swimming, Gym Workout, and Interval Timer. The gyroscope offers new measurements such as pitch, maximum pitch, stride, number of strokes, and SWOLF score (for swimming). The Activity Log now also measures cardio load and altitude gained, along with the previous measurements of elapsed time, distance, pace, calories burned, heart rate, and maximum heart rate. The cardio load compares a user's current load with a user's endurance data from past workouts to see how training is affecting the body with four ranges of measurements (detraining, maintaining, productive, and overreaching). Another new function is the blood oxygen level measurement (with a range of 80% to 100% in 1% intervals), which can help to manage daily health and adjust exercise load.
The GBD-H2000 offers support for eight selectable activities.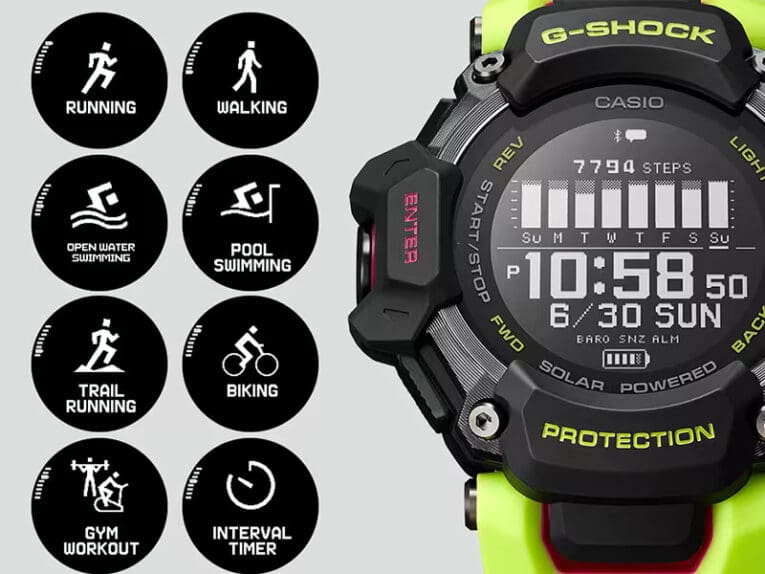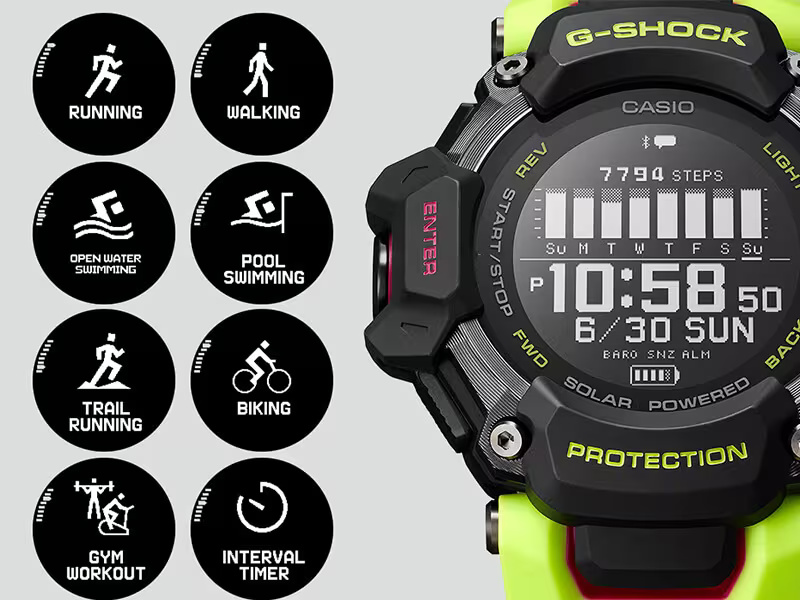 The calories burned data in the Activity Log now includes a summary that also displays the type of energy source used (carbohydrate, protein, and fat) as a percentage of the total calories burned. The heart rate monitor needs to be enabled for this calculation. (The percentages of total calories burned are not displayed for Pool Swimming and Open Water Swimming.)
The Calories Burned data now includes the energy sources used.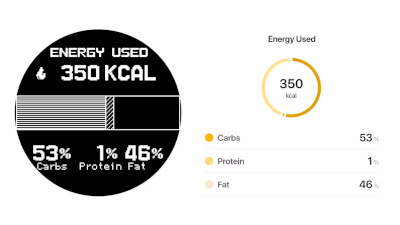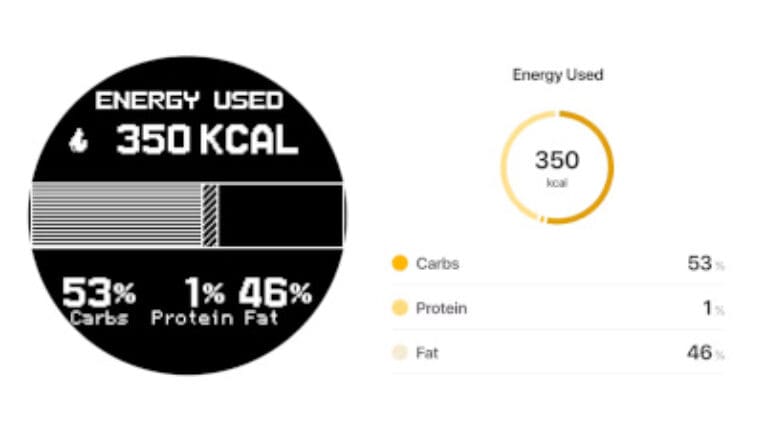 The sleep measurement function offers sleep analysis with five levels of sleep status, six levels of sleep recovery status, and five levels of autonomic nerve status, with an ANS score range of -10 to +10. The Nightly Recharge function measures recovery status during sleep.
Another new function is the Breathing Exercise for recovery and stress reduction, which can be set for 2 to 20 minutes and offers real-time biofeedback and a zone-specific time summary.
(Many of the fitness functions like Cardio Load Status, Nightly Recharge, Breathing Exercise, Heart Rate Zone, Energy Used, are powered by technology and data from Polar. Casio's product description states "You can even tap into the Polar smartwatch library to analyze workouts and post-sleep recovery." This is not referring to exporting data to other apps, but rather the use of Polar's database and algorithms for analysis.)
New Outdoor Functions: While designed and marketed as a fitness watch, the GBD-H2000 can also serve well as an outdoor watch and is a viable alternative to other Triple Sensor G-Shock watches like the Rangeman and Mudmaster. As part of the new "Almanac" functions, the GBD-H2000 has sunrise and sunset time display and moon data with moon age and phase.
Other New Functions: The full auto LED light now has a duration of 1.5 or 5 seconds, which is longer than the maximum of 3 seconds on the H1000 and most other G-Shock watches. Along with the 4 daily alarms, there is now an additional "smart alarm (with snooze)." The smart alarm uses the accelerometer and heart rate monitor to determine when your sleep state is light and activates an alarm during a specified time. For example, if the alarm is set for 8:00 with a smart period of 60 minutes, the alarm will activate somewhere between 7:00 to 8:00 as it determines the best time based on your sleep state. The smart alarm can be set to use sound or vibration.
Battery Life: The GBD-H2000 has similar battery life as the H1000, with GPS and the heart rate monitor being the biggest battery drainers. In "Long" mode with intermittent GPS and HR monitor use, the battery life is approximately 19 hours. In "Normal" mode with continuous reception, it is 16 hours, and in "High Rate" mode it is 14 hours, approximately. In watch mode with the heart rate monitor disabled, the battery life is approximately 2 months, and approximately 23 months with the power-saving function on. (This is from a full charge without any additional solar power, and the actual times will depend on usage.) The GBD-H2000 is chargeable by a proprietary USB cable and solar power. With wired charging, a full charge (from a blank display) will take about 3.2 hours with a 5V 0.5A USB port. Casio states that time mode is powered solely by solar charging but to use USB charging for "GPS tracking and heart rate monitor, as well as smart functions such as notifications and step tracker."
The GBD-H2000 is chargeable by USB Type A port (with included cable) and solar power.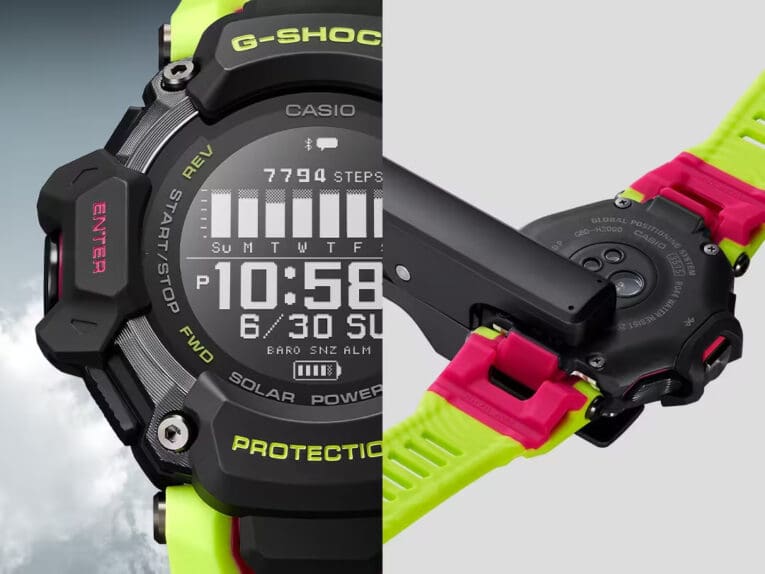 The GBD-H2000 will launch in Japan and Asia in March 2023 with four colorways. Each GBD-H2000 model in Japan has a tax-included price of 55,000 yen, and the expected price of the GBDH2000 in the U.S. is $399. As it is the same price as its predecessor, it seems unlikely that the GBD-H1000 will remain in production. While this might mean deep discounts on the GBD-H1000 in the near future, the new GBD-H2000 is still a great value at full price, particularly for those who prioritize function over fashion.
Update: G-Shock U.S. has the GBDH2000-1A and GBDH2000-1A9 available for pre-ordering for $399 each, with an estimated ship date of March 10. Amazon.com is also selling both models plus the full black GBD-H2000-1B for $399 each, with a release date of March 10.
Why the GBD-H2000 is a great G-Shock: MIP LCD display, Bluetooth, vibration alerts, auto GPS time adjustment, auto horizontal compensation for compass, wired and solar charging.
Why to buy the GBD-H2000 for fitness: Optical heart rate monitor, step counter, GPS for distance and pace, training data measurement and analysis, .
Why to buy the GBD-H2000 over the GBD-H1000: Smaller and lighter, improved band attachment for better fit, gyroscope provides support for more sports and activities, cardio load status, blood oxygen measurement, sleep measurement and analysis, energy source information for calories burned data
Why to buy the GBD-H2000 for outdoors: Shock resistance and 200-meter water resistance, Triple Sensor (pressure: altimeter and barometer, compass, thermometer), sunrise and sunset time display, moon data, GPS position information.
GBD-H2000 Instruction Manual at Casio
GBD-H2000 Specifications at G-Central
G-Shock GBD-H2000-1A: Black and orange.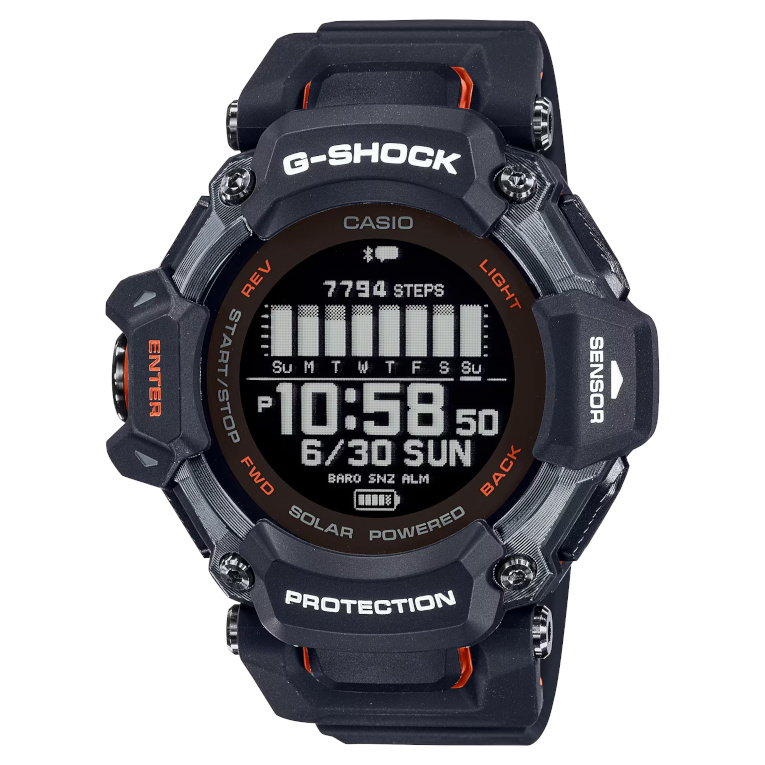 Buy GBDH2000-1A
Casio Amazon Reeds
G-Shock GBD-H2000-1A9: Black and yellow.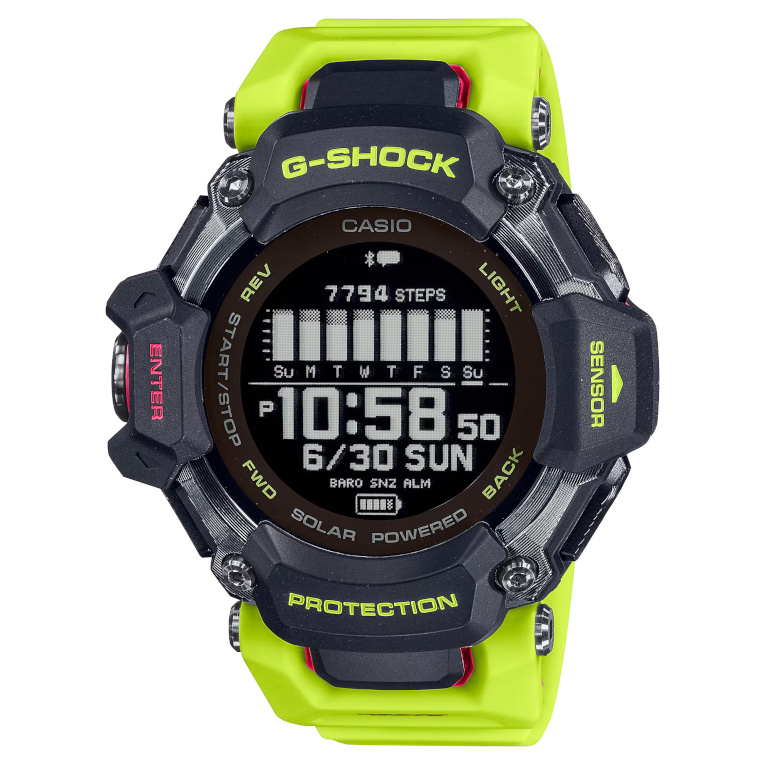 Buy GBDH2000-1A9
Casio Amazon Reeds
G-Shock GBD-H2000-1B: Full black.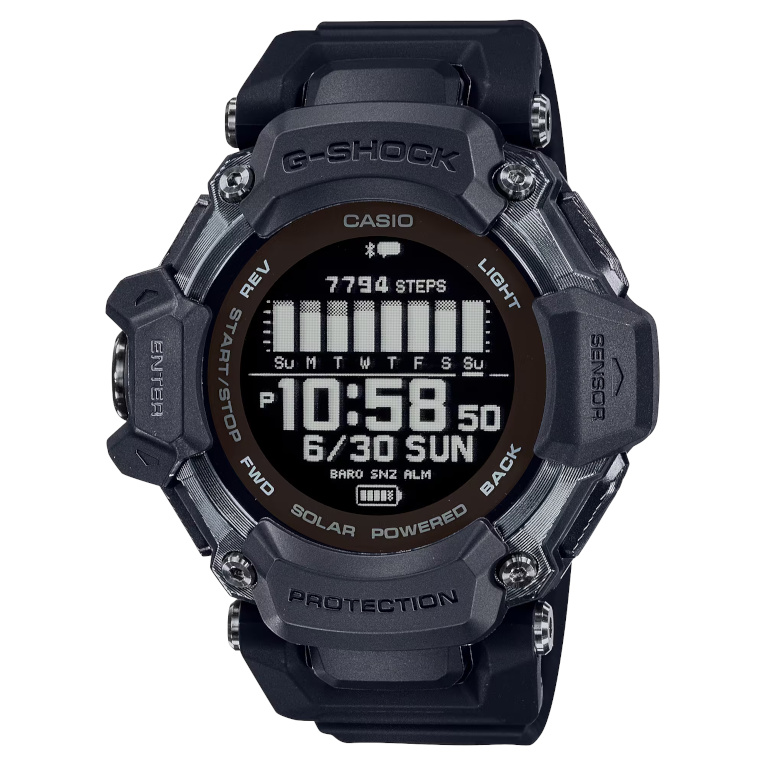 Buy GBDH2000-1B
Amazon
G-Shock GBD-H2000-2: Blue and orange.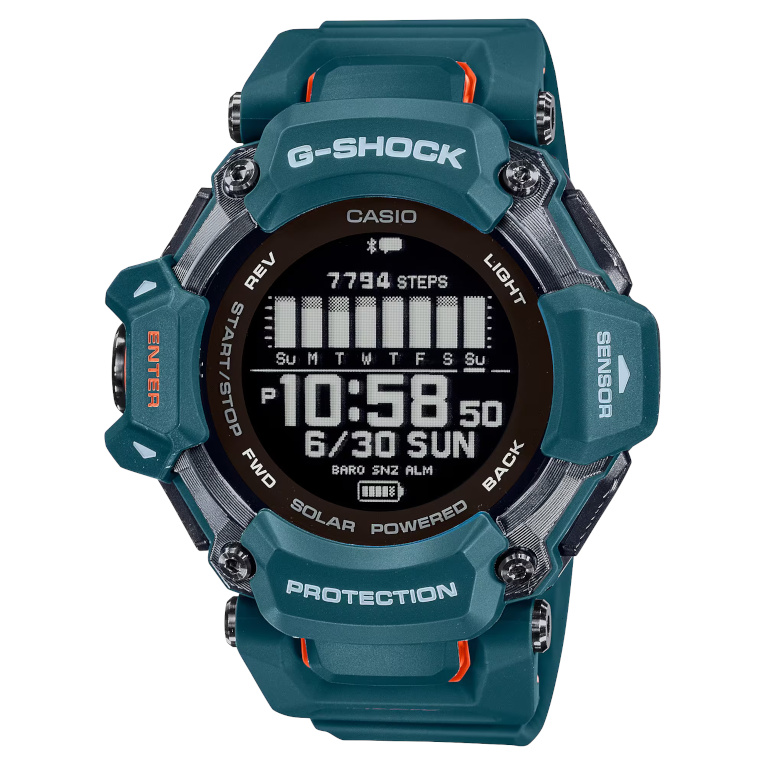 Buy GBD-H2000-2JR (Japan Model)
eBay
GBD-H2000 Promotion Video