(We already covered all the models mentioned here but if you are late to the party here is an overview of the major Casio G-Shock, Pro Trek, and Baby-G announcements at Baselworld 2016 with some related links below.)
Baselworld, The World Watch and Jewellery Show, is the watch industry's premier expo event that takes place every spring in Basel, Switzerland. For Baselworld 2016 Casio introduced four new G-Shock models, one Pro Trek model, and one Baby-G model. Most of these new models share a common theme of ocean-inspired features.
While Baselworld was traditionally known as an analog watch expo, the emergent smartwatch market now has a large presence at the show. The Casio WSD-F10 Smart Outdoor Watch also made an appearance and continued its buzz after a strong CES 2016 showing.
G-Shock Frogman GWF-D1000 with Depth Meter
The biggest G-Shock announcement of the season is the Frogman GWF-D1000, the latest version of G-Shock's flagship ISO-compliant 200-meter diving watch. It retains a similar form factor as the previous GWF-1000 but now has a Triple Sensor that includes a depth meter, thermometer, and compass bearing sensor that can all function underwater. It still has the Tough Solar and Multi-Band 6 features along with the tide graph and moon phase chart. The Frogman module is housed in an all stainless steel body which makes it a step above other all-digital G-Shock models (with the exception of the import-only GW-5000-1JF). Though it continues to rise significantly in price, the new Frogman gives us faith that G-Shock isn't neglecting the development of its all-digital models. It also makes us wonder how much life the GWF-1000 series has left in it.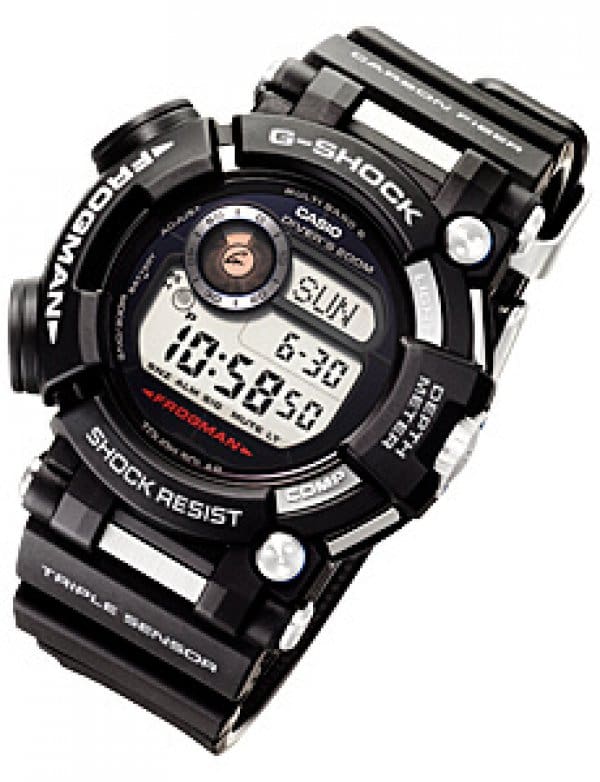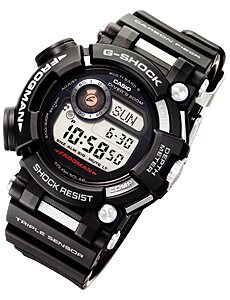 G-Shock Gulfmaster GWN-Q1000 with Quad Sensor
Perhaps the most unexpected Casio announcement at Baselworld is the introduction of the G-Shock Gulfmaster GWN-Q1000. The new Gulfmaster is the first Quad Sensor G-Shock with an altimeter/barometer, compass, thermometer, and now a depth gauge like the new Frogman. The Gulfmaster started its life as the GWN-1000, a curious-looking yet very advanced model that was basically an upgraded Pro Trek. With a new diving-based design and an upgraded sapphire crystal, the Gulfmaster is now coming into its own as one of the premier analog Master of G watches and G-Shock's only analog model with a depth gauge. Along with Tough Solar power, Multi-Band 6 radio timekeeping, tide graph, moon age data, and now also sunrise and sunset data, the Gulfmaster GWN-Q1000 is one of most feature-rich G-Shock models available.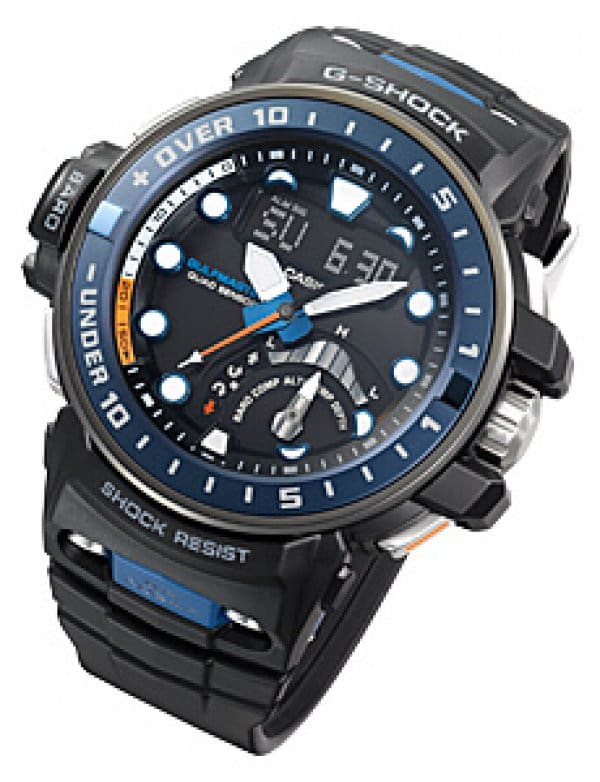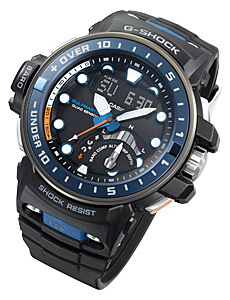 Luxury G-Shock Watches: MRG-G1000HT and MTG-G1000AR
2016 marks the 20th anniversary of the G-Shock MR-G line that started off as the resin and titanium hybrid MRG-1 and developed into what is now known as the full metal-bodied G-Shock line with its second release, the MRG-100. It was the MRG-8000 that brought Casio back to Baselworld in 2008 after a six-year absence. The MR-G represents the pinnacle of the G-Shock family and recently Casio has been releasing ultra-limited MR-G models during Baselworld. These special edition models pay tribute to Japanese tradition, creativity, and excellence in craftsmanship. This year brings us the MRG-G1000HT Hammer Tone model featuring a uniquely textured bezel and center band accomplished with the traditional Japanese crafting technique known as "tsuiki." The watch also features traditional "akagane" accents with a copper gold color.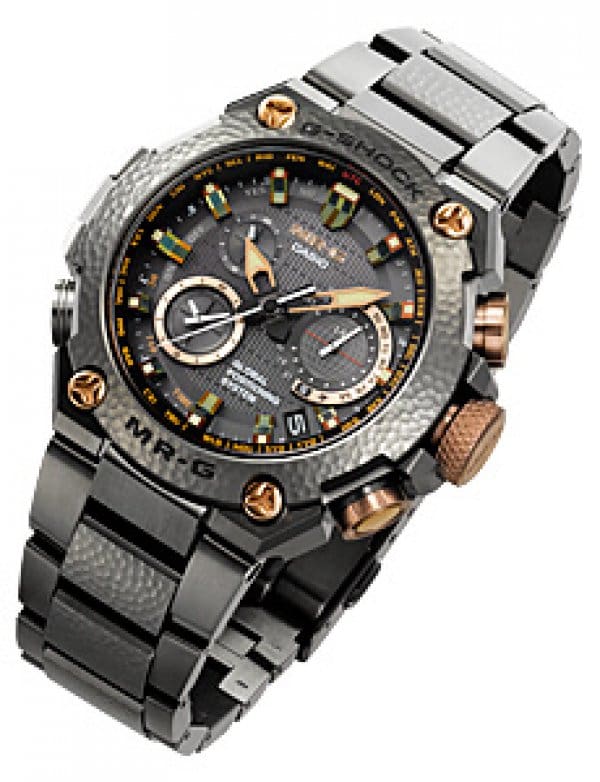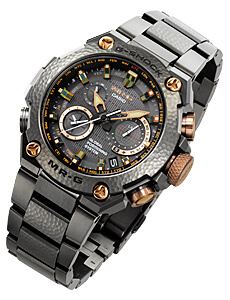 Luxury G-Shock MT-G stainless steel models with an aged IP treatment are another recent Casio tradition at Baselworld. This year brings us the MTG-G1000AR with a tasteful rose gold IP which is given the aged IP treatment with a worn-down black IP over it to give it a vintage look. The MTG-G1000AR is nicknamed the Sunken Treasure edition. It represents the spirit of adventure and the discovery of a treasure that will be cherished for a lifetime. For more vintage GPS-hybrid goodness there is also the GPW-1000VFC-1A on the way featuring a silver aged IP bezel and a composite folding clasp band.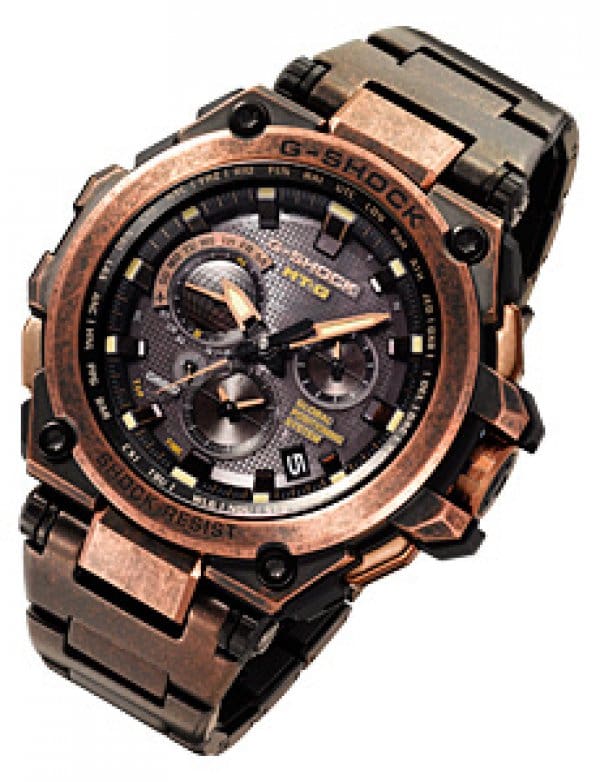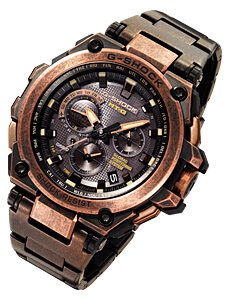 Pro Trek PRW-7000 with Triple Sensor and 200M WR
Casio Pro Trek continues its push into prestige territory with the PRW-7000, an analog-digital design that shares a similar clean and simple aesthetic as the top of the line PRX-8000T. Though it has a refined look, the PRW-7000 is designed for water use and has 200-meter water resistance, the Triple Sensor (altimeter/barometer, compass, and thermometer), tide indicator, and moon age data.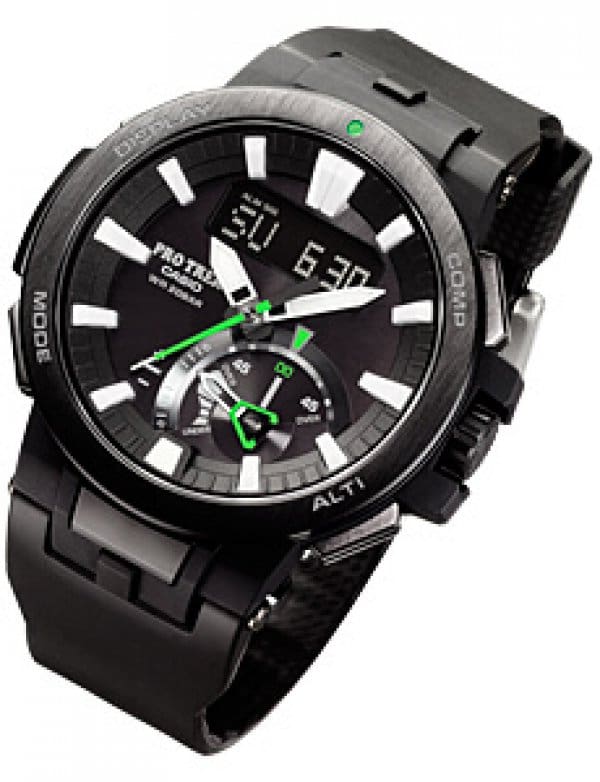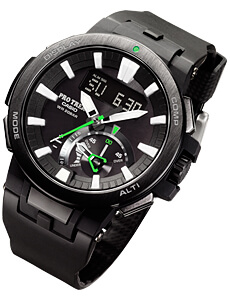 Baby-G BGA-220 Beach Glamping Series
Baby-G gets an all new model with the BGA-220 Beachside Glamping Series. Combining a luxurious style with Baby-G shock protection, the BGA-220 is a true go-anywhere watch. A selection of colored IP stainless steel bezels combined with metal-coated markers gives the BGA-220 models a classy look that is a bit dressier than the sporty look of most Baby-G watches. The BGA-220 isn't just all about looks though. It is a true ocean watch with 200-meter water resistance, a tide indicator, moon age data, and thermometer sensor.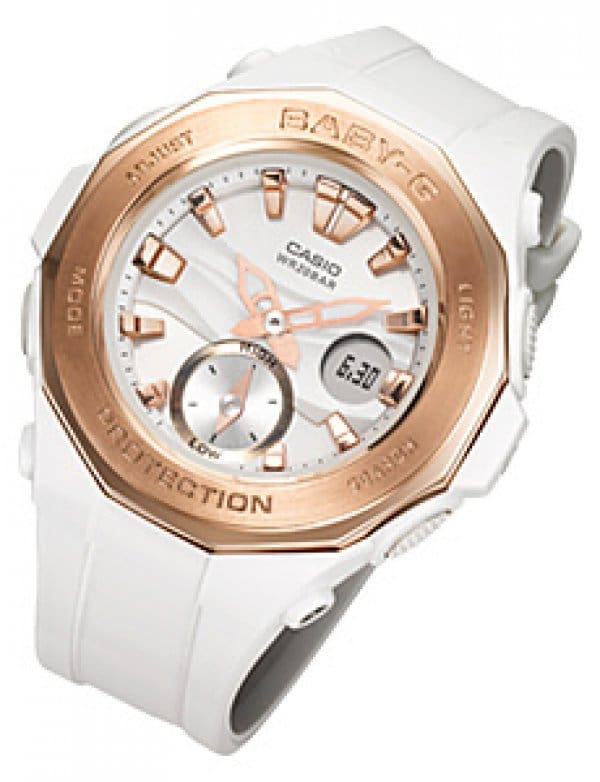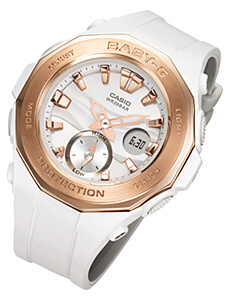 2016 looks to be another great year for Casio and its outdoor watch brands. With the highly anticipated Smart Outdoor Watch and new ocean-themed G-Shock, Pro Trek, and Baby-G models, there is a lot to look forward to over the coming months. Also don't forget about the new, affordable Mudman GG-1000 and GAX-100 tide watches that are right around the corner. The year isn't even half over yet and we are likely to see even more all-new models by year's end. Enjoy the ride.
More Casio at Baselworld 2016 content:
news.mynavi.jp has many photos from the Casio showroom.
A Blog To Watch has the first hands-on look of the Frogman GWF-D1000.
Casio also had this impressive dancing light sculpture at Baselworld: