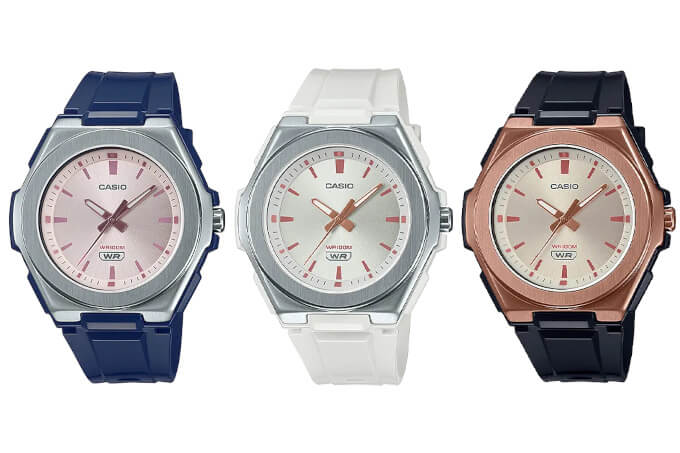 Another interesting new budget series from Casio is the LWA-300H series for women, which was released in Asia and the Middle East in February, and recently listed for the U.S. The three debut models include the silver and blue LWA-300H-2EV, the silver and white LWA-300H-7EV, and the rose gold and black LWA-300HRG-5E.
This model resembles the more advanced and shock-resistant MSG-S600 but with a simple full analog display with three analog hands. It has a stainless steel bezel, resin case, resin band, and resin glass. It is water-resistant to 100 meters. The battery is rated for approximately 3 years. The watch measures 42.6 x 42 x 11.4 millimeters and weighs 34 grams. (Casio.com lists it as having mineral glass, which is what Baby-G and most G-Shock watches use, but Casio-intl.com lists it as having resin glass, and we believe it is most likely resin glass at this price point.)
This is a no-frills watch, as it doesn't have any other functions, a light, or a date display, but with its attractive style, stainless steel bezel, and 100M WR, it's hard to complain about a lack of features at this price. In the U.S., the LWA300H-2EV, LWA300H-7EV, and LWA300HRG-5E have a list price of $33.95 each.