2018 turned out to be an incredible year for G-Shock and the 35th Anniversary was its biggest and best. Not only did we get some great anniversary editions as usual but we also got some big surprises and experienced the unprecedented demand and shortage of a new G-Shock model like no other. Even without all the anniversary specials or the phenomenal success of the GMW-B5000, it still would have been an extraordinary year as Casio released many all-new models that carry on the tradition of toughness and innovation that G-Shock is famous for.
This list of the top G-Shock and Pro Trek releases of 2018 does not include any of the limited anniversary watches which already have a list of their own: G-Shock 35th Anniversary Limited Edition Watches.
G-Shock DW-5750 Series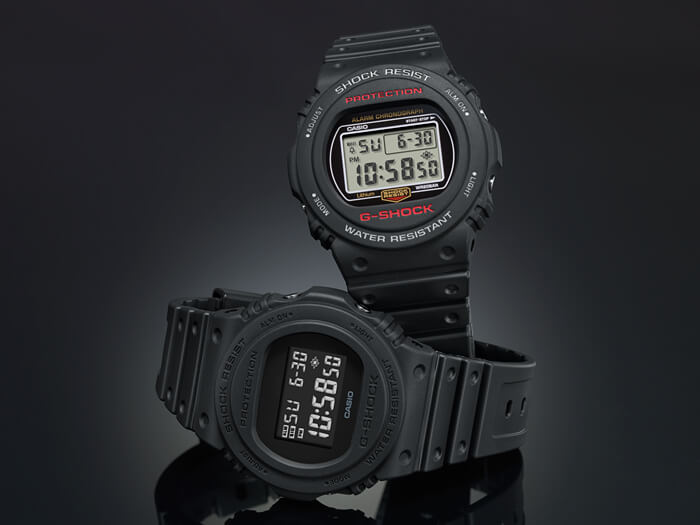 The first surprise of 2018 was the revival of the DW-5700 series, which evolved from G-Shock's first round-face model (DW-5400) from the 1980s. The last time we saw a DW-5700 model was during the G-Shock 25th Anniversary. The new DW-5750E-1 and DW-5750E-1B are standard black-red and blacked-out models. We also got several other DW-5700 anniversary releases (including two screw-back models) and the introduction of the G-LIDE GWX-5700 series, a tide/moon surfing model with Tough Solar and Multi-Band 6 radio timekeeping.
G-Shock GBA-800 and GBD-800 with Step Tracker and Bluetooth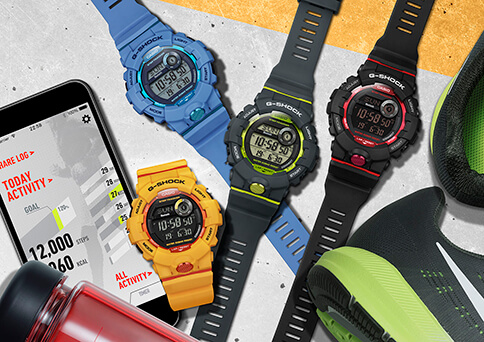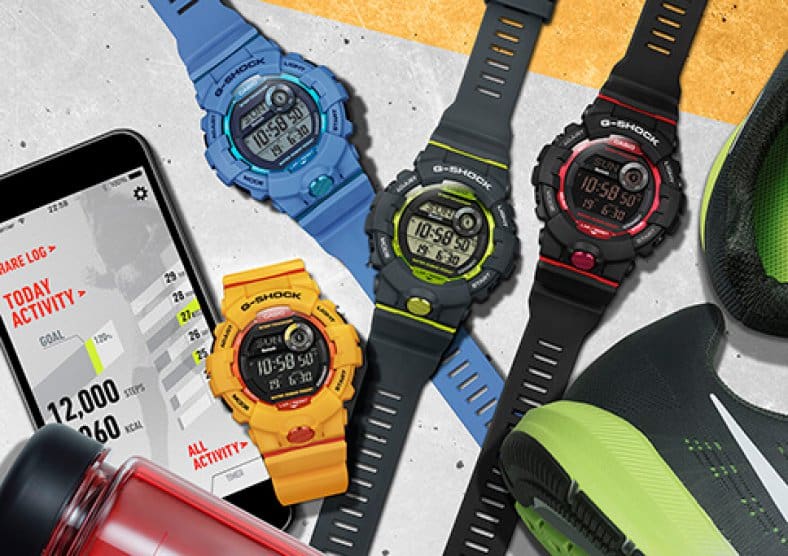 The GBA-800 (analog-digital) and GBD-800 (digital) are part of the new G-SQUAD line of fitness watches featuring Bluetooth mobile link, the Step Tracker pedometer, repeatable interval training timers, and stopwatch target time alerts. The G-SQUAD watches are the most affordable G-Shocks with Bluetooth connectivity and are mid-size watches suitable for men and women. In addition to viewing Step Tracker data and adjusting the timer, target time alerts, and settings, the Bluetooth connectivity also enables auto time adjustment and a phone finder function.
G-Shock GPR-B1000-1 Rangeman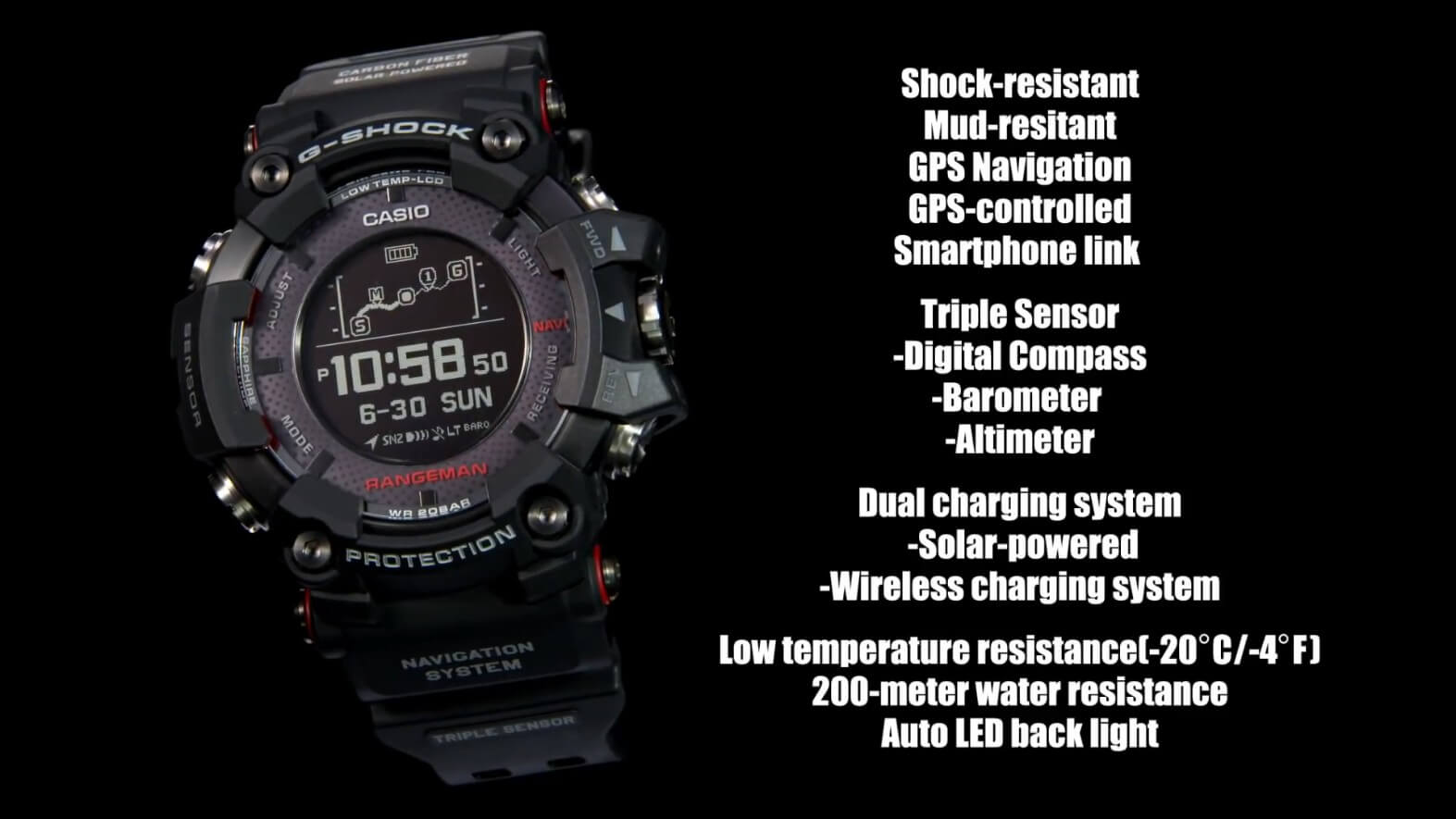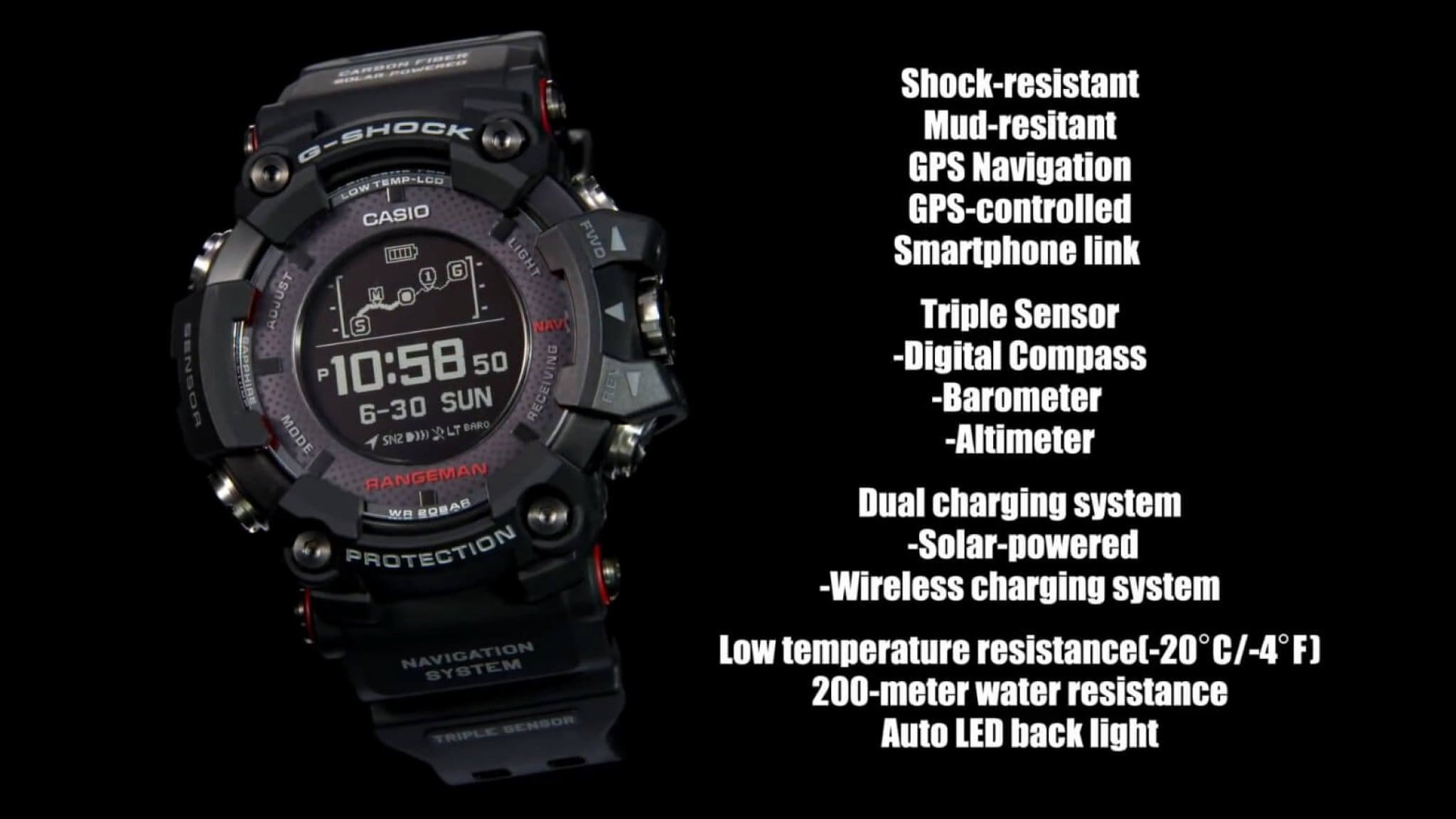 G-Shock updated the Rangeman line with the impressive GPR-B1000-1, the world's first solar-assisted GPS navigation device. In addition to GPS navigation, the new Rangeman features Bluetooth mobile link, the Triple Sensor (altimeter-barometer, compass, thermometer), mud resistance, and wireless charging.
G-Shock GWG-100 and GSG-100 Mudmaster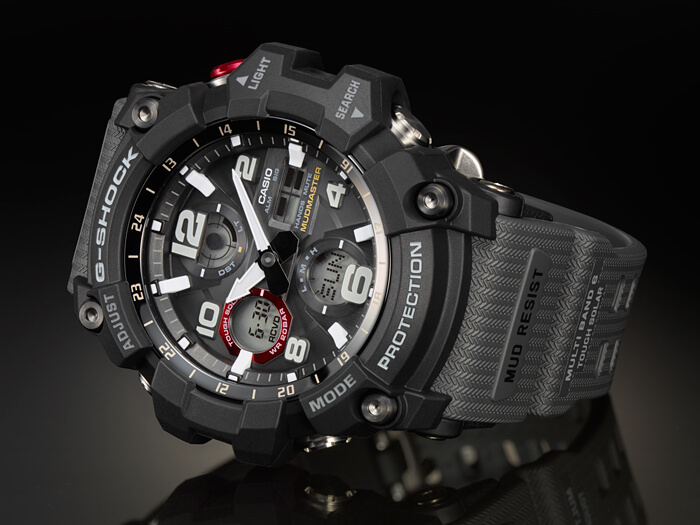 The GWG-100 Mudmaster (with Tough Solar and Multi-Band 6) and GSG-100 Mudmaster (with Tough Solar) offer a slightly smaller, more affordable Mudmaster with Tough Solar power. They also introduce the Neon Illuminator (black light LED) to the Mudmaster line.
G-Shock GA-700CM Camouflage Series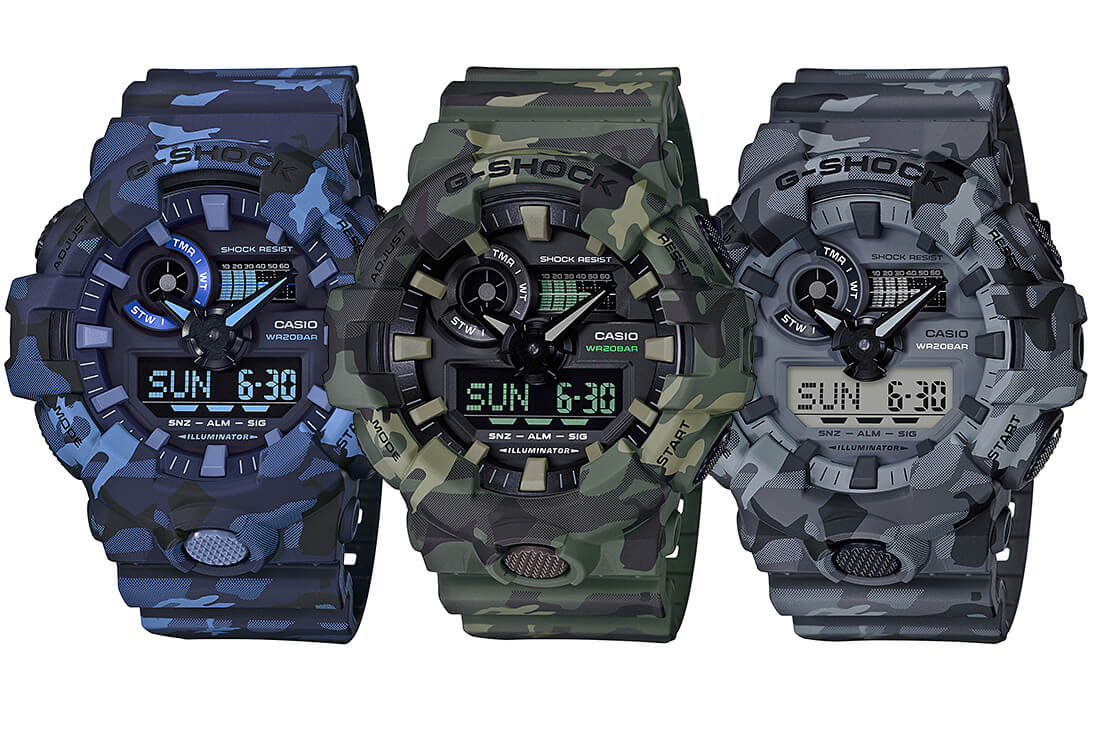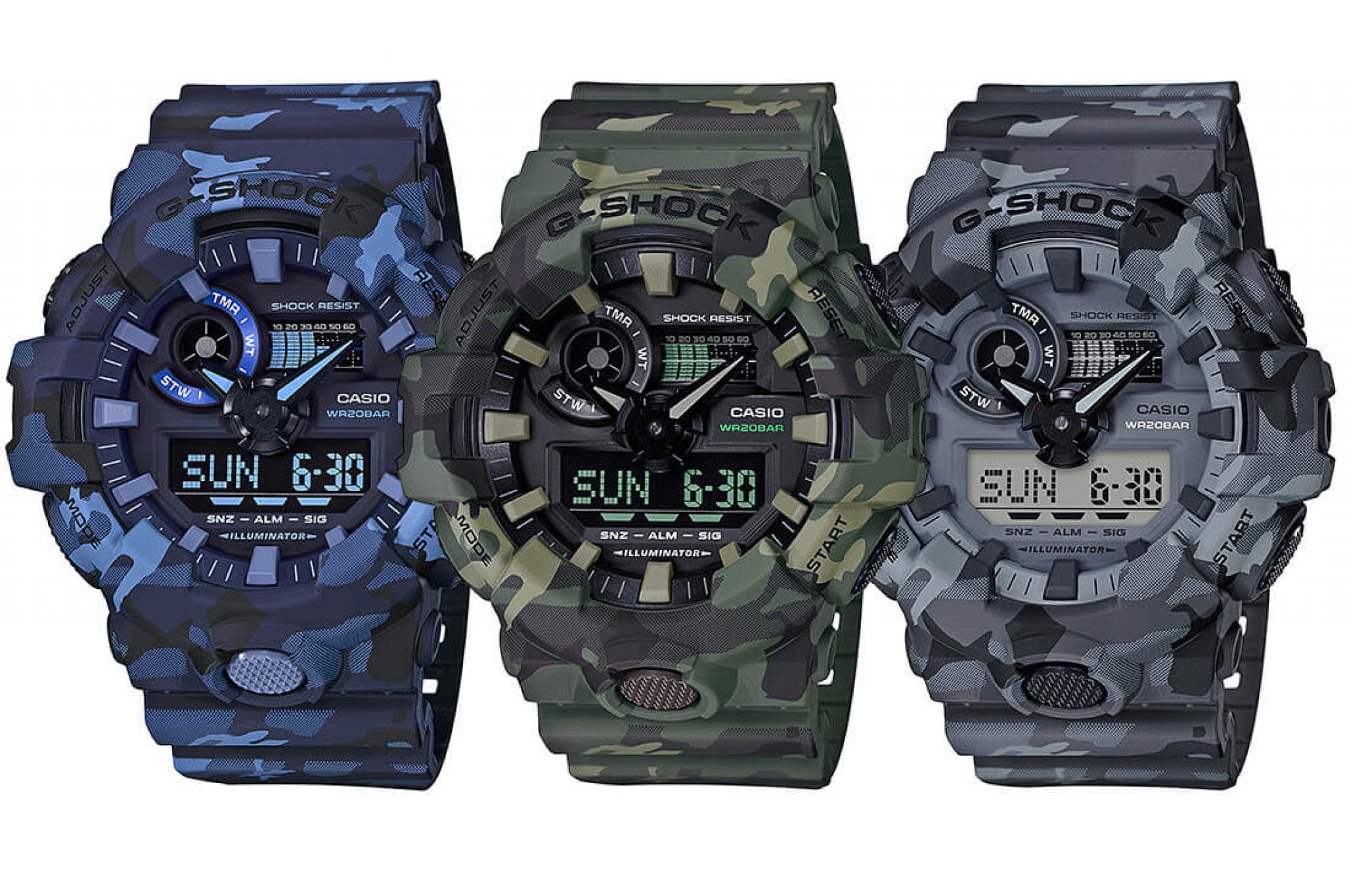 After a prolonged absence of new camouflage G-Shock models, Casio released the GA-700CM Camouflage Series featuring traditional woodland camouflage patterns in green, gray, and blue.
G-Shock GMW-B5000 Series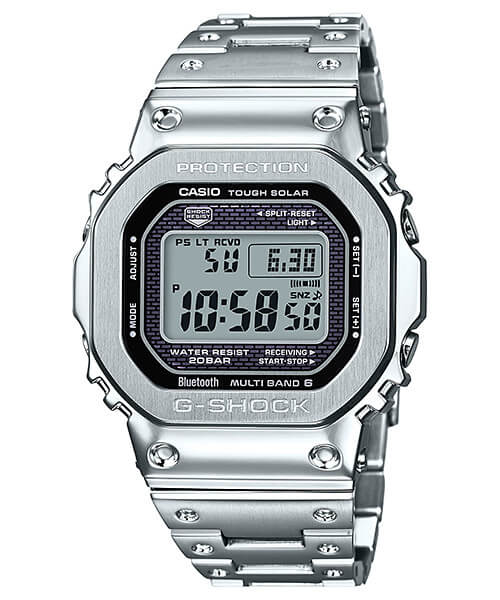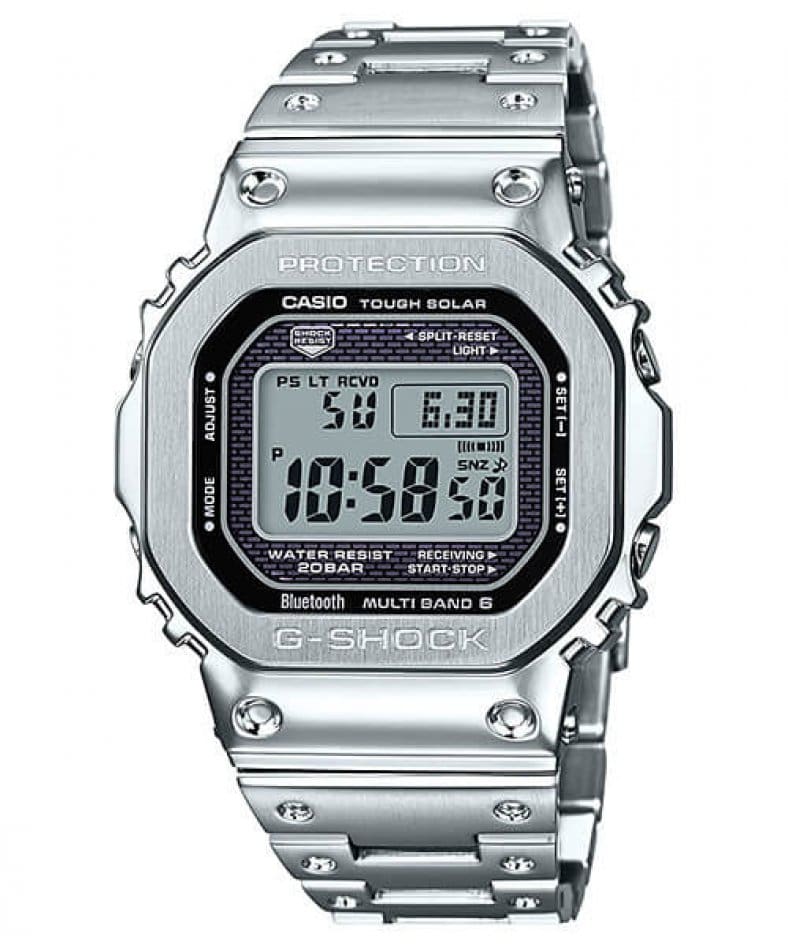 Without a doubt the release of the year, the full-metal GMW-B5000 series launched with some limited edition versions and the silver GMW-B5000D-1 that were all nearly impossible to find before they sold out. It was a given that the hardcore G-Shock fans would want these but nobody anticipated how immensely popular this series would be. Its success reflects the evolution of G-Shock from an iconoclastic niche player into a mainstream powerhouse. The GMW-B5000 is the ultimate prestige G-Shock and a perfect blend of the past with the present. It pays homage to the original case from 1983 and has the latest features such as Tough Solar power, Multi-Band 6, and Bluetooth mobile link. Casio also released the GMW-B5000GD-1 and GMW-B5000GD-9, black IP and gold IP models with reverse STN LCD displays, which may be a little easier to find (but maybe not). Though Casio continues to produce and release more of the GMW-B5000D-1 worldwide, it still continues to sell out quickly. We suggest regularly checking the websites of authorized dealers as frequently as possible.
G-Shock GWG-1000-1A1 Mudmaster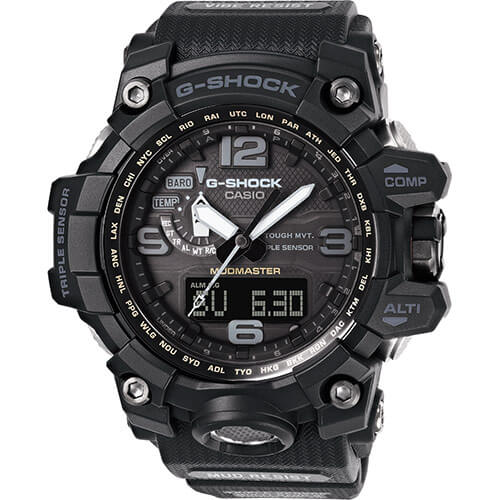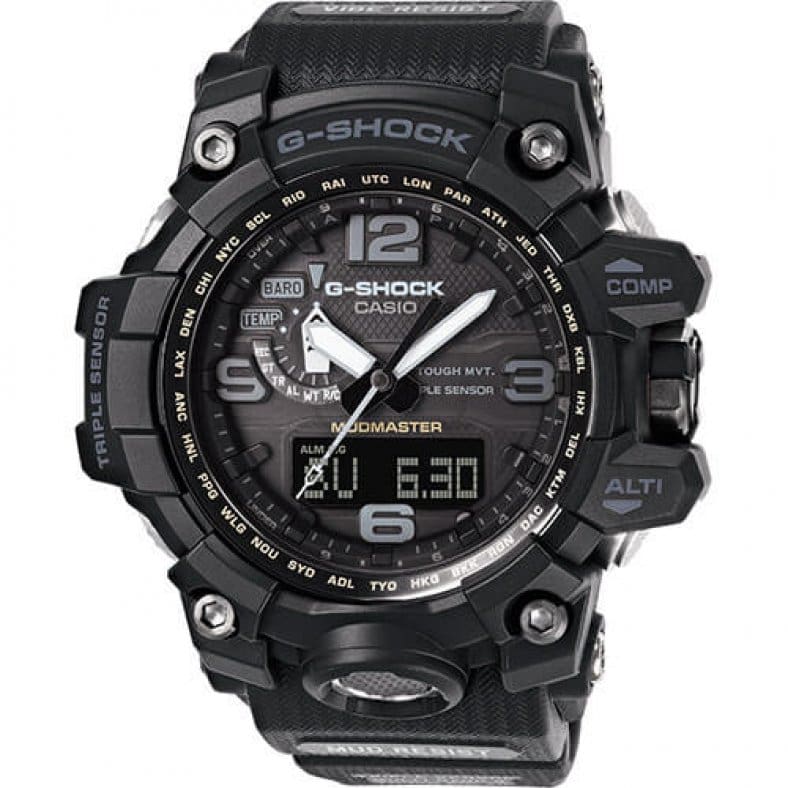 The black and gray scheme of the GWG-1000-1A1 Mudmaster gives it an ultra-tough look and makes it the optimal Mudmaster for those who want to keep it simple. The GWG-1000-1A1 features Tough Solar power, Multi-Band 6 auto radio time adjustment, and the Triple Sensor.
Pro Trek Smart WSD-F20A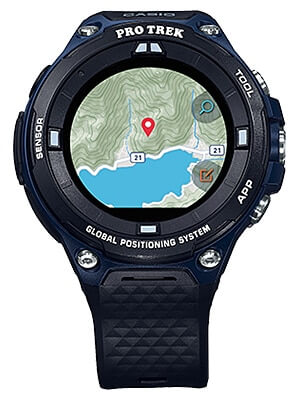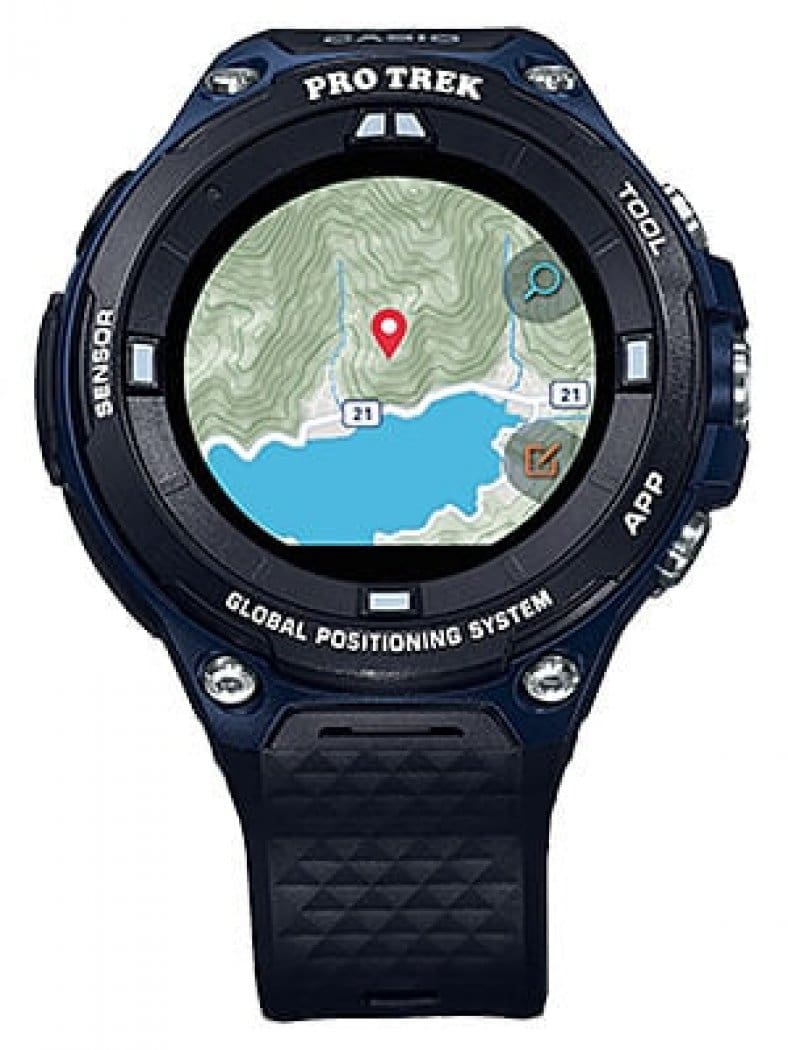 Though it has many special features designed for outdoor use (50-meter water resistance, MIL-STD ruggedness, built-in GPS with offline maps, and a power-saving dual-layer color/monochrome display), the Google Wear OS-powered Pro Trek WSD-F20 smartwatch has a list price that is a bit high compared to other smartwatches. To remedy this, Casio introduced the Pro Trek WSD-F20A, a more affordable version with all the same features. In order to cut the costs, the WSD-F20A has a resin strap buckle and smooth non-textured side buttons.
G-Shock MT-G MTG-B1000 Series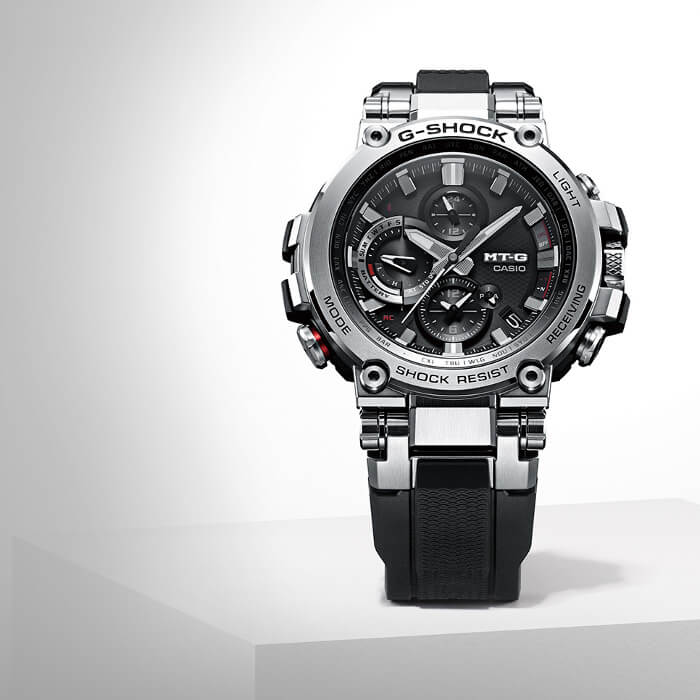 Casio reinvigorated the luxury stainless steel MT-G line with the MTG-B1000 Series featuring a smaller case (which is more like a large than the previous extra-large size) and Bluetooth mobile link along with lightweight resin bands for the launch models. Versions with a stainless steel band are also available.
G-Shock G-STEEL GST-S130BC-1A and GST-S130BC-1A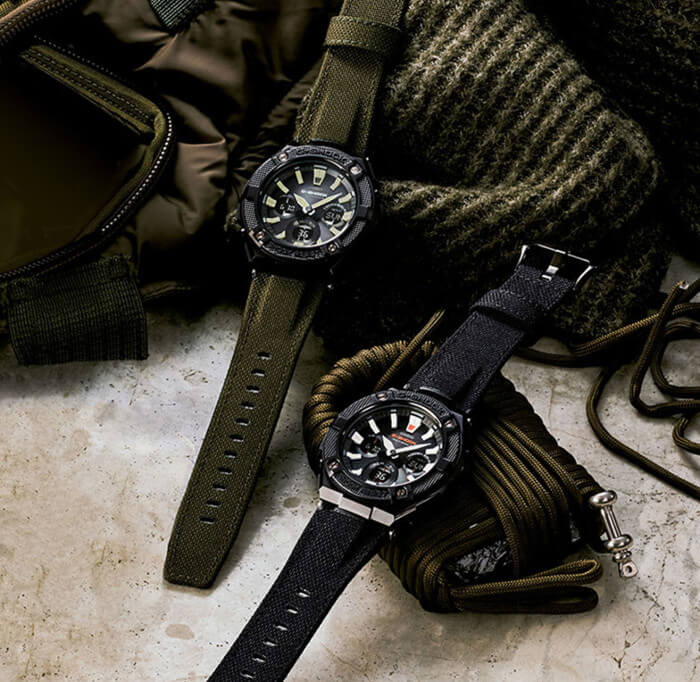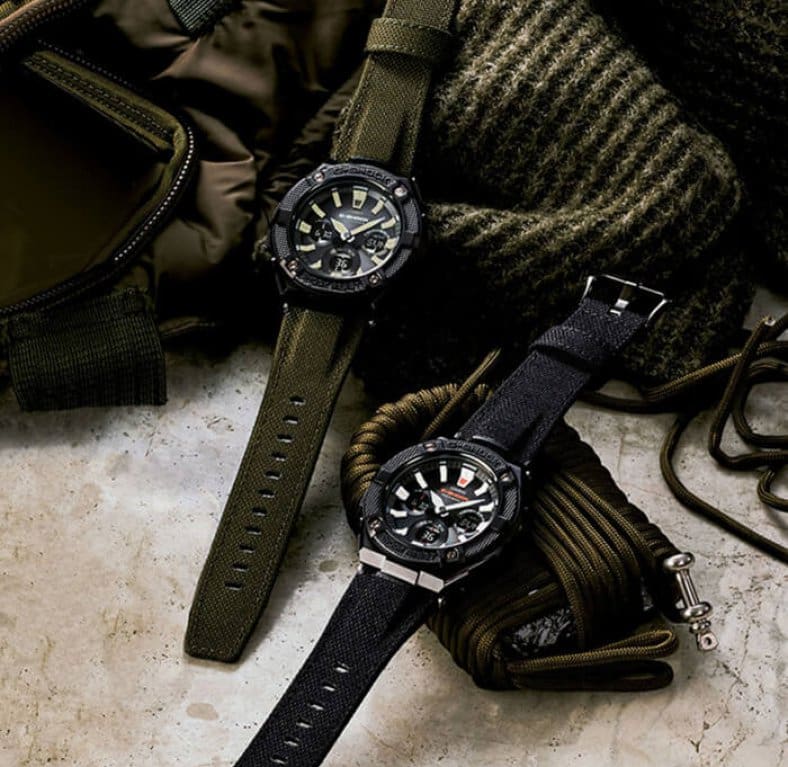 The G-Shock GST-S130BC-1A & GST-S130BC-1A3 add a more outdoorsy look to the metal-body G-STEEL line with knurled bezels, black IP stainless steel bodies, and hybrid Cordura/Tough Leather bands. These "130" models also have the Neon Illuminator blacklight LED for enhanced nighttime viewing.
Baby-G/G-Shock Women G-MS MSG-S200 Series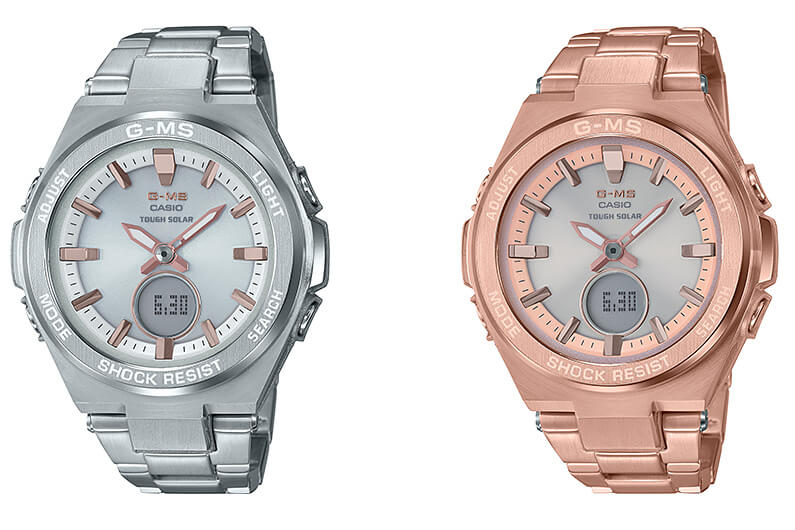 Launched under G-Shock Women in the U.S. and Baby-G in Asia, the G-MS MSG-S200 series offers Tough Solar power with a slimmer and more refined style. Debuting with four resin-band models, the MSG-S200 is also available in a silver or rose gold version with a stainless steel band. With its forged stainless steel bezel, the MSG-S200 has full shock resistance like a G-Shock and 100-meter water resistance.
G-Shock GR-B100 Gravitymaster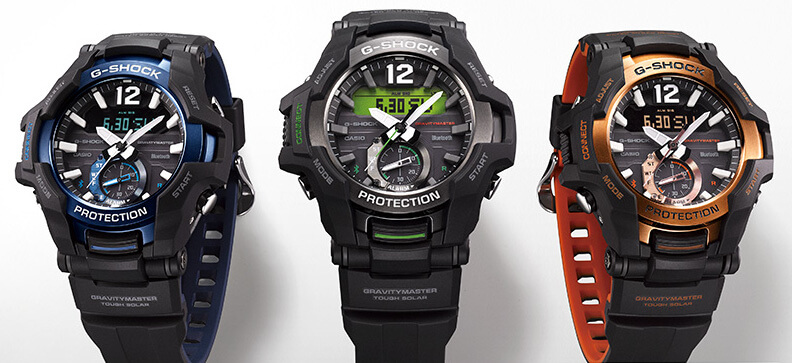 The new GR-B100 Gravitymaster aviation series proves you don't have to spend crazy money to get an advanced G-Shock watch. The analog-digital GR-B100 features Tough Solar power, Bluetooth mobile link, and a full-dot STN LCD display. Some of its unique piloting and travel features include five countdown alarms (each including year, month, day and time settings) that can display the remaining days and hours digitally, and a flight log function to record times and locations (when connected to the G-Shock Connected smartphone app). The GR-B100 also has a 1/1000-second stopwatch and 24-hour countdown timer.
G-Shock GG-1000-1A8 Mudmaster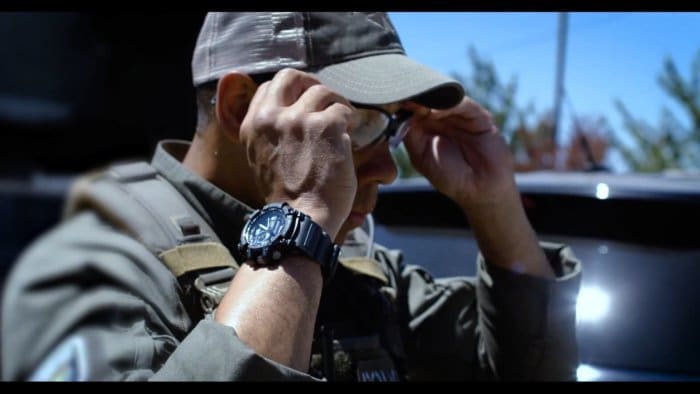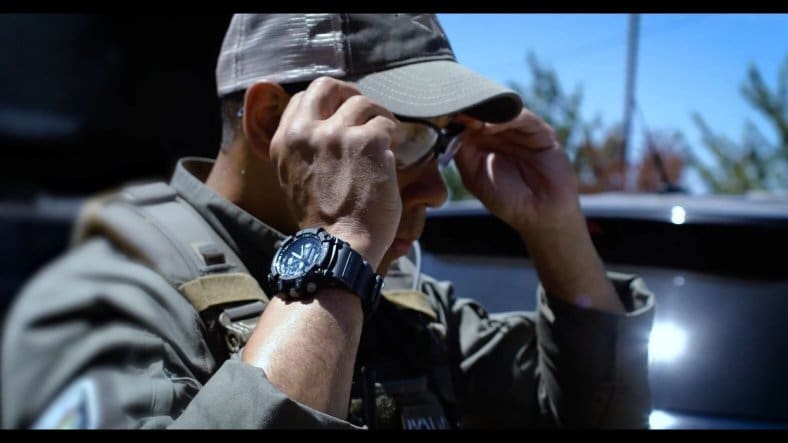 The popular GG-1000 series is a slightly smaller and more affordable Mudmaster than the GWG-1000. A popular series in America, the GG-1000 is battery-powered and has the Twin Sensor with a compass and thermometer. The GG-1000-1A8 comes in a uniform-friendly black, gray, and blue color scheme and is a fine choice for law enforcement personnel.
G-Shock GW-B5600BC-1B Series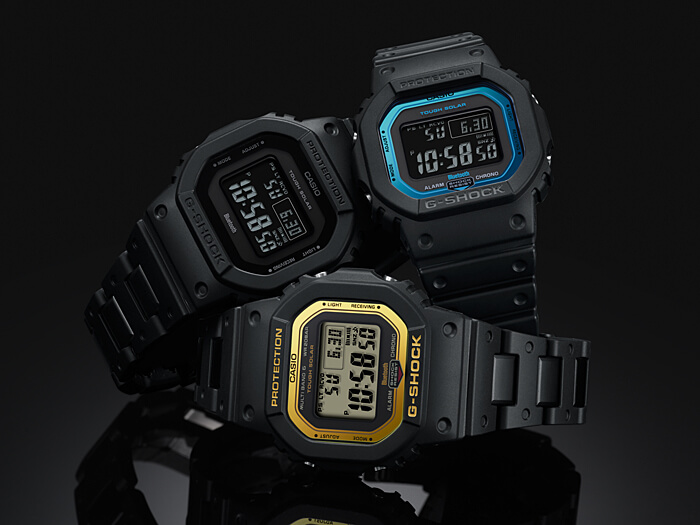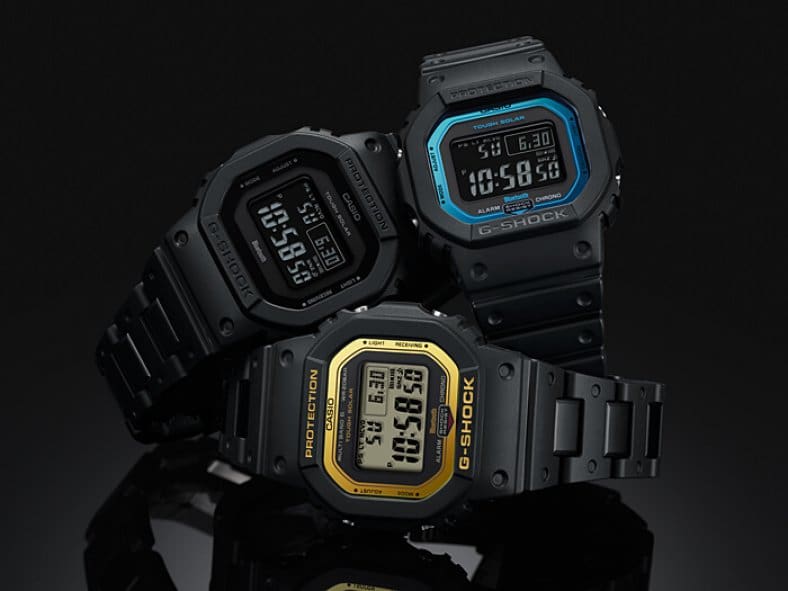 The GW-B5600 offers the same Bluetooth features as the full-metal GMW-B5000 series but in a lighter and more affordable resin version with a composite band. The GW-B5600 series offers the most affordable G-Shock watches that have both Tough Solar power and Bluetooth mobile link. Like the GMW-B5000 it also has Multi-Band 6 radio wave timekeeping, though you won't need to use it if you opt to connect to a smartphone for automatic time adjustment.
G-Shock DW-5900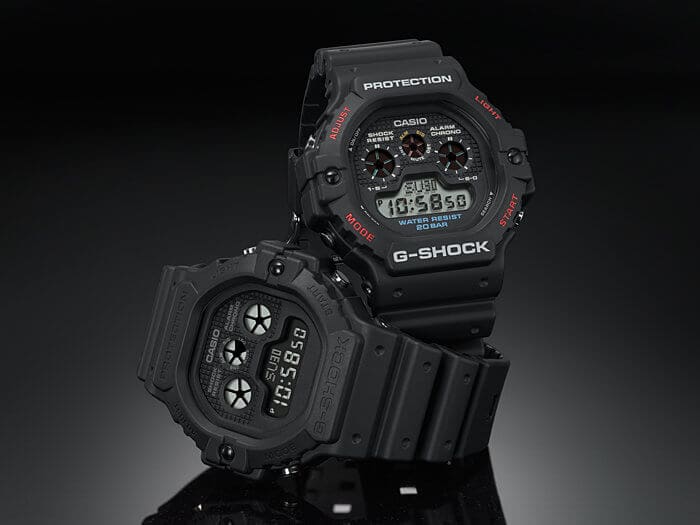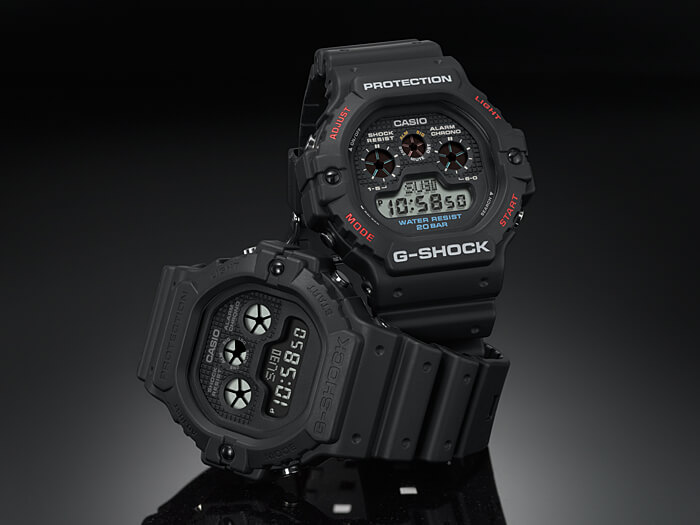 The DW-5900 hasn't been seen since the early 1990s but Casio decided to bless us with its presence again as the DW-5900-1 and DW-5900BB-1. The fact that this series was resurrected reminds us why we love following G-Shock, a company that is not afraid of having some fun revisiting the past while forging ahead to the future. Let the countdown to 2023 begin.
(Note: There were a lot of other G-Shock releases in 2018 not mentioned here. For all watches available please visit the Shopping category and for featured watches released in North America visit the Featured category.)