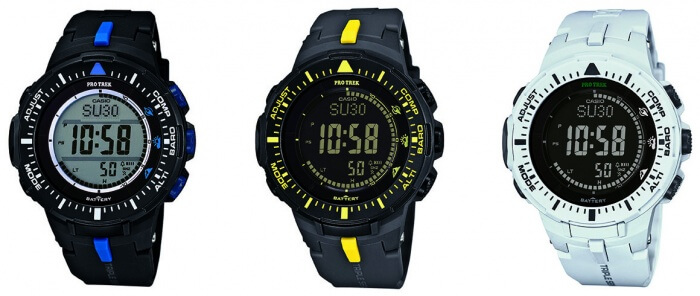 Casio America originally announced the Pro Trek PRG300 in mid-2015 and recently released a press release billing it as the "ideal tool for outdoor enthusiasts this winter." The PRG300 is a smaller, slimmer Pro Trek watch equipped with the Triple Sensor Version 3. The Triple Sensor includes environmental sensors for altitude, barometric pressure, compass bearing, and temperature. The watch is also Tough Solar powered and water resistant to 100 meters. Other features include low temperature resistance (-10C/14F), sunrise/sunset data, world time, stopwatch, countdown timer, and four daily alarms. It also has a full auto LED backlight for nighttime use. List price is $250.
The signature feature of the PRG300 is its size. It measures 56 × 47 × 12.6mm and weighs just 57 grams. It is the same size as the PRW3000 (with Multi-Band 6) model but weighs 10 grams less, making it the lightest Pro Trek watch available. The PRG is a great option for those who want an ABC watch without the bulkiness of a typical Pro Trek or G-Shock. It is also one of the more affordable Pro Trek watches. Its features and lightweight make it ideal for all outdoor activities such as hiking, biking, kayaking, and hunting.
The standard American models include the PRG300-1A2 (black and blue, standard LCD), PRG300-1A9 (black and yellow, reverse LCD), and PRG300-7 (white, reverse LCD). There is also a green camouflage PRG300CM-3 (reverse LCD) and a hunter's orange camouflage PRG300CM-4 (standard LCD) with a MSRP of $280.