The Pro Trek PRG-340 features the Triple Sensor Version 3, an exterior made of biomass plastics, and other design tweaks over the PRG-240.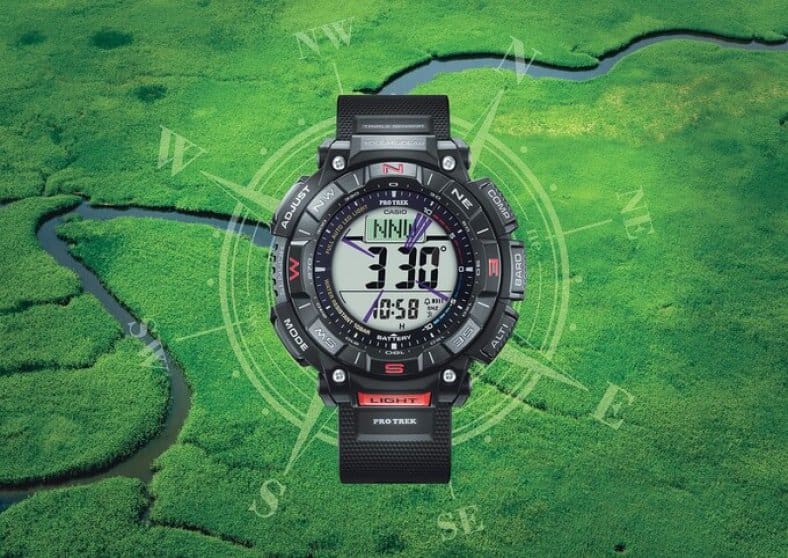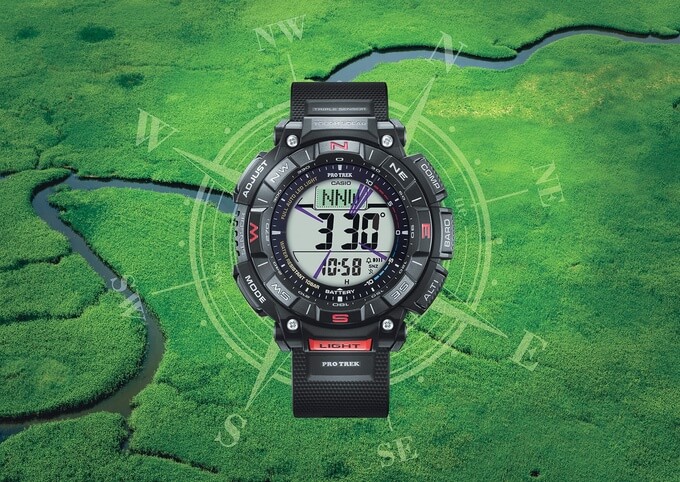 Casio is introducing the all-new Pro Trek PRG-340 series in August. Like the previous PRG-240, the major features of the PRG-340 include Tough Solar power, Triple Sensor (pressure: altimeter-barometer, compass, thermometer), 100-meter water resistance, a rotating bezel, and a duplex LCD for enhanced compass readings and other functions.
The PRG-340 is slightly narrower and slimmer than the PRG-240 (54.7 × 51.7 × 15.1 mm for the PRG-340 versus 57.3 × 50.9 × 15.3 mm), as well as lighter (54 grams for the PRG-340 models with a urethane band versus 66 grams). The front light button is now larger due to the adjust button being moved to the upper left where the sensor used to be, and the smaller sensor is now housed within the module on the left side. According to Casio, the buttons, including the dedicated sensor buttons, are easier to press. Like the recent Pro Trek PRW-61, the PRG-30 is made of eco-friendly biomass plastics, which are sourced from castor oil and corn. Biomass plastics are used for the case, bezel, and soft urethane band (for models with a urethane band). Another improvement is the Triple Sensor Version 3 upgrade, which allows for 1-meter altitude measurements in 1-second intervals (versus 5-meter and 5-second intervals for the PRG-240) and continuous measurement readings up to 60 seconds (versus 20 seconds for the PRG-240). The watch can also be laid completely flat, allowing it to be used with a paper map.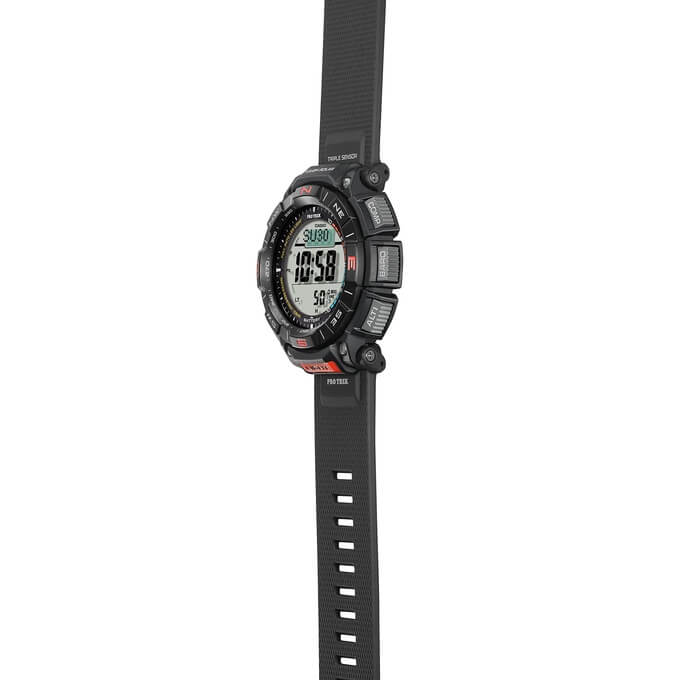 Announced for an international release in August, the three debut models include the black PRG-340-1, green PRG-340-3, and PRG-340T-7 with a titanium band. The PRG-340-1JF is also listed for an August release in Japan with a tax-included price of 29,700 yen.
Features: Tough Solar, Triple Sensor Version 3 (digital compass, barometer, altimeter, thermometer), low-temperature resistance (-10C/14F), world time (48 cities), sunrise/sunset time display, 1/10-second stopwatch (1,000 hours with elapsed time, split time, 1st-2nd place times), countdown timer (24 hours, settable in 1-minute and 1-hour increments), 5 daily alarms with 1 snooze, full auto Super Illuminator LED light with 1.5 or 3-second afterglow.
Module: 3513 (Instructions at Casio.com)
Advantages: Slimmer and lighter than the PRG-240. Updated Triple Sensor. Band can lay completely flat to navigate with paper map. Improved button placements.
Disadvantages: No Multi-Band 6 automatic time adjustment.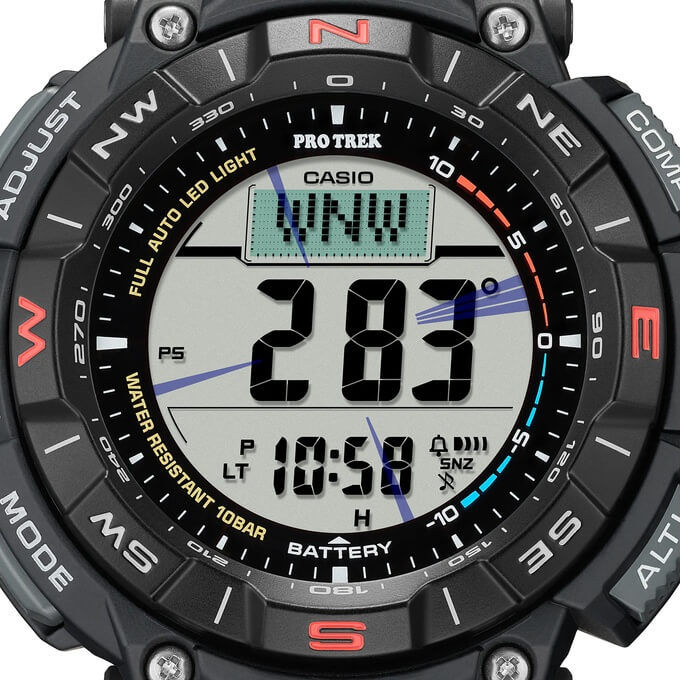 Pro Trek PRG-340-1: Black with soft urethane band. Total weight 54 grams. (Japan: PRG-340-1JF, 29,700 yen)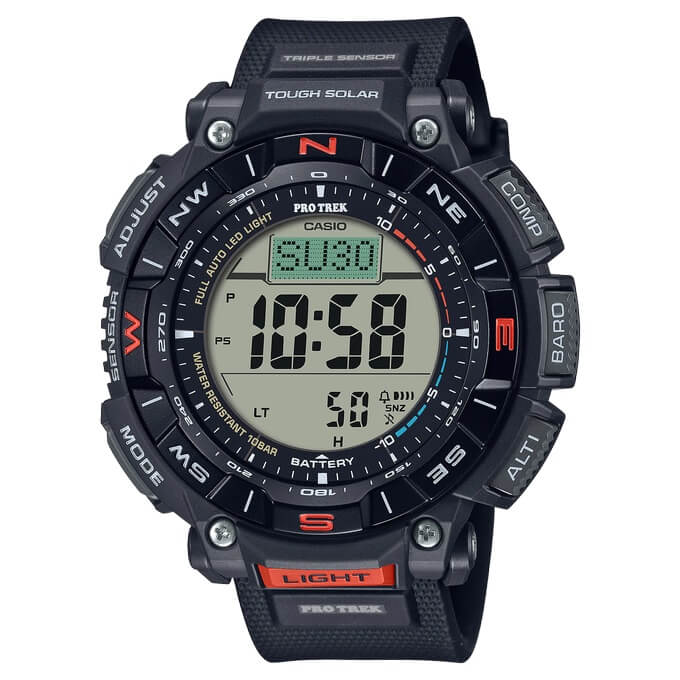 Buy PRG340-1:
Amazon eBay
(Affiliate Links: We may earn a commission at Amazon, eBay, and Reeds Jewelers.)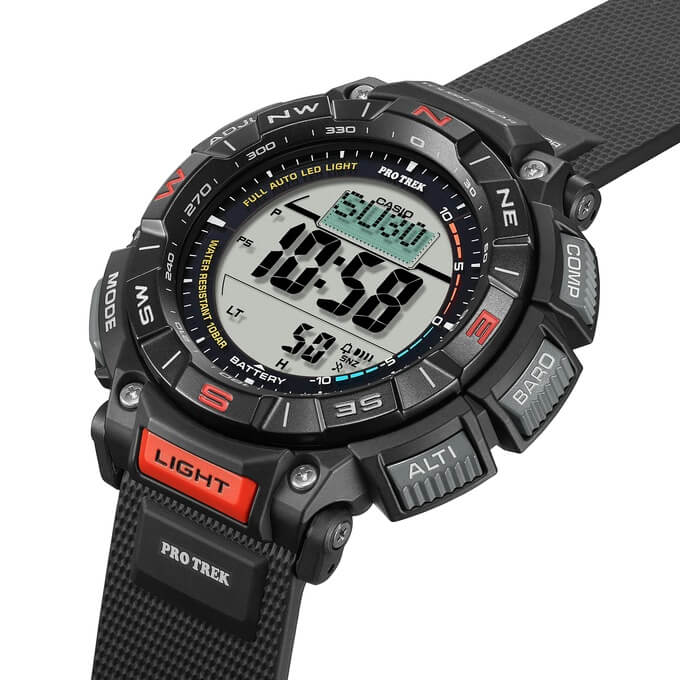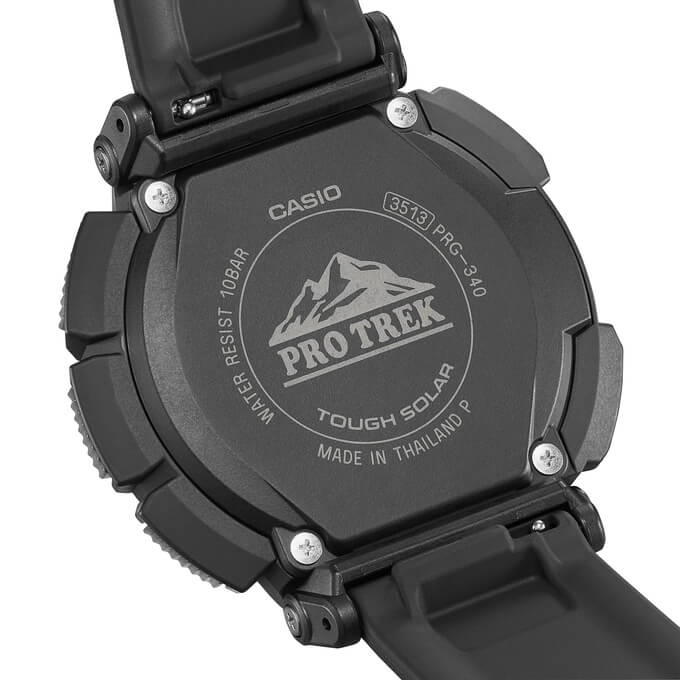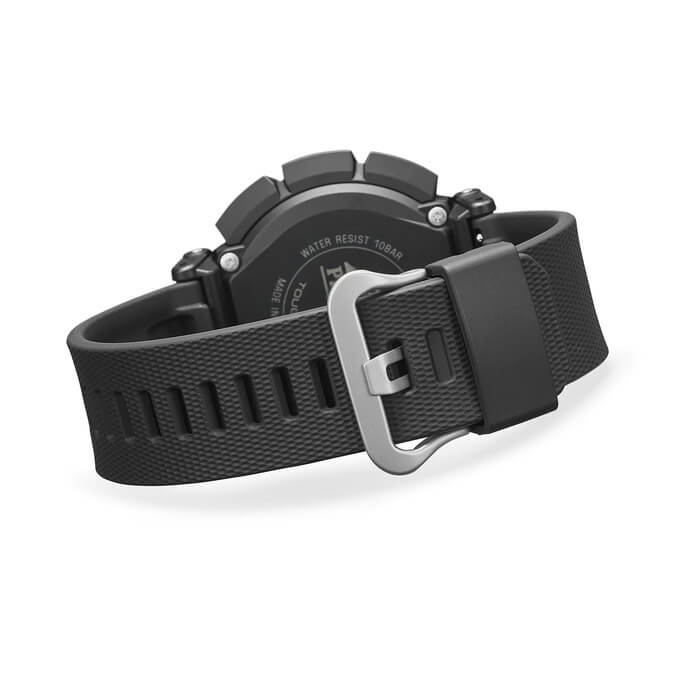 Pro Trek PRG-340-3: Green with soft urethane band. Total weight 54 grams.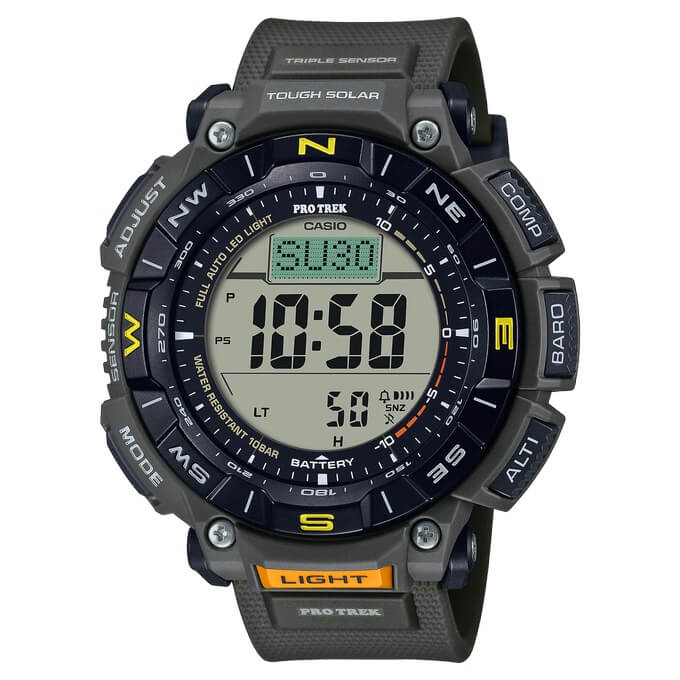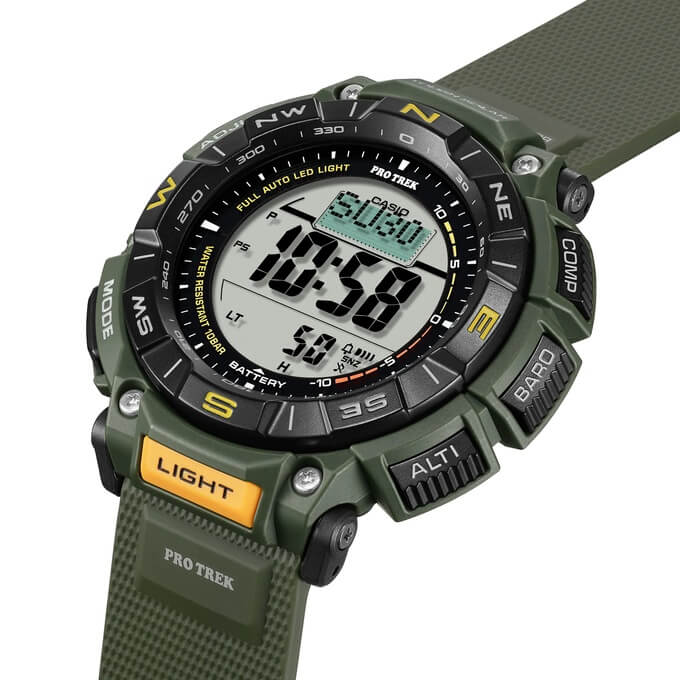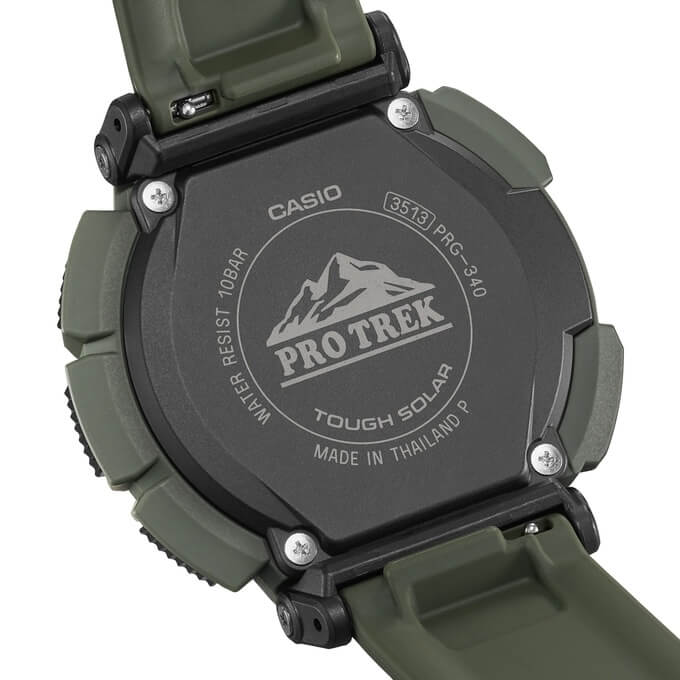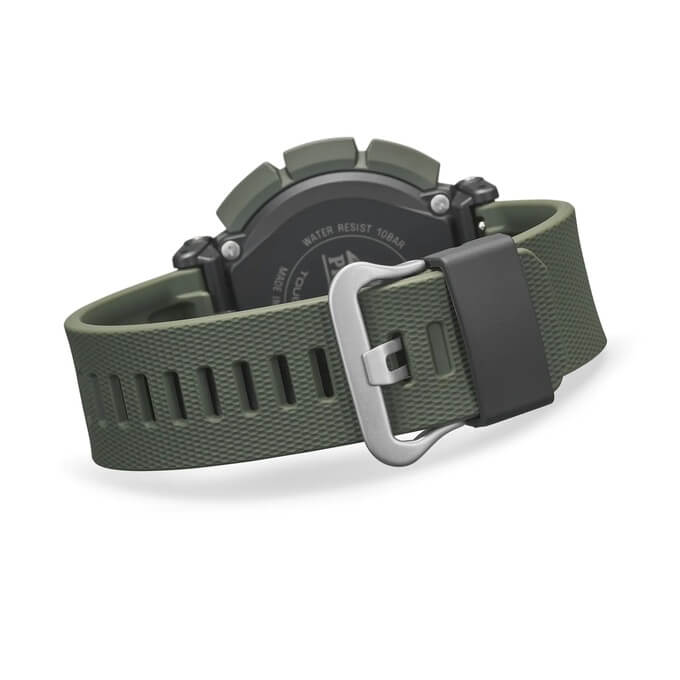 Pro Trek PRG-340T-7: With titanium band. Total weight 87 grams.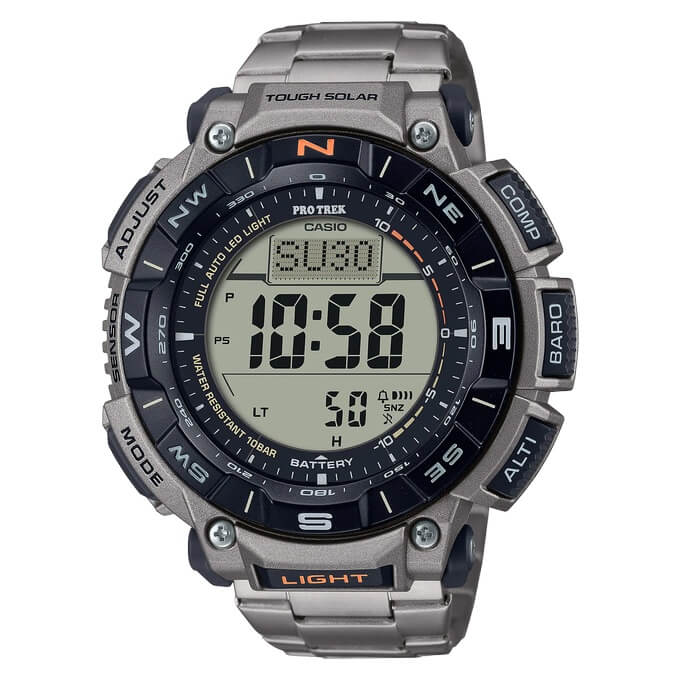 Buy PRG340T-7:
Amazon eBay
(Affiliate Links: We may earn a commission at Amazon, eBay, and Reeds Jewelers.)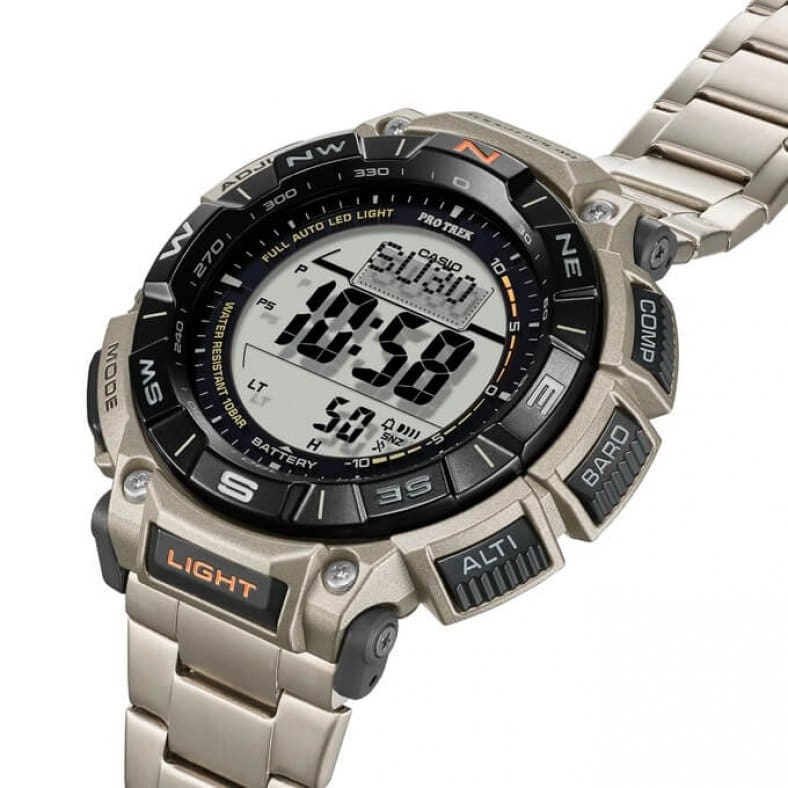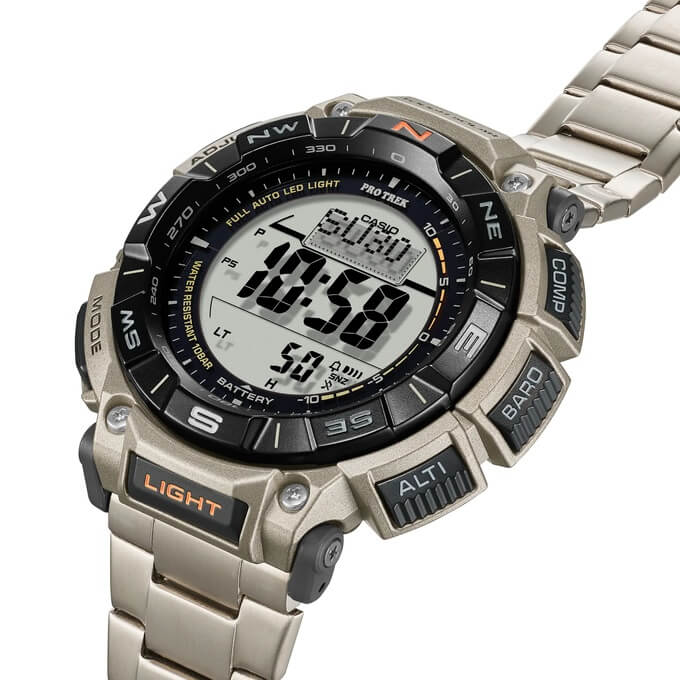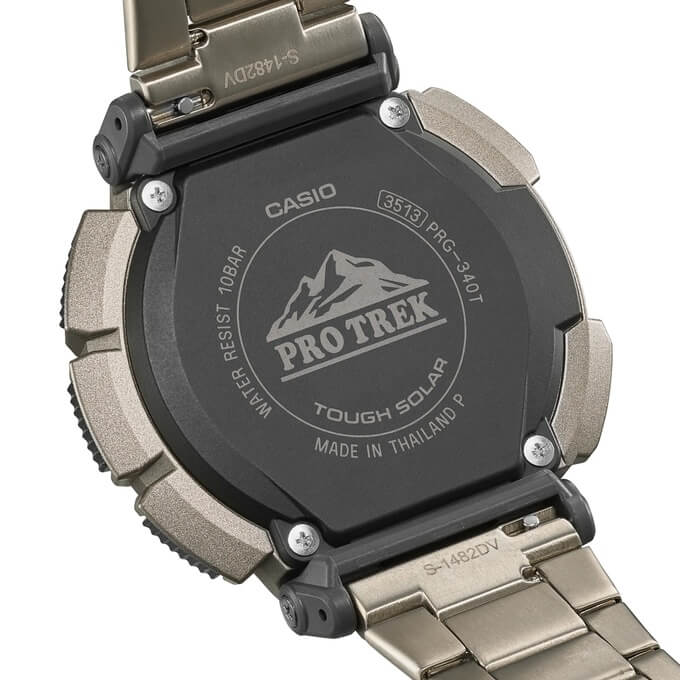 Pro Trek PRG-340 Developer Interview Video: