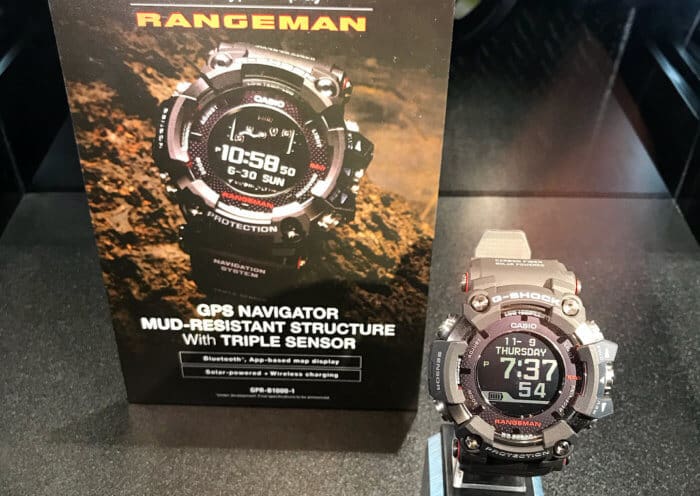 2018 just got a lot more interesting for G-Shock fans and outdoor enthusiasts as an upcoming Rangeman model was revealed at the 35th Anniversary event in New York City. The model number for this new Rangeman is GPR-B1000-1 (with U.S. model number GPRB1000-1).
According to the placard, this is a mud-resistant, solar-powered watch with a Triple Sensor, GPS Navigator with app-based map display, and Bluetooth connectivity. The watch also has a low-temperature LCD display, sapphire crystal, and carbon fiber insert band. It is water-resistant to 200 meters as expected. The sign also says "Wireless Charging" which we're assuming refers to a charger with an AC adapter. We're guessing there are multiple ways to charge the watch as it probably needs more frequent charging when using the navigation feature a lot. While the recent GPW-2000 Gravitymaster has a Mission Stamp function which serves as a GPS tracking log, the GPR-B1000 is the first G-Shock with the "Navigation System" feature (with full details to be released later).
The exterior case of the new Rangeman resembles the GWG-1000 Mudmaster like the previous GW-9400 Rangeman but with a full digital display. The LCD display is a new technical design element to appear in a G-Shock. The display is capable of displaying pixels and graphics on the entire display and is not limited to displaying only preset characters and digits like most G-Shock LCD displays. While sections of some G-Shock LCD displays and the LCD displays on some analog-digital models can display pixels in the same way, this is the first G-Shock to use such a display for the entire screen.
We were expecting something different with the new Rangeman in 2018 but not to this degree. We are definitely intrigued and excited to see if there are more features to be announced. Not only does it look like a great outdoor watch, but the GPR-B1000 advances the whole idea of a digital G-Shock and along with 2017's GPW-2000 could very well signal the beginning of a new era of smart G-Shock watches.
It should be noted that this was a prototype display, so the final watch may be different, but it certainly appears to be in a finished state. We expect to see the new Rangeman launched in time for summer 2018 and there will probably be more information released during Baselworld in March. The list price is said to be $800 USD. As always we will update this page with any new information.