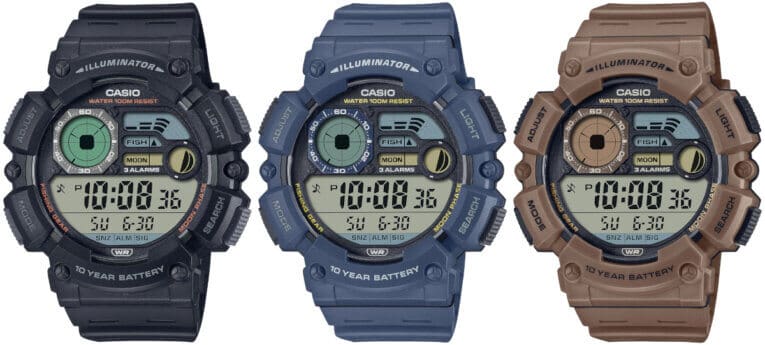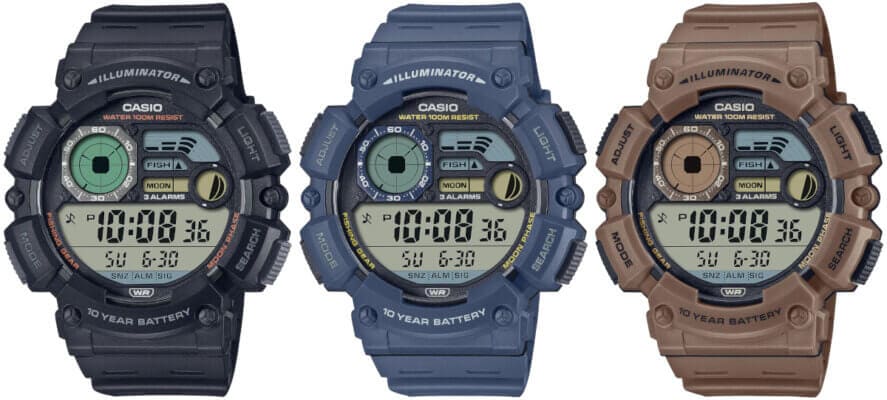 Casio's Fishing Gear series includes a unique fishing mode function that displays the most suitable times to go fishing (on a five-level scale) based on the location, time and date, and moon transit and phase. The latest model is the digital WS-1500H, which arguably has a nicer design than the previous WS-1200H and WS-1250H, with a G-Shock-inspired case and a cleaner display. It has the same functions as the WS-1200H but is a little larger than its predecessor. With an approximate 10-year battery life and 100-meter water resistance, the WS-1500H offers a lot of value at a very affordable price, but the resin glass is not as durable as the mineral glass found on most G-Shock watches, and the watch lacks the extreme shock resistance of a G-Shock.
The Casio WS-1500H series was launched internationally in December 2022 with the black WS-1500H-1AV, blue WS-1500H-2AV, and brown WS-1500H-5AV. The series is not listed on the Casio America site, but the black and brown models are currently available for pre-ordering directly from Amazon.com, with a January 1 release date. (The previous WS-1200H has a list price of $29.95, and the WS-1500H is currently selling for $26.35 by Amazon.)
The fishing mode feature can also be found on some Pro Trek watches like the PRT-B70, but it is not available on G-Shock watches (other than the GSW-H1000 smartwatch).
Update: The WS-1500H-1AV is "temporarily out of stock" at Amazon, and the WS-1500H-5AV is now showing a release date of February 1, 2023.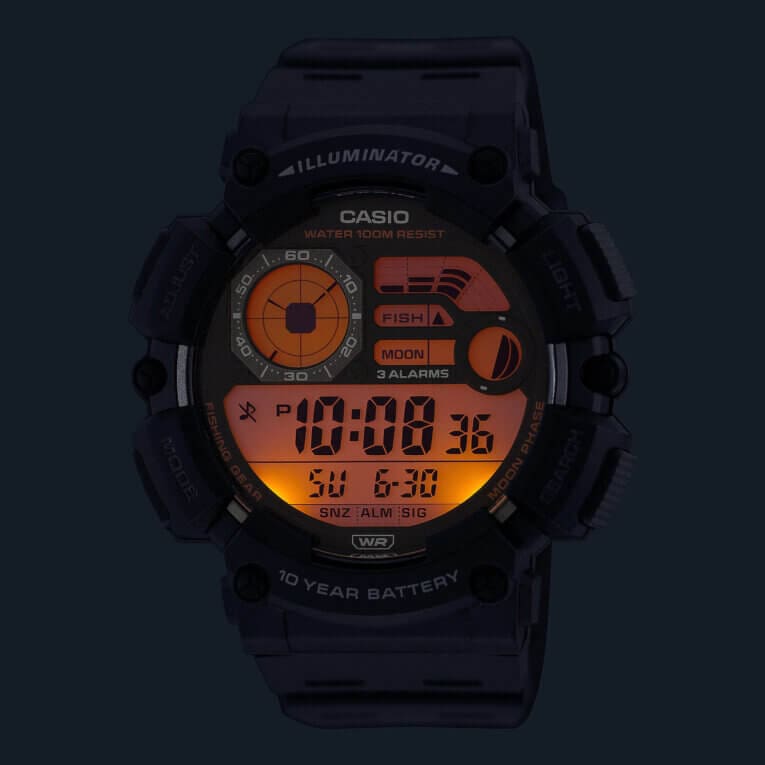 Casio Fishing Gear WS-1500H Specifications
Dimensions: 54.5 x 50.1 x 16.8 mm
Weight: 58 grams
Water Resistance: 100 Meters
Battery (Lifespan): CR2032 (approx. 10 years)
Module: 3518 (instruction manual at casio.com)
Glass: Resin
Functions: Dual Time (DST on/off), Fishing Mode (moon date (age, phase graph), 1/100-second stopwatch (23:59'59.99" max with elapsed, split, 1st/2nd place times), countdown timer (24 hours, settable in 1-minue and 1-hour increments, auto-repeat), 3 Multi-Functions Alarms with 1 Snooze (with daily alarm, date alarm, 1-month alarm, monthly alarm), Hourly Time Signal, Full Auto-Calendar, LED backlight with 1.5 or 3 second afterglow, Button Tone On/Off, 12/24-Hour Format